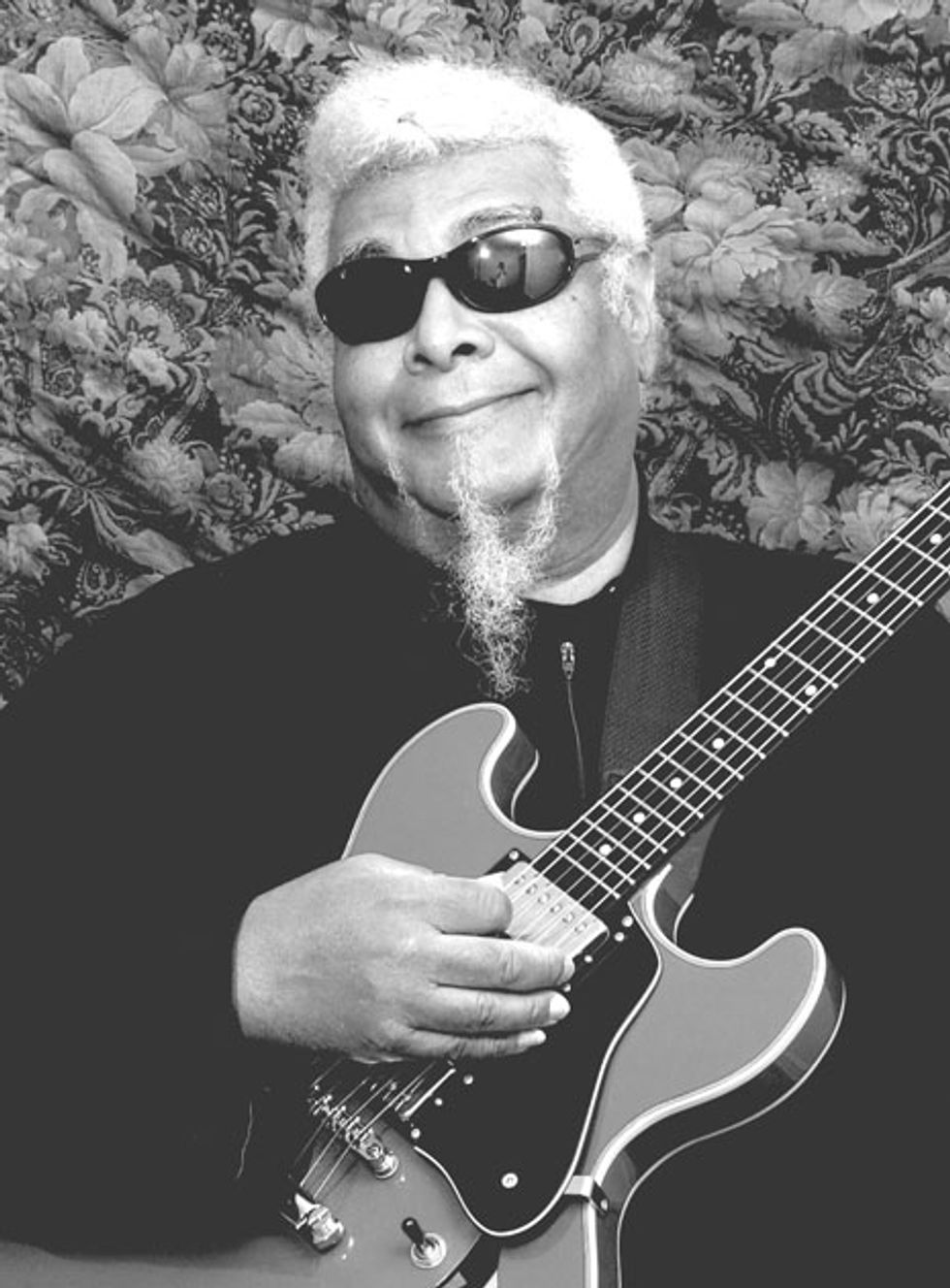 Photo by Audrey Cho
In the early to mid 1970s, Miles Davis changed musical directions. That wasn't unusual. Davis did this often—he was at the forefront of almost every innovation in jazz. But the direction of the 1973–75 incarnation of his band was unusual. Although Davis had already gone electric in 1969 with the release of In a Silent Way, as radical as some of his early electric work was, it was nothing compared to the bombastically epic avant-funk he'd unleash just a few years later. And at the epicenter of that mid-'70s lineup—the nuclear bomb Davis dropped on jazz—was the late, great guitarist Pete Cosey.
Cosey was an imposing figure: A large man with big hair and a long beard wearing flowing robes and dark glasses. He performed seated and was surrounded by guitars, handheld percussion instruments, and a floor full of stompboxes. And his playing was unlike anything else. It was a sonic adventure—innovative, complex, dissonant, abrasive, yet ambient, subtle, and rooted in the blues. It was always tasteful and appropriate, regardless of how far out he took it.
But Cosey was no newcomer when he joined Davis. His impressive resume included stints with a who's who of the late-'60s Chicago scene—serious gigs with big names in R&B, early funk, blues, psychedelia, straight-ahead jazz, and the city's burgeoning avant-garde movement. An insatiable tinkerer, Cosey experimented with tunings, pedals, synths, and butchered instruments in his never-ending quest for an elusive tone.
Mainstream success eluded Cosey, but his reputation and influence are massive. His former collaborators adored him. His protégés revered him. Most consider it criminal that he never reached a larger audience. He was a singular and uncompromising talent—his music was an extension of who he was—and in the process, he redefined the way the guitar is played.
The Explorer
Peter Palus Cosey was born in Chicago on October 9, 1943. His mother worked as a pianist and songwriter. His father played the saxophone and worked with people like swing-jazz pioneer Louis Jordan, bluesman Big Bill Broonzy, acclaimed jazz saxophonist Sidney Bechet, and French-American entertainer Josephine Baker.
An insatiable tinkerer, Cosey experimented with tunings, pedals, synths, and butchered instruments in his never-ending quest for
an elusive tone.

Cosey moved with his mother to Phoenix, Arizona, following his father's death when he was around 9 years old, but returned to Chicago as a young adult and remained there for most of his life.
Cosey played a number of different instruments. He had some formal training on piano, but he was a self-taught guitarist. He credited some of his later innovations on guitar—like alternate tunings and controlled feedback—to his earlier education, experimentation, and big ears. It also didn't hurt that his parents created an environment that was open to world music and fostered exploration. For example, he told All About Jazz in May 2008, "I have an appreciation of [Indian] music through my father. He field-recorded in India, between 1936 and 1938. The first curry I ever tasted was prepared by my father, when I was a child."
The future Davis sideman's first major gig was as a session guitarist for Chess Records. "I must have done a thousand blues sessions," he told writer George Cole in an interview for the book The Last Miles: The Music of Miles Davis, 1980-1991. He played on the incredible Fontella Bass hit "Rescue Me," and did sessions with Etta James, Jackie Ross, Major Lance, and many others. He even worked with Chuck Berry. "[Berry] had just gotten out of prison," Cosey told Cole. "We cut some great things with him—they were really rocking. I remember we did 31 takes of one song, only because he was rusty. They had me play his signature lick for him and it was an honor."
But Cosey's most notable work for Chess was on the label's late-'60s psychedelic experiments featuring Muddy Waters and Howlin' Wolf. The albums Electric Mud, The Howlin' Wolf Album, and to a lesser extent, Waters' follow up After the Rain, were a conscious effort by Chess to market the blues masters to a younger audience. The albums were a commercial success—Electric Mud was Waters' biggest-selling album at Chess—although certain blues purists weren't convinced. "I remember Pete telling me about how much Howlin' Wolf hated his playing," says Cosey collaborator and bassist Melvin Gibbs (Rollins Band, Defunkt, Decoding Society). "Muddy was maybe half convinced when they recorded Electric Mud, but once that first album sold so well he was, like, 'Yeah, I love this boy.' But Howlin' Wolf was never convinced. Pete told me that Wolf told him—Pete had a big afro at that time—'Yeah boy, you need to go get a haircut, and while you're on your way to the barber shop, take that bow-wow pedal of yours and throw it in the lake.'"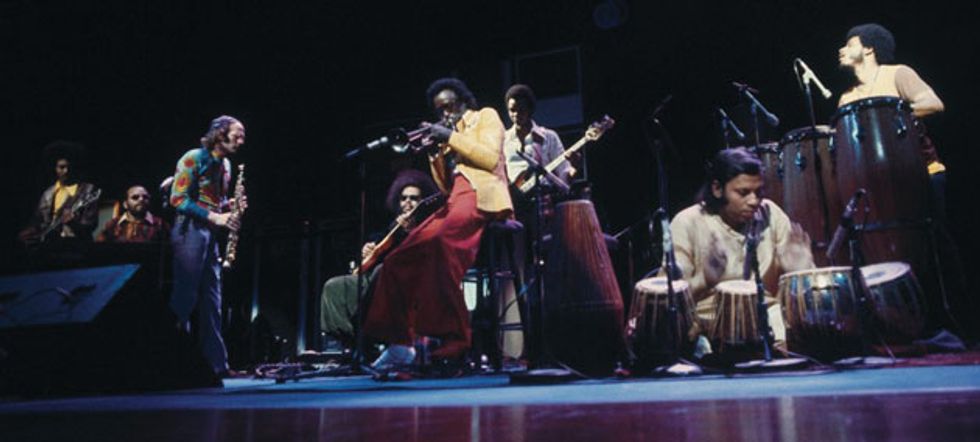 Cosey, in his customary seated position (center left in green pants and shades), onstage with Miles Davis in Japan.
Photo courtesy of Sony Music
Despite Howlin' Wolf's misgivings, Cosey's playing on those records shines like that of an original, mature musician and hints at what was to come. Some of his best performances are on Electric Mud's "I Just Want to Make Love to You" and "Herbert Harper's Free Press News." Cosey's sound is the real deal—someone steeped in the traditions of the Chicago scene, pushing the sonic envelope, stretching out harmonically, yet stamping it all with his unique thinking and personality. Cosey wasn't a student of a tradition. He was a living extension of that tradition, constantly building on it.
"Those are some of the greatest albums ever," Gibbs says. "I've heard that Led Zeppelin used to listen to those albums before they went onstage. That's the level of influence they had." Although difficult to corroborate, legends abound. In addition to Zeppelin, Jimi Hendrix and the Rolling Stones are said to have drawn inspiration from those albums. Years later, hip-hop icon Chuck D of Public Enemy championed Electric Mud by reassembling the original band for the "Godfathers and Sons" episode of the 2003 Martin Scorsese-produced documentary series, The Blues.
Already somewhat of a gearhead, Cosey had a small arsenal of go-to instruments at that time. "Pete used his trusty Gretsch Tennessean, along with a '58 Fender Stratocaster and a customized Gibson ES-125 modified by Phoenix luthier Bill Ross to include 24 frets and a single cutaway," Bill Milkowski wrote in Guitar Player in July 1990, describing the instruments Cosey favored as a session man.