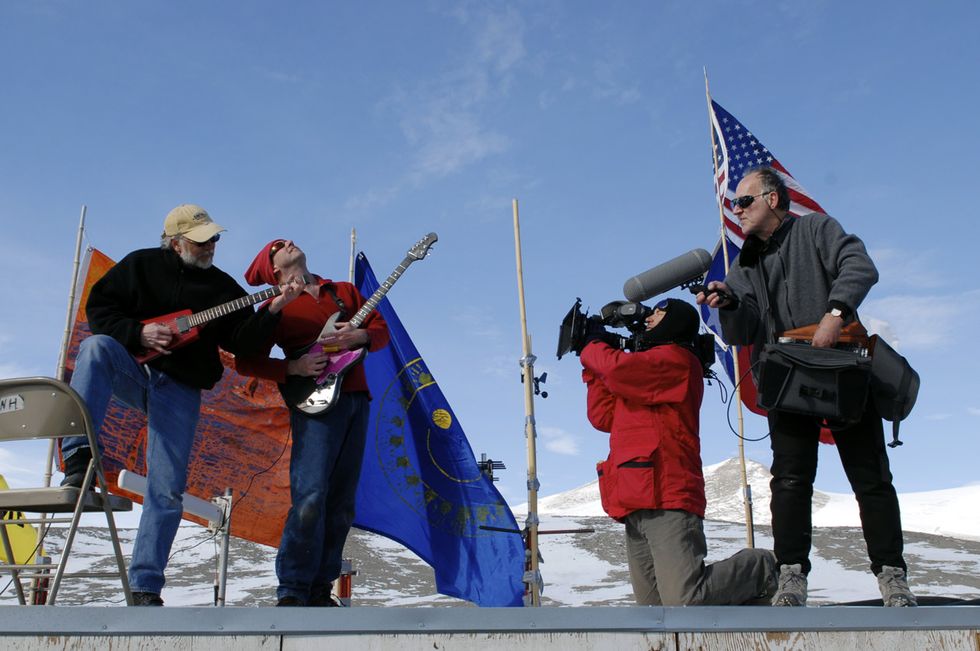 Another result of Kaiser's time in Antarctica is the Academy Award-nominated documentary Encounters at the End of the World, by Kaiser's friend, the filmmaker Werner Herzog. For the filming, Kaiser and biologist Sam Bowser staged
a snowy rooftop concert.
You've always been committed to expanding the voice of the guitar. You pioneered digital looping and the EBow on recording, and remain an early adopter of new gear.
I do have my particular gear habits and tastes that go back to the '70s. Ninety percentof my electric guitar playing on over 300 albums is direct recording with no amp. I do use an amp in the studio sometimes, but it is only for feedback and monitoring. There is no mic on the amp—just a direct box before the amp. Often I just play in the control room, direct. That is the most reliable way to get the sound I like. So many classic and lovely '60s and '70s guitar sounds were created that way in the studio. I am a student of that.Live, I want any clean and powerful amp through a JBL speaker. Both Howard Dumble and Jerry Garcia taught me that was a good way to go.
I was evidently the first person to use digital looping for guitar on a recording back in 1977. I have always loved high-fidelity rack gear and nowadays there are many pedals that are at that level, so the clearest cleanest sound is the world I live in. Thus the choice of Alembic and Q-tuner pickups—always wanting hi-fi guitar.
"If I could have only two pedals for the rest of my life, it would be a Tech 21 CompTortion and a Red Panda Lab Tensor. I can do 90 percent of what I like to do with just those two pedals."
I tend to get new products when they are released and, making a lot of albums, I am often the first recording of something, such as the EBow. Usually the next group of people to utilize something new choose to do old things with it. That often disappoints me as a listener. I love to be surprised. That's what I try to do for myself and it's what I love to hear from others. Some guitarists who do happily surprise me with looping would be Frisell, Grydeland, David Torn, Eivind Aarset, Bill Walker, and Chris Muir.
If I could have only two pedals for the rest of my life, it would be a Tech 21 CompTortion and a Red Panda Lab Tensor. I can do 90 percent of what I like to do with just those two pedals. Everything else is icing and decoration on the cake. But that decoration does make things more pretty and palatable.
What are your typical solo gig and band gig rigs like these days?
On the sky road, 50 pounds being the max baggage weight limit, I have the lightest possible board and power supply that I Velcro as many pedals to as I can. I change the pedals every gig. I carry-on the Klein electric. I ask for a Fender Twin for backline. At home I can bring whatever fits into my Prius: too many guitars and too much gear. When I play acoustic improv gigs, it is only in small spaces, as I don't care for acoustic instruments through amps or PAs. For an acoustic gig, I just bring a guitar, and play it in a room.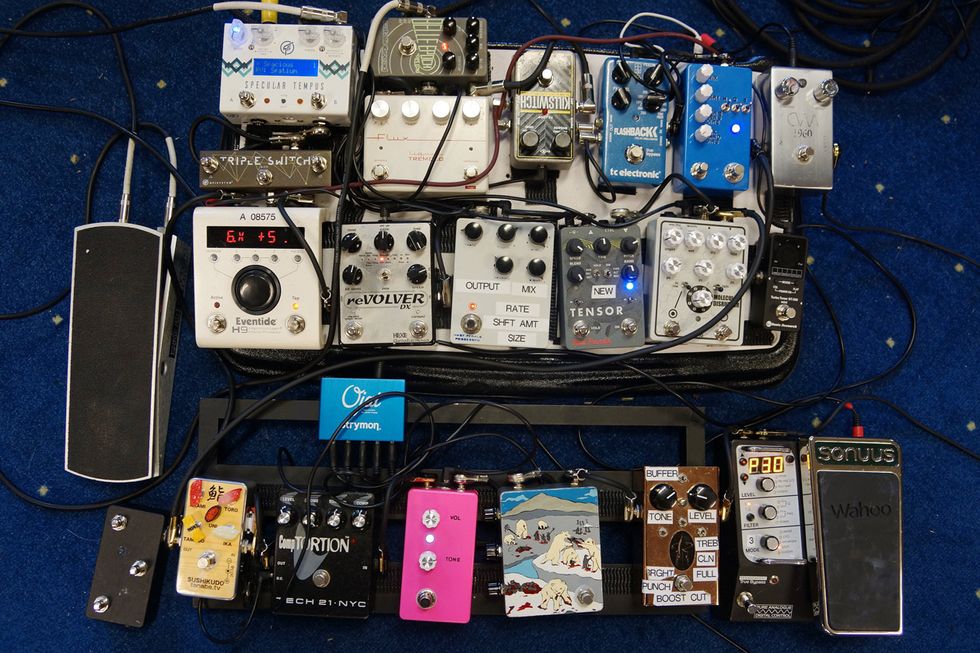 Although Kaiser explains that his main pedalboard's lineup changes weekly, this incarnation features a Turbo Tuner ST-300, Old World Audio 1960 compressor, Sonuus Wahoo, J. Rockett Masterbuilt Boost, Mid-Fi Electronics Glitch Computer, Montreal Assembly You and You're, Tech 21 CompTortion, Tanabe Sushikudo, David Rolo Effects Molecular Disruptor, Red Panda Tensor, MASF Possessed, Hexe Revolver, Eventide H-9, Electro-Harmonix Killswitch (with a Montreal Assembly Count to Five and a TC Electronic Flashback), Flux Liquid Tremolo, Catalinbread Belle Epoque, Ernie Ball MVP,
and GFI Specular Tempus.
Where do you see yourself heading as an artist—and perhaps, as well, where do you see the guitar going?
The next step, I hope, is for the cycle to turn around again and for popular music to stop being conservative, monochromatic, and dominated by soulless drum machine rhythms. Most popular music now seems to be even more conservative than Perry Como was in his day. It's a tough time to try to be different from the many cloned and docile fish in the school. I want music to be about new things and change, rather than being stagnant and about keeping the audience from asking questions. High-fidelity sound needs to come back. Every year consumer sound gets worse and worse. Most music can't survive the bandwidth of cell phone and earbud listening. When those things change, then guitar can begin to rise again from the tailspin that it seems to be diving into most recently.
Of your work, is there a particular recording you find especially emblematic?
It's 1992's A World Out of Time: Henry Kaiser & David Lindley in Madagascar, for two reasons. It is certainly my best-selling recording and thus reached the largest audience. Probably the best-selling album of non-Western roots music in the past 30 years. But most importantly, Lindley and I took zero money from that project. All of the proceeds go to the Malagasy dudes. They are still getting money from it today. David and I were really disgusted by how certain high-profile Western pop stars worked with Third World musicians, and then took all the money, all the publishing, and all the credit. We set up a special publishing deal for our friends in Madagascar so that only 10 percent was taken for publishing administration and 90 percent of the publishing money went to those players, rather than the usual 50/50 split. The album also resulted in 11 albums in the Shanachie label's series of more music from Madagascar.
What's it like below the Antarctic sea ice? Henry Kaiser provides an improvised soundtrack to his stunning view of the bottom of the world.
---
In an INK Talk, Kaiser and his guitar speak a language similar to that of the mother and baby seal whose above-and-below-ice adventures he narrates to a live audience while improvising.
---
For Pete's sake: Kaiser pays tribute to one of his many musical heroes, Pete Cosey, who was the subject of a Forgotten Heroes feature in the December 2015 PG. In this video, Kaiser stretches out on an Eastwood 1975 Morris Custom, based on the Morris Custom Mando Mania guitar that Cosey frequently employed.
---