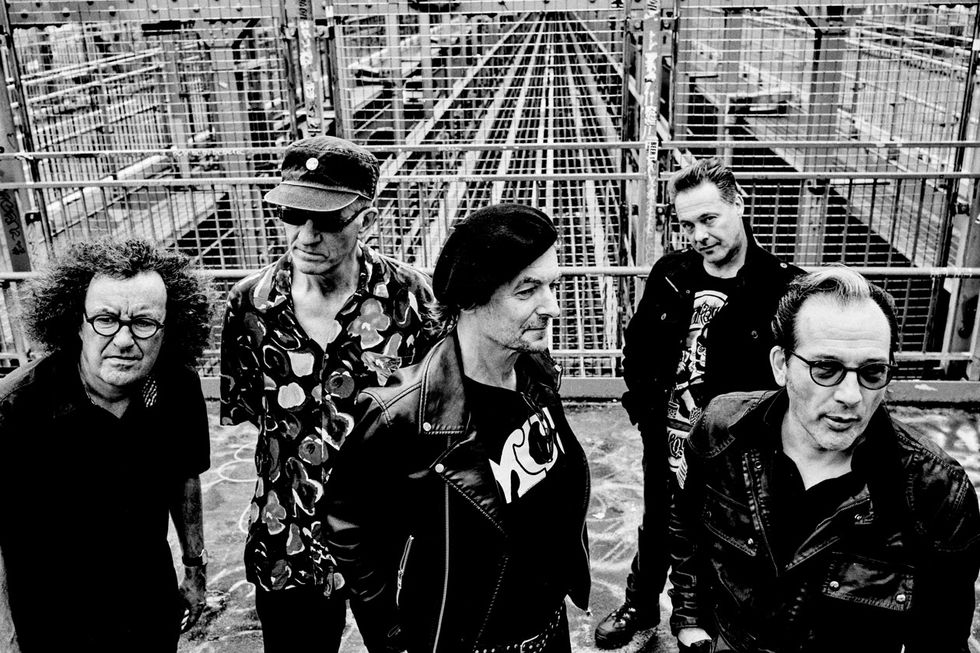 Photo by Steve Gullick
Punk rock has morphed, been bastardized, revitalized, and analyzed infinitely since becoming a defined movement in the late '70s. However, first-generation punks the Damned don't care much about any of that. They've been far too busy touring to devote time to nostalgia. Now—42 years since they became the first of the British punk groups to put out a single, with 1976's "New Rose," beating the Sex Pistols by a month, and 10 years since their last studio album, So, Who's Paranoid?—the Damned have returned with Evil Spirits, an album that bristles with the vitality, immediacy, and irrepressible creativity that's earned them the distinction of being one of the most important punk bands of all time.
Genre politics and hyperbole aside, the Damned have always been the musicians' band among the classic punks, and the group has always operated with a policy of lawlessness when it comes to the music they make. The Damned's vision of punk has included liaisons with deep psychedelia, piano-driven pop, farfisa-dotted slam-dance anthems, and proto-goth—all laced up with the anger and devil-may-care attitude that made punk punk. While the Damned are fronted by a crooning vampire-poet of a man in Dave Vanian, much of the group's sweeping sonic vision has hinged upon the guitar work, songcraft, and imagination of founding member Captain Sensible (born Raymond Burns).
Although the Captain was stationed on bass for the Damned's first few recordings, he emerged on the group's third album, 1979's Machine Gun Etiquette, as a dexterous and melodic guitarist with a knack for penning killer hooks that draw on a surprisingly vast range of influences. A fan of British blues-rock players like the Groundhogs' Tony McPhee and Free's Paul Kossoff, and of Summer of Love psych-rock and the pomp of '60s orchestral pop music, the Captain has never relied merely on power chords and beer—although those have often been a part of his recipe.
And while his technical prowess has been overshadowed by his giant personality and tucked away within the confines of excellent songs, Evil Spirits puts his cadre of guitar-borne personas on display as he chunks, clatters, burns, and jangles through the album's tracks.
Produced by the venerable Tony Visconti (best known as the helmsman of classic David Bowie and T. Rex albums), Evil Spirits sees the return of the Captain's favored bass guitar sparring partner, Paul Gray, to the Damned for the first time in nearly a decade. Gray's recorded output with the Damned includes two of the band's most revered and musically fibrous albums, Strawberries (1982) and The Black Album (1980). Unsurprisingly, Evil Spirits sounds very much like a continuation of the sonic tack the group were on at that point in their career. A true athlete when it comes to traversing the fretboard of a Rickenbacker bass, Gray's "lead bass" style and the way his playing seamlessly weaves with the Captain's is a massive part of Evil Spirits' musical bedrock.
Premier Guitar sought an audience with Sensible and Gray to discuss the making of the Damned's triumphant return to studio recording, their philosophies and roots as players, the symbiosis that exists within their playing relationship, and even a bit of gear geekery.
Paul, you've name-checked unexpected influences for a guy who's made his bones playing punk: particularly Felix Pappalardi from Mountain and Roger Glover of Deep Purple.
Paul Gray: I was always drawn to the bass end for some reason. The bass player always looked the coolest in the band! They weren't making silly faces and all that like the other guys. I loved guys like Jim Lea from Slade, who was doing more like lead bass and drove all those fantastic Slade songs. My mates at school and I would swap records and I got into Hawkwind with Lemmy and Machine Head by Deep Purple, and the bass was really prominent in both of those groups. I loved anything with a galloping bass line that challenged the listener beyond widdly guitar stuff or a bloke shrieking his head off.
"Who cares if there's a few 'jazz notes' in there. Perfection is overrated! Rock 'n' roll needs its rough edges. And that goes for the records, too!"—Captain Sensible
With Mountain, Flowers of Evil has a live side, and the bass and guitar interplay on that album is just magnificent, and I love that really filthy sound Felix P. had: electric farts, we call it in the Damned. It wasn't a million miles away from the sound John Entwistle got on Live at Leeds. So all those prominent bass players really caught my ear and I thought it was so great, because it was such an important part of the song. It was always the singer or the guitarist that got the glory, so I liked the slightly subversive nature of those bass players. I locked myself in me bedroom after school—a real Johnny-no-mates—and I plucked away until I figured what they were playing. It took me 15 years to figure out that all they were really playing was the pentatonic scale with some extra notes chucked in! I wish I had known that back then!
Most of the guys you cited developed their sounds around a Rickenbacker bass, and that's been your instrument of choice over the years. What is it about them that you like so much?
Gray: I was very much drawn to Rickenbacker sounds, to the point where I'd listen to the radio as a kid and was always trying to figure out if it was a Rickenbacker I was hearing. The great thing about those basses is that they're so individual to how you want them to sound. You can coax many different sounds out of a Rickenbacker depending on your fingering technique, what gauge pick you use, what year it is. They're just magnificent!
The two I mainly use are very different. One has a very chunky neck, and that's a '74, and the '77 has a thinner neck than a Fender Jazz bass. They also sound totally different. One has a clanky sound and one has much more growl. It really fascinates me how basses that are essentially the same can still be so different.
---
---