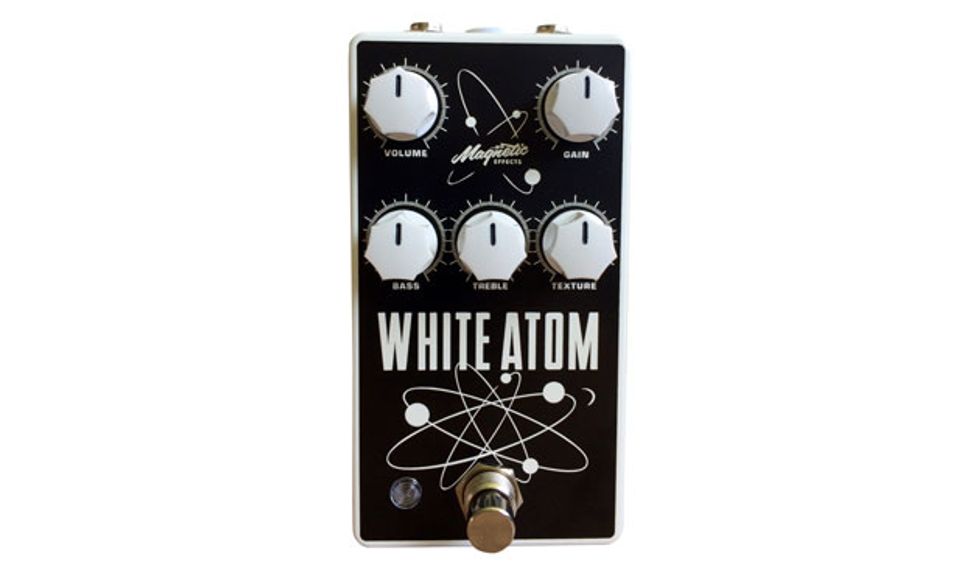 London, England (July 9, 2018) -- Magnetic Effects is pleased to release the White Atom V3. An updated version of our popular White Atom fuzz which features silicon and germanium transistors.
The V3 version of the White Atom features an updated circuit design with tweaked EQ response and added active Bass control.
There are five controls: Volume, Gain, Treble, Bass and Texture. The Texture control changes the feel and response of the fuzz. When used in combination with the Tone controls and Gain control a wealth of tones from vintage style overdrive to velcro like saturated fuzz are available.
The White Atom has a high input impedance and a low output impedance. This makes the pedal, unlike many fuzz pedals, compatible with buffered bypass pedals as well as pedal switchers and wireless systems. It also allows the pedal to interact well with modulation and time based effects.
All these features add up to make the White Atom a great sounding AND easy to use fuzz that integrates well into a modern pedal board.
Features:
Top mounted jacks and DC socket
Volume, Treble, Bass, Gain and Texture controls
Tested and selected Silicon and Germanium transistors
High input impedance and low output impedance
True bypass switching
9V DC adapter or battery powered
Reverse polarity protection
100% Handmade
£125 plus shipping.
For more information:
Magnetic Effects