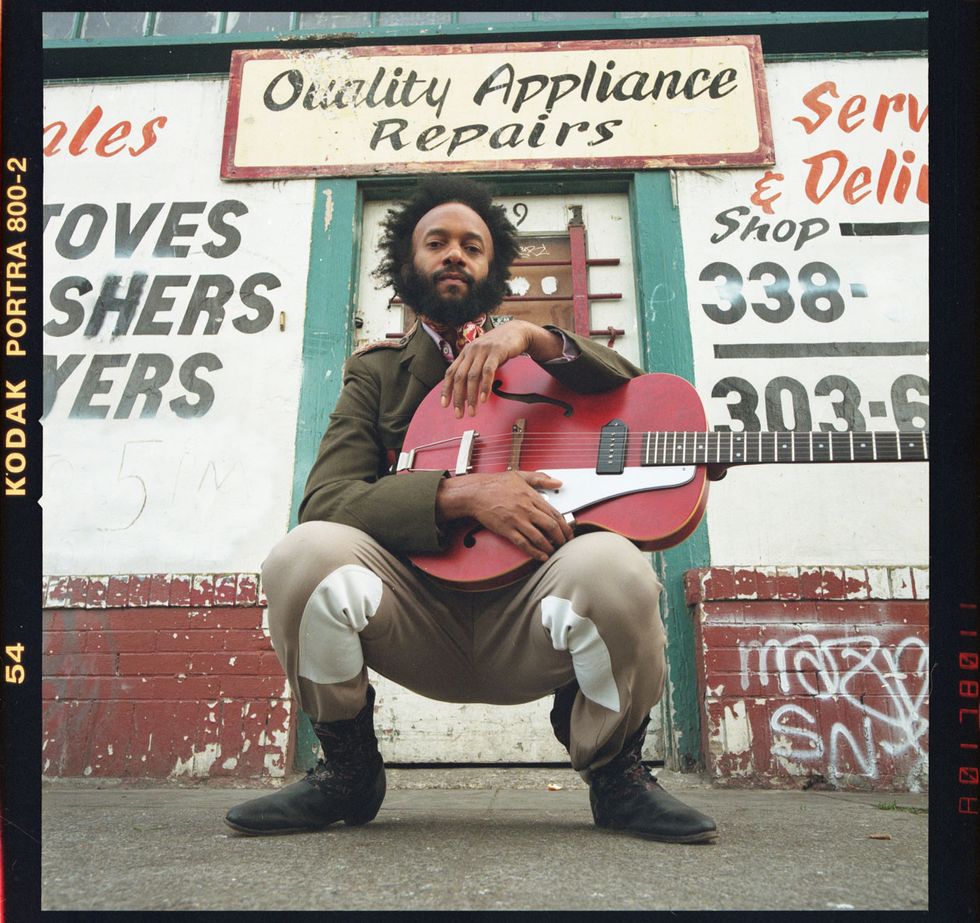 Cheap guitars yield rich music for Fantastic Negrito, who telegraphs sharp-edged roots-based stories from his Oakland home base. Photo by Deandre Forks
What amps do you like?
The Fender Bassman. I had this other vintage one that I regret selling. It was a 1960s one. I'm terrible with names.
A Deluxe Reverb or Twin Reverb?
Twin Reverb! Twin Reverb.
That's a classic.
I know, but I thought I quit. I have some copies of that one, too. There's another one, Cave Valley amps. I love those fuckin' amps. I recorded a lot of the record on that. It's a small amp and he used kind of like Leslie parts. It's interesting, bro. There's something about that amp.
You say you're a recovering narcissist. John Mayer has said he's a recovered ego addict. Who's got a bigger ego, you or John Mayer?
That's so funny you said that. He said he's a recovering what?
Ego addict.
Did you know that me and him just had a talk?
No, I didn't.
I just had lunch with him last week. I remember telling him that, because I didn't know that he said that. He was like, "What? Fuckin' shit, I'm one too." And I'm like, "Okay," and we had a big talk. Who's got a bigger ego? Fuck. Let me think ... that's a good one. I think me and John Mayer—whoo—we may be really neck and neck on that. I think I'm in full recovery though.
"I was like, 'This is going to be all about riffs, bass guitar, blues guitar riffs, chants.' I wanted everything to be something
that pulls people in."
He said he recovered, too.
He may be, he may be. I liked him a lot. Whose is bigger? John, let's take it to the stage. We're both damaged people and I think we both realize it, and you know, we're working hard on it. That was funny, when I said that, he looked shocked. Like, "Holy shit, did this guy just say recovering narcissist?" I was like, "Yeah, that's me."
What do you think of the Kanye thing?
Oh no. [Laughs.] Kanye's thing, just me personally, hey, I don't want any beef with Kanye, but I'll just say it: I think Kanye suffers more from "I want people to talk about me." I think that he may be a genius at that. This is the second interview I did today. I did one with someone in Italy and they're talking about it. Kanye is a lot like Trump. This is what they both do. I think they might have, what's the word, nihilist views. Which is like, "I don't really believe in anything. I just am fuckin' out here saying anything." A few years ago he snatches that award from someone [Editor's note: Taylor Swift at the 2009 MTV Video Music Awards] and said, "George Bush doesn't like black people." Whatever it takes to get us to talk about him.
But I firmly, firmly do not like political correctness. Like we're so entrenched in ideology that it's like one or the other. Look, I'm a gun owner but I think we have a gun problem, you know what I mean? I'm against political correctness, but goddamnit, can we say transgender, white, Jew, and black? Can we just be normal and be like, "Hey man, let's have real conversations. Hey, I'm a black guy and I kind of feel this way as a black guy," and I'm like, "cool."
We're trying to fill the gaps here, man. We're trying to talk to each other. It's okay. We don't have to be offended by fuckin' everything. Now, we don't have to be disrespectful, but we don't have to be offended, and we can really build bridges. I believe that music does that shit. I'm really happy with this album and I'm ready to go tour, and go ruffle some feathers, because artists should do that. [Laughs.] We should make people a little uncomfortable.
Fantastic Negrito beat out nearly 7,000 entries to win the NPR Music Tiny Desk Contest in 2015—with a video he shot in a freight elevator. Here, he reprises his winning song, "Lost in a Crowd," in a Tiny Desk Concert shortly after his victory.