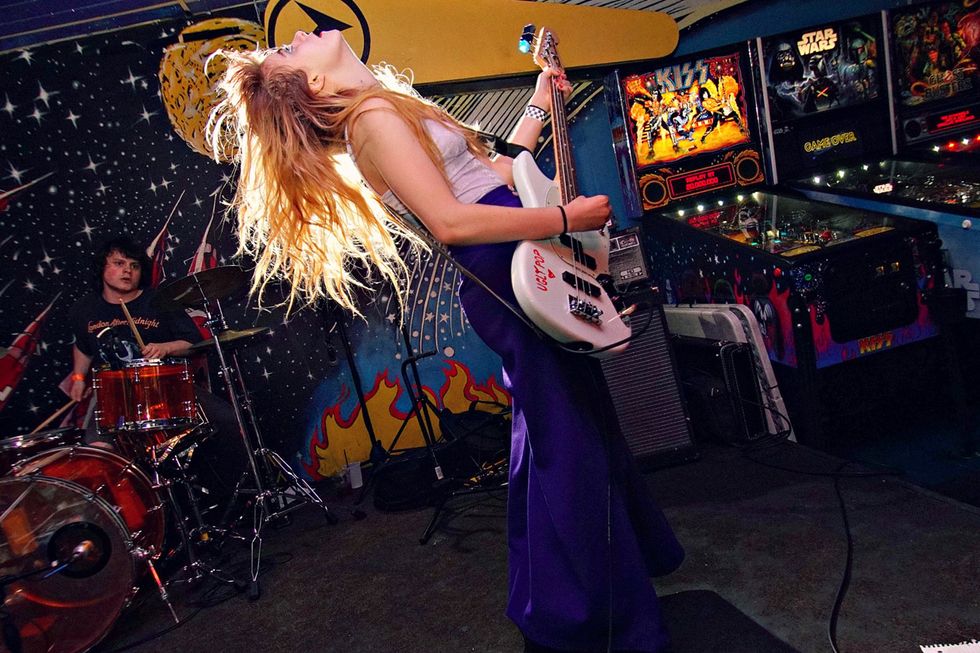 Bassist Kelli Mayo keeps only three strings on her Fender PJ bass, tuned to E, C#, and G#. Initially, she played 2-string bass, but the songs she was writing dictated the addition of a third string. Photo by Fally Afani
You won't find many artists whose entire musical history is posted online. But Skating Polly, an edgy, DIY, punk-ish outfit from Oklahoma City—although now based in Tacoma, Washington—is one of them. Their first gigs, early experiences with instruments, early promos, and even their first airplay on local radio is up on YouTube alongside their current releases, polished videos, and mature output.
Skating Polly started in 2009, when stepsisters Kelli Mayo and Peyton Bighorse were just 9 and 14 years old. "I am the little sister of the group," Mayo says. "When Peyton was 14, she said, 'I am going to start a band,' and I said, 'I am going to be in your band. Can I be in your band?' But she said, 'I don't know. I think I'm going to start a band with people in high school.'" But Mayo—undeterred and persistent—wrote a few songs and convinced Bighorse to perform with her at a Halloween party (remember, she was just 9 years old). The next year they were playing local clubs (you can watch their first club gig here).
"When we were younger, Kelli's dad would go on tour with us and take us to shows," Bighorse says about their early years. "Our parents have always been really supportive. They would let us miss a lot of school to do shows and they would miss work to come to gigs. Now we tour by ourselves and they are still really supportive, but they don't have to sacrifice as much."
The sisters were cute—and, over the years of videos and photos, you can see them grow up, get taller, wear braces, master their instruments, and grow into their voices—but Skating Polly was never a novelty act. Many of those early videos are from tours or appearances at major festivals like South by Southwest. They released their first album, Taking Over the World, in 2011, and have released an album nearly every year ever since. They also caught the attention of Exene Cervenka, from the iconic '70s/'80s punk band X, who produced their second album, Lost Wonderfuls, and co-wrote and appears on "Queen for a Day" from their current release, The Make It All Show.
For most of their history, Skating Polly was an instrument-swapping duo. Mayo plays a mutant 3-string bass/bassitar hybrid and Bighorse plays guitar. They both play drums and take turns on lead vocals. However, last year, following the release of their EP, New Trick—a three-song collaboration with Louise Post and Nina Gordon of Veruca Salt—they recruited their brother, Kurtis Mayo, to join the band as drummer and sometime guitarist.
And with that, Skating Polly is ready to conquer the world. Check out YouTube to chart their progress. They're mature and confident songwriters. Their live show kicks ass. Their videos rule. And their dynamic, punk-influenced, pop-informed aesthetic continues to evolve.
We spoke with Mayo and Bighorse to discuss their studio experiences and rules-centric approach to songwriting, Mayo's unusual bass tuning, Bighorse's new Fender Duo-Sonic, and how their band has changed since becoming a trio.
In your videos, it looks like you're always switching instruments. Who plays what?
Peyton Bighorse: For the most part, I play guitar, though for a few songs I'll play either bass or drums. Kelli plays a little guitar, but mostly bass, and Kurt plays some guitar but mostly drums.
"We always try to do something that we've never done before in each song we write. That's a pretty important rule to us for every song." —Peyton Bighorse
Kelli Mayo: It depends on the song. Before Kurt was in the band, I was either playing keyboard, my weird 3-string bass, or drums. But now, with Kurtis in the band, I've been mostly sticking to my 3-string bass.
That's a 3-string bass and not a 2-string bassitar?
Mayo: It's three. It started out with two, like the bands Morphine and the Presidents of United States of America—the C#, G# tuning—but after the first few months I broke it. While it was broken, I wrote songs on a normal bass, but I only wrote songs on the E string. When we decided to get another one, I got a bass body and decided I wanted to add an E string so I could play that song—it was only one song—that I wrote. I ended up scraping the song and not doing anything with that E string. Later on, I wrote "Alabama Movies," with all three strings together, which is now a staple of our set.
How do you tune your bass now?
Mayo: E, C#, G#. I took off the A string and the C# and G# are moved up so the C# is where the A string would be and the G# is where the D would be.
Was there always a band vibe in your house growing up?
Bighorse: Yeah. Our parents were really into music and they showed us a lot. We had a lot of musical instruments around and we always played around. Me and Kelli decided to start a band when we were 9 and 14.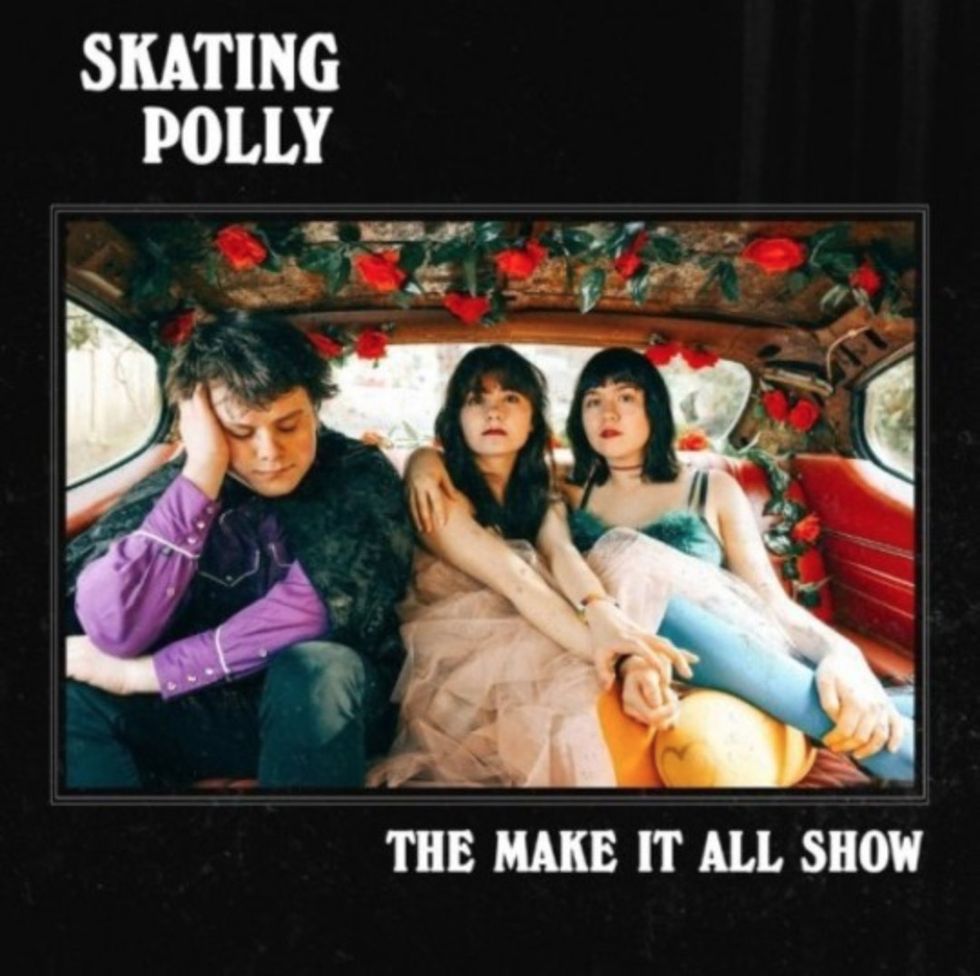 "Queen for a Day," on Skating Polly's new album, was co-written by X's Exene Cervenka and features Cervenka as a guest vocalist. She also produced the band's second album, Lost Wonderfuls.
Mayo: My family is just really into all the arts. They were great about having any tools we needed—not "any," we weren't rich or something—but we had a bass, a couple of guitars, and a drum set. We had paint, if we got into painting or sculpting, or if we got into acting, we'd rent a bunch of movies and check out books about actors or whatever. The instruments were already there and music was one of the great connectors in my family. It still is. Everything revolved around music. The road trips would be bonding experiences over some new album or playlist. A lot of time, at home, there would be dance parties or watching music videos. When my parents got divorced [Editor's note: Mayo is from her father's first marriage, before he married Bighorse's mother], my favorite activity was sitting in my room, sad girl-ing out to Tegan and Sara's album So Jealous and Regina Spektor's Far. I would just sing those records. I loved them so much.
Besides having a band, did you spend time practicing and learning songs?
Bighorse: We didn't start off learning covers because we didn't know how to play very well. We wrote our own songs, which were usually simple two- or three-chord songs, and then as we got better at our instruments, we started playing covers.
Mayo: I guess I've always been in a band. I have been in a band since I was 9. I loved singing so much—that was my great passion. I liked bass a lot, too, but when we first started, my arms weren't long enough for a full-scale bass, and I didn't think those short-scale basses were a thing. I hated guitar, it hurt my fingers, and my dad made me that bassitar. I always assumed I would be in a band.
---
---