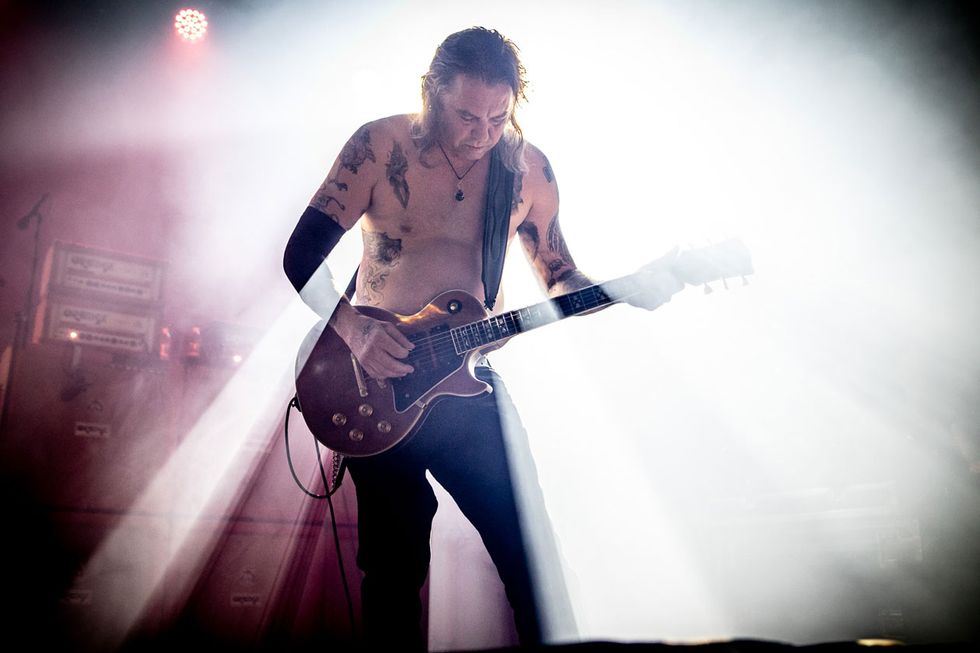 Whether playing his Gibson Les Paul Artisan or Les Paul Custom, Matt Pike has embraced the roar of triple humbuckers. "I really enjoy the tonal diversity, power, and sustain I can get with three-pickup guitars."
Photo by Tim Bugbee/Tinnitus Photography
Electric Messiah marks the third collaboration with producer Kurt Ballou. What makes that a successful partnership?
I think musicians typically communicate better with other musicians. I really respect Kurt, his work, and his opinion—he gets heavy music, and he gets High on Fire, so we can just get to work. Kurt and other similar "producers," like Steve Albini, are more sound engineers than producers—they are sonic fact checkers with good ideas [laughs].
Where do you draw inspiration for your HOF lyrics?
I've always been attracted to things that were just off, like the Bermuda triangle, conspiracy theories, bigfoot, dinosaurs, Dungeons and Dragons, Vikings—you know, everything a weird, stoner nerd would be into. I like using those sorts of backdrops—gods, kings, battles—as metaphors for social commentary or making sense of my life.
When my life sucks and the world is insane is when I write my best, most angry stuff. I do a lot of reading and research on historical lineage and religious creation stories—I think all this shit is connected with some cosmic overlords—and try to blend that into a metaphorical parallel commentary on my life, my troubles, and modern times.
In 2009, after a long hiatus, Sleep reformed with drummer Jason Roeder to play reunion shows. You'd performed new material live, but the first official release was 2014's single "The Clarity." Describe the "awakening" process.
Our other bands have such different writing processes and personalities that it took time, patience, and understanding for myself, Al, and Jason. We had to almost reacquaint ourselves with who we are as men, how we can best communicate, how things can irk each other, and just be aware of all that.Honestly, we milked the reunion thing for a few years playing festivals with the old material. Our schedules are filled with family life and other bands, so we'd schedule "boot camps" of four to six days to rehearse for a run. We eventually started sharing new ideas.
"The Clarity" single went really smooth because no one had any expectations—we did it in a weekend. It has become one of my favorite Sleep songs. When we decided to record an album, it was fun and exciting to be working on new material.
Some songs, like "Sonic Titan" and "Antarcticans Thawed," have been evolving onstage for years, but "The Botanist" seems like a departure. Was that a new song?
Yeah. "The Botanist" arose from those boot camp sessions. I had this weird, leftover acoustic piece and we just built off that because everyone in the room instantly liked the backbone. It was a slow-burn jam, with us methodically adding in elements and tones, but not forcing anything. That's the key—you can't be afraid to improvise and follow an idea, yet you gotta know when something isn't working. It has such a weird, trippy vibe to it, and when Al and Jason come in, it reminds me of an underwater, hypnotic Pink Floyd.
Those solos definitely have some Gilmour traits, like the oily slickness at the end of "Dogs" or the emotive soaring in "Time."
I really went after a lush, swirling David Gilmour tone. I think the key to that whole sound is Al's pedal I used—a vintage Tycobrahe Parapedal—with an old Roland RE-201 Space Echo, and parts of it have a vintage [Ibanez Phase Tone] blue phaser. And everything is played with a Les Paul Recording guitar that has this phase-reverse switch that gives me a more filtered, out-of-phase tone.One thing that Sleep really lets me do, and it's a testament to Jason and Al, is go off on a guitar odyssey. That song in particular, they really set it up for me to be able to show off a little bit.
"The extra drive pedals I have just color the distortion more than anything—but if I need to, I can unleash hell."
Sleep lends itself to live improv and jamming, where High on Fire is meticulous, fast, and tight. Were there any improv solos on The Sciences?
"Marijuanaut's Theme" was improv'd during rehearsals and I went back and learned that take for the recording. I had some loose ideas for "Antarcticans Thawed," but didn't know how I would connect them until we hit record. We have played that song live a lot over the years, and I used those shows as a trial for soloing ideas. I improv'd "The Botanist" a few times all the way through, and on the final take the guys just looked at me and said, "Dude, I think you're done."
What do you like about that philosophy of playing?
I've become comfortable with my tools and I have enough confidence in my abilities that I can just let my mind and fingers follow the music. When we were doing Holy Mountain, I was going to school for music theory and jazz improv, and I think that training, and influence from John McLaughlin, has a lot to do with how I play solos. That was some time ago, but that crash course in jazz improv continues to spread into my style. I really enjoy taking stabs at things from different angles, and I don't know if you can do that when things are concretely laid out. I might be able to play something better or tighter, but I appreciate the visceral nature of the unknown and believe I do better solos that way.
Backing up before 2018, what did the move from Oakland to Portland mean for your personal life and for your art? And has it helped your battle with alcohol?
I'm grateful for the good times and the friends I made in the Bay for 30 years, but I think I knew every drug dealer and every bartender in Oakland, so I needed a change. I'd gotten out of a toxic relationship that wasn't healthy, so the move to Portland was a necessary breath of fresh air. I'm able to unplug, go into the mountains and camp, and just detach from society. I've been happier and more productive, and my fucking rad '78 El Camino doesn't get keyed [laughs].
I had been sober [from alcohol] up to and during the recording of 2015's Luminiferous, but cutting vocals drunk had been so ritualized over the years that I didn't have the confidence to record them without whiskey, so I fell off the wagon. I was going through some shit and it was an emotional album with a few tears-in-my-beer songs. I used to internalize my emotions until I drank, and I wanted to convey those feelings, so I just let it out—I didn't have the tools to face that sort of obstacle sober and just relented to old habits. It's all about soul searching and finding what works best for you and your lifestyle. After being drunk for 15 to 20 years, it's tough finally facing who you are, but I'm happy where I'm at now and Electric Messiah has no pussy shit and is full throttle.
But Sleep is pretty open about kneeling at the altar of marijuana. Is that still a creative spark?
That's how I learned to play guitar. I'd ditch class and jam along to my favorite albums while smoking weed or tripping on acid. I mean, dude, I'm 46 years old so I only do it a few times a year, but hallucinations help give me an occasional mental reset and even chip away at a mental block from a fresh perspective. Moderation is the key. It doesn't need to work for everyone, and I hope everyone that wants to be sober is sober, but those things just work for my sanity. If I get too depressed about the world, a good mushroom retreat allows me to step outside my own head. It's not saying that drugs or mind-altering things are the ticket to happiness, but it allows me to tackle an idea, a problem, or emotions from a new angle.
What still excites you about playing guitar?
The guitar is a spiritual instrument—it goes from heart, to head, to hands, out the speaker cabs, and into the universe. That directly impacts the people who listen to you—they know if you're full of shit or not. I've always known I was meant to express myself through this 6-string tool. The only constant through addiction, hard times, juvenile delinquency, heartache, and life has been the guitar.
Witness the raging (and loud) power trio rock Las Vegas for over 75 minutes. Pike's snarling vocals chase his sidewinding guitar and Matz's hulking 4-string thunder, and Des Kensel's pulverizing patterns could summon ancient barbarians to battle.
---
Here is Matt Pike in his other raging power trio, performing one of the stickiest, densest riffs from The Sciences.
---