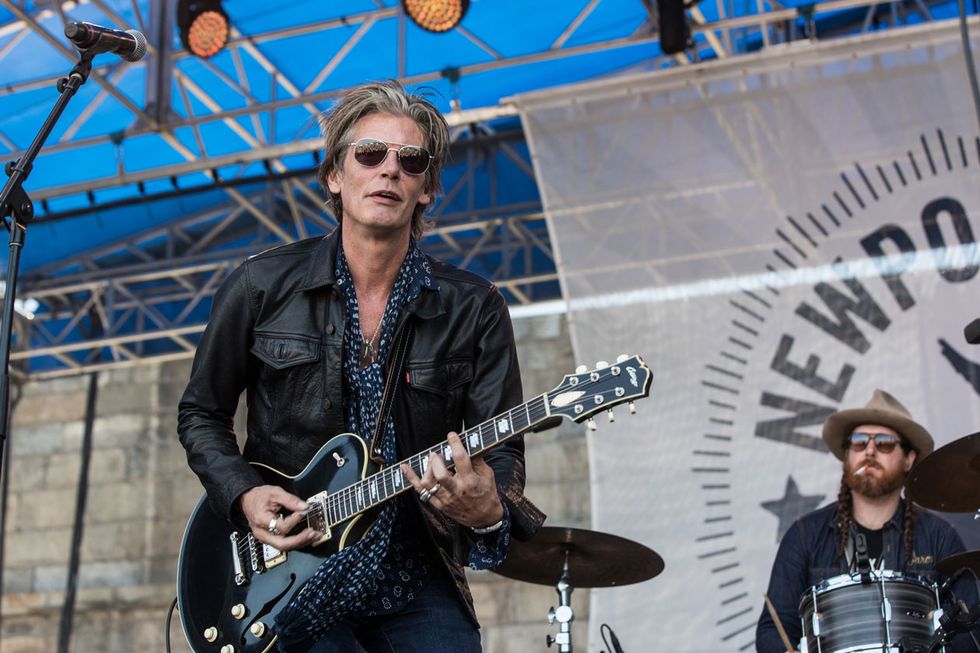 This Collings SoCo Deluxe is Sexton's No. 1 guitar on tour because it stays in tune through the many chord changes of a Dylan set. It has a "dog hair" back and neck finish, a black-finished spruce top, and ThroBak SLE-101 PAF pickups.
Photo by Tim Bugbee
Was playing Townes Van Zandt in Blaze a difficult role, having known him and growing up entrenched in the Austin music scene?
Yeah, it was tricky. When Ethan [Hawke] first called me about the project, he asked, "Hey, what do you think about a movie about Blaze?" This was before my actual knowledge of Sybil Rosen's book, which honestly balanced out the whole film. It would've been much different if it was just those two maniacs [Foley and Van Zandt] throughout the whole film [laughs]. It was wonderful because it needed that perspective from Sybil's book.
Originally it was daunting. That's the first thing I told him: "Well, those are hard to make, because of the music stuff." There's a bunch of bad music films like that, you know? And he said, "Will you help me put it all together?" And I said, "Yeah, of course." And then he goes, "Well, I also want you to play Townes." And I was like, "Uhhhhh, well that's really terrifying."
Because you knew Townes personally, right?
Well, it's that because I did know him. I'm really good friends with his son. It's a family friend, and it's someone truly iconic, you know?
Did you feel like you had to get the family's blessing?
That's a whole other issue. The first call I made after that was I called J.T. [Van Zandt], his son and just said, "Hey, good news and bad news. My friend Ethan wants to make a movie about Blaze." He said, "That's awesome! What's the bad news?" I said, "I'm gonna play your daddy." He goes, "Well, that's cool. You know I wouldn't want anyone else but you to do it."
"Rock is a trap. It's a big trap, where most people that think they're really rocking—they aren't."
Their blessing is a really tricky thing, because you can't go into something like that to do the work with too much social stuff. Ultimately I knew there were things that were really important that needed to be correct, certain little things about him. But it was gonna be tricky, because he's truly iconic—there's a lot of layers to who that guy was and, in the scheme of things, I didn't really know him. Digging in the holes I found out more things that I didn't necessarily want to. I had to have some sort of personal understanding about maybe what he was going through as a human, which became a little too familiar [laughs].
Why did you want to help tell Blaze Foley's story?
There's not really a number one reason—there's a bunch of number ones. The first thing is, I know how much regard and heart that Ethan has if he's even calling me to ask, "What do you think, should I do this?" Because he has such high regard for music and the artistic creative process in those people, he has a lot a love and respect for that. Even though Blaze was horrible. My brother and I had the same experience with Blaze, which wasn't pleasant. As my brother said, "I just love Ben. He showed this other side of Blaze that no one got to see." That's kinda true.
And honestly, for what those guys did with their creative life, there's a million people that don't even have a clue who Blaze was, so I thought it was important to do that for his story. And there's still heaps of people that don't understand or haven't heard what Townes brought. Everyone knew who Buddy Holly was, or Jim Morrison, or whatever, so this was below the radar in a lot of ways for a lot of people. It all worked out really well because I think it showed this other side of Blaze and it keyed people into those songs that both of them had written.

Guitars
Collings SoCo Deluxe
Custom S-Style (with Chandler lipstick pickups, built by Austin Vintage)
Gibson Ron Wood L-5S
Trussart Steelcaster
Trussart Baritone SteelMaster
'55 Les Paul Custom Black Beauty
Shyboy T-Style
Gibson Trini Lopez reissue
Gretsch White Falcon Stephen Stills
Glaser T-style B-Bender
Burst Brothers '58/'59 reissue Les Paul
Fraulini Leadbelly 12-String (acoustic)
Gibson Advanced Jumbo (acoustic)
Gibson J-200 (acoustic)
Amps
Magnatone Varsity Cathedral
'58 Supro Coronado
Effects
Electro-Harmonix POG
TC Electronic Chorus Flanger (modded by Bill Webb of Austin Vintage)
TC Electronic Nova Delay
Sarno Music Solutions Earth Drive
Fulton-Webb Textosterone
Durham Sex Drive
Strings
GHS various sets

Was the record label you launched with Ethan Hawke and Louis Black something that happened later, after the film wrapped?
That happened completely post. Basically, this project had so much synergy, it was kinda creepy. Once we finished the film, Ethan came to me and said, "I want to give Ben something else besides the film that's his own. Would you be interested in making his record?" I said "Yeah, I'll totally help you do that." Ben sent 20 to 30 songs. The synergy train just kept rolling, with or without us, almost.
What was it like in the studio with Ben Dickey, having already worked on the film and then producing his original music?
It was really easy, really creative, and good. He had decent demos of the songs we were cutting, and it was a really small crew. Ben was so solid. Without it being machine-like, we were just knockin' 'em down. I extracted a dozen songs from a batch of 20 to 30. He had some really great songs. I loved a line he would say when certain lyrics would come up, "Oh yeah, facts." It was really funny, because a lot of it is based on his life living on a cotton field in Louisiana, dealing with nature, storms blowing down barns, hiding in the closet. Ben's a really interesting guy. As Ethan says, you never know who's got an interesting story. He's done everything: been a chef, been a mover, been in bands, been default Clinton campaign security.
How did you get into producing?
It really all began when I first left home. I was 13 and I had a little band, but I also had a side band that I played drums in. We were gonna go in the studio and record songs, and right before we went, the bass player quit. So we cut recordings of the drums and guitars, and then I put bass on it later, and then I started figuring out how to put the rest of the songs together.
I was so interested in records growing up. I was listening to these records that weren't necessarily folk records. It was kind of attached to writing. It was just in my head … I always heard the whole thing. Sometimes it was difficult to finish a song until I got all the other ideas out of the way so I could focus on lyrics and those kind of things.
So, over the course of years, prior to officially being a producer, I was always making tracks to write songs to. Or if I was cowriting, we'd do a recording of a song. It was kind of the Malcolm Gladwell 10,000-hour concept. Without even focusing on it, I was working on my 10,000 hours of recording and building tracks and figuring out how things worked.
Did you get your 10,000 hours in yet?
I never really got the count. I think you're supposed to know what you're doing by the time you reach it, so maybe I haven't reached it yet because I'm always learning in that regard.
This is what it is: You have to have the balance. What's the balance? Arrested development and always-forward movement and growth. You have to have a certain amount of arrested development that keeps you from giving up [laughs]. And then keep working and learning. You kinda stop evolving yet continue to evolve all in the same breath. You just have to know when to send yourself to your room or your corner, ya know? [Laughs.]
---