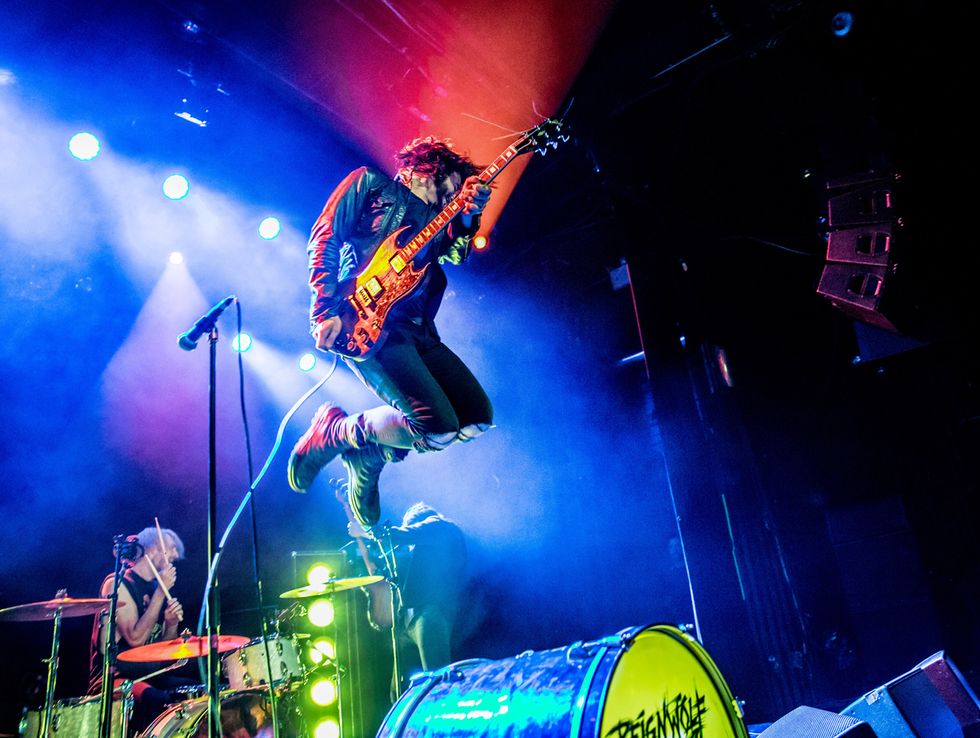 In the air with an ES-335 or his '70s Gibson SG is where you can find Jordan Cook at a Reignwolf live show.
Photo by Omar Kasrawi
Jordan Cook is used to getting a little beaten up on tour. The Reignwolf singer and guitarist has developed a penchant for stage diving and crowd work, establishing a roughhouse reputation that sometimes catches up to him. During the band's stint at this year's South by Southwest, a few days before our interview, things got extra crazy and Cook fell from stage during his third show of the day. "At SXSW, it's normal to do two or three shows a day and, with our types of shows, that's not normal," he explains. While it took him a few days to recover, he was quick to say he just needed to "shake it off" and to talk about his next jaunt on the road.
Reignwolf's rough-and-tumble live performances have, until now, been the primary way that fans could hear the band. Since creating Reignwolf in Seattle in 2012, Cook has intentionally held back on recording a full-length album, preferring to release a few singles, play live, and let videos of those performances do most of the work in spreading the word. While it may seem like an unusual approach to take in 2019, the band's stints touring as a supporting act for mega-bands like Pixies and Black Sabbath prove that Cook is onto something.
While he makes sure to credit drummer Joseph Braley as being part of the band since the beginning, Cook has also used Reignwolf as a solo act at times, playing guitar and singing while jamming along with a kick drum. For the hard-rocking Hear Me Out, Reignwolf's long-awaited full-length effort, the band is now a focused power trio. Joined by Braley and bassist S.J. Kardash, Hear Me Out douses Cook's bluesy rock 'n' roll with heavy grunge-rock vibes, aided by contributions of big-name mixing engineers with heavy alternative rock credits, such as Tchad Blake (Pearl Jam, U2, the Black Keys), Mario Caldato Jr. aka Mario C (Beastie Boys), Vance Powell (the White Stripes), and Tony Hoffer (Beck). Songs like the opening "Black and Red" and "Ritual" allude to Cook's early years in Canada as a teenage blues-guitar prodigy, while more prominently focusing on his love of '90s rock and heavy-hitting hard rock.
With Hear Me Out finally released into the world, Cook is taking Reignwolf's music to greater heights but he's still beating himself up in front of audiences. Once he recovered from SXSW, we caught up with Cook to discuss topics spanning Reignwolf's live shows, Cook's gear, and a shelved collaboration with the Soundgarden rhythm section.
You fell off a stage the other night?
Yeah! That happened in Texas. It was our third show of the day. That isn't my first time falling off a stage. It's one of those things, you gotta get up and keep going.
Jordan Cook chose an impressive lineup of producers to work on his debut album, including Tchad Blake (Pearl Jam, U2), Mario Caldato Jr. (Beastie Boys), Vance Powell (the White Stripes), and Tony Hoffer (Beck).
I was up on some speakers and, as I was going down, there was a speaker below and there was this little crack and that's where my foot went into. I was just like, "No way. We got through all of this and that happened!?" But it's all good.
Judging from YouTube videos, it seems like you stage dive, or at least end up in the audience, pretty regularly. Have you had any related accidents?
Luckily, I don't think so. The other night, I was in the crowd a little bit and somebody lifted me and they were carrying me. When they lifted me up, they were pulling down my pants. I don't think the guy was trying to do that, I think he was trying to get to my guitar and I was pulling away, and he got a knob off of my guitar.
Is that the worst that's happened to your guitar in these situations?
Yeah. A 335 is more of a breakable guitar, so I guess I've been really lucky.
Yeah, you've been lucky!
Once when we did Austin City Limits, I did hit a guy by accident with my guitar and I grabbed him right away and said, "Man, whatever you want, we got you. That wasn't supposed to happen." He was like, "It's my birthday. This is the best thing that ever happened to me." It was the most ridiculous thing because there was blood coming out of his head. It was definitely scary. Our shows get pretty crazy, but there's not blood coming from the audience usually.
"When you're getting offers to go out with Pixies or Black Sabbath or any of these bands, not having a record seems badass to me."

You've done a lot of playing as a one-man band and you even toured with Black Sabbath that way. Have you decided to work exclusively with the band now?
When I was touring with Sabbath, Joseph, the drummer, did come for some of the shows, but during that time it was mainly me and a kick drum. I still do that, but there seems to be more of a band energy going on. The bass player, S.J. … we recorded a lot of this record at his home studio in Saskatoon, Saskatchewan, where I was born. He and I have always played music together and it's a bass-heavy record, so it makes sense for us to expand a bit and have S.J. come out with us. We've been playing music together since I was 11 years old. It's one of those undeniable situations. I don't know what happens, but when you grow up together, you know absolutely everything each other is about to do. He's the best bass player I know.
And Joseph Braley has been with you since the beginning?
In 2012, I was in Seattle and Ben Shepherd, the bass player from Soundgarden, introduced me to Joseph. He was kind of joking around and saying, "This guy's in your band." We ended up having a jam and it was awesome. That was the start of Reignwolf.
You had previously worked with both Ben Shepherd and Matt Cameron, right?
Yeah, originally Matt Chamberlain [former Pearl Jam drummer who has also subbed for Matt Cameron in Soundgarden] and Ben Shepherd and I were doing stuff in Memphis, and then I went out to Seattle and Matt Cameron offered to help finish the record.
We recorded a bunch of stuff, but I kind of enjoyed not having a record out. It was more special. When you're getting offers to go out with Pixies or Black Sabbath or any of these bands, not having a record seems badass to me. It kind of led up to this moment, and now the band and I are closer together and we're getting things like Woodstock.
Was that album ever released?
It's not released, but I hope that at some point it sees the light of day. We'll see about that. There's no doubt we'll jam again.
Do you think in 2019 it's still important to release records, versus playing live?
I think it's upside down and backwards again, because a single will most likely take you farther than an actual record. That being said, it's also a dream to make a full record that you don't hate. We put out four singles before this record and we lived off those for quite some time.
I think the live show is more celebrated now than it ever has been, but to be able to have people go home with something and be able to hang onto something is pretty cool. At our merch booth on this past tour, seeing people buy CDs was hilarious to me. CDs, I thought, were something of the past, but people still buy CDs. It's pretty amazing.