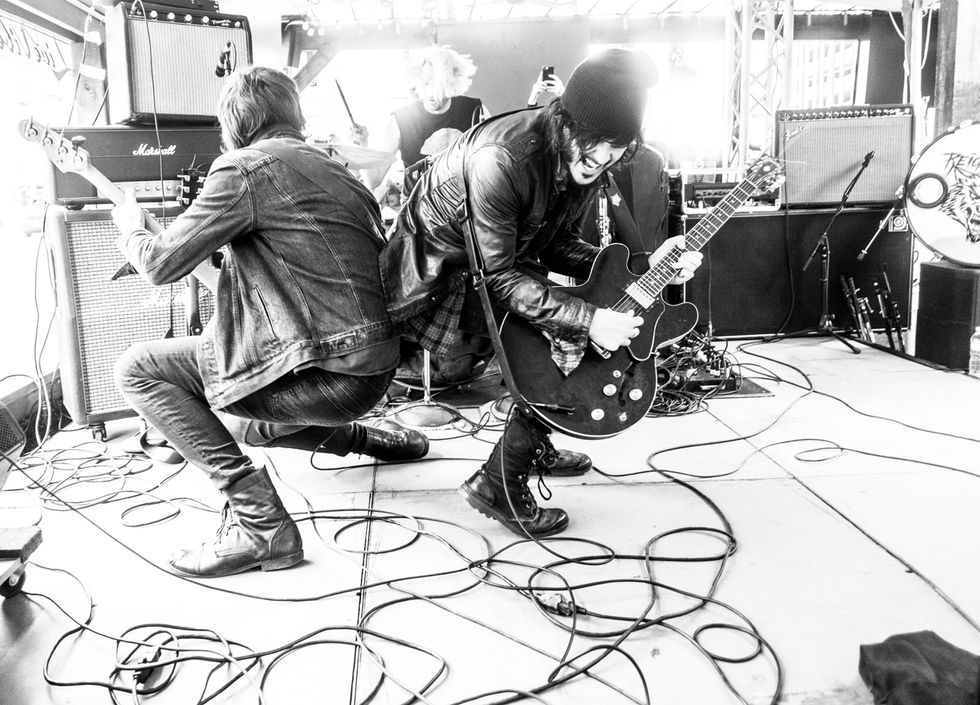 Cook has been playing music with his childhood friend, bassist S.J. Kardash, since age 11, so he asked Kardash to join Reignwolf. The trio is rounded out by drummer Joseph Braley. Photo by A.F. Cortes
How is it different playing the new material live, with the band?
I've noticed I'm working harder to get the lyrics right with these songs because people know now, whereas before I could get away with singing whatever feels right.
We're a bit on the edge right now, because this is the first time we've ever played any of these songs. They weren't live-tested yet, so we're finding things within them when we're out playing and it's just awesome. It's fresh blood. Every time we play, we don't play anything quite the same way and that keeps it special.
For example, in "Keeper," we've been extending the ending quite a bit and it's been so awesome. There's this really great line underneath that I can solo on and it's really melodic.
Reignwolf's Gear
Guitars
Gibson ES-335
1970s Gibson SG
Amps
1950s Fender Champ
Fender Super Reverb
Marshall JMP (50 and 100 watt)
Analog Outfitters Sarge
Strings and Picks
Ernie Ball (.010–.046 and .011–.052 sets)
Dunlop Tortex .73 mm
You co-wrote a lot of the material on the album.
Some of it I just wrote, and a bit with S.J. I also have two English friends, Matt Hales [Aqualung] and Blair MacKichan, that have been in my court for many years and we got together and wrote some stuff. They're the crazy ones. We came up with that song "Over and Over." Up until this point, I hadn't done a lot of co-writing but with these guys it just felt like jamming. I kind of feel like we're only getting started because there's quite a bit more music that we're drafting up.
You grew up as an aspiring blues guitarist. Were you always interested in writing songs?
Writing songs to me is really natural. I really enjoy that. There hasn't been a lot of thinking about how to go from this to that. It's just moved the right way.
There are a few different mixing engineers who worked on different songs on this album. What was it like having so many contributors?
I got really lucky to work with Tchad Blake and it turns out he's a fan, so I sent him some stuff. Whatever he mixed felt badass.
The most surprising one is Mario C. I got to meet Mike D from the Beastie Boys and said, "You gotta tell me who mixed 'Sabotage.'" "That's Mario C., man." He introduced me and we were working together within 24 hours. He came up with the tremolo thing in "Over and Over," the Byrds-y thing.
Another guy I really enjoyed working with was Tony Hoffer. I've never gotten a mix where mix one was done and I didn't have to say anything back. That's unbelievable. It's crazy when somebody gets the vision to the point where they know where to take it and we never even sat in the same room before. He worked on Midnite Vultures—he co-produced it with Beck. He knows what's up.
There are some great dirty guitar tones. What were you using?
Mainly, it was a lot of dimed amps. That came to be the thing that always got us there. We were working at Snoop Dogg's old studio, North Dwarf Records [formerly Doggy Style Records]. There's this engineer there and somebody had lent him this '50s Champ, and I was like, "That's the amp." The first note and I was like, "We might have to record all the guitars right now because this sounds so good." He had some kind of RAT pedal that he used, but it was mainly just that amp cranked right out.
Did you mostly use your Gibson ES-335?
Yeah, and the other guitar that showed up was my SG. It's really clean. I can almost get Fender tones with this, so any of the cleaner tones is the SG.
The 335 going through the Champ was amazing and I was also lucky enough to get a '59 Bassman and I gotta tell you, that thing on full sounded amazing. It didn't need any pedals; it just had that freak-out sound already. A friend of mine also lent me a 100-watt and a 50-watt Marshall JMP, and I used those on a few things. The 50-watt was super chime-y and the 100-watt just has so much power.
What's the deal with your 335? You've been playing that a while.
I got that one on the Black Sabbath tour. The one that I originally had was in pieces. We were in the U.K. and our drummer was holding it in the case and he stood it up and it fell and hit the ground. We opened the case and the headstock was off. I was super bummed. I got it back to Seattle and had it glued, but it busted three or four more times in different spots. It just wasn't the same guitar anymore. It sucked because that one sounded really great. It made me really sad because that's where the whole Reignwolf thing came from—I got that guitar and it was just meant to be.
I went on Craigslist and got my management to buy this guitar and send it to the Barclays Center in New York, and I got it right in time for the show, walking onstage. I'd never played the guitar before, just knew it looked awesome. I've been using that one ever since. I'm not sure what year it is, I'm gonna guess it's an early 2000s Custom Shop. I don't know what it is, but it's a special one.
What's up with your SG?
When I moved to Seattle, I got there and I had no guitar because I'm Canadian and was going over the border and still figuring it out. I went by this studio and picked up the guitar and it was amazing. The guy who owned the studio was like, "How much can you give me for it? I'm going through a divorce and either you get it or my wife gets it."
I gotta tell you, there's nothing like an early-'70s SG. It's so nice. And it's one of the only ones I've ever played that stays in tune. It does the Cream thing really well. That and the '59 Bassman—it sounds so cool!
When you were younger, you had some really great opportunities, like playing with B.B. King when you were 15, and later on you hooked up with Soundgarden and Pearl Jam. How important has it been to you to work with such iconic influences?
It's been a bonus. It lets you know you're on a good track. Meeting Ben Shepherd was the weirdest thing. I was in Memphis recording with Matt Chamberlain and we didn't have a bass player. On the way to the studio, I was listening to "Burden in My Hand" by Soundgarden and I thought, "That's the best bass line I've heard in many years." I got to the studio and was like, "Is there any chance you know Ben Shepherd?" And he said, "I can give you his number."
I just cold-called Ben and he was in the studio in Memphis within 24 hours. After we were done with the sessions, I called my agent and said, "We've gotta set up this tour." Within a month we were out on the road and we did six or seven dates across Canada. It was some of the best shows of my entire life. I've got the rhythm section of my heroes! It was just incredible.
When I went to Seattle, I was just going there to hang out with Ben. They had just gotten Soundgarden back together and they were doing a small club show and he invited me and I just didn't leave. Within a month I was headlining my own shows in Seattle and things were going well. The Pearl Jam camp introduced me to their booking agent and he got us on all the festivals and it's been an incredible ride.
YouTube It
Watch Reignwolf tear through Hear Me Out's "Black and Red." The energy between the band and the audience is palpable and Cook doesn't miss a note when he grabs the mic with one hand and keeps riffing with the other at 1:45, before soaring into a bend-laden melodic solo at 2:50.