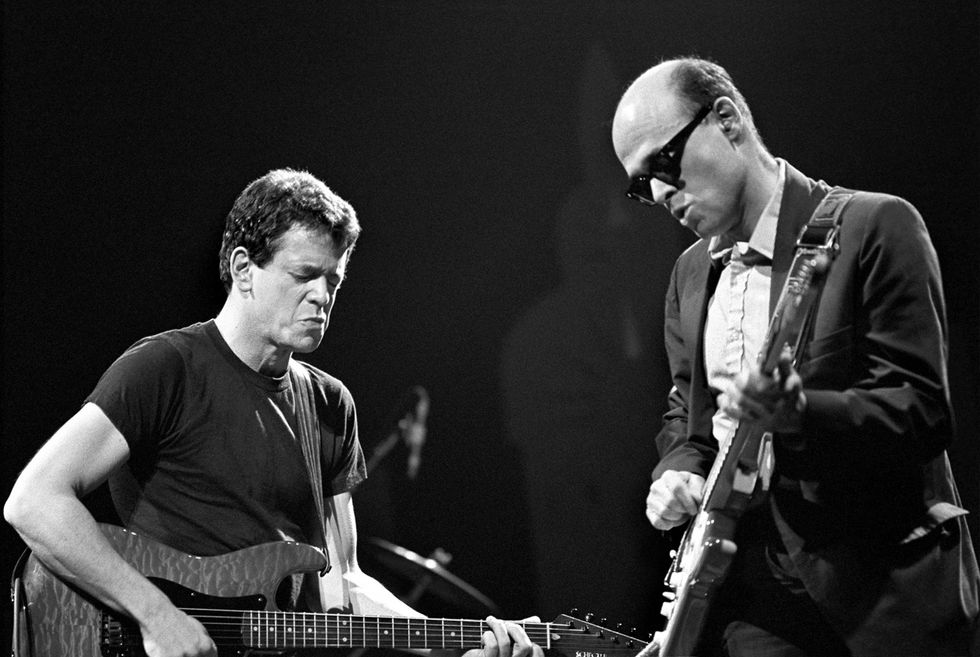 Lou Reed and Robert Quine performing at the Beacon Theatre in New York City, October 18, 1984. A huge fan of the Velvet Underground, Quine talked Reed into returning to the guitar—igniting a flame that Reed fanned for the remainder of his own life, even going on to record instrumental albums. Photo by Ebet Roberts
The Debut
Richard Hell and the Voidoids released a three-song EP, Another World, on Ork Records in late 1976, under Hell's name only. It was followed by their epic and influential full-length debut, Blank Generation, almost a year later. That release, which featured Quine, Hell on vocals and bass, second guitarist Ivan Julian, and drummer Marc Bell (later to become Marky Ramone of the Ramones), put Quine on the map.
Blank Generation is a showcase for many of the hallmarks of Quine's style. From the twisted-'50s leads on "Love Comes in Spurts" to the bluesy neck-mangling stutters of "Betrayal Takes Two" to his tight interplay with co-guitarist Ivan Julian­—it's all there. His tone varies throughout the album, though it's often thin, and sitting just at the edge of breaking up. Quine has no songwriting credits on the release, which was a constant throughout his career. He had a singular sound and a specific aesthetic sense, but, ultimately, he was a sideman.
"Bob didn't really have ambitions beyond being a sideman," Hell says. "I would push him. And the way I composed songs was I would come up with a series of chord changes and the bass playing I thought suggested what the structure and feel of the song was. Sometimes I would come in with some kind of reference, saying, 'I hear this as a kind of drive that's on 'Paint It Black' or something like that.' We'd start jamming and then I would nudge Bob and Ivan in certain directions, but just with a bass line that indicated chord changes I would tell them to play. They would improvise what their rhythm parts were and then I would try to push them this way or another, to get them closer to what I heard in my head."
That twin-guitar approach of bands like the Rolling Stones, the Yardbirds, and the Velvet Underground was a stylistic touchtone for Quine. Despite his idiosyncratic playing, almost his entire catalog features at least one other guitarist. That was an important part of the Voidoids' sound, and Quine and Julian took pains to make it work.
"We outlined the band so there wasn't a rhythm guitar player and a lead guitar player," Julian says. "We both just played guitar. One thing we did was never play any song on the same part of the neck. For example, you'll never find both of us doing a G chord in first position. If one was playing one thing when we were working out the song, then the other would work out some other way to play it."
"He tried for a job playing with Art Garfunkel. He got drunk and told him he thought Simon & Garfunkel were for people too stupid for Bob Dylan. Garfunkel punched him in the nose."
—James "the Hound" Marshall
Blank Generation was recorded twice. The first sessions were in March 1976, at Electric Lady, the studio Jimi Hendrix built in the Village. The album was rerecorded in late June and early July, at Plaza Sound in Midtown. Most of the final release—except for three songs—was taken from the Plaza Sound sessions. Quine brought two Strats and a Bigsby-equipped Tele to the sessions. (Julian used Quine's Tele for his solo on "Liars Beware.") Julian played an Ampeg Dan Armstrong clear Lucite guitar and an SG, though for the second sessions he mostly used a Strat.
Blank Generation is mixed with Quine panned hard to one side and Julian to the other—a trick they learned from the Yardbirds' album Over Under Sideways Down—with the solos right up the middle. For most of his solos, Quine played through a Fender Champ or a small Pignose amp, and sometimes had an MXR Dyna Comp out front.
"Pignoses didn't have a tone control, so Quine would open and close the cabinet to get however much treble or bass he wanted," Julian says. "They took a little tiny mic to it, and he had it up on a stool. When we recorded the album the first time, we were at Electric Lady Studios and we were told not to bring our own amps. They had these giant amps there for us—giant by today's standards. They had Twins and I remember they had Peter Frampton's Marshall that was left there. We were trying to play solos through that and it just didn't work out at all."
Link Wray and Robert Gordon were in the next room, recording the 1977 release Robert Gordon with Link Wray, which was also produced by Blank Generation producer Richard Gottehrer. "Robert loved Link Wray and he borrowed his Ampeg. I think it was a Reverberocket, some kind of trashy amp like that," says Marshall.
Quine is noted for his soloing, but his rhythm playing is just as important. He was a huge fan of the Byrds' guitarists Roger McGuinn and David Crosby, and brought an encyclopedic breadth of knowledge to the table.
"Quine had a really great touch and instincts for rhythm playing," Hell says. "He was so knowledgeable about the whole history of guitars that his repertoire and his mind was just infinite. He had a great sense for propelling a song and keeping it interesting. Bob and Ivan both knew—and clearly we all agreed about this—that I liked the classic interlocking riffs of the two-guitar bands. Where it's not exactly polyrhythmic, but it takes advantage of what you can do having two instruments, where you're not simply reinforcing each other. There's this counterpoint going on."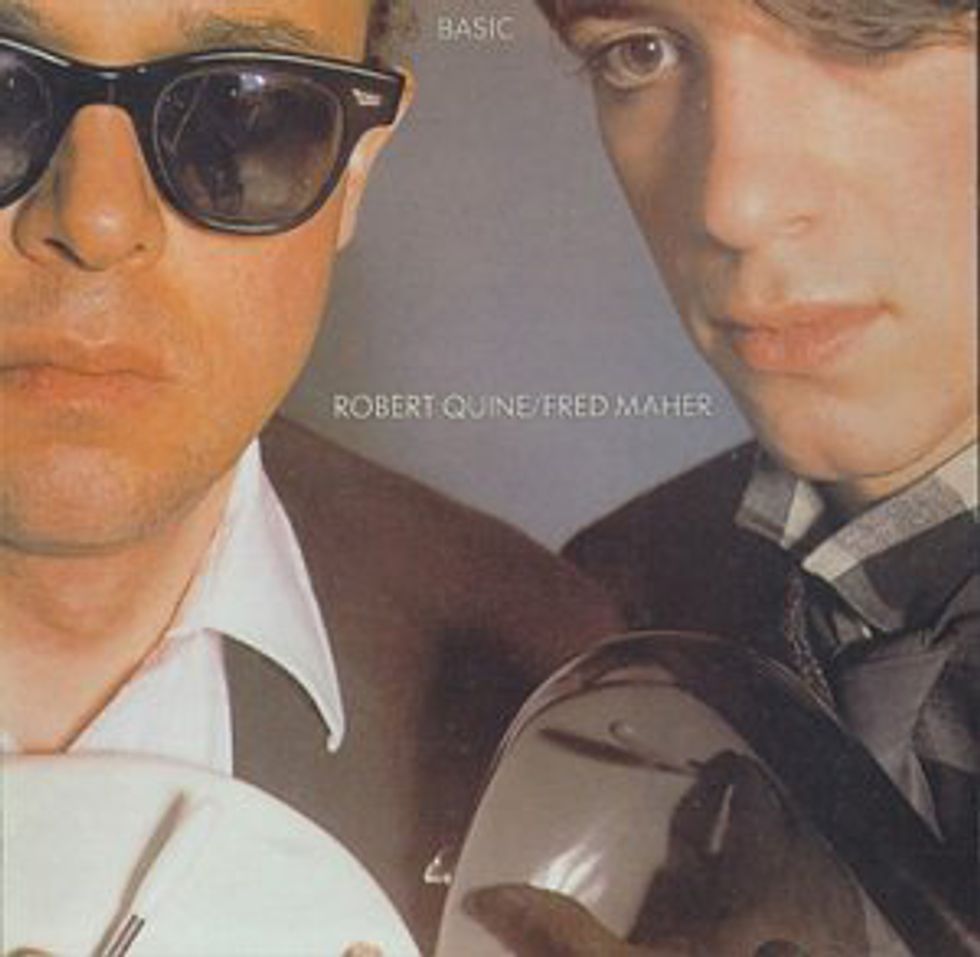 Quine never released a solo album, but the closest recordings are his two duo records: 1984's Basic, with drummer/producer Fred Maher—pictured here—and 1981's Escape, with guitarist Jody Harris.
Back to Basic
Drummer and producer Fred Maher, who's helmed albums for Scritti Politti, Lou Reed, and many others, met Quine backstage at CBGB at the tail-end of the 1970s. Maher, along with bassist Bill Laswell and keyboardist Michael Beinhorn, was a member of the New York avant-funk band Material. Following that meeting, Quine joined Maher, Laswell, and Beinhorn as a member of Deadline, the touring band that backed Laswell's electronic music project with drummer Phillip Willson from the Art Ensemble of Chicago. The project was short-lived, but it marked the beginnings of a collaboration between Quine and Maher, which lasted well into the '90s.
While working on other projects, Quine and Maher recorded their 1984 duo release, Basic, at Quine's apartment in the East Village, using a Tascam 4-track Portastudio and an Oberheim DMX drum machine. The album was recorded over a six-month period and, along with the 1981 release Escape, with guitarist Jody Harris, was the closest Quine came to a solo album.
Basic, for the most part, is a low-key album and showcases a very different side of Quine's musical personality—something you don't hear on many of his recordings as a sideman. Check out the track "'65." Quine's tone leans on the single-coil vibe of a Strat, but is enhanced with a generous helping of slapback echo. The chord motion is thick and repetitive, yet also subtly evolving, and modified with standout treble or lead voicings, and whammy-bar warbles. He does similar things on tracks like "Pickup," although his tone is even cleaner and the whammy warbles more extreme, and the album's closer, "Village."
"That was all direct," Maher says. "It was probably whatever Whirlwind direct box was available at the time. The only constant with Quine would be the Electro-Harmonix Memory Man. But he could have been using any combination of things. He was an aficionado of pedals. He had anything and everything, or he would have tried anything or everything that was available at the time."
Quine and Maher also worked together on Destiny Street, Hell's 1982 follow-up to Blank Generation. The album was recorded during a dark period in Hell's life, when drugs were taking their toll, and during his frequent absences from the studio, Quine—according to Maher—figured the only thing to do was to record more guitars.
"Quine went crazy," Maher says. "But that wasn't necessarily him proactively saying, 'I've got an idea and I want to do this.' It was more, literally, just to fill the time, because there was nothing to do. Between him and the other guitar player, Naux, it was pretty ridiculous."
---