Need more headroom or gain? Spin the bottles.
[Originally published: 9/2/2019]
You might guess from the title of this column that I love Fender amps. And you'd be right. From a musical and engineering perspective, I think vintage Fender blackface amps are the best ever made. With bright, American-style speakers, they deliver pure and natural tone. Their channels, with volume and EQ, are intuitive for any guitar, bass, or keyboard player. It's impossible to not find a decent tone in less than 10 seconds. From a technical perspective, their handmade tube-based circuits are simple, and they were built with high-quality components. And today, there are easily available parts and schematics, and an abundance of other online technical information, which makes it possible for many techs and players—including you—to service these amps.
Classic Fender blackface amps have been an inspiration for an entire industry. They've appeared on countless stages and an incredible amount of great albums by legendary performers. Why? Mostly tone and clean headroom. So, for this debut column, let's discuss what we can do to make those two factors work best for you via tubes.
Reverb and tremolo were the main functional innovations in Fender's blackface line. The king of blackface amps, the Twin Reverb, produced 85 watts from four 6L6 tubes and had enormous power and output transformers, a non-sagging diode rectifier, and two powerful 12" speakers. The 4x10 dual-6L6 40-watt Super Reverb has half that power, a softer tube rectifier, and smaller transformers. Still, the massive array of four 10" speakers is screamingly loud and sometimes difficult to handle for its weight (65 pounds), size, and volume. A 4x10 is more directional and scooped in the low mids than a 2x12. So a guitar plugged into a Super Reverb can end up competing with the bass. Experience is required to tame these amps. Once you know how to handle them, you will be rewarded with an overwhelming and physical sonic experience.
In the blackface world, the 1x12, double-6V6 22-watt Deluxe Reverb's advantage is that it's small and light, at 42 pounds. It breaks up earlier than its bigger relatives due to the less powerful 6V6s, small transformers, and a small speaker cabinet. Additionally, the original Oxford 12K6-5 speaker farts out early and is very weak, although it also delivers a true signature vintage Fender sound. And who doesn't want their amp to break up easily these days? I have kept the Oxfords in my Deluxe amps. Before the internet, few people knew they could replace the 6V6s with 6L6s and replace the Oxford to double the Deluxe's volume.
The V6 12AT7 phase inverter tube can be replaced with a 12AX7 to reduce headroom in large 6L6 amps.
Via my website, fenderguru.com, I often get questions about how to achieve different tones in blackface amps run at lower volumes. The answer often lies in the tubes. So let me share some simple tube tricks that will help you develop an understanding of how tubes function—and how they can be used to affect changes—in the typical two-channel AB763 circuit in the Twin, Super Reverb, Vibroverb, Pro, Vibrolux, and Deluxe amps of the original blackface era.
The tubes in these circuits are typically identified as V1 through V10, looking at the back of the amp from right to left. Here are some tricks:
The V1 12AX7 tube in an amp's normal channel can be removed for more preamp gain and reduced headroom in the vibrato channel. It can also be replaced by weaker tubes, like 12AY7s or 5751s, for less volume/gain. I always pull out this V1 since I use the vibrato channel and want solid preamp gain, which the single V2 delivers.
The V3 12AT7 reverb driver for the vibrato channel can be replaced with a 12AU7 for less reverb and improved reverb knob control.
If you're only using the normal channel, think about removing the V2 through V5 tubes for the vibrato channel. That will give you more gain and headroom in the normal channel. (FYI, the 12AX7 in the V5 position is the tremolo tube.)
The V6 12AT7 phase inverter tube can be replaced with a 12AX7 to reduce headroom in large 6L6 amps.
Several alternatives to 6L6 power tubes exist. I mostly use 6L6GCs. In a Twin Reverb, you can pull either the V7 and V10 or V8 and V9 tubes for half power and earlier breakup. Ideally, but not totally necessary, you should disengage one speaker to match the impedance change.
In a blackface Deluxe, the GZ34 in the V9 slot is the rectifier tube. If I want reduced headroom and more sag, I use a 5U4GB.
And there you have it: You're on your way to becoming a Fender guru, too!
A handwired Harvard post-graduate.
 

Ratings

Pros:

Terrific tweed-style tones. Bargain price for a good handwired amp.

Cons:

Trem circuit produces pops/clicks at higher depth settings.

Street:

$1,163 street (as reviewed with Weber alnico 12A125A speaker)

Winfield Amps Tremor winfieldamps.com

Tones: Ease of Use: Build/Design: Value:
The Tremor is a 12-watt combo from Arizona amp builder Winfield Thomas. It's a near-clone of the Fender Harvard, a dual-6V6 tube model produced from 1955 through the end of the decade. Or maybe it's more accurate to call it a tweed Vibrolux clone. That amp was simply a Harvard with a different preamp tube, plus the tremolo circuit that the new part permitted.
A couple of things about the Harvard: Its most famous user is soul session titan Steve Cropper. If there's such a thing as a "sound of Stax" amp, the Harvard is it. Still, the amp was never especially popular, occupying an awkward middle tier between Fender's entry level and pro models. It departed from its cathode-biased contemporaries with a fix-biased scheme—a design choice that tends to provide a little extra headroom and stouter lows.
Bigger and Browner
The Tremor's main deviations from the original design are size upgrades: It has a larger output transformer (a 40-watt Weber) and an upscale 12" Weber 12A125 speaker in lieu of the original's 10" Jensen. (Other 1x12 options include a Weber Blue Dog or Eminence Legend 1258, or a 1x10 combo with a Weber Blue Pup or a Legend 1058.) Cosmetically, it's a tweed in brownface clothing. And the vinyl, by the way, is attractive and expertly applied. But note that the Tremor's vibrato circuit is tweed-style, not the dual-tube "harmonic tremolo" of some Fender brownface models.
But the Tremor is most remarkable for the ways it cleaves to Fender tradition. This amp is truly made the old-fashioned way. Components are handwired on old-school grommet board. The assembly and wiring seem solid. Aside from an internally accessible bias-adjust pot and modern plastic tube sockets, this could almost pass for a late-1950s build. The same goes for the light, resonant solid pine cabinet.
The Tremor is most remarkable for the ways it cleaves to Fender tradition. This amp is truly made the old-fashioned way.
Present and Accounted For
I recorded the first audio clip immediately after unboxing the amp and warming the tubes. I used my "Don't make me come over there!" test: I maxed the amp volume, parked the single treble-cut tone control at noon, and sat across the room, controlling tones from the guitar (a DIY semi-hollowbody with humbucking TV Jones Filter'Tron pickups). As you'd expect from a tweed-style amp, the dynamic response is superb. You could play an entire gig with the amp set this way, regulating distortion from your guitar's volume control.
Speaking of gigs: You'd probably need to mic this amp for all but low-volume performances. Still, the Tremor is more assertive than many amps its size. Tones are ultra-present, with crisp transients, lovely natural compression, and airy resonance. Between the fixed-bias design and the bold alnico Weber speaker in our test combo, the amp dispenses startlingly powerful lows. You hear some of that in the second audio clip, which showcases various amp settings.
More Shout, Less Screech
The bias and speaker design choices also affect the most controversial aspect of tweed amps: their high-volume performance. Whenever I review a tweed-style amp, some friendly reader inevitably points out how my high-gain clips sound like crap. Crap is in the ear of the beholder, of course. And with most tweed-derived designs, you shouldn't expect creamy high-gain distortion. Think jagged Neil Young.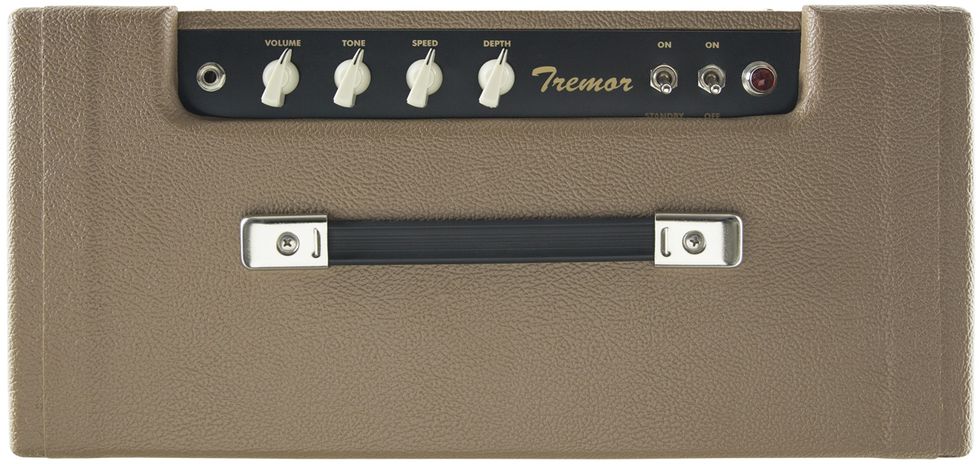 Here, though, the modest extra headroom and full-bodied speaker provide stouter, less fizzy high-gain tones. This isn't, to use that popular and annoying phrase, "a clean platform for effects." It's pretty much the opposite. But players who a) love the presence and supreme dynamic response of tweed designs, but b) flinch at their potentially shrill high-gain tones may find the Tremor a satisfying compromise. My third and final clip adds effects: Plate reverb to soften the amp's ultra-present attack, and a hot germanium booster at an aggressive setting. The note definition is excellent, considering how hard I'm slamming the amp's front end.
Tricky Trem?
The Tremor's core tremolo sound (which is activated by the classy included foot pedal) is quintessential tweed—a beautiful thing! (The phrase at the start of the second audio clip is a good example.) That said, our review unit exhibited some issues with the trem rate and depth controls. While the depth pot sounds fab in the first third of its range, settings around 10 o'clock produced "beating"—audible popping/clicking speaker noises. The phenomenon was even more noticeable at higher depth settings. Is this a deal-breaker? Listen carefully on headphones and decide for yourself. (Responding to this point, Thomas says the tremolo was designed for smooth, click-free response, so it's possible the clicking sound we observed was an anomaly induced by rough handling in transit.)
The Verdict
The Tremor captures a classic tweed tone while adding a touch of extra headroom and frequency range that even tweed traditionalists are likely to dig. It's a fine recording amp, with crisply etched tones that'll suit many mixes. It's easy to feel like Steve Cropper at a 1960s soul session whenever you play slow arpeggios or strike a bright backbeat chord.
The ranges of the trem's rate and depth controls are problematic for me, so interpret my "tones," "build/design" and "value" ratings of 4 accordingly. (If you plan to use the trem only at modest settings, upgrade those numbers to 5. If you want deep trem, downgrade them to 3.) Also, this is an excellent price for a great-sounding handwired amp, and you can lower the cost further if you opt for a less pricy speaker or the $775 head-only model.
Spring-reverb junkies rejoice: This brilliant offering from France puts three amp-rivaling ambience options right on your pedalboard.
Recorded using a Squier Vintage Modified Telecaster Custom with Curtis Novak Tele-V bridge and JM-V neck pickups going into a Ground Control Tsukuyomi boost (set at 9 o'clock) and then into a Warehouse G10C/S-equipped 1976 Fender Vibrolux Reverb (with reverb off) miked with a Royer R-121 and feeding an Apogee Duet going into GarageBand with no EQ-ing, compression, or effects.
Clip 1: Le Bon tank (first bypassed) then with two different settings: 1) All controls at noon and spring-saturation switch off, first in middle pickup position, then neck pickup. 2) Out and low at max, mix at 2 o'clock, and high at 10 o'clock, first in middle pickup position, then in middle pickup position with spring-saturation switch engaged.
Clip 2: Same as clip 1, but with La Brute tank.
Clip 3: Same as clip 1, but with Le Truand tank.
 

Ratings

Pros:

Adds world-class spring-reverb sounds of all stripes to any amp. Great build. Reasonable price.

Cons:

Requires careful pedalboard placement and possibly extra padding, particularly for heavy stompers.

Street:

$349 street (Premium bundle, tested), $249 (Le Bon bundle), $279 (La Brute bundle), $299 (Le Truand bundle)

Anasounds Element anasounds.com

Tones: Ease of Use: Build/Design: Value:
A forewarning—I'm about to blaspheme. Okay, here goes: The Anasounds Element is a game-changing means of stocking your pedalboard with analog spring reverb that can rival 'verb in classic amps. Hear me out—I've been obsessed with reverb for years, and none of this is said lightly.
How It Works
The France-built Element consists of two units: a 4-knob controller/preamp stompbox that connects via a 3.5 mm-to-RCA cable to one of three available tank sizes. The smallest, Le Bon, is approximately 7"x 2"x 1 1/2", while La Brute is about 9"x 3"x 1 1/2" (roughly the size of a Fender Blues Junior tank), and Le Truand, at 17"x 4"x 1 1/2", is about as big as the tank from a Fender Twin Reverb. (All three are also available in a Premium bundle.) Each tank contains three springs, and includes screws and washers for mounting to your board through holes outfitted with shock-absorbing rubber grommets. All pedal jacks are up top, and controls are straightforward: Mix shifts the dry-to-wet ratio, out governs wet-signal gain (9 dB at max), and low and high adjust the reverberated signal's bass and treble content. A single toggle engages a "saturation" mode.
Lequel Est Pour Toi?
My tests began by running each Element tank through my '76 Vibrolux Reverb, toggling back and forth between the amp's built-in 'verb and Anasounds sounds driven by a Telecaster and a baritone "Jazzblaster" with Wide Range-style humbuckers. My initial impression, even with little Le Bon, was … "Dayum!"
For starters, I heard no difference in the character of foundational tones when the effect was engaged versus bypassed—a testament to Anasounds' incredibly clear preamp. Secondly, even little Le Bon offered a huge array of sounds; everything from a splash of amp-like ambiance to tidal waves of completely legit surf tones. I thought I detected a little more low-end oomph in the Fender's reverb at first, but as I experimented with Element's controls I realized there was hardly a Vibrolux reverb sound I couldn't mimic—plus a jillion more that would be hard to extract from a single-knob circuit.
Even using an RCA-to-1/4" adapter to route my Vibrolux's own reverb into the amp's normal channel—which lets you use that channel's controls to EQ the reverberated signal (a trick I learned from new PG Silver and Black columnist Jens Mosbergvik)——didn't yield tonal variety to rival the Element. And that's not just because the amp lacks a mix control. The Element's high knob is perfect for taming ping-y treble drips or dialing in warmer sounds. But even treble-accentuated settings usually sounded less grating to my ears than extreme Vibrolux reverb settings.
The low control is more subtle, but it's a welcome and important inclusion. Meanwhile, routing the Element through my Jaguar HC50 1x12 highlighted how effective the out knob is at fine-tuning the system for differently voiced amps. The British-voiced Jag' seemed to thrive at advanced out knob levels, yielding pleasingly bristling harmonics, while the Fender's mid-scooped sounds reacted a little more stuffily. As for saturation mode, with low treble settings its chaotic, quasi-fuzz sounds could be a cool niche effect for experimentalists.
The Verdict
The Anasounds Element imbues whatever amp you love with a touch of vintage Fender reverb magic. The main difference between Le Bon, La Brute, and Le Truand is smoother transients and decays as you increase tank size, but at conservative to moderate settings, most players will struggle to hear a significant enough difference—particularly in a band mix—to warrant the extra cash and real estate for the larger options. That said, avowed reverb junkies will thrill at Le Truand's gorgeous depth: With mix straight up, low cranked, and high between 9 o'clock and noon, I found that higher out settings expanded the spaciousness of the big tank's sounds so much that it effectively bridged the gap between everyday amp reverb and more atmospheric digital reverbs—particularly when you feed boosts or overdrives into Element's front end.