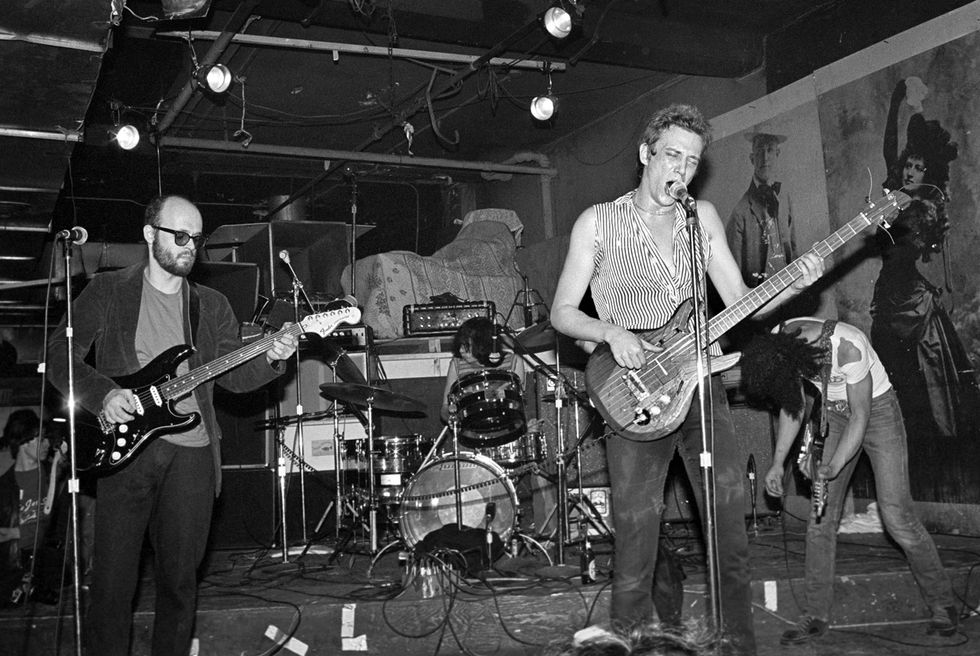 Robert Quine onstage with Richard Hell and the Voidoids. Blank Generation, the Voidoids' 1997 debut album, introduced Quine's idiosyncratic soloing style to music fans around the world. His solo on the title track is revered, but extraordinarily difficult to duplicate. Photo by Ebet Roberts
Quine Versus Lou Reed
Following the Voidoids, Quine's next high-profile gig was with Lou Reed. He appears on Reed's 1982 release The Blue Mask, which many critics considered a return to form, as well as 1983's Legendary Hearts, and a live album recorded in Italy. The Blue Mask is raw, much of it was recorded live in the studio, and—at Quine's insistence—also features Reed on guitar.
"Quine got Lou back into playing," Marshall says. "Lou wasn't playing much guitar at all. He would basically hold the guitar and play a little rhythm, but he wasn't really playing that much. After The Blue Mask, he really started playing a lot."
Quine, as noted, was a Velvet Underground super-fan. He was the same age as Reed and shared similar influences. He was familiar with the band's entire body of work. He was the perfect addition to the band—something Reed's then-wife, Sylvia, appreciated when she scouted him for the gig.
Throughout the '80s, Quine is almost always pictured playing a Strat, although, according to Marshall, for a lot of The Blue Mask he used an Ovation electric 12-string. Most likely a Deacon. But live, he played Strats, and that's what he used for the Legendary Hearts sessions as well.
Quine is quoted on his website—the site is still up and maintained by friends—saying that he detuned his guitar for The Blue Mask to create a droning effect, which gives the album its Velvet Underground feel. "A lot of [Lou's] songs are in D, so I dropped my tuning a whole-step and came up with different voicings to match and complement his. The priority was to stick to open chords, because they just sound better. That drone was an essential feature of the Velvet Underground, and 'Women' and 'The Gun' [on The Blue Mask] were especially like that."
Quine's standout solo from The Blue Mask—and a career highlight—is "Waves of Fear." He takes over at the song's midpoint and rides it out until the end. He jerks and stutters, steps in-and-out of time, flirts with dissonance, and makes an unhealthy, ungodly mess. Typical for Quine, the solo is both idiosyncratic—it's unlikely someone else would have approached it the same way—and yet song-appropriate. His playing fits the mood and energy, and once you hear it, it's difficult to imagine anything else working.
"As a general rule, the emotional tone of my playing is simply guided by the lyrics and the musical context of the song," Quine told Vintage Guitar in 2002. "In ['Waves of Fear'], the guy is terrified, having a nervous breakdown, whatever. So I approached my solo with that in mind. We did two takes of that song, and when I improvised that solo I attempted to emotionally put myself in that person's place and communicate it to the listener. Basically, I make a point of knowing the lyrics of the song and respecting them. I'm very primitive musically, in many ways, but I'm proficient enough to communicate emotionally. At least I hope so."
Although even Reed agreed that his band was a natural fit for Quine, it wasn't destined to last. Both men had strong personalities and conflict was inevitable. As it was, the mix for Legendary Hearts pushed Quine over the edge.
"We recorded it in this gigantic orchestral soundstage that was built inside a mid-century office tower on 6th Avenue in Midtown," Maher says about those sessions. "Lou was in very good humor and we really stretched out. It was just me on drums, Lou, Bob, and Fernando Saunders, the bass player. During the recording, everything was hunky-dory, and Bob and Lou were getting along. But when the final mixes were done, I think Bob ... let's just say he wasn't very happy with his position in the mixes. I'd have to go back and listen to see if he was right about that, but it doesn't matter because he was not happy at all. He complained bitterly to Lou, and that was pretty much that."
Quine toured with Reed in support of Legendary Hearts, but, as Quine saw it, the damage was done. He was fired just before Reed recorded New Sensations.
"Bob had a problem with being a session musician," Julian says about the great irony of Quine's career. "He didn't like being edited and having his stuff mixed down, or not used, on a record. He would get really offended. He stayed mad at Lou Reed and Matthew Sweet for that reason until he died. He couldn't handle it. I talked to him about it. I was like, 'Bob, it's their record.' But he was not rational that way [laughs]."
Hired Gun
Following his stint with Reed, Quine did sessions with a wide range of artists including Tom Waits, Marianne Faithfull, They Might Be Giants, John Zorn, Andre Williams, and Marc Ribot. He even appears on one track of Scritti Politti's massive 1985 release, Cupid & Psyche 85. Quine also made a significant contribution to the '90s output of singer/songwriters Matthew Sweet and Lloyd Cole. Although his soloing is featured on releases by both artists, his rhythm playing—in particular, his frequent nods to the rhythm guitar work of '60s-era Byrds' releases—often added a deeper, more nuanced dimension to the music.
"I met Bob through Fred Maher," Sweet says. "Fred produced [my 1991 release] Girlfriend with me, and he suggested we bring in Quine. Fred really wanted me to hook up with Bob over his love of the Byrds. I was really into Revolver-era Beatles at the time, and I thought of Bob—because of the Richard Hell record—as a wild, almost punk-rock guy in his playing, like the solo on 'Blank Generation' or something. It was a surprise to me that he liked that kind of stuff."
"He was just absolutely tasteful in a way that encompasses Ornette Coleman and Albert Ayler, as well as Jimi Hendrix, or back to Jimmy Reed or Link Wray." —Richard Hell
But great rhythm playing notwithstanding, Quine's most recognizable recording from this period is his outrageous solo on "Girlfriend," Sweet's hit single from late 1991. In some ways, it's his most definitive statement: part '50s-era rock 'n' roll, part atonal weirdness. Quine takes unexpected leaps of an octave or more, emphasizes dissonant note choices, ends his phrases in unusual spots, and yet, somehow, manages to make it sound obvious. His tone is warm—not his usual Stratocaster squawk—and the overall feel, despite its quirks, is lyrical. It's the work of a master craftsman. It's also 100-percent Quine, and not something you'd expect on radio-friendly pop.
"What he liked to do was find ways to make the wrong thing work," Cole says. "A big part of his genius was playing stuff that might seem overly brutal or heavy-handed and making it sound not heavy-handed. He was very keen on leaving air between notes as well. He had these flourishes, but where he would come in and where he would stop were key."
For session work, Quine usually used an amp the studio provided and left the miking up to the engineers. Maher says, "I'd have at least three microphones either on, or near, the front, and at least a couple, maybe two or three, behind the amp—one literally inside the amp, jammed in the back—and maybe one a couple of feet away from the back. When you do that, your ability to manipulate the tone is pretty extraordinary, just by changing the relationship of the volumes of the different microphones."
Robert Musso, who engineered and mixed Quine on Tom Waits' Rain Dogs sessions, had a similar approach. "Back in those days, I either used a Shure SM57, a Sennheiser 421, or a combination of both," he says. "For example, if he was playing a Twin or a Deluxe through two 10s, I would put the 57 on one speaker, the 421 on the other speaker, and then I'd use a Neumann U 87 in a triangle format about 18" or two feet back from the amp."
Quine continued to work throughout the '90s, although as the decade wore on, calls for sessions were less frequent. He played on "Oh," a web-only single that turned out to be a one-off reunion of the Voidoids' original lineup. He even discussed redoing Destiny Street with Hell.
"I found this cassette among my tapes that had every song on the album, but just the rhythm tracks," Hell says. "It was drums, bass, and two guitars that I made for myself during the course of the recording to take home and listen to. I realized, 'This is a beat-up old cassette tape, but it gives me the opportunity to try to make something closer to the record I wished I made.' I actually talked this over with Quine before he died, and he was way into it. He was going to come back and put down guitar solos. But then he offed himself, so that was impossible, but I still wanted to do what I could to salvage that record. I got two guitar players—Marc Ribot and Bill Frisell—who were big admirers of Bob, and they went in and made that record. I do think it's an improvement on the original. Some people disagree. It's like 50/50. I knew I was going to get a lot of flack. The frustrating thing is, half the responses were, 'How can you take out all of Bob's solos?' I didn't take out Bob. His rhythm playing is there, but he hadn't played his solos yet, and he couldn't add them 20 years later because he was dead."
In August, 2003, Quine's wife, Alice Sherman, died suddenly at their loft in Soho. Quine was inconsolable. Over the course of the year, he grew more and more despondent. He had trouble fending for himself or managing the simple tasks of modern life. On May 30, 2004, in circumstances that remain unclear, he took his life via an apparent heroin overdose.
"The very last recordings he ever made are a soundtrack for a movie a neighbor in his building hired him to do," Marshall says, though he's never seen the film and doesn't remember the title. "You just hear how much pain he was in. It's this savage screaming guitar. He is playing all the instruments himself—guitar and bass, and there's a drum machine on it—and it's completely insane."
Quine was 61. Over the years, in tributes and retrospectives about his playing, some critics are tempted to reduce his approach to a simple, one-word description, like "angular," or "spike-y," but—at least according to Hell—that misses the point.
"Quine was a genius," Hell says. "He was very modest. He would never tolerate anybody mentioning him in the company of the great musicians he admired. Ever. He was a huge connoisseur of guitar soloing from Link Wray to Grant Green to Lou Reed. And a huge range of approaches and genres of music. That's one half of it. The other half of it is jazz, where there's hardly any guitar, Grant Green notwithstanding, which he also loved: from Lester Young to Albert Ayler. In this very specific juicy, meaty way that was just his elevated genius taste, his abilities as a player were as broad as his appreciation of other people's music. He could just as well play a brilliant gorgeous, laid-back sweet passage or solo, that had nothing to do with spectacle or shredding or anything like that. It was just gorgeous playing, like on the original demo of my song 'Time' on the Spurts record [2005's Spurts: The Richard Hell Story], not the Destiny Street Repaired version. It's just the sweetest most gorgeous playing. It's not angular. I mean, yeah, he'll go from one point way in one direction on the neck to a point way in the other direction on the neck, but it's not like you're having some sharp object pushed into you, which is what angular suggests. It's just gorgeous playing, and he could do it in this whole range of moods and styles. He was just absolutely tasteful in a way that encompasses Ornette Coleman and Albert Ayler, as well as Jimi Hendrix, or back to Jimmy Reed or Link Wray."
"Bob was really an artist," Sweet says. "What he couldn't do was play normal ways or learn exact things someone else did. Instead, he was a true creative force. There was nobody else who sounded like him. He was a very unique guy, just as a person, but he also really cared about making his playing special and unique."
---