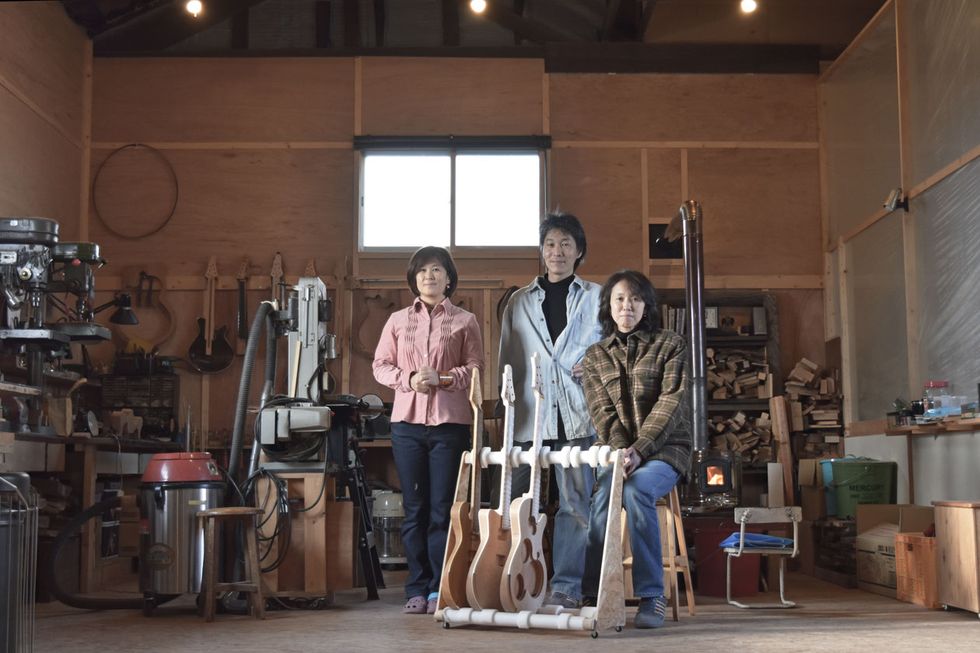 The Jersey Girl Homemade Guitars crew (left to right): Eiko Goto, Kaz Goto, and Akiko Oda.
Jersey Girl Homemade Guitars is like something out of a Haruki Murakami novel—minus the supernatural freakiness and high odds someone will end up trapped in, dead in, or wandering to a new dimension through a deep, mysterious well that nobody seems to know about.
Allusions to classic American rock 'n' roll? Check. Luthier Kaz Goto's love of the classic Tom Waits tune inspired the name of this Hokkaido, Japan, outfit, while his affinity for Tom Petty inspired his first two guitar purchases as a kid—both Fender Telecasters.
As for Murakami's idyllic communal settings where passionate, meticulous craftspeople dedicate untold hours to esoteric pursuits that astound everyday folks, check on that, too. In 2012, Kaz and his two JGHG partners, wife Eiko Goto and fellow luthier Akiko Oda, fled the hustle and bustle of their shop in Tokyo for a spacious countryside workspace that they'd spent a decade planning and prepping for. There, the trio spends its time alternating between raising vegetables and bringing to life some of the most visually arresting guitars you'll ever lay eyes on—oh, and each one is paired with a matching custom stompbox and guitar strap.
For the 1Q84 fans out there, there are even Murakami-esque Little People. Or rather, one little "person"—only HAL, Jersey Girl's mascot and all-around helper, is named after a character from a more iconic novel (more on that later).
"[Late luthier Taku Sakashta] said it's important to keep your originality but not go too far away from what's popular and accepted. It's very hard to find the right point—I've been looking for that point with every guitar composition we've made all through the years. I really miss him."
PG first met Kaz at the 2018 Holy Grail Guitar Show in Berlin, Germany, and the museum-worthy pieces he played for us were some of the most alluring of the entire event. It was immediately clear there's much more to the extraordinary effort and discipline that goes into making these instruments of precision and beauty than we could unpack in an 11-minute video, so we knew we'd eventually have to circle back and talk to Kaz to get more of the Jersey Girl story.
What made you decide to start building guitars, and when did you decide to do it as a career?
It was kind of an accident. I met Taku Sakashta when I was 19. [Editor's note: The late Taku Sakashta was a Kobe, Japan, luthier who moved to California's Bay Area in 1991 and made instruments for players such as Robben Ford and Tuck Andress.] He invited me to the guitar-making world and inspired me a lot. I ended up going to the Fernandes Guitar Engineer School in 1989 and was there for a year. For the last half of that, I was Taku's apprentice. But then I left for a year to go work for the local jazz musicians' office, where I planned events and concerts, and helped musicians find gigs. At that time I was more interested in music than guitar making. After a year, Taku suggested I start making guitars with Akiko [Oda] as a partner luthier. She was at the same school for two years, and she was a student of mine for one of those. That was when I decided to start Jersey Girl Homemade Guitars, in 1991.
What are the most important things you learned from Taku?
I was so lucky to be close friends with Taku for a few years when we were both young. We'd stay up late in his little apartment in Tokyo almost every day, talking about music, guitars, and our dreams. He already had his own clear vision of how he wanted to be as a luthier. He taught me so much about guitar making, of course—but also about how to live life as an independent luthier. He said it's important to keep your originality but not go too far away from what's popular and accepted. It's very hard to find the right point—I've been looking for that point with every guitar composition we've made all through the years. I really miss him.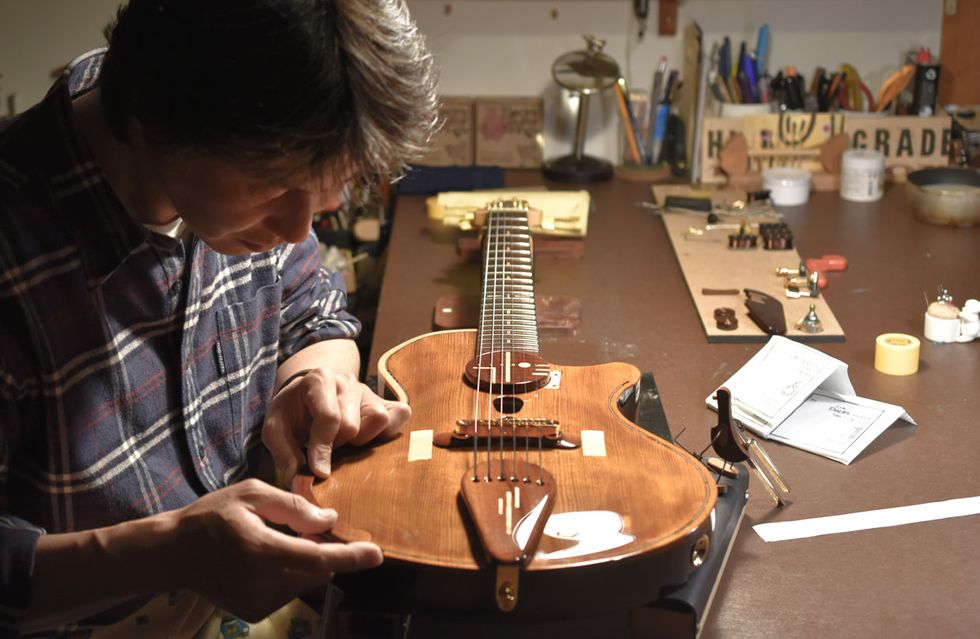 Kaz installs the armrest on Seevie while HAL stands by with a hex wrench and a tuning fork at the ready.
Tell us about your background in music—what did you grow up listening to?
When I was 4 or 5 years old, in 1973 or '74, I started playing music as a classical pianist. At that time I was very much inspired by Glenn Gould.
When did you start playing guitar?
When I was 13, after I started listening to rock 'n' roll—especially Tom Waits and Tom Petty.
Who were some of your other favorite players back then?
Eric Clapton, Jimmy Page, Lindsey Buckingham … classic-rock guitar heroes. Mark Knopfler is my favorite.
What about newer music?
I'm really into Chris Thile [of Nickel Creek and Punch Brothers]. I love his playing and his style on the mandolin. I'm always listening to newer bands and sounds on internet radio, too—but I'm not into just guitar music. I like Maggie Rogers, Aurora—a singer-songwriter from Norway—and Theresa Andersson, a singer-songwriter from Sweden who lives in New Orleans.
What was the first guitar you ever owned?
A Tokai [T-style] with two humbuckers. And then I got a Fender Telecaster with single-coils when I was 15 or 16. I played it through a blackface Fender Champ when I was in a covers band playing the Doobie Brothers, Grand Funk Railroad, stuff like that.
What were your own early guitar designs like?
I started JGHG to make original guitars. So we have been trying to make guitars unlike anything we have ever seen or heard. We learned a lot about what makes a good guitar by working in guitar repair. We were lucky to have a lot of vintage guitars to repair in Japan at that time—mostly Fender Stratocasters. Many of them had broken pickups, so I had to rewind them.
Aesthetically, your current designs are anything but traditional. Is the interior construction equally unconventional?
The solidbodies have a normal solidbody construction, but the hollowbodies usually have four or five different-sized chambers in them to yield unique tones. Our archtop guitars have a more challenging construction—we call it "dinosaur bracing," because it looks like a brontosaurus. I notch out the bracing so it doesn't dampen the top too much, so that it just controls the resonance.
Have you made any flattops?
Two or three, but just for myself. I'm planning to make some small-sized acoustics, like parlor-style, maybe later this year or next year.