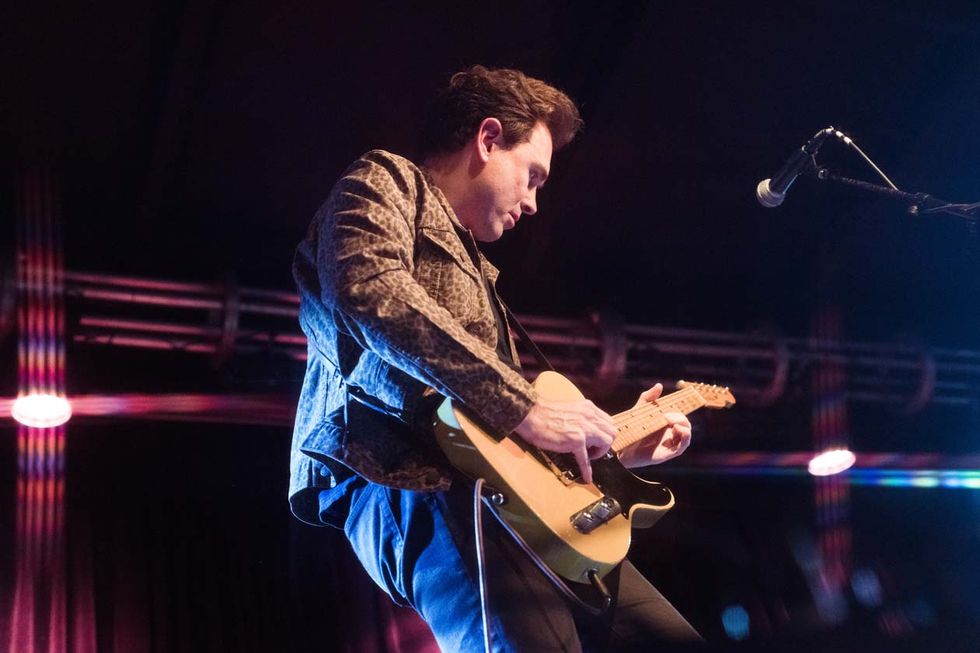 Jedd Hughes was first drawn to the guitar through Tele masters Clarence White, Danny Gatton, and his future employer, Vince Gill. "If it sounded like a Telecaster and country guitar, I would geek out," says Hughes. Photo by Libby Danforth
Did that keep you busy or did you still write songs on the side?
I just threw myself into the session trench because it felt safe and I could work with musicians I loved as people. They were my friends and there was a real camaraderie in the sessions, and I loved that. For three or four years, I was just working sessions every week and playing on records. It wasn't until Gary Paczosa, of Sugar Hill Records, called me up and said, "Would you come and write some songs with Sarah Jarosz?" That's when I really got back into writing. Eventually we won a Grammy for a song we wrote. And once we did that, I thought I could make my way back into my own music again. We did that for a year. And then I moved back to Nashville from L.A. with my wife and our brand-new son. About 18 months after that, I started working on this record.
Do you feel like you're a disciplined songwriter, or does it take having something on the calendar to get you into writing mode?
I'm disciplined in the fact that I'm always writing. It's a whole other discipline to make yourself sit down and say, "I got to come up with a body of work, or come up with a record," and give yourself a target and deadlines. That's a different discipline. You say to yourself "I know I'm tired, but it's 10 o'clock at night and I got two more hours. I could sit here in this chair and whittle away at this lyric."
"I just threw myself into the session trench because it felt safe and I could work with musicians I loved as people."
Did you write the songs on West specifically for this album? Or were they nuggets you had lying around?
Some of them were old seeds like "Hollywood," which is one of the songs I wrote with Guy Clark years ago. I've been playing it forever. It was the second song we ever wrote together, and I always just loved playing that song. But most of the record, I'd say 85 percent of it, is stuff I just made myself sit down and write because I had to make a record.
I have to ask you about the solo on "Thinking About You." Where did that sound come from?
That's an old Guyatone fuzz—I've got it right here in front of me. It's called a Crazy Face. It's a really early one with this beautiful Hammerite green Fuzz Face-looking cover. I used that along with my '57 Tele through a Supro 1620 combo. It took me a couple of hours to get it right because I was trying to get this very specific thing, and getting the fuzz to react the right way, as you know, is kind of a journey. They are the most temperamental thing in the world. But I eventually got it and I felt pretty good about it. I didn't labor over that solo at all, man. I tried to get it really quick because I didn't want it to be too technical or anything. I was just more after the attitude.
Guitars
1992 De Gruchy Cutaway Exp
De Gruchy 45 Style D
Santa Cruz Tony Rice
1978 Takamine nylon string
1957 Fender Telecaster
1958 Danelectro U2
1962 Epiphone Casino
1964 Teisco Sharkfin K2-L
Jeff Senn Model One
1979 Greco EGF800 LP
1967 Hofner 500/1 bass
1966 Fender P bass
Amps
1959 Fender tweed Deluxe
1962 Supro 1620t
1959 Supro 1690t
Ebo Amps Del Rio
Effects
1978 Electro-Harmonix Memory Man
Guyatone Crazy Face
Durham Electronics Sex Drive
JHS Mike Campbell Calhoun
VFE Old School Tremolo
Empress Echosystem
Pioneer DJ mixer
Seymour Duncan KTG-1
The acoustic tone on "The Dreamer" is unique.
That's actually my first guitar—I got it when I was 8 years old. It was made by a luthier in Adelaide named Bryan De Gruchy. It's made of Australian blackwood and it has this really sharp cutaway. "West" has this crazy-high guitar part that you can only play on a cutaway. It's impossible to even play it on a regular dreadnought. I've tried. I got a million miles on that guitar.
It sounds like you really pieced this record together in layers.
Yeah, on "Killer" a lot of the guitar parts, pretty much all of them, I built by just fooling around with a loop. I just cut real drums, bass, and keys to the demo, and then kept all of the ambient guitar stuff. I always feel like I'm recording right up to the last minute, even while I'm mixing. You're never going to get it again the same way. I've talked at length about it with [producer] Jay Joyce and other engineers and producers. If you have it on the demo and you have the multitracks, you can always just make that stuff work, and I tried to do that as much as I could.
How did you get those textural guitar sounds on "Animal Eyes"?
I played a Jeff Senn Model One through a blackface Deluxe and a VFE Old School Tremolo. I recorded that during the live tracking with Matt [Chamberlain]. There might have been another electric that I added after the fact. I think there's one on the right speaker that's more heavily distorted. I had all intentions of re-recording it, but once I got home, I felt there was something about the way it feels with the drums that I probably shouldn't mess with, so we just added strings and I played some bass on it.
Was the string quartet the plan from the beginning?
I wanted it to be part of the record. After I finished writing "Animal Eyes," I was really interested to hear how strings would sound on it because I felt that could be a cool, dark treatment. I sent it and "The Dreamer" to [composer] Jordan Lehning with really no direction whatsoever. I got to the studio on the tracking day and heard the string arrangement the first time when they played it. I was like, "Oh my god. You totally get this." He was on the same page of painting, you know, the dark canvas, and understanding the major and minor relationship of that song. I felt like he knocked it out of the park.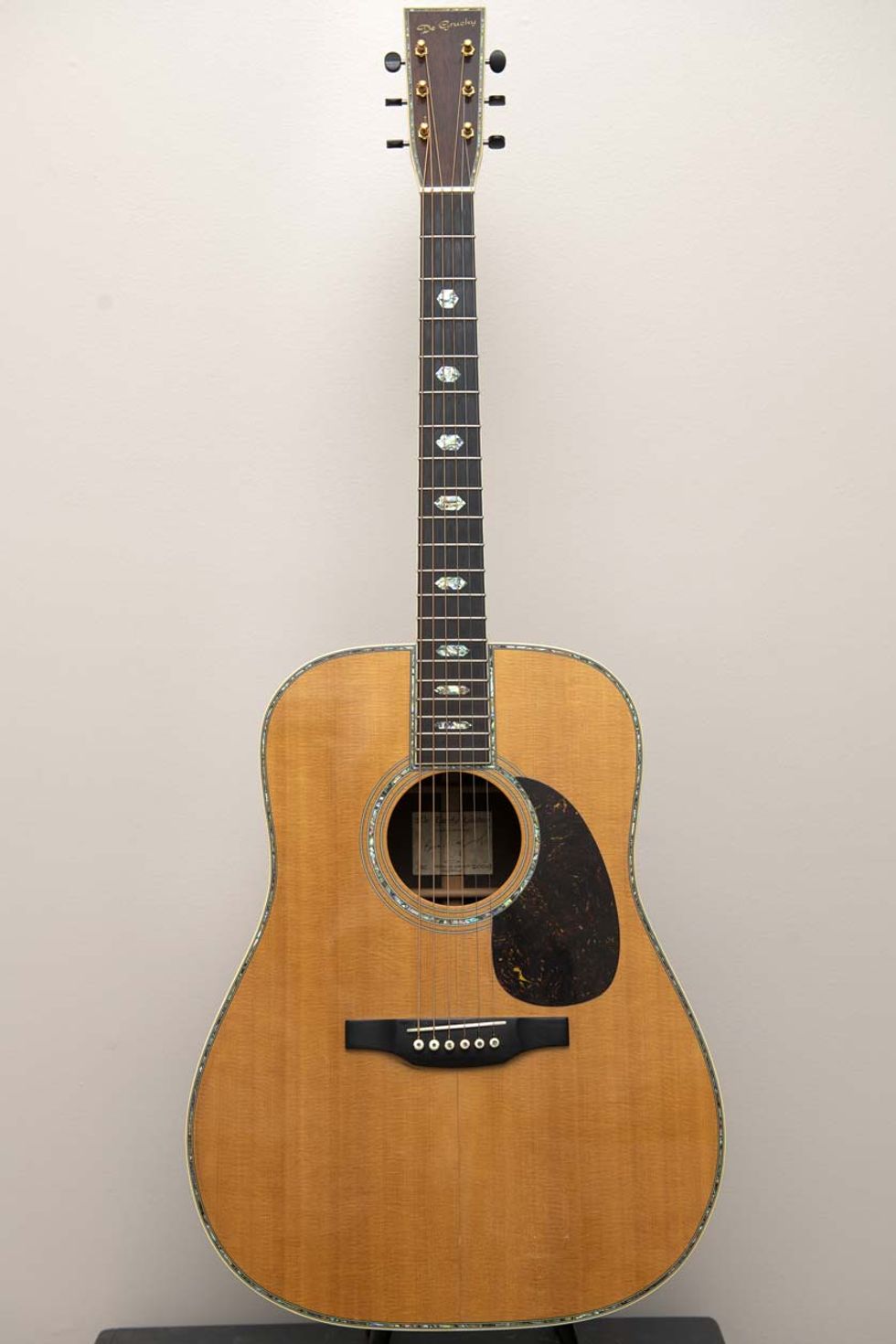 Jedd Hughes is a bluegrass kid at heart. "In high school I was totally immersed in Tony Rice and Bryan Sutton," says Hughes. That love motivated him to move to Texas and study bluegrass guitar in college. While in his native Australia, he befriended luthier Bryan De Gruchy and acquired this 45 Style D. Hughes now owns several guitars built by the late De Gruchy.
It sounds like West was both creatively and logistically quite the process.
Yeah, because I'm always working on music and writing. After things went south of few times with record deals when I first moved to Nashville, I felt like I was going to put that side of my creativity away for a while because it didn't seem to be panning out. I was having an easier time just working with other people on their records and writing and touring with others.
But ultimately, I figured out what was really keeping me up at night. It was the fact that I needed to figure out how to make my own musical statement. Something that felt genuine to me and something that felt fulfilling and interesting musically. I had to really make myself sit down and write these songs and work on them, both lyrically and sonically, and come up with a recipe to showcase them. I think I did that.
Armed with his De Gruchy 45 Style D, Jedd Hughes picks an intricate fingerstyle pattern on "The Dreamer" from West. This stripped-down version puts the focus squarely on Hughes' A-list chops, which have led him to pick with everyone from Sarah Jarosz and Ryan Bingham to Vince Gill and Rodney Crowell.
---