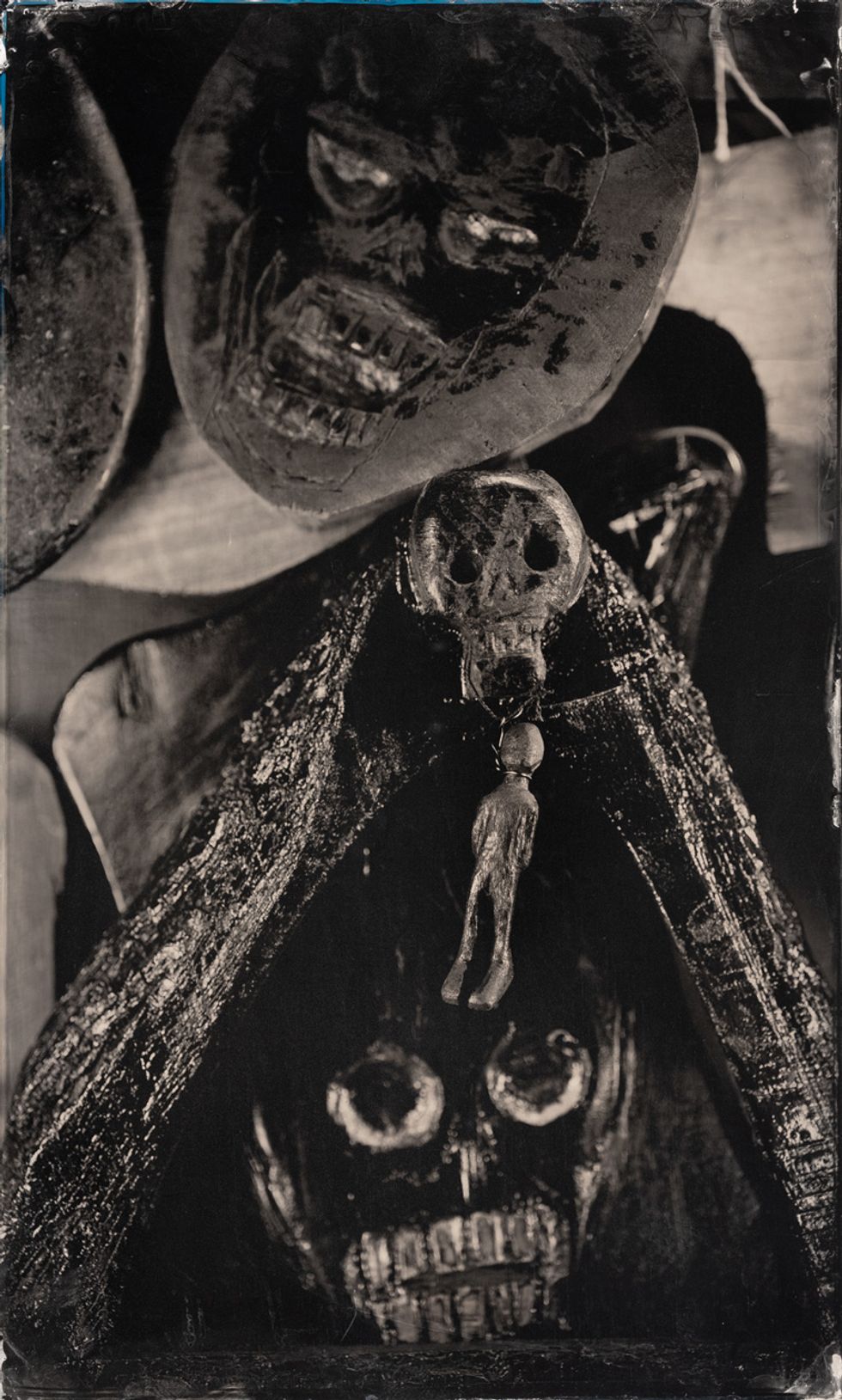 The Lynching of Oliver Moore
The history of the hanging tree revolves around the fate of
Oliver Moore
, which was revealed in news-clippings found by Tim Duffy during the course of years of knowing Vines and visiting the area, speaking with elders, and researching the events that took place in Eastern North Carolina in 1930.
Moore was a 29-year-old tenant farmer accused of raping two young white girls, aged 5 and 7, who were the daughters of his employer/landlord. There was never a trial. Moore was murdered before he could be proven guilty or innocent. A news article from the Bismarck Tribune, in North Dakota, reported that Moore was lynched on August 20, 1930, after a mob of more than 200 masked men seized him from his Edgecombe County Jail cell and dragged him to his home 15 miles away in Wilson County. "Then they strung him to a tree and fired scores of bullets into his body," according to the article.
Moore's murder was the first lynching in North Carolina since 1921, and it was the first-ever lynching in Wilson County.
Local officials, including the sheriff who was held at gun point when Moore was seized, expressed outrage at the lynching and put out a reward for the persons responsible, but were ultimately unsuccessful in placing blame for the mob murder.
"I like them natural, because when a man wants a custom instrument, he wants it to be his."
In Arthur F. Raper's book, The Tragedy of Lynching, he chronicled the incident. Raper wrote that three days after Moore was accused of assaulting the girls, a local doctor examined them. "He reported that they had well-developed, virulent cases of positive gonorrhea. Neither showed any evidence, however, of having been bruised or roughly handled. No examination was made of the parents of the children to discover whether they were infected. … The state then requested a Tarboro physician to make an examination of the Negro to discover whether he had gonorrhea. The physician procrastinated, however, and the examination was never made."
The site of Oliver Moore's death is about 16 miles from where Freeman Vines lives.
Where Are the Graves?
There is only one piece in Vines' Hanging Tree series that isn't a guitar. It's a curious sculpture—one that he says came about totally unplanned. It doesn't fit in or follow the aesthetic of the things Vines usually makes, but Vines said he didn't really make it—the shape was already there.
"There was piece of wood, a bad-looking piece too terrible to make a guitar," says Vines. "It had a big knot on it. All I did was clean it up and you can tell there hasn't been any carving. I kept the wood natural and took a wide brush and cleaned it up and that was the end of it. It came out a perfect shoe."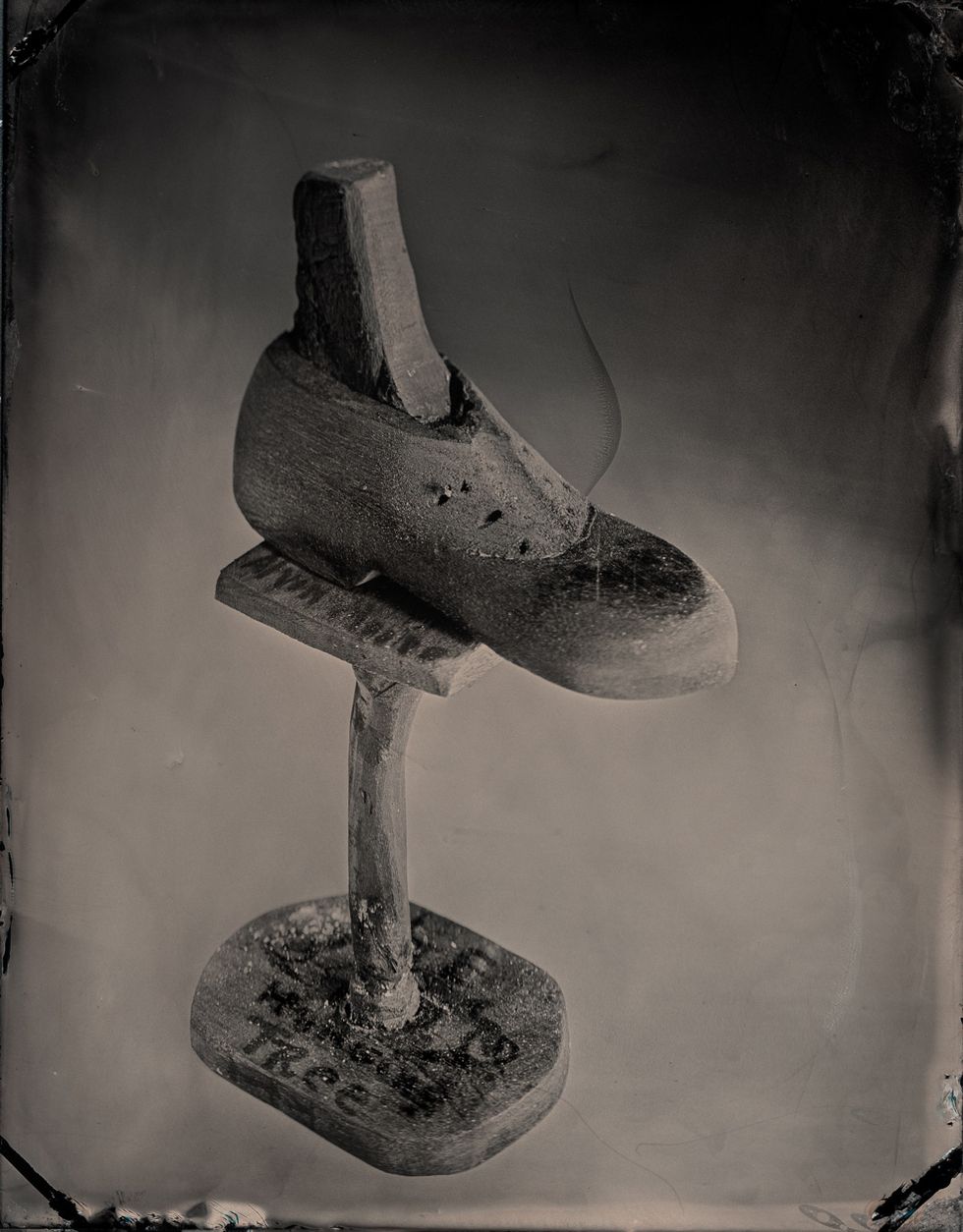 This piece, titled "Oliver Moore's Shoe," was somewhat spooky to Duffy when he saw it, because he recalled from a news article that Moore had spent time working as a shoe shiner. Vines maintains he had no idea and didn't make any connection—the shoe just revealed itself in the wood. The shoe sculpture is a stark contrast to the dark shadows of the guitars. It feels more like an homage to the life of Moore, while the guitars give a vibe of death.
If you were to visit Vines in Eastern North Carolina, he says you'd feel like you time-traveled. His grandmother was a "housewoman" in a "big house," which means she worked on a plantation. The echoes of that period in time when enslavement was a way of life aren't that far removed for residents like Vines and his family, who have lived in the area for generations. Of course, much has changed, but the big plantations are still there, even if the slave quarters are gone.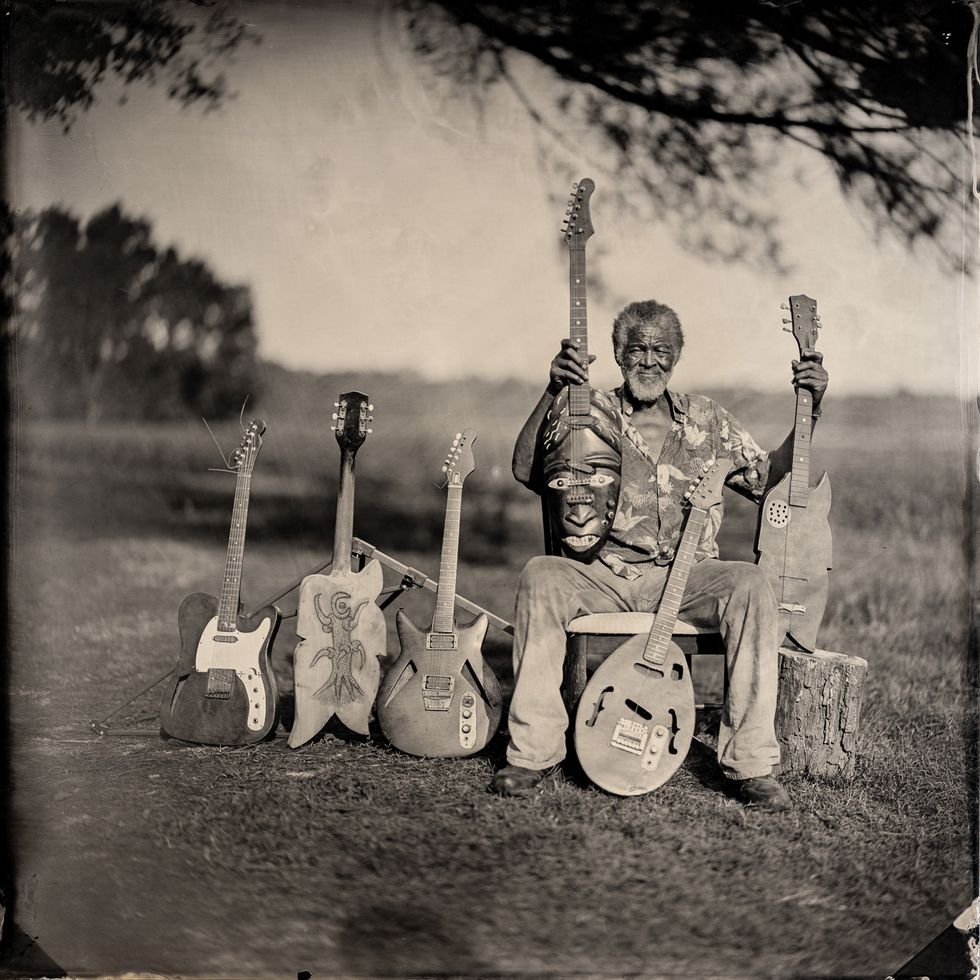 "The 'Grand Poobah' down here is a good friend of mine," Vines says, referencing the head of a white supremacist clan in his community. "I pulled his son out of a tight spot and he always said, 'I owe you one.' To me he's just a man. When he puts his robe on, if I had him in my sights and had to, I'd drop the trigger on him. When he's a normal man, I accept him as a man. I respect his side of the fence, the Grand Poobah, and he respects my side. He knows who I am and I know who he is."
Though Vines has learned to live with reality, he is haunted by the past. Fountain existed as a little town in colonial times. "The thing that always bothered me is, Moses Jefferson had 125 slaves, and I ain't seen no graveyards for any of them. I'm just wondering where they're buried at.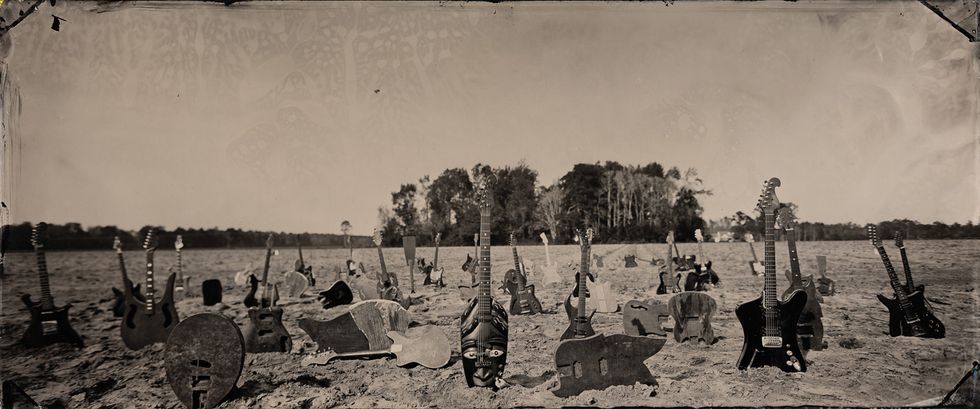 "And they lived in all kinds of cabins and houses over there. House there, a house yonder, one in the middle of the field two or three down yonder. This was a village. I still ain't figured out where they buried them at."
America has many suppressed stories of racial terror, and a long track record of sweeping them under the rug. But the stories remain, passed down from relatives who lived them.
According to Vines, he didn't know why the hanging tree wood was speaking to him in the beginning when he started making guitars out of it. But now, he feels there's something about the tree and the truth of what happened to Oliver Moore. "All they do is put it under the cover of darkness," he says.
Watch an interview with Freeman Vines where he talks about his passion for building instruments for the Hanging Trees Guitars
---