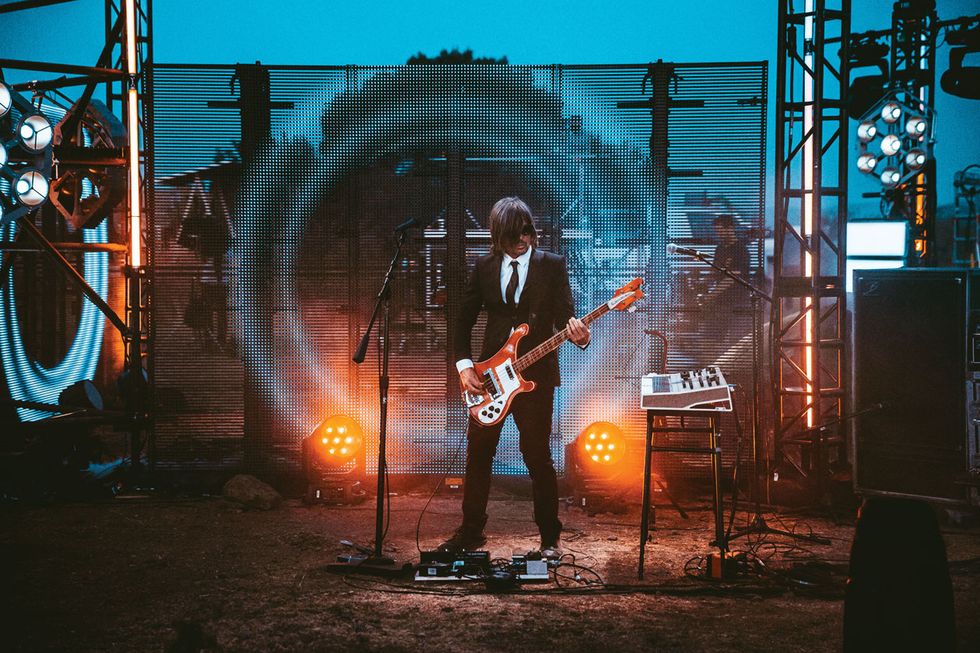 Although much of Edwards' work with Keenan in both A Perfect Circle and Puscifer is on a fretless bass, he also puts in a fair amount of time on a Rickenbacker 4001. Photo by Mitra Mehvar
"I spent a few days with each song in there, with Mat—through the glass—working on his own thing in the control room," Edwards says. "I experimented, grabbed whatever I saw on the wall, made sounds, and got somewhere with it. Whatever seemed like it might elevate the song in some way—or potentially destroy the song in some way—I would grab and go for it. I had the lyric sheets in front of me. I had access to the whole emotional thematic landscape of the song, and I enjoyed that."
More to the point, the experience was liberating. "In my own band, with writing the songs and lyrics, it's a different thing when it comes time to commit to whatever bass line or guitar part I'm going to play—there are so many other things on your mind. It was really nice to just be an instrumentalist. I came in, added, and hopefully elevated the music that was already there. But it wasn't my responsibility to write anything."
Ah, but what about guitars? Existential Reckoning is chock-full of heavy guitar tones, but it's not a riff-oriented album. The guitars add texture, tension, and—despite the abundance of old school technology—give it a modern feel. Check out tracks like "Apocalyptical," "Theorem," or "Bullet Train to Iowa." This is not a retro, backward-looking album, and the guitars—maybe ironically—are a big part of that. But, ultimately, Puscifer is a guitar band.
"Whatever seemed like it might elevate the song in some way—or potentially destroy the song in some way—I would grab and go for it." —Greg Edwards
"Historically, I start creating on guitar, because that's my primary instrument," Mitchell says. "On this record I decided to start with the synthesizers—the Fairlight and the Synclavier—mainly to break away from my comfort zone. The guitars, for the most part, came at the end. They were more of a thread, or a way to tie a lot of things together. There is a really unique sound to the guitar, and I didn't just want it to be a keyboard record. I wanted to make sure those signatures were on there."
For Mitchell, those "signatures" start with a single-coil pickup in the bridge position. "When you play soft and you play hard on a single-coil, there is a bigger range than you get from a humbucker." On his previous outing with Puscifer, he used a Fender Custom Shop Esquire built to 1950s specs. For Existential Reckoning, although he was committed to using the Steinberger, he still wanted that sound. Luckily, he isn't averse to mods.

Bases
Fender Tony Franklin Fretless Precision
Fender Precision
Rickenbacker 4001
Amps
Gallien-Krueger 800RB
Ampeg SVT
Bergantino cab
Effects
T-Rex Bass Juice
Moog Moogerfooger MF-102 Ring Modulator
Malekko B:assmaster Harmonic Octave Analog Distortion
Dunlop Uni-Vibe UV-1
Providence Anadime Bass Chorus
MXR Bass Compressor
Eventide TimeFactor
EBS OctaBass
Source Audio Soundblox Pro Multiwave Bass Distortion
Demeter VTBP-201 preamp
CAE MIDI Foot Controller
RJM Effect Gizmo switcher
Strings and Picks
GHS string sets (.045–.105)
Dunlop Tortex .88 mm picks
"The Steinberger came with EMG humbuckers," explains Mitchell. "I put EMG single-coils in it. They look like humbuckers—that way you're not messing with the look of it. They're also extremely quiet. I was reading an article with David Gilmour about Pink Floyd's Momentary Lapse of Reason album. He had gotten his hands on a Steinberger and said he really loved it because you can use single-coils, but you're not getting any fuzz or noise or any sort of buzzing. You can really play delicate lines and not have to deal with any of that stuff. That was one of the driving things about it. It's crazy—there's literally no noise when you're playing that thing."
As for Edwards and his fretless work on Reckoning, he reminds us that Money Shot, the band's previous album, was also all fretless—only he wasn't the one playing it. "I played all the bass on that record," Mitchell confesses. "But that was me coming at it as a guitar player. So it's more a guitar player's version of what it sounds like to play fretless." With Edwards wielding the 4-string this time, the lines feel more like how a bona fide bassist would approach it—although he didn't necessarily rely on fretless conventions or try to mimic prominent stylists like Jaco Pastorius, Tony Franklin, Mick Karn, or Percy Jones.
"Take a song like 'The Underwhelming,'" says Edwards. "That chorus is fretless—and if you listen you can hear that it's fretless—but it doesn't jump out at you as being a fretless instrument. It's slightly more expressive, and the sustain is a little different. The way you can fall off and come into notes, it's just a different kind of vibe. It's almost like a portamento effect, where on a fretted bass, when you go over the hump of the fret you're into the next note, and that's it. It's a very abrupt, binary thing. Whereas with a fretless, you have this infinite continuum of microtones in between."
He also almost always went direct. "I had all these amps in that room, but really I just went through a classic Demeter VTBP-201 DI tube preamp that Mat has. It just has a few knobs on it, and it's tuned for bass in such a way that you get this really warm, deep fundamental. It's unique. It's fairly subtle, but it really does make a difference in a mix."
Of course, the goal for all the bandmates' gear choices, whether weird or conventional, is to find whatever helps them uncover moments of creative gold. In the end it's not so much about the gear as their attitude. Because, in addition to an appreciation for great songwriting and a seemingly endless fascination with outrageousness, what really unites Puscifer is its members' trust in each other and their willingness to be uncomfortable.
"Sometimes we are working together and sometimes we are working separately and staring at each other," Mitchell laughs. "You feel that energy of being part of something, but you're also isolated, so you can focus on what you're doing and not have other people's opinions getting in your way."
The official video for Existential Reckoning's"The Underwhelming" finds Mat Mitchell putting his single-coil-modded Steinberger GL2T to work while Greg Edwards plays his trusty Fender Tony Franklin Fretless P bass.
---