He's worked with Bob Dylan and Arlen Roth, with Tom Waits and Ronnie Earl. And that's just a few. An interview with the East Coast bluesman who has been quietly dominating the scene for decades.

Often regarded as one of the most comprehensive and proficient blues guitarists today, Duke Robillard views genre boundaries as nothing more than commercial necessity. With a playing style that provides him with the ability to, in his words, "touch all the bases," Duke has had a passion for delving deeply into blues roots and its subgenres ever since his formative years as a founding member of the New England-based Roomful of Blues. He realized early on that a correlation existed between most pre-1980s American music – from blues, jazz and R&B to bluegrass, rock n' roll and country – and has enjoyed running the gamut of possibilities in blending these styles and techniques.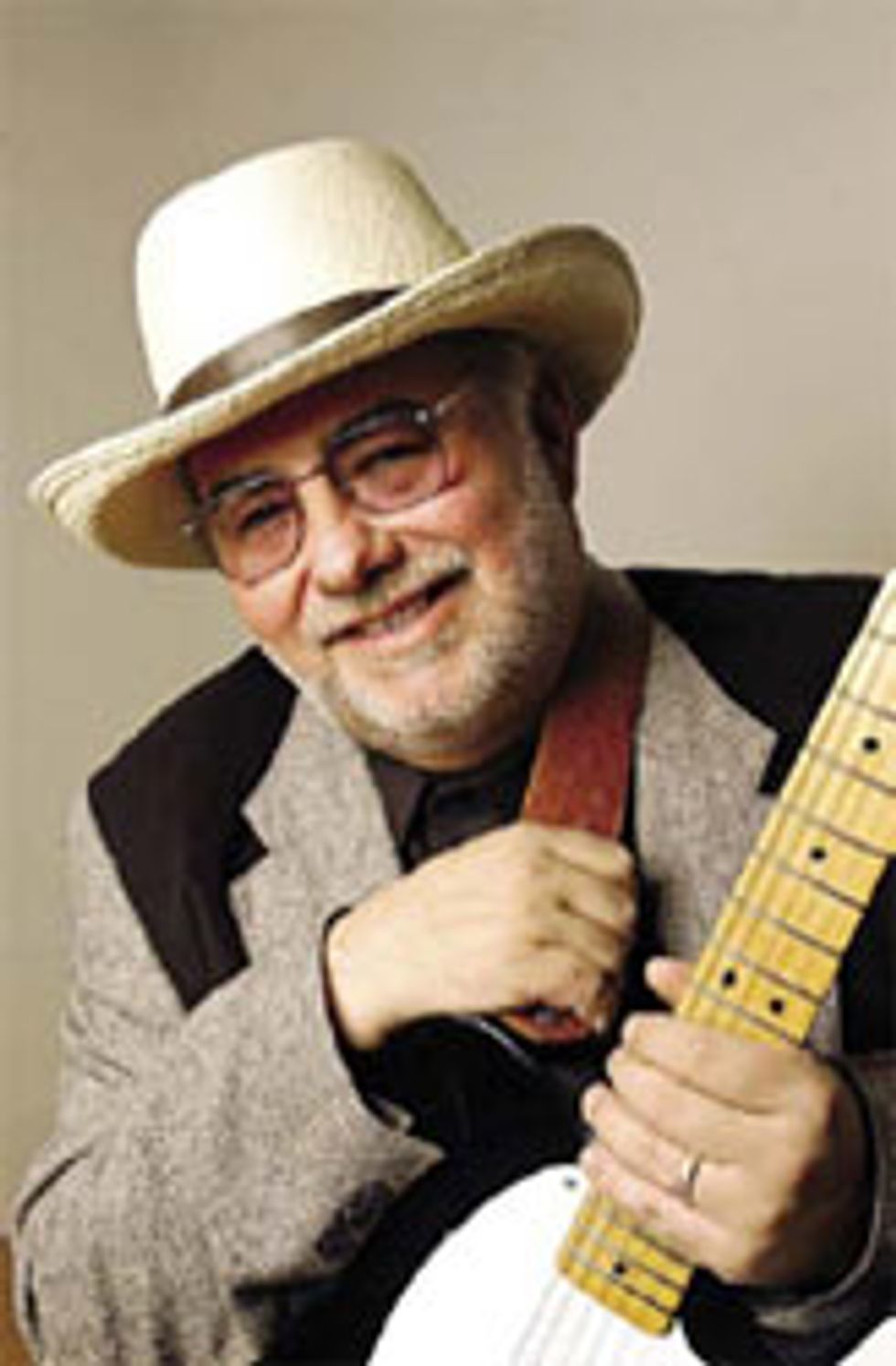 Duke's calling card has always been an energetic mixture of jump, swing and blues that stirs up dance floors, along with an amorously obsessive connection to the music of Texas bluesman T-Bone Walker. Though he often evokes styles of great players of the past, and frequently flows at intervals along a historic musical timeline, it's executed in a uniquely fashionable manner. No matter what type of music he's playing at any given time, the phrasing within his solo work is incredibly diverse and tasteful, with chordal arrangements moving in fluidly invigorating rhythms.
Though Duke has long been recognized for his work with Roomful of Blues and for his stint with The Fabulous Thunderbirds, these highlights were mere stepping stones in the five-decade career of Michael John Robillard. The Woonsocket, Rhode Island-born guitarist, vocalist, songwriter, bandleader, studio musician, and producer gained long-due recognition in the beginning of the new millennium. He won the W.C. Handy award for "Best Blues Guitarist" in both 2000 and 2001, earned a Grammy nomination for "Best Traditional Blues Album" in 2006 for Guitar Groove-A-Rama, and was nominated for the W.C. Handy "Best Instrumentalist" award in the field of guitar in 2006. In 2007, however, he won an award that's closest to his heart, the Pell Award for Artistic Excellence, given in his home state of Rhode Island. As if this recognition wasn't enough, B.B. King labeled him "one of the great players."
Duke Robillard has released about twenty solo albums since the mid '80s, all interesting and special in their own right. The latest release from the guitar virtuoso is a dual CD set entitled Duke Robillard's World Full of Blues. It's the ideal display of his progression as a mature performer and brilliant musician. It's also an appropriate title, mainly because of Duke's all-encompassing technique and vast knowledge of music in relation to the blues. The CD set is two hours of material, both lyrical and instrumental, and 23 superb interpretations of compositions by the likes of T-Bone Walker, Bob Dylan, Booker T. Jones, Bo Diddley, Tom Waits, Jimmy Reed, and of course Duke Robillard. For the love of the instrument and especially for fellow enthusiasts, the guitar used in each recording is cited in the jacket liner notes.
I had the recent pleasure to sit down with the Duke and discuss the many aspects of his
World Full of Blues
.
Your playing style incorporates blues, jazz, rock, pop, as well as numerous subgenres – probably more so than most other guitarists. Where in the musical spectrum do you find yourself?
Well, the blues is the root of everything I do. When I was very young, I was inspired by my brother's 45s, back in the '50s and early '60s. Chuck Berry was a big influence on me. I discovered that the flipsides of some of his records had these slow tunes, like "Deep Feeling" and "In the Wee, Wee Hours." I didn't know what they were, but they really moved me. They happened to be blues. I really grew to love this music that, for quite a few years, I didn't even know what it was.
At the same time, I heard country music – guys like Hank Williams. It was different, but I could see the similarities in the overall sound and chord progressions in relation to other music and to the blues. I even heard the correlation in some jazz. To me, all pre-1980s American music is based in the blues. Whether it is rock, heavy metal, blues, jazz, country, bluegrass or R&B, I hear the blues in everything. That's why I'm so diverse, as people say – because to me it's almost all the same.
The music of T-Bone Walker has been significant throughout your life, correct?
Of course – he's a giant influence on me. When I heard T-Bone it all came together, because he's all of the above. He's jazzy and bluesy at the same time. He had some sophisticated phrasing in double timing and stuff that only jazz players had done before him. So that became an instant influence on me; I took to it immediately like a fish to water.
Do genre boundaries in blues and jazz actually exist?
Well, there are boundaries within every type of music and that's pretty much because of business. The boundaries are commercial, rather than musical. I mean, there are musical boundaries, but the reason they're divided up so much is because of marketing.
How do you break through those?
You can blend and make your own sound out of anything. I mean, in today's world of incredible media you can experience everything, so why not? Whatever works is the way to go – there are things that you blend that don't work sometimes, and there are things that do work. For me, it's been fun to touch on all of the bases, mix up the stew, and put my own twist on things. It has been a great thing for me, and it has kept me very excited about music over the years.