Lee Ritenour Rises from the Ashes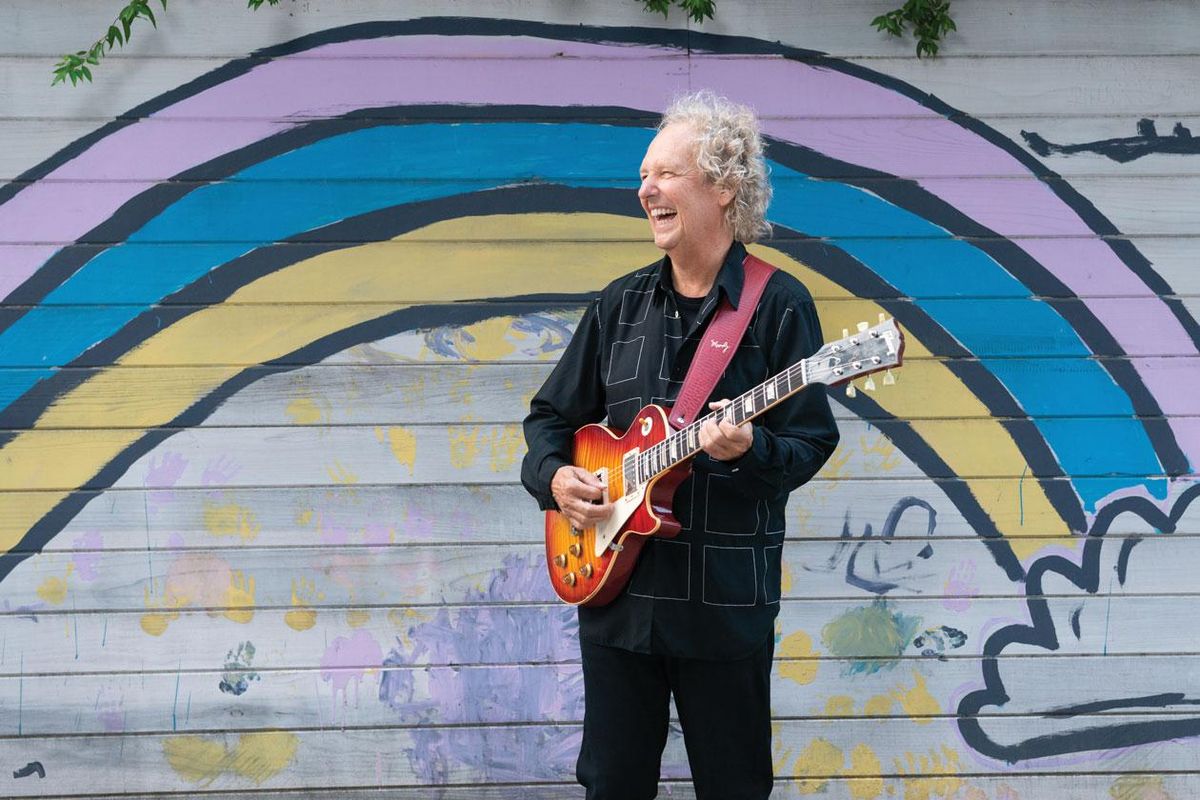 Photo by Alex Solca
On top of losing his home, studio, and gear to a wildfire, the jazz legend then had to undergo heart surgery. Once the pandemic arrived, he decided it was time to finally make his first solo guitar album, 'Dreamcatcher.'
For most of the world, 2020 could rightfully be called the worst year ever. The pandemic sickened millions, bringing with it a staggering death toll and necessitating lockdowns that decimated hordes of small businesses. In Lee Ritenour's case, it can be argued that 2018 was even worse.
---
That year, Ritenour—an icon with countless album credits, almost as many Grammy nominations, a Grammy award, and 45 albums to his credit—lost his gorgeous Malibu estate in Los Angeles' Woolsey fires. A week later, he was rushed to the hospital for aortic valve replacement surgery. In the fire, Ritenour lost his Starlight studio and about 100 guitars (including a 1958 Strat with serial number 0335), 40 amps, and every pedal he'd ever owned.
These tragedies motivated Ritenour to record his first-ever solo guitar album, Dreamcatcher. "Life threw some curves," he says with great understatement. "I came out of that and said, 'Now is really the time to put all the energy into the solo record.' It was really in the works for a while, but I never saw myself as a solo guitarist. I was always the band guy." Considering he actually spent his formative years studying with preeminent solo guitarists like jazz virtuoso Joe Pass (whom his dad, an amateur pianist, boldly cold-called and asked for lessons for his then-13-year-old son) and classical guitar master Christopher Parkening, it's long overdue.
The idea for a solo guitar album came about organically as Ritenour started doing unaccompanied, off-the-cuff interludes at his shows. "Over the last few years, I kept incorporating either improvised pieces or little set pieces in between or at the end of songs, and it seemed like the audience was enjoying those moments interspersed with the band pieces. So everyone kept encouraging me to do it.
"I grew up with classical guitar players—the Segovias, the Christopher Parkenings, and the Julian Breams. I was very aware that, in my mind, I'm not in that league as a solo guitarist."
"I was putting myself up against Joe Pass, who was a hero of mine, and knowing that there are unbelievable acoustic guitar players out there like Andy Mckee and Joe Robinson. I grew up with classical guitar players—the Segovias, the Christopher Parkenings, and the Julian Breams. I was very aware that, in my mind, I'm not in that league as a solo guitarist. But I knew I had my style and I knew I also had my compositional skills, and I knew that I was going to orchestrate the album so that it had variety. So what I considered my weakness of not being a solo guitarist ended up being a strength because I ended up orchestrating it with different guitars, with different sounds, with even slightly different styles, but all still sounding like a Lee Ritenour record."
Up Against the Wall
A first-call session player constantly faces situations where parts have to be masterfully created and flawlessly performed under extreme time constraints. If Quincy Jones is staring at you in a multi-million-dollar session and the clock is ticking, you better deliver or you'll probably never work again. Ritenour, more than just about any other guitarist on the planet, has managed to thrive in these incredibly stressful situations for decades. After all, he's played guitar on albums as diverse as Pink Floyd's immortal The Wall (including on "Run Like Hell" and "One of My Turns") and Sheena Easton's A Private Heaven.
In complete contrast to the chaotic pressure-cooker environment of the session world, the Dreamcatcher sessions took place in the serenity of the media room in Ritenour's Marina del Rey rental house (where he is temporarily staying as his home is being rebuilt). "Turning up to 10 is not necessarily an option anymore," he admits. "I kind of enjoyed it because the playing field was level again. Whether you're in a one-bedroom apartment with three roommates or you're in a colossal house, the new playing field is that everybody is shut down. I didn't have my studio, which I had for 40 years. My engineer of 40 years, Don Murray, couldn't come over because of the COVID lockdown. I was in a different environment, and I was down to the seven guitars that I walked out of the house with in Malibu that day."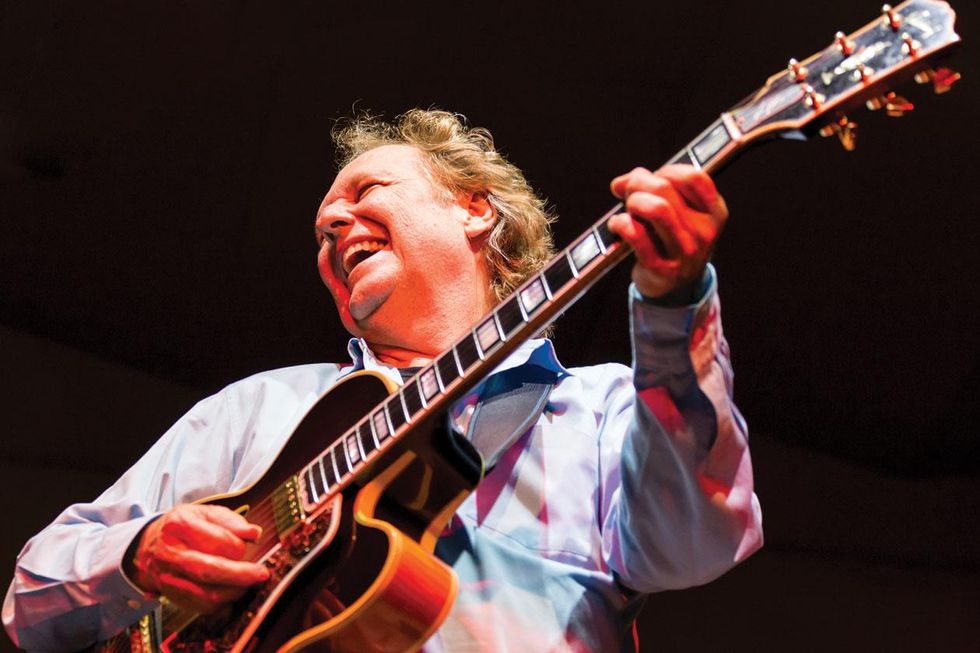 There's no shortage of buoyancy in Ritenour's onstage demeanor and sound.
In addition to those seven guitars, Ritenour also acquired and used several others, including a Taylor baritone, a high-strung Baby Taylor, and an Xotic guitar synthesizer.
In light of recent tragedies, Dreamcatcher proved to be not just a lifesaver, but transcendent. "When I was making the album, it almost felt like a first album," explains Ritenour, who took complete control of virtually every aspect. "What I found myself doing was producing a Lee Ritenour record. It was my skills as a guitarist, as a composer, arranger, producer, and even an engineer that actually created Dreamcatcher. It's all my compositions and I'm getting the sounds."
While the pandemic playing field might have been leveled a bit, unlike the typical guitarist, Ritenour still had access to longtime high-profile associates. And he tapped them continually for feedback. "I'm sending stuff to my engineer over at his place and asking, 'Is this okay, Don?'" says Ritenour. "And he says, 'It sounds great,' and I don't know if it really does because he's polite, and after everything I've been through, he might be going 'Yeah—whatever!'" [Laughs.]
Lee Ritenour's Dreamcatcher Gear
Guitars
• 1960 Gibson Dot ES-335
• Two Gibson Custom Shop Les Pauls made by Mike McGuire
• Ramirez classical guitar
• 1949 Gibson L-5
• Yamaha NCX3
• Yamaha Silent Guitar
• 2019 Taylor 326ce baritone (tuned down a fourth)
• Taylor BT2 in Nashville high-strung tuning
• Xotic guitar synthesizer
Amps
• Mesa/Boogie California Tweed
• Fender Twin Reverb
• Ladner G-1 Hellion
Effects
• Strymon Iridium
• Neo Instruments Mini Vent
• Aphex Punch Factory
• TC Electronic Flashback
• Xotic Super Clean
• Xotic pedalboard
Recording Equipment
• Two Schoeps microphones
• Shure SM57
• Apogee Symphony interface
•Genelec monitors
• Mac computer running Logic
Strings
• D'Addario strings gauged .009–.011–.015–.026–.036–.046 (Les Pauls and ES-335s)
• D'Addario flatwounds gauged .011–.013–.017–.032–.042–.052 (hollowbody guitars)
Navigating the Seas
With lockdown giving everyone more time on their hands than they know what to do with, Ritenour had to be disciplined and decisive in the recording process. There was the never-ending temptation to add more and more—and Ritenour certainly indulged. "When I got to 'Couldn't Help Myself,' it was like, "Aw, fuck it. I'm just gonna layer as much as I want." He ended up with 20 tracks for that one song, "That title was friggin' perfect."
Even so, creativity and an arranger's mind kept "Couldn't Help Myself" from devolving into a sea of excess. "Orchestration was the key, because there are things that you would never be able to ascertain, listening to the whole thing. I think I'm playing a high-strung guitar at one point, doubling the lead on the Les Paul, and I've got distortion on the high-string [guitar]." [Editor's note: Ritenour played his Taylor BT2 in Nashville high-strung tuning. It's as if you took only the octave stings plus the two unison strings from a 12-string guitar, and deleted the typical primary strings. That leaves the E, A, D, and G strings an octave higher than normal, with typical B and high E strings.]
"I didn't use as much distortion, because the other songs were so pure—either a jazz guitar sound or an acoustic guitar sound."
While Dreamcatcher started strictly as a solo guitar album, Ritenour's fertile imagination led him to include more than just guitar. "On a couple of other songs I started to add guitar synthesizer, a little bass part here, and a little programming." From there, he added a drum section. "My hardest decision on the whole album was whether to keep the bass drum and a little snare drum backbeat. My son Wes is a pro drummer, and I kept asking him for a better sample for the snare drum. He said, 'Dad, are you sure you want to have programmed bass drum and snare?' I said, 'I just need something for this tune.' I tried to resist but I couldn't help myself." [Laughs.]
In a Silent Way
At a time when many musicians were in a state of creative malaise, Ritenour found inspiration for the track "Abbott Kinney" by sheer circumstance. On a typical day, Abbott Kinney Boulevard, the main drag in Venice, California, is bustling with traffic at shops and eateries that line the road.
Ritenour were five months into the making of Dreamcatcher when he and his wife decided to take a bike ride to Abbott Kinney.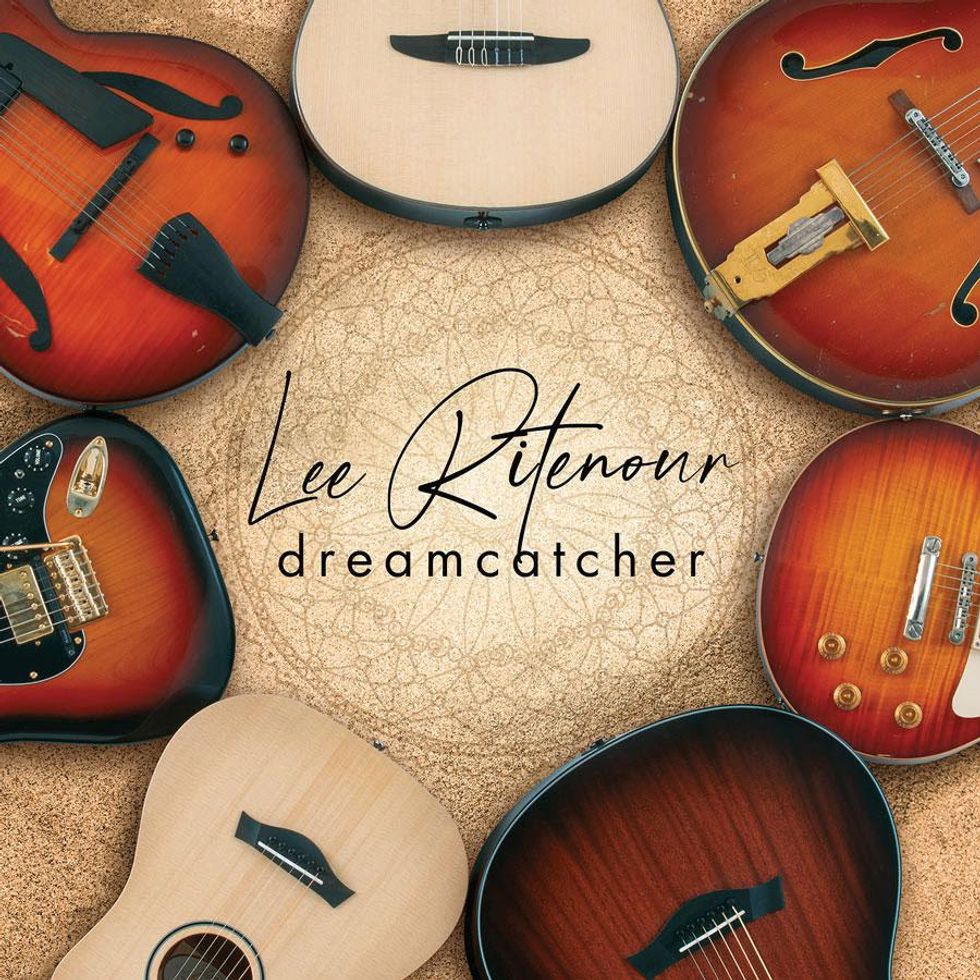 TIDBIT: Ritenour composed, produced, recorded, and performed all 'Dreamcatcher' tracks in the media room of the home he's renting while his own house is rebuilt.
To his surprise, he arrived to a ghost town, "It's usually jammed with people and a lot of stuff going on, but it was completely empty." Upscale boutique fashion shops were boarded up, and neither locals nor tourists were anywhere to be found.
The scene was incredibly depressing to Ritenour. Then something unexpected lifted his spirits. "All of a sudden I hear this—I assume it was a kid—but somebody had taken out their guitar and said 'Fuck it, I'm gonna turn up to 10 and rock out!'" laughs Ritenour. "And it sounded so good!"
The echoing of random wailing from an apartment atop a storefront became the catalyst for "Abbott Kinney." "I went home and couldn't get that sound out of my head. I thought, 'Wow, maybe I should try a distortion solo guitar piece.' I wouldn't have thought to do that, but I got inspired."
Given the more tender overall nature of Dreamcatcher, however, Ritenour felt he had to strike a delicate balance. "I didn't use as much distortion, because the other songs were so pure—either a jazz guitar sound or an acoustic guitar sound. I was keeping all that in mind as well."
A Spark Reignited
Ritenour's 2010 release, 6 String Theory, celebrated 50 years of his guitar playing and featured guests like George Benson, B.B. King, John Scofield, and Slash. Dreamcatcher coincided with 60 years of Ritenour playing the guitar, and, as a solo album, was a reinvention of sorts. "After you've done 45 albums and thousands of sessions, to be excited about music, about making a new album, that's something that doesn't happen for a lot of people," he admits. "That an album can feel completely fresh … that was the gift."
YouTube It
Lee Ritenour resides under the contemporary jazz umbrella. But that label only tells part of his story, as this live show featuring a broad range of styles and guitars displays. This live set from Jakarta's Java Jazz Festival features his son Wesley on drums and starts with "Smoke 'n' Mirrors," one of his signature numbers.
From Your Site Articles
Related Articles Around the Web