J.D. Simo: The Bandstand and The Bible of Classic Rock
Photo by Sean Marshall Studios Nashville's JD Simo is a graduate of the Don Kelley school of honky-tonk, proving ground for some of the world's best pickers. Other alumni

Photo by Sean Marshall Studios
Nashville's JD Simo is a graduate of the Don Kelley school of honky-tonk, proving ground for some of the world's best pickers. Other alumni of Kelley's legendary Robert's Western World band include Johnny Hiland and Jerry Douglas/Patty Loveless sideman Guthrie Trapp.
But hearing Simo's self-titled band, you would never guess that the lad can still occasionally be heard tearing up "Truck Driving Man" with Kelley & Co. Simo's music is way more classic rock than classic country: "Fool for You" sounds like a Free outtake and "Aoh" recalls the Yardbirds, while other tunes flash back to Zeppelin, or Truth-era Jeff Beck.
In fact, Simo insists he has no idea how he got the Kelley gig. But his predecessor knows. "Don loves the blues," says Trapp, and, indeed, one listen to the Peter Green soul of "What's On Your Mind," on Simo (Sundazed), clears up how the young Arizona transplant got the job. "I picked up the country stuff on the bandstand," says Simo. "When that gig came along I had to immerse myself in it, painfully learning in front of audiences. I never felt quite comfortable in the role—I love country, but everyone has their own preferences."
JD Simo's preference for the rock music of his parents' generation formed when he was a child. "Around 1993, I taped a mini-series off the television, called the History of Rock and Roll, and it became my bible," he recalls. "It would tell me what to get at the record store. I could also check out Elvis movies and old Ed Sullivan shows from the library."
To avoid starvation in Nashville, Simo put his love of classic rock on the back burner and soloed up a storm on "Folsom Prison Blues" at Robert's on Broadway. On a street full of players with cookie-cutter pedalboards, he became known as the kid with no effects. "I tried every pedal there was, but, in the end, I preferred the sound of the guitar straight into the amp," he says. At the time, the amp was a stock Fender Deluxe Reverb, and the guitar, an RS Guitarworks Tele-inspired model. "I wanted something that looked like Mike Bloomfield's—rosewood board and white body," he explains.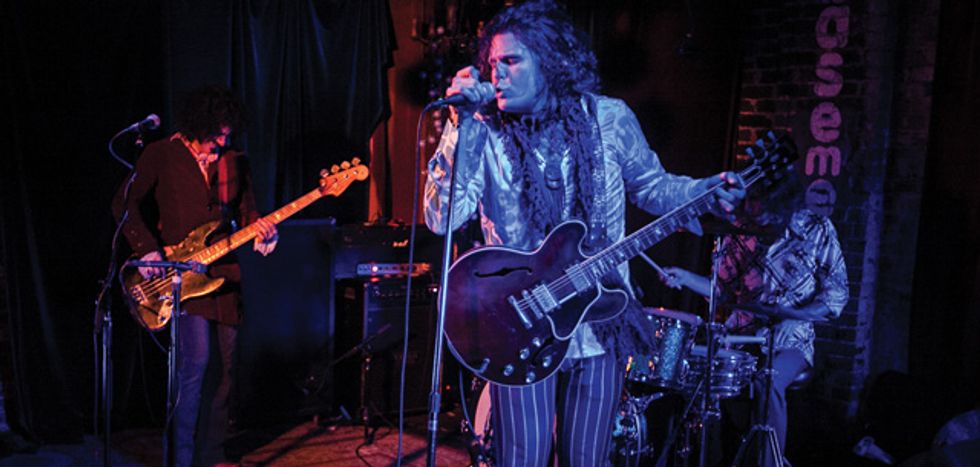 The SIMO trio features Frank Swart on bass, JD Simo on vocals and guitar, and Adam Abrashoff on drums. Photo by Sean Marshall Studios
SIMO—the band—came about through a chance to play with his favorite Nashville rhythm section. "Frank Swart and Adam Abrashoff had been playing together for years," says Simo. "Frank emailed me out of the blue and said, 'Want to jam?' We got together and improvised for three hours—I had never done that before. It felt like 10 minutes. We changed keys and tempos, went to noise—it was beautiful."
The band's classic rock is filtered through a modern sensibility that allows for some sophisticated harmonic ideas, and for a wall of sound created by Swart's pedals. Aside from a Joe Bonamassa wah, however, Simo himself still eschews effects. If you are going with largely guitar and amp, the choice of guitar becomes extremely important.
"It's a 1962 Gibson ES-335 with PAFs," says Simo. "It is all original, except I took the Bigsby off. I got it by selling every possession I owned and using my savings. I'm glad I did—I will sleep under a bridge with it. My goal in life was to find an instrument that was part of me. It is an appendage, it goes everywhere with me."
Of course, the guitar is only half the equation. When you shun pedals, the right amplifier is equally essential. "I have played through a plethora of old Plexi-era Marshalls and I really like '67s because of the Drake transformers in them," says Simo. "They are cleaner by nature. My favorite '67 is the 100-watt Super PA. The PAs are no different from a Super Bass or Super Lead—it is the exact same circuitry, they just have four more inputs. They are the poor man's Super Lead."
When it comes to amps, it's all about headroom for JD Simo. "I don't like a high-gain sound. The old Marshalls I use are not set up to be high gain," he says. "People think it's funny when I say that—they see the band play and it's very distorted. But it is a very stiff, uncompressed distortion. I like to fight for the note, I like feeling my hand do the work.
"I keep the bright caps [capacitors] in my old Marshalls—the ones everyone takes out. I need as many high-mid frequencies as I can get in order to cut through Frank's bass, because he is almost like another guitar player.
"It doesn't sound harsh because the top cabinet is a 1969 basket-weave cabinet with bass cone 25-watt Celestions. They were meant to be bass speakers— they go down to 55 Hz, as opposed to 75 Hz, but all the guitar players liked them because they were so warm. I prefer the 25-watt models to cut through Frank. The 30s sound more pleasant by themselves, but in context the 25s work best for me."
JD Simo's Gear
Guitars
RS Guitars Slab '59, 1962 Gibson ES-335, 1967 Gibson J-50
Amps
1967 Fender Deluxe, 1967 Plexi Marshall, Super PA, Silvertone 1484 (on record only)
Effects
Dunlop Joe Bonamassa, Signature Cry Baby Wah, Maestro FZ-1 Fuzztone (on record only)
Strings and Picks
D'Addario .010–.046 strings, Dunlop Tortex .73 mm picks
Simo's sonic obsession extends to the recording process. Releasing a 7" single from the CD meant recording old-school. "We recorded it in a way that was intended for vinyl—recorded, mixed, and mastered analog," he says. "We mastered it for vinyl. Those sub-frequencies that have become standard in modern mixes aren't cuttable to vinyl."
With their styling, musical references, and equipment drawn from the 1960s, it would be easy to dismiss Simo as some sort of ironic retro lark. Nothing could be further from the truth. Like Jack White and The Black Keys, JD Simo and his band have taken what was great about the rock music of another era—warm tone, direct emotions, freedom to experiment—and adapted it to now.
Like the bands of the era they honor, such as Cream or the Grateful Dead, this band is not afraid to go out on a ledge. "Some nights are better than others," says Simo. "There have been a handful of nights where it was really something else, but every night has a moment—that is the nature of improvisational music."