Replacing key components—such as the pickups, string nut, and tuners—can turn a workhorse guitar into a killer axe!
Rather than spending a cool grand or two on a new Custom Shop or topline American Stratocaster, many guitarists opt to find a solid Mexican or Japanese Fender Strat and trick it out. Often my clients ask me how they can upgrade one of these instruments to make it gig-worthy. There are several ways to customize a budget Strat without spending a fortune. Replacing key components—such as the pickups, string nut, and tuners—can turn a workhorse guitar into a killer axe!
The Project
To illustrate this process, we'll use a 2004 Fender Mexican (MIM) Strat. When it landed on my bench, it was in great structural condition, but I knew some mods and a good setup could make it a pro-level instrument.
My first step was to sonically evaluate the guitar. Though it played well, it didn't have a lot of sustain and the stock tuners tended to drift out of tune. The single-coil pickups sounded weak and too bright, and I decided to begin the transformation by upgrading them.
Install new pickups.
The owner wanted to stick to a traditional single-coil configuration. There are dozens of great options made by independent pickup makers, as well as excellent upgrades from Fender. Based on feedback from other clients, I chose a set of Seymour Duncan Five-Two single-coils, which employ a combination of alnico 2 and alnico 5 magnets. The three treble pole pieces are made from alnico 2, which produces a warmer sound. This reduces that "ice-pick-in-the-ear" tone when you play a solo. Conversely, the three bass pole pieces are alnico 5, a magnet known for producing a bright, clear tone. This is perfect for adding clarity to rhythm parts and chord voicings. Duncan Five-Twos sound louder than traditional Strat pickups, but when adjusted properly, they offer excellent tone and balance.
Whenever I replace a trio of single-coil Strat pickups, I use a reverse-wound/reverse-polarity (RW/RP) middle pickup. In position 2 or 4 (the combined neck/middle and middle/bridge settings) of a 5-way switch, the paired pickups become humbuckers. The benefit? You cancel the 60-cycle hum that plagues single-coils, but still get that traditional Strat tone we all love.
Adjust pickup height.
Fig. 1: Measuring the gap between the pole piece and the 6th string on a Strat.
This is commonly overlooked during a setup. It's important to set the pickups at the right distance from the strings. If the pickups are adjusted too close, you can lose sustain and run into intonation problems because the magnets are pulling on the vibrating strings. But if the pickups are too low, you'll end up with a weak signal.
To adjust the pickups, I fret the 1st and 6th strings at the last fret. Then, using a 6" metal machinist ruler, I measure the gap between the top of the pole pieces to the bottom of the 1st and 6th strings (Fig. 1) Carefully turning the screws on either side of the pickup lets me raise or lower its height to my preferred measurements:
Bridge pickup: 2/64" 1st string, 3/64" 6th string
Middle pickup: 3/64" 1st string, 4/64" 6th string
Neck pickup: 3/64" 1st string, 4/64" 6th string
These measurements are starting points, but I wouldn't recommend adjusting Strat pickups any higher. If a pickup is too loud relative to its mates, lower it to balance its volume. Don't bring the quieter ones closer to the strings.
Upgrade the tuners.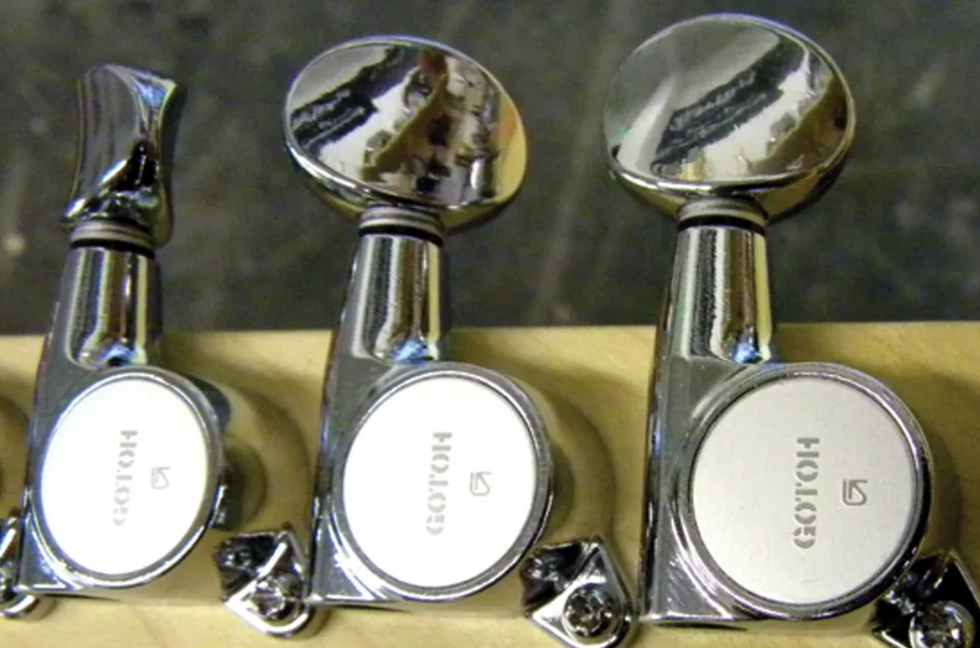 Fig. 2: Replacing vintage-style tuners with a set that has a higher turning ratio, like these 16:1 keys, can make it easier to tune a string quickly and accurately.
Upgrading your guitar's tuning keys requires some research. There are many excellent brands available that will retrofit a Strat, and it's important to explore all the options before you drop cash on a set that doesn't fit.
In the case of our Fender MIM Strat, I had to find a quality set that would retrofit the existing holes in the neck. The owner and I decided to use sealed Gotoh keys with a 16:1 turning ratio (Fig. 2) This ratio determines how many times you have to completely turn the button in order for the post to make one full revolution. The higher the ratio (i.e., 16:1, 18:1), the finer the tuning. Most vintage keys have a 12:1 or 14:1 turning ratio. Keys with lower turning ratios can make it frustrating to tune a string because it's so easy to jump past the desired pitch as you approach it.
Replace the string nut.
Fig. 3: The string nut plays an important role in a guitar's sound and performance. Most guitars sport a stock plastic nut, and replacing it with a bone nut can yield sonic benefits and improve tuning stability.
Believe it or not, the nut material makes a noticeable sonic difference. Most guitars come from the factory with a plastic string nut (Fig. 3) Plastic is easy (and cheap) to install, but it insulates the guitar from string vibration and thus negatively impacts tone and sustain.
Other materials I've seen used are graphite, bone, ivory, brass, and aluminum. Each has specific tonal properties and varying sustain, and based on years of working with guitars, here's my take on these materials: Graphite is great for keeping your guitar in tune (especially if you use a tremolo) because strings slide easily through the nut slots, but it sounds rather dead. Bone has excellent sustain and broadens the dynamic range of virtually any guitar. Ivory has good sustain and produces a warmer tone. (Of course, there are serious conservation and even legal issues surrounding the use of ivory, but that's beyond the scope of this column.) Brass and aluminum produce a bright tone but have little sustain.
Bone is always a good choice for string nuts—it's very hard, it lasts longer than plastic and graphite, and produces a sweeter tone than metal.
For this project, we decided to carve a new string nut from bone. Bone is always a good choice for string nuts—it's very hard, it lasts longer than plastic and graphite, and produces a sweeter tone than metal. You can buy pre-slotted string nuts, but I find the spacing is never quite right. I prefer to use a "Stratcut" bone blank from Allparts or Stewart-MacDonald.
Caution! When replacing a string nut, be aware that they're often glued into the nut slot from the bottom or they may be lacquered in. You want to avoid damaging the end of the fretboard facing the tuning keys when removing the nut. If you're not sure how to safely remove a nut, take your guitar to a qualified repair tech or luthier.
Carve a bone nut.
Fig. 4: Carving a new nut is an art. You need to consider string spacing, slot width and depth, and the string angle over the headstock.
Carving a string nut requires skill and patience (Fig. 4) One cut too far and you'll have to start all over again with a new nut blank. If you don't have the proper experience, training, and tools, turn this part of the project over to someone who does.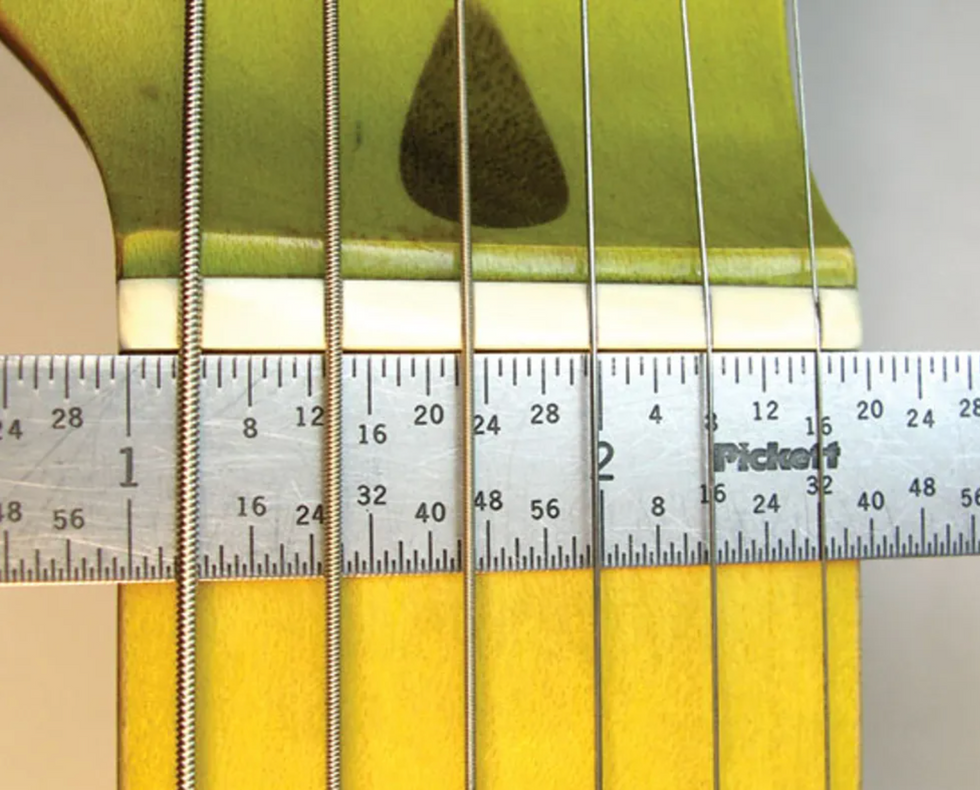 Fig. 5: The saying "measure twice, cut once" certainly applies to getting the correct string spacing on a new nut.
To see photos and read a detailed explanation of the process I use to cut a bone nut and what tools are required, read the March 2012 feature "How to Convert Your Axe to a Baritone."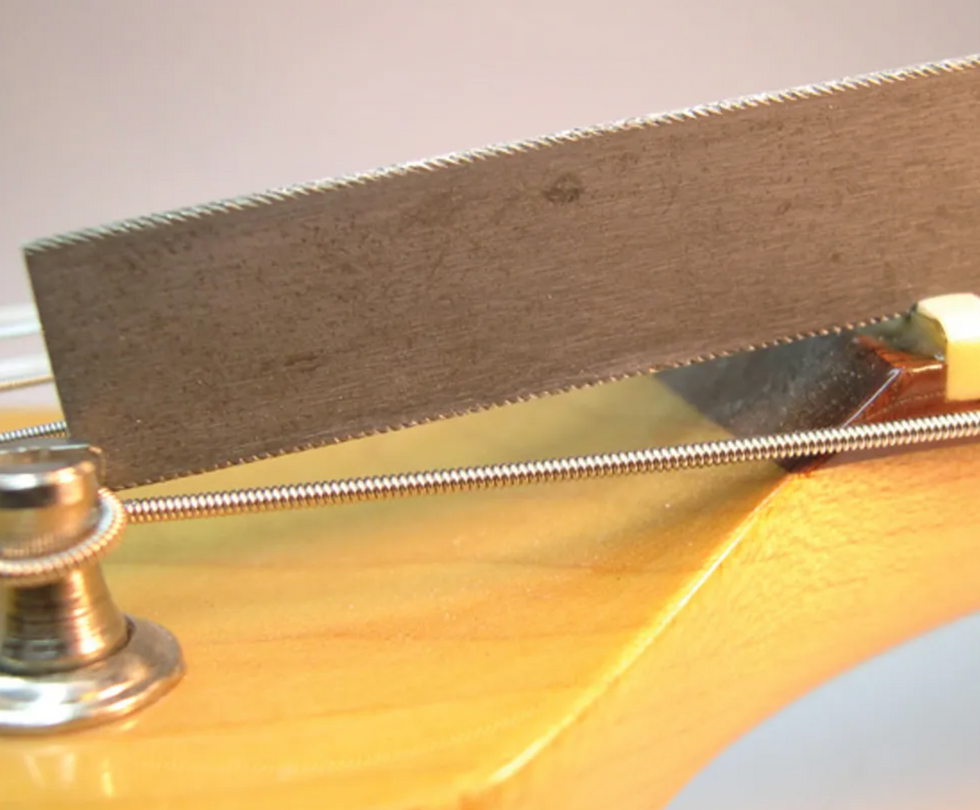 Fig. 6: A nut slot needs to angle down toward the tuner, and its highest point must be right at the leading edge where the nut meets the fretboard.
Step 4 in that article explains how to carve a nut, measure string spacing (Fig. 5), and cut the string slots (Fig. 6).
Consider your moves before you make them.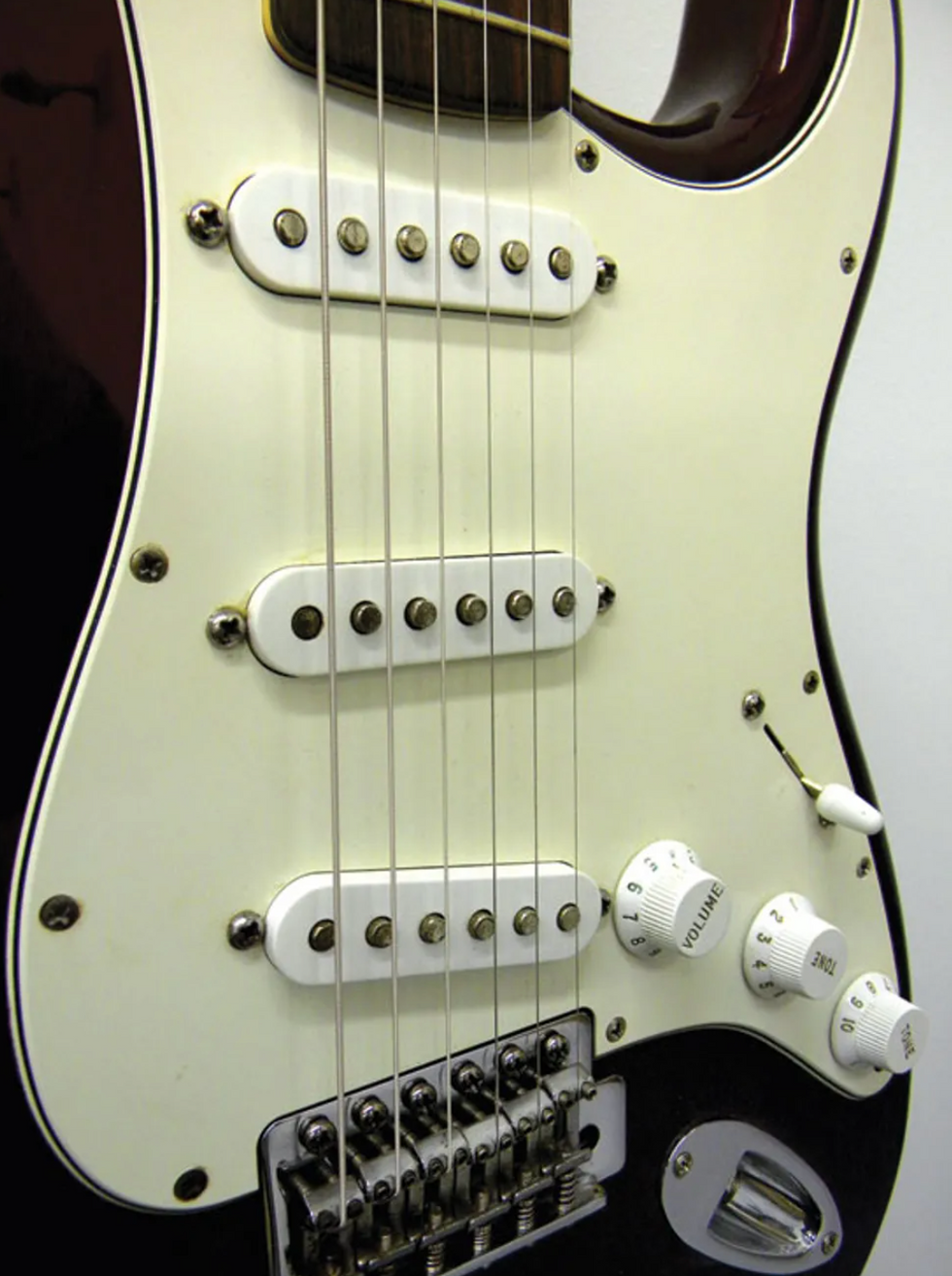 Fig. 7: Gig worthy! Tricked out with 16:1 tuners, a new bone nut, and a rockin' set of replacement pickups, this imported Strat is now ready for prime time.
When upgrading the parts on your guitar, always buy quality hardware that can be installed without any major modification to your instrument. In other words, if you have to route out the body or drill new holes, it's best not to do it. The more holes, routing, or finish work you do, the less your instrument is worth. Keep the upgrades clean, simple, and reversible.
[Updated 10/13/21]
Bad Religion guitarist and Epitaph Records founder Brett Gurewitz opens up about the long journey to the punk heroes'' 16th album, "True North," and how shorter, simpler songs and three-part harmonies reignited their creativity and took them back to their pummeling roots.

Brett Gurewitz plays with Bad Religion at the Glass House in Pomona, California, at the 2007 Warped Tour Pre-Party. Photo courtesy of Epitaph Records
"it's like a rebirth or recharge," says Brett Gurewitz, cofounding guitarist of Bad Religion, about the band's new True North. "We just wanted to challenge ourselves to make an album like we did years ago—to reconnect with our punk-rock roots."
After various lineups and major-label releases, the melodic-hardcore vets have launched their 16th album, one that finds them more comfortable in their own skin— or at least the skin of their earliest years. In that sense, it's the most Bad Religion-like record in nearly two decades. And Gurewitz says it was one of the easiest to write, too.
Formed in 1979 by Gurewitz, Greg Graffin (vocals), Jay Bentley (bass), and Jay Ziskrout (drummer), the L.A.-based foursome was influenced by SoCal forebears like the Germs and Black Flag, while Graffin's academic-anarchist lyrics were inspired by heady writers like Carl Sagan and Noam Chomsky. In 1982, the band released its blistering debut, How Could Hell Be Any Worse?, on Epitaph Records, which Gurewitz founded and still operates.
The very next year, Bentley and Ziskrout departed, and the next BR album was the keyboard-heavy blunder Into the Unknown. The band went on hiatus after the album was panned by fans and critics. They reconvened in '85 and tacitly admitted their misstep with Into the Known, which featured Circle Jerks guitarist Greg Hetson due to Gurewitz's battle with substance abuse.
In 1986, Gurewitz and Bentley returned to the fold and the rekindled songwriting chemistry between Gurewitz and Graffin propelled the band into its prosperous prime. From '88–'90, Bad Religion virtually redefined modern punk with three albums: the '90s-punk archetype Suffer, the pummelingly melodic No Control, and the poignantly fiery Against the Grain. Each showcased the band's new musical foundation— super-tight breakneck rhythms, three-part harmonies (what they like to call "oozin' aahs"), and articulate, establishment challenging lyrics.
"One of the things Bad Religion contributed to punk rock was three-part melodies and detailed background vocals," says Gurewitz. "It was just something I was really fond of—probably because I was a California kid who grew up on the Beach Boys—and felt it gave a musicality to our strong messages. We are a band after all [laughs]."
After two more solid releases, the band ran into major mayhem when they signed to a major label. Shortly after their Atlantic Records debut, Stranger Than Fiction, the company re-released Recipe for Hate—which had already been released by Epitaph. As it hit the streets, Gurewitz left to handle the soaring popularity of Epitaph artists the Offspring and Rancid. Many in the punk-rock community suggested Gurewitz disliked the big-label bounce, but his explanation is that, "Bad Religion was well on its way, and it was an important time at Epitaph, so I needed to be there to aid in the hectic day-to-day ventures."
Hardcore veteran Brian Baker of Minor Threat filled in as the band's second guitarist alongside Hetson, but lukewarm sales of the next three albums pushed Bad Religion back to the welcoming arms of Epitaph and Gurewitz, who rejoined and made the band a sextet in 2002.

LEFT: Gurewitz (far left) at one of Bad Religion's first shows—a University of Southern California frat party held on November 20, 1980. Photo by Gary Leonard / Epitaph Records RIGHT: In this pic from a March 5, 1981, gig at the Vex Club in East L.A., Gurewitz proselytizes with a Les Paul plugged into a Music Man head. Photo by Gary Leonard / Epitaph Records
His return alleviated some of the songwriting burden previously shouldered by Graffin, and it couldn't help but rekindle the signature sound.
"I am proud of every piece of music we've put out over the last 30+ years, but it was just time to make an album like this," Gurewitz says of True North. "After setting out to limit ourselves to write fast, up-tempo songs around two minutes [long], this was the most fun, enthusiastic, and motivating project we've done in a long time."
To get more details on the famous humanists' fearless and perennial holy war for peace and rationality through unimpeachable punk musicianship, we recently spoke with Gurewitz about the new guitar that inspired him while recording True North, and how record labels can still be relevant and beneficial to artists in 2013 and beyond.
While recording True North, Bad Religion not only went back to its roots with faster, shorter songs, but you went back to recording on actual tape. Tell us about the process of straddling the analog and digital worlds this time around.
We tracked everything to tape and then dumped it all into Pro Tools and mixed the album digitally. We used the tape machine as a bridge, but the interesting thing about that is, unlike other things you can put between yourself and the ultimate recording medium, tape isn't a plug-in—it's really a process. It's a way of working, because it's very linear as opposed to being random access. Recording to tape is a more musical way of thinking and communicating, and it's also a more efficient way of working.
How did that affect the process of recording the guitar parts?
Our goal for every song—which we accomplished—was to record all the instrumentation in one continuous take before dumping it into Pro Tools. We wouldn't just cut a solid verse, fly it into the computer, and then duplicate it throughout the rest of the song with crossfades. The songs on True North don't have any crossfades or edits points. To me, that approach of splicing and duplicating music—for our band and any type of guitar-driven music in general—sterilizes the art form. Another positive that we really enjoy with recording to tape is getting the best noise-to-signal ratio, so it gives the recording just a little bit of that old-school tape compression.
You've produced a lot of Bad Religion's catalog, as well as other Epitaph bands over the last 30 years. How does your approach change with your own band?
Well, producing Bad Religion is definitely my favorite thing to produce, because it was the first thing I started working on way back in '81. Joe Barresi is part of the family now, too—he's worked on the last three albums now—so it's just become friends hanging out, doing what we love. The new ingredient or wrinkle this time was that I sat in with him when he mixed True North. On the two previous albums, I left the mixing to Joe, but for this one I went in there and said to him, "We're looking for a particular old-school sound. I mixed all those old records, how about I take a shot at mixing this album with you?" Joe typically works in the heavier areas of rock, like Tool and the Jesus Lizard, so with mixing True North we focused on not overemphasizing or pushing anything too much. When I work on Bad Religion, or anything for that matter, my goal is to make seem as realistic and true-to-form as possible. I want you to feel like you're in the studio when you hear it back through your iPod [laughs].
What are the main guitars you used on True North?
All three of us tend to favor Gibson Les Pauls because they fill the mix a lot better and typically sound aggressive while still being articulate, at least for what we do in Bad Religion. I prefer guitars with shorter scale lengths because they're easier for me to play.
Another guitar we used quite a bit was a Nash Guitars Telecaster[-style]. I found it to be really punchy, and it lacked a lot of the shrill or brittleness that some Teles can have. We were happily surprised at how well it added to the Les Paul sounds.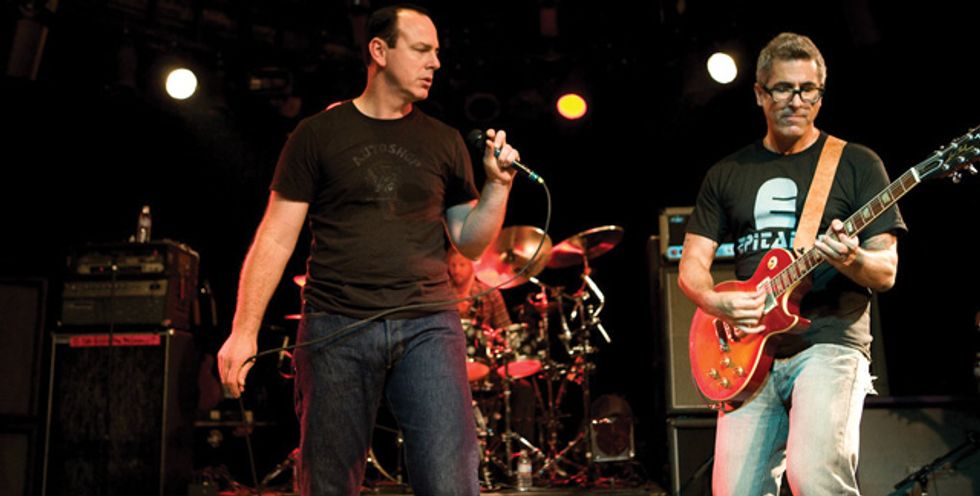 Bad Religion cofounders Greg Graffin and Brett Gurewitz at the 2007 Warped Tour Pre-Party. Photo courtesy of Epitaph Records
In the past, you've often bought a new guitar leading into a new album cycle because you view the instrument as a writing partner and motivational tool. What new gear purchases did you make this time?
My new toy this year was a tobacco-burst Fender Kurt Cobain Signature Jaguar. It has a very full, complete sound like a Les Paul, but it also has these crazy, ringing overtones that are caused by the bridge being much more springy than a standard bridge that's entirely anchored to the body. Those type of overtones are richly harmonic and complemented the tones from the Les Pauls.
One of the guitars you've had for a long time is the red, sticker-covered super-strat. What's the story about that guitar and did it see some time on True North?
Oh yeah, I call that one "the Red Rocker." That's a single-pickup Charvel I bought in '89 while on tour in Boston because mine had gotten stolen the night before. I went into the nearest music store and bought it. Over the years, I've just swapped things off it out of necessity. The neck now is an unfinished ESP maple neck with a maple fretboard that has jumbo frets because the old neck played like crap. It went out of tune a lot, so I replaced the stock tuners with some high-quality Schaller tuning machines. I had the tone knob circuitry disconnected, so the signal path is even more direct from the pickup to the amp—I normally leave tone knobs wide open, so it just made sense on this one-pickup monster. And, I also put in a Seymour Duncan JB in the bridge position, which all my Les Pauls have, too. Everything I've done to it ended up making it sound like a brighter Les Paul.
The Red Rocker gets on every album. It wasn't featured that much this time around, but it's been with me for over 20 years, so it's paid its dues and deserves some studio time [laughs].
What do you like so much about the Duncan JB versus other humbuckers?
I prefer the JB because of the smooth midrange within the overdriven Marshall sound I like, particularly in the low mids around the 500–600 Hz range. Sometimes other humbuckers—especially newer ones—have such high outputs that you can't hear the gain stages of the amp as much.
What amplifiers did you record with?
We pretty much exclusively used the Marshall JCM800. Aside from the new guitars, we deliberately tried to keep most of the gear simplistic and reminiscent to our early days, so we just stuck with what we know when it came to amps. We also worked with an older '70s Marshall JMP, and both heads ran through a Mesa/Boogie 4x12 that has Celestion Vintage 30s.
Why do you prefer Mesa cabs with the Marshall heads?
They have a bigger box that creates a lot more low-end presence and oomph.
In recent shows from the 30th-anniversary tour, you used a Diezel VH4 head. Did that or any other amps make appearances on True North?
I still have the VH4, but I just don't really like it that much. I know Adam Jones from Tool gets some really dynamic and thick sounds for what they do, but every time I've tried it, it just sounds fizzy. It does give you infinite sustain, but I just can't get the Marshall's warm, creamy punch out of it. The EVH 5150 III is an amp that I really like and have been using live—as well as on most of the tracks for The Dissent of Man—but I didn't really use it much on True North.

Gurewitz works the mixing console while co-producing True North at producer Joe Barresi's House of Compression. Photo courtesy of Epitaph Records
Besides the subtle phaser on the opening of "The Past Is Dead," did you use any effects this time around?
No, not really at all—True North was definitely a less-is-more record. The only effects we used besides that small phaser part were delay and reverb on the background vocals.
When you're working in the studio, is there anything you absolutely need to have in terms of microphones, mic preamps, or other gear?
I always use a Shure SM57 for guitars, and I put it right on the speaker, pointed right at the [cone-paper's] crease because I feel it gives a little more woof that way. I always experiment, and if I need something to ring out a little more, I'll go off axis but still point it at the cone. I'll also use another large-diaphragm condenser mic, like a Neumann U87, on another speaker of the same cabinet. I'll take my time to dial-in the exact distances the mics are placed so the phase coherence is as perfect as possible. But the majority of the guitars you hear on Bad Religion records come from the SM57. I just use a tiny bit of the condenser mic to add a little more well-rounded body to the sound. I exclusively use Neve channel strips when tracking guitars, because you can't find a better or more dynamic preamp or EQ.
My favorite mic preamp on vocals is the Martech MSS-10—it's an old-school, solid-state, 1-channel pre with a high-quality VU meter. I've never found anything to beat it, in terms of realistic vocal reproduction, in recording. I'm not a big fan of the new fad of tube mics that are trying to be retro—they have too much built-in gain for me. I'd rather use a lower-gain mic matched with the Martech to get vocals peaking near distortion—that's what those old records and real rock 'n' roll sound like to me. And I always use my original Focusrite Red 3 compressor with the detented pots—nothing beats it.
What's your favorite song off of True North and why?
I'd have to actually say the title track, because it's classic Bad Religion—straight-ahead punk-rock guitars, beautiful vocal harmonies, and thought-provoking lyrics that offer an uplifting message.
"Hello Cruel World" is almost four minutes long and has a more subdued pace similar to "Sanity" off No Control and "Digital Boy" from Against the Grain. How did that come about, given that you guys were focused on a more up-tempo and retro writing strategy?
Even our fastest, most punk-rock albums have always had a slower, longer song—like "Drastic Actions" off our first EP, Bad Religion. We were influenced by the Germs' song called "Shut Down (Annihilation Man)," which is super, super slow. But other than that, all their songs were hyper-fast. We always looked up to them, so we took a page out of their book and have been doing it ever since. I don't think it'd be a true Bad Religion album without a slower song that broke up the pace. So even though we broke our own rule [of having all short songs on the album]… we kind of still followed one of our other ideals.
"Dharma and the Bomb" has some great verse riffage that sounds like a psychobilly song from Deadbolt or the Misfits' "Hollywood Babylon," while the call-and-response "oh yeah" vocals in the chorus sounds like old SoCal surf rock. What was the inspiration for that song?
That was my attempt at writing a surf-punk song [laughs] … it almost didn't make the record. Before meeting for pre-production, I double-checked the song files on my home computer. I clicked on the song—which was half finished and didn't have any words because I didn't think it was going anywhere—but when I heard it playback I thought, "God, that sounds pretty good." So I decided to bring that one along, just in case. Even though it wasn't entirely finished, I had the guys track it. I finished the lyrics and the melody in the studio and, for whatever reason, Greg was having a tough time singing it so I did a placeholder vocal to show him how the lyrics should sound over top the music. But he could never get it right.
So that's you singing lead, not Greg?
Yes, that was actually me singing all the main parts. Greg helped out with the background harmonies. I really like this song, too—not just because I'm singing leads, but because it almost didn't end up on the album and I don't hate my voice [laughs]. I normally hate my voice when it's front and center, but not so much with "Dharma."

Left to right: Brooks Wackerman (drums), Gurewitz, Graffin, Jay Bentley (bass), and Brian Baker (guitars) at producer Joe Barresi's House of Compression studio on July 23, 2012. Photo courtesy of Epitaph Records
You're the head of one of the largest independent record labels today. What's your take on how labels and the music industry need to evolve to support artists?
I'd suggest providing state-of-the-art, cutting-edge, music-marketing strategies in digital mp3s, physical music, and direct artist-to-fan connections and relationships. That's how labels can still be useful and relevant in the current music landscape. There's no doubt some artists can do it all themselves—Epitaph got started because I was an artist who could do it myself—but not all artists are that into marketing and distribution. They would rather focus on lyrics, music, and performing live. So that's where they have to make a smart decision and find a label that will work for them instead of them working for the label. I'm a firm believer that anyone who gets to the top has a team behind them.
Brett Gurewitz's Gear
Guitars
Gibson Les Paul Fender Kurt Cobain Signature Jaguar Nash Guitars T-style Late-'80s Charvel with a maple ESP neck, Seymour Duncan JB pickup, and a Badass bridge
Amps
Mid-'80s Marshall JCM800 head '70s Marshall JMP head Mesa Boogie 4x12 cabinet loaded with Celestion Vintage 30s
Effects
None
Strings, Picks, and Accessories
Ernie Ball or Jim Dunlop .010–.046 Jim Dunlop Tortex .60 mm picks
Speaking of self-marketing, have you or anyone in the band ever regretted the name "Bad Religion" or the infamous "crossbuster" logo?
No, I don't think so. When we first started out I might've regretted it, because it caused us some hardship with promoters, venues, and people with conflicting points of view. But now I feel it's been a really powerful force for positive change. What I've come to believe is that social norms aren't generally changed through lecturing and scholarship. Art, literature, comedians, and musicians can have a more profound effect on change than cultural zeitgeists or pontificators like Richard Dawkins. You have 30 years of kids wearing crossbuster shirts to school and then going on to lead successful lives as professionals, parents, and citizens. You get some vindication showing that the band and its fans aren't as bad, misguided, or damned as they originally believed [laughs].
While growing up in Kaiserslautern, Germany, at age 13, the idea occurred to Bastian Kanbach that making guitars for a living must be one of the greatest professions ever. But
While growing up in Kaiserslautern, Germany, at age 13, the idea occurred to Bastian Kanbach that making guitars for a living must be one of the greatest professions ever. But as a high school student destined to attend university, the idea of becoming a luthier also seemed irrational and unimaginable to him since, at the time, he thought there was no money in making guitars and that being a luthier was a job for passionate idealists. However, as graduation approached, his interest in guitars and music grew, and he started acquiring books, wood, and tools to build his first electric guitar in his parent's basement. It was then he realized that even if there wasn't a lot of money in making guitars, he was an idealist and this was his passion.
In 2003, Kanbach moved to Klingenthal where he spent three years in instrumentmaking school and as an apprentice before going to work for respected builder Siggi Braun. Kanbach built more than 100 custom guitars in two years under the guidance of Braun then returned to his hometown where he started to build on his own. Shortly thereafter, he met another passionate guitarist and gifted craftsman, Oliver Reich, who became his business partner in launching Zeal Guitars.
Working under the credo, "every instrument has to be the best we've ever built," the young luthiers operate their two-man shop with a passion to create original ideas by incorporating unconventional thinking and a "why not?" attitude. "The electric guitar is still a young instrument and has so much potential to be evolved and designed," says Kanbach. "I get the feeling sometimes that our imagination of how an electric guitar should look somehow got stuck in the '50s. Don't get me wrong— those are beautiful instruments, and we're not reinventing the guitar—but we are always looking for new ways to design our instruments and turn them into small works of art."
One such way Kanbach and Reich push the boundaries of guitar design is with their unique finishes. For example, they were inspired by an interior design where walls and furniture were treated to look like solid concrete, and they wondered if it could be done on a guitar. After some trial and error, they discovered a silicate compound that they apply with a pallet knife, giving them the result they were aiming for—a very robust surface that bonds well with wood, looks like concrete, and delivers "killer" sound. Not stopping there, Kanbach and Reich also like to work with different metal coatings for their instruments, from steel to gold brass to iron. "We experiment a lot," says Kanbach. "The possibilities are almost infinite."
But pushing boundaries in guitar design doesn't come without challenges. "It is not easy as a total newcomer to get into this market with rather unconventional guitar designs, even if they're of outstanding quality," says Kanbach. "It takes a lot of time, effort, and patience to establish a brand with new body shapes and crazy surfaces." Translating the communication with a customer into an instrument also takes great dedication, since they often build guitars for customers they don't meet personally. "Building a good guitar is one thing, but building a guitar that's perfectly tailored to the musician is always a challenge," shares Kanbach. As evidenced by the care with which the two luthiers approach their craft, it's an adventure they happily take on.
Pricing and Availability
Currently, instruments can only be ordered direct from Zeal, though they plan to enlist a few dealers worldwide for their spec models. Kanbach and Reich always have some of their spec models available at their workshop, but most all of their instruments are made to order or are completely custom. The wait time for an instrument is 10-12 weeks, and they are currently building 20-30 guitars annually. While Kanbach and Reich want Zeal to remain a small company, their plan is to eventually take on another employee or two in order to build 100 instruments a year. Pricing ranges from $2,300 for a junior-style spec model to more than $5,000 for certain custom instruments, with most of their guitars falling between $3,500 and $4,000.
zeal-guitars.com

Concrete II
Featuring the aforementioned silicate finish, which gives it the look of concrete, the Concrete II is certain to turn heads. Utilizing maple for the body and neck, Kanbach and Reich chose nicely figured Makassar ebony for the fretboard. Hardware appointments include the Schaller Hannes bridge, Schaller M6 tuners, and Schaller strap locks. For electronics, the Concrete II is loaded up with a Häussel Tozz B in the bridge and Häussel BigMags in the neck and middle positions.

Cupido
Though it gives a nod to classic guitar design, the polished gold-brass coating on the Cupido is anything but ordinary. With maple topping the mahogany body, a cocobolo fretboard tops the mahogany neck, which has stripes of walnut and maple. The Cupido is equipped with Schaller M6 tuners, a Schaller GTM Tune-o-matic-style bridge, and Schaller strap locks. And resting in the chrome frames are the Häussel VIN N A2 and VIN B A2 pickups.

Hydra
The understated Hydra is sure to please guitarists who also have an appreciation for minimalist design. The Hydra's Honduras mahogany body is topped with maple and finished in eggshell white, while the bubinga neck is capped with an ebony fretboard. Ebony is also utilized for the frame surrounding the Hydra's RVH Big Humbucker pickup. For hardware, the Hydra is equipped with Schaller M6 tuners, six ABM single bridges, and Schaller strap locks.

The Nameless Beauty
The Nameless Beauty is a gorgeous example of quality woods and details coming together into a classically designed instrument. With highly figured, AAAAA-grade quilted maple gracing both the top and back of the mahogany body, Kanbach and Reich went with Santos rosewood for the neck and flamed katalox for the fretboard. Outfitted with a package of Schaller hardware including a GTM Tune-o-matic-style bridge and M6 locking tuners, the Nameless Beauty is equipped with a pair of Häussel Classic pickups set in rosewood frames.

Mercury
The Mercury's liquid-metallic finish is achieved by combining very fine steel powder with a special lacquer that's applied to the base coat with a spray gun. The surface then goes through several sanding steps before it's polished to a high gloss. Outfitted with a Floyd Rose trem and a Schaller hardware package, the Mercury is equipped with a Häussel Tozz B in the bridge and a Häussel VIN+ N in the neck.

Killerbass
A product of their custom shop, the Killerbass shows Zeal's acumen for building basses as well. The "rusty" oxidized-iron finish of the Killerbass suggests a road-worn axe that's seen a few storms, but it's just another example of the experimental finish work from Kanbach and Reich. Boasting a swamp-ash body, and a maple neck and fretboard, this Killerbass is equipped with an ETS Tuning Fork bridge system and Gotoh tuners. Opting for a P/J-style configuration for its output, this Killerbass Dioramic Signature is loaded up with a Delano JVMC 4 FE/M2 in the bridge and a Delano PVMC 4 FE/M2 in the neck.