I experienced something in this track that made the song brand new to me. I heard Paul McCartney drop the F-bomb mid-song.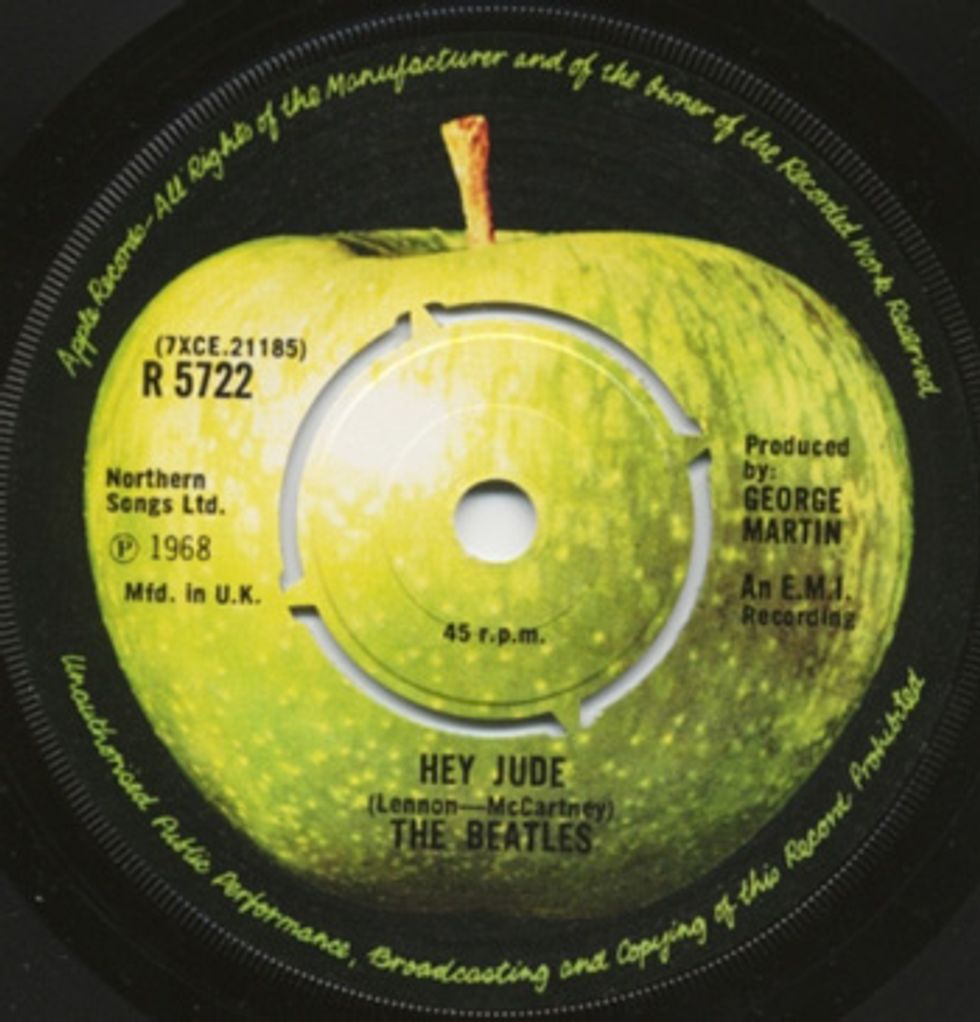 Ah, the glory days of the 7" single: The original 1968 release of "Hey Jude" featured a large Apple Records logo.
By a conservative estimate, I've heard the Beatles' "Hey Jude" 1,000 times.
The first 333 times were in the '70s. My groovy parents and sibs dropped the needle on the delicious vinyl version of the single. While a big green Apple Records logo spun on our "hi-fi," my G.I. Joes attacked each other with Kung Fu moves in a shag-carpet jungle.
The second 333 times were in the '80s. My warbly The Beatles Again cassette sang seductively out of a boom box during tortuously awkward make-out sessions in my teens and early 20s.
The next 333 times occurred when "Hey Jude" droned almost unnoticed from classic rock radio stations and the ceiling-mounted speakers of countless elevators, dentist offices, malls, and shops.
But last night in a London studio, on what may have been my 1,000th listen, I experienced something in this track that made the song brand new to me. I heard Paul McCartney drop the F-bomb mid-song.
Stop reading right now. Pull up a version of the track and fast-forward to 2:45. Right after Paul sings "the minute you let her under your skin" you hear him shout, "oh" followed by "fucking hell" at 2:58. A word of warning: Once you hear this, you can never not hear it—the expletive becomes as pronounced as Ringo's tom fills leading into the bridge.
These angry outbursts give us a little glimpse into the studio and illustrate the frustrating nature of recording.
In his book, Here, There and Everywhere: My Life Recording the Music of the Beatles, Geoff Emerick, who engineered most of The Beatles' later recordings, quoted Lennon's explanation of the curse: "Paul hit a clunker on the piano and said a naughty word."
Emerick notes that Lennon insisted that "naughty word" remain in the final mix, getting a devious thrill out of the idea that Paul's sensitive mega-hit includes profanity hiding in plain sight.
I'm no stranger to recording clunkers. I've played some sessions where my parts contained more clams than a Red Lobster Saturday night special. Bum notes during an electric pass? No big deal. Sometimes you fix them, sometimes they make for an interesting color tone. Clunkers on an acoustic instrument present much richer sonic variation, namely, my shouted curses.
Blame jet lag or general incompetence, but last night my fingers refused to go where they should and I let out a few audible self-condemnations while recording. Keyboardist Andrew Nelson drew the comparison to Sir Paul's secret "Hey Jude" vocal part, and I felt much better about my crap performance.
There are plenty of examples of F-bombing that slipped into the final mix of beloved songs. The Kingsmen's "Louie, Louie" had over-protective parents, nut-ball preachers, and government officials concerned that the mostly indiscernible lyrics were lascivious and would lead children into concupiscent abandon.
The governor of Indiana inadvertently helped promote the band when he banned the song from the state and enlisted the FBI in an effort to shut down The Kingsmen for indecency. Of course kids want forbidden fruit, so sales increased with the witchhunt. Lead singer Jack Ely wasn't profane, he just lacked diction—a fresh set of braces on his teeth did not help his pronunciation. My web research suggests clarity was further compromised by the three-mic recording process that forced Ely to sing/yell over the band into a mic suspended above his head. Ely refrained from obscenity, even after his gigantic blunder of coming in at the wrong spot after the solo.
But "Louie, Louie" does contain profanity, just not in the lyrics. The drummer hits something he shouldn't after the second chorus and offers a loud "ah fuck" at the 0:58 mark. Given the dodgy nature of this performance and a blatant profanity, it's kind of amazing The Kingsmen didn't go for another take. It's equally amazing the FBI and the perhaps moronic state officials of Indiana could not find the obvious obscenity during their hours of combing the lyrics for naughty words.
My all-time favorite F-bombing kicks off the title track on Johnny Winter's Still Alive and Well. The track starts with the band fiddling with their gear, then Johnny drawls, "I'm hungry, let's do this fucker." The engineer says, "hit it" and Randy Jo Hobbs obediently smacks his bass. Johnny retorts, "Don't hit it now—hit it on four." Johnny counts them in and they erupt into an awesome, white-trash Texas boogie.
I realize a column focusing on finding hidden obscenity in songs takes us to a juvenile place, but because the Premier Guitar audience consists primarily of guitarists, going lowbrow seems like a good, calculated risk. What I love about these unexpected expletives is that they give us the fly-on-the-wall perspective of the sessions, whether it's those kids in The Kingsmen jubilantly flogging their way through a future frat-boy anthem, Johnny Winter just wanting to get the session over with so he can get some barbeque, or perfectionist Paul reacting to his clunker.
These angry outbursts give us a little glimpse into the studio and illustrate the frustrating nature of recording. Your fingers don't do what they should or it just takes too long to get it done. This re-listening exercise made me feel a bit like I did when I first really heard these songs—when "Hey Jude" turned from the ambient background noise into this incredibly moving song that would continue to play in my head late at night in my silent room. It's amazing what you hear when you really listen.
John Bohlinger is a Nashville multi-instrumentalist
best know for his work in television, having lead the band for all six
seasons of NBC's hit program Nashville Star, the 2012, 2011, 2010 and 2009 CMT Music Awards, as well as many specials for GAC, PBS, CMT, USA and HDTV.
John's music compositions and playing can be heard in several major label albums, motion pictures, over one hundred television spots and Muzak... (yes, Muzak does play some cool stuff.) Visit him at youtube.com/user/johnbohlinger
U.K. guitar hero Dave Kilminster talks about the ups and downs of solo albums, explains why he shuns most effects, and reveals how an unusual altered tuning is the centerpiece of his next album.
Photo by Simone Cecchetti
"I thought it was about time I stopped helping other people with their careers and got on with mine," laughs Dave Kilminster about the motivation behind his 2007 debut album, Scarlet. After playing the role of über-sideman to a list of rock royalty that includes John Wetton, Keith Emerson, and most notably Roger Waters, Kilminster stepped out on his own with a tight collection of tuneful originals. During a break from Waters' seemingly never-ending touring production of The Wall, Kilminster decided to revisit Scarlet. "When I finally got time to go back and look at it, I realized it deserved a lot more. So I went back in the studio and had a fiddle with it with a good friend of mine, Jamie Humphries, who is a great guitarist, and we ended up with The Director's Cut."
Sonically, the original version was missing something. The drum sound didn't match Kilminster's vision, and that led him to strip away some unessential elements and make the album sound more focused. "It was almost like there was a great sounding album underneath all this crap on top of it," says Kilminster. "When I took the recording to Jamie, he made the drums sound like they should have in the first place. Then I did a few extra vocal harmonies. We were rushed in those initial sessions and I wasn't particularly confident about singing, but this time Jamie just told me to go for it."
The entire Scarlet experience gave Kilminster what ended up as a grad school education in following your creative muse and not settling for a lackluster sound in the final product. "You learn a lot by just throwing yourself in the deep end and that's what I did," recalls Kilminster. "Everything just took a little longer than I wanted it to."
But not everything about Scarlet was a total miss. Very early on in the process, after a day of jamming in preparation for a Keith Emerson tour, Kilminster decided to skip the traditional building-block method of recording an album and focus instead on capturing the trio's live feel. "I listened to that recording when I was going home and realized this is what's missing—three people playing together live."
That in-the-room-energy permeates The Director's Cut, from the slinky funk-rock groove of "Static" to the Zep-meets-power-pop feel of "Liar, Liar." The latter features some of the most fluid, shred-tastic soloing that Kilminster has ever done.

"I'm not a big fan of effects on overdriven sounds. When I do the 'Comfortably Numb' solo with Roger, I put on this chorus to try and make it sound a bit more like the record, and I always hate doing it," says Kilminster. Photo by Ronald Santerre
Even though the production might have gotten a little out of hand, Kilminster's guitar rig was about as simple as you can get. His main tools were a black '74 Fender Telecaster and a limited edition Vox AC30.
"I wasn't quite sure what we were going for—maybe I was still in my Jeff Buckley phase, to be honest," says Kilminster. "Later when I went back, I decided that the clean bits weren't clean enough and the overdriven bits weren't heavy enough."
That desire for more dynamics led Kilminster to shun many effects—especially for his dirtier sounds. "I'm not a big fan of effects on overdriven sounds. When I do the 'Comfortably Numb' solo with Roger, I put on this chorus to try and make it sound a bit more like the record and I always hate adding it."
Kilminster's usual recipe for stellar tone involves a great guitar and a great amp. Even a delay doesn't interest him. "The first time I ever used a delay on a guitar solo was when I started playing with Roger. It wasn't something I particularly wanted to do."
With the entire Scarlet experience behind him, Kilminster began working on his next solo album this past December, but the opportunity to participate in the "12-12-12" Hurricane Sandy benefit at Madison Square Garden conflicted with his recording dates. While preparing for his new solo project, Kilminster took some radical steps to reinvigorate his writing and playing.
"Why is it that most guitarists write their best material in their early-to-mid 20s? I wonder if it's to do with the fact that you are still learning the instrument. You're still messing around and not really quite sure what you are doing and you stumble across these great sounding things. How could I unlearn the guitar quickly?"
The notion of "unlearning" the guitar inspired Kilminster to explore an entirely new tuning. After a few tweaks of the tuning pegs, he landed on C–G–D– G–A–D, a tuning firmly in the DADGAD family, but with some added low-end thump.
Dave Kilminster's Gear

Guitars
1974 Fender Telecaster, Suhr Custom "Rose"
Amps
Vox AC30 Limited Edition, Brunetti Mercury
Effects
Suhr Riot, Boss CE-5 Chorus Ensemble, Ernie Ball 6166 volume pedal, Eventide TimeFactor, Boss TU-3 chromatic tuner
Strings, Picks, and Accessories
D'Addario EXL110 .010-.046 strings, Dunlop Gator Grip 2.0 mm picks
"I just thought this was so exciting to come up with a tuning where I had no idea what I was doing," says Kilminster. The original idea was to use this new discovery for the main rhythm parts, but then move over to the comfortable surroundings of standard tuning for the solos, but Kilminster hasn't yet made the final decision. "I could be totally shooting myself in the foot with this. Do I really want to relearn all my modes, scales, and arpeggio shapes?"
With a summer European tour with Roger Waters on the books, Kilminster is hoping to not only finish a new solo album, but also pair up with master shredder Guthrie Govan for a duo album that will certainly grab the attention of guitar nerds on both sides of the Atlantic. "I've actually written some tunes for that because I really, really, really want to do it," he says. "Hopefully, if time permits, we could be in the studio around October. When we play together there's this kind of ESP thing that happens and it's so much fun. It needs to get down on vinyl, or plastic, or whatever."