On El Dorado, the 6-string wizard cops a vintage vibe with Black Keys frontman Dan Auerbach.
Marcus King is a young man with an old soul. His considered and assured manner of speaking is reflected by his music's subdued intensity and old-school sound, belying the guitarist's 23 years. King possesses a humility somewhat surprising for an artist whose recent accomplishments carry many of the hallmarks of career success, from performing at the Grand Ole Opry to appearing on network television to touring stadiums opening for Chris Stapleton. Looking forward, Gibson is set to release the Marcus King Signature ES-345 and Orange will release his signature MK Ultra amplifier. Surely, nobody would fault a young artist in King's position for having some swagger about themselves, but the guitarist stays grounded and understands that, while he may know a few things, he still has much more to learn.
King was raised in a musical family who helped to instill a pragmatic confidence in the budding artist. "I had a family behind me that was very supportive and told me that it's a tough career choice, but they all did it," he explains. While that support kept him grounded to his roots, it also helped King believe in himself and his music: "When I was in high school, there were a lot of people worrying about what they wanted to do with their lives and I was completely confident about what I wanted to do."
It didn't take long for the young guitarist to reach some important ears. King managed to catch the attention of Warren Haynes when, at 15 years old, he snuck into a club to get his demo to the elder guitarist. Haynes was so impressed that he went on to release the Marcus King Band's 2015 debut, Soul Insight, on his Evil Teen Records label.
Watch Marcus King work his red ES-345 in this official video of "The Well," from his new album El Dorado.
Since then, King has only continued to grow as an artist and player. He recently moved from his hometown of Greenville, South Carolina, to Nashville, where he hit it off with producer and Black Keys frontman Dan Auerbach, who King chose to produce his newest album, El Dorado. The first of King's albums to be recorded without the Marcus King Band, El Dorado completely immerses the guitarist in Auerbach's retro-minded aesthetic. King tracked at Auerbach's Easy Eye Sound studio, and to give him an authentic throwback experience, Auerbach tapped the rhythm section of keyboard player Bobby Wood and drummer Gene Chrisman—longtime members of the Memphis-based 827 Thomas Street Band, who backed artists such as Elvis Presley, Bobby Womack, Aretha Franklin, and many others on countless sessions.
El Dorado is a mostly mellow affair that takes much of its inspiration from the Southern soul of the '60s and '70s. The release finds King throwing down lyrical licks with a smooth and straightforward tone on the cornerstone ballads "Beautiful Stranger" and "Break," and the electric piano-driven slow blues "Wildflowers & Wine." While he leans toward outlaw country to rip some twangy bends on the Willie Nelson tribute "Too Much Whiskey" and draws on dark, fuzzy, blues-rock tones à la Billy Gibbons on "Say You Will" and "The Well," the vibe always stays soulful.
PG connected with King during a tour stop in Buffalo, New York. We got the lowdown on El Dorado and his new signature gear, and learned what inspires his music.
Let's start with your guitars. Are you playing your new signature model Gibson ES-345 on this tour?
Yeah, man. That's the one I have out on the road with me. It's been my number one for the last year-and-a-half. It really holds up.
"My music has always been my closest ally and the only thing that's never hurt me."
The signature model is based on a vintage ES-345 that belonged to your grandfather, right?
That guitar is the patriarch of the prominent instruments in my life. That's what started it off. It's a '62 ES-345, and my grandfather bought it in '64 in Great Falls, Montana, basically on doctor's orders. He was sick from ulcers because he hadn't been playing. He was in the Air Force and he had three kids—two twins and my dad, who was the oldest—and he was just stressed out. I couldn't imagine being as stressed as I am now and not playing, yet that's what he was doing. The doctor told him to get a guitar and pick it back up, so he bought that ES-345 and a Fender Super Reverb.It's red and has a sideways Vibrola on it. The story I was told is that it was a model that was initially made custom for Hank Garland and it somehow ended up in Montana.
And how did you end up owning it?
My grandfather took such great care of that rig and he played that guitar straight through the Super Reverb until he couldn't play anymore. When that happened, the guitar just went away into a back closet somewhere and it was preserved like a fine wine. My dad was given the guitar after my grandfather passed, when I was 14 years old. My father didn't want to see or play the guitar because it carried a lot of sentiment for the family. He just kept it locked away and I'd go play it every now and then, and that would be where I'd feel the most inspired and joyous playing, with this guitar.
When I was 18, I was going on my first long trip with the band to New York City and my father gave it to me. He said he prayed about it and felt like my grandfather would have wanted me to have the guitar. It was kind of like going into battle and receiving a secret weapon. I like to use it for special occasions and when I'm recording. I used it on the Grand Ole Opry and I've used it in the studio, but aside from that, now I usually just bring the prototype [of the Gibson Marcus King Signature Model] because it's a really good road guitar.
TIDBIT: Producer Dan Auerbach drafted members of the fabled 827 Thomas Street Band to back King on El Dorado.
How did your signature model come about?
I'd taken my guitar all around the country with me and flown it in the old case a few times. They'd try to put it under the plane and I'd have to make a fuss and try to get a seat for it and all the terrible things you do to try and make sure it doesn't ride in the belly and get broken.
I was finally fed up with that and started talking to Gibson about making me a 345 I could take on the road, and they made me one with a flame top. It sounded great and I said, "I'm gonna worry a lot less about this guitar." I played it for maybe a year or two. Then I asked them about really looking at my guitar and seeing if they could replicate it. That turned into making a signature model and I'm honored.
How does it feel? When it's in your hands, I imagine you can tell it's a different guitar.
They've gotten it damn close, but you always know the difference. This guitar looks like a really well-preserved guitar from the '60s. They managed to capture the essence of something that's remained untouched from that era, something that you'd find in Songbirds [guitar museum in Chattanooga, Tennessee] or in someone's house under a bed. They've maintained that quality.
You also have a signature Orange amp on the way: the MK Ultra.
For a while now I've been using Orange amps when I would go out of the country. Before that, I would use Homestead amplifiers, out of Pennsylvania—a really great boutique company. I still use Homesteads in the right setting.
When I'd go overseas, I would hire a backline from Orange. My bass player started using Orange cabinets and they kept asking me what they could do for me to get me playing Orange, so I finally said, "I need something really simple that's just plug-and-play ready." I wanted three knobs on the front of it and I wanted 6L6s. They whipped this thing up down in Atlanta and I just fell in love with it. I have two 2x12 cabinets with [Celestion] Vintage 30s, and it really rocks. Aesthetically, I always think of that Stevie Wonder video from Beat Club where they're playing Orange amps. It's so rad.
---
---

King's passion for Gibson thinlines began with his grandfather's 1962 ES-345. "That guitar is the patriarch of the prominent instruments in my life," he says. "That's what started it off." King now tours with the prototype of his pending signature model ES-345. Photo by Joseph A. Rosen
Describe your personal connection to the blues.
I've never considered myself a blues purist or even a blues musician. What I consider myself is an admirer of the art form itself and the roots of it. At its core, the true nature of the blues was people who needed to get their sorrow out in some positive manner that wasn't destructive to themselves or their fellow man. When you listen to those recordings, you can really hear the sorrowful nature of what they're portraying.
That's what I listened to when I was a kid. My dad had plenty of tapes that I could listen to. Robert Johnson was the first, B.B. King was a big one in my house, and Freddie and Albert [King] as well. My father stressed the importance of getting to the root of something. We loved Stevie Ray Vaughan, but we'd go back and listen to Hubert Sumlin and Albert, the people he'd pull from. It was important to get to the core.
Which contemporary players inspire you?
I'm inspired by anyone who really puts all of themselves into one note. When you get down to it, you can say all you need to say with one note if the proper conviction is behind it. I look to people like Christone "Kingfish" [Ingram] to give me life in this industry, and [teenage guitar phenom] Brandon "Taz" Niederauer. Everyone is really proud of what that guy has accomplished. He's killin' it. Obviously, Derek [Trucks] is one of the greatest cats to ever touch the instrument. Having him as a peer and contemporary is really moving.
Your singing is a big part of your work. Who are your vocal influences?
I was listening to plenty of Robin Trower and Hendrix and Stevie Ray Vaughan and I wanted to set myself apart from every other guitar player. I wanted to find something fresh that I could take my inspiration from, and what I landed on was mainly female vocalists. I wanted to recreate the grit and ferociousness of Aretha Franklin's voice or Janis Joplin's tone with a guitar. When I was 11 or 12 years old, I was too bashful to even think about singing, but when I was 13, I started singing. I looked up to James Brown, Otis Redding, Sam Cooke, and Aretha Franklin—my god!
"I wanted to recreate the grit and ferociousness of Aretha Franklin's voice or Janis Joplin's tone with a guitar."
El Dorado is the first album you've released under your own name, rather than the Marcus King Band's. What's different about this one?
I don't like to compare myself to anyone, but this is sort of like my laid-back Gregg Allman album—speaking of vocalists I've looked up to. He did laid-back at the height of the Allman's success in the '70s. I see that as such a cool thing to do that allows you to see things differently. Tom Petty did that on Full Moon Fever.
It wasn't something that I was reinventing. This was an opportunity to work with musicians who have been around the block. I stood to learn a thing or two about myself as a musician and about my new town of Nashville.
Dan Auerbach produced this record. How did you meet? Was it a result of moving to Nashville?
That happened just before we cut [2018's] Carolina Confessions. Dan and I had been doing some writing sessions together and it sparked a really good friendship. We knew we wanted to work together, but we didn't know in what capacity or how it would work out. Then I moved to town and it all aligned organically.
What's it like working with Dan?
Dan has tremendous foresight and a way of looking at the big picture, at the grand scheme of things. That was really great to watch. He didn't make any decisions in the studio that I questioned. I'm the first to tell you, if somebody does something you don't like in your music, you've gotta speak up. I'd never worked with someone where I was truly behind every decision they were making.

Guitars
1962 Gibson ES-345
Gibson ES-345 Marcus King Signature Prototype
1970s Ibanez SG copy
1962 Fender Telecaster
Amps
Orange MK Ultra
Orange 2x12 cabinet with Celestion Vintage 30s
Flot-A-Tone accordion amplifier
Effects
Dunlop Cry Baby
Fulltone Deja Vibe
Ibanez Tube Screamer
MXR phaser
Tru-Fi Colordriver
Univox Super Fuzz
Strings and Picks
Elixir Nanoweb .011–.049
Dunlop Jazz III
There are heavy sonic references to the '60s and '70s, especially in the sound of the vocals and the types of guitar tones you use, which are really organic and direct. How much of that was Dan's influence?
He has these sounds that are a tip of the cap to the old way of doing things. It's also truly authentic because he's using the same gear as these older sessions, and it's also the same musicians—we've got Gene Chrisman and Bobby Wood who worked with Elvis Presley and Bobby Womack. It's the same cats doing the same thing, like taking a step back in time.
It's hard to overstate how many amazing artists they've played with as part of the 827 Thomas Street Band in Memphis.
When Dan started telling me the cats he was bringing in, I was admittedly unaware of the records they'd played on and I educated myself really quickly. You've also got Billy Sanford, who played guitar on the record with me, and he came up with the little hook on "One Day She's Here"where it changes keys and there's the little rhythmic thing that the bass and the guitar do. Of course he'd come up with that, because he's the dude who came up with the "Pretty Woman" riff! It's so cool, man. There was so much vibe in that place, you couldn't get around it.
Those guys are regulars in Dan's house band. Was recording with them always part of the concept for this album?
Yeah, that's the way he likes to record, kind of like how Brian Wilson had his system to create the sounds he heard in his mind. That band is the vehicle to get him where he wants to go. When you're firing with as little independent variables as possible, you know these cats are gonna come in and deliver. He feels quite confident with these guys, as he should. He wanted to approach it that way and I was inclined to feel the same way.
Tell us about your guitar rig on the album.
Man, I got locked in on this Tele that belongs to Dan and I ended up using it on a great deal of the record. Even on the slide solo to "Turn It Up," and I've never gotten a good slide tone with single-coils. That guitar … there's something about it. It's a '62, nothing particularly crazy about it, but I really love that Tele. I also used a "lawsuit" Ibanez SG Custom from the '70s, with the bolt-on neck. My 345 was there on the sessions, but I can't recall what I used it on.
My amp was an old Flot-A-Tone accordion amplifier from the '50s. On the record, there may have been some fuzz involved on one or two tracks, but for the most part, that amp was extremely dynamic. We'd just crank it, put it in the bathroom, and put a mic on it.
There seems to be a theme to this album's songwriting.
When you're writing for a record, you're just throwing it all against the wall and seeing what sticks. What ended up coming out was this recurring theme of a coming-of-age story, of my life as a musician as it's been so far. The beautiful thing is being able to tell that story with such world-class writers, architects of the craft, who helped me build something I wanted to say and help me have the right means to say it.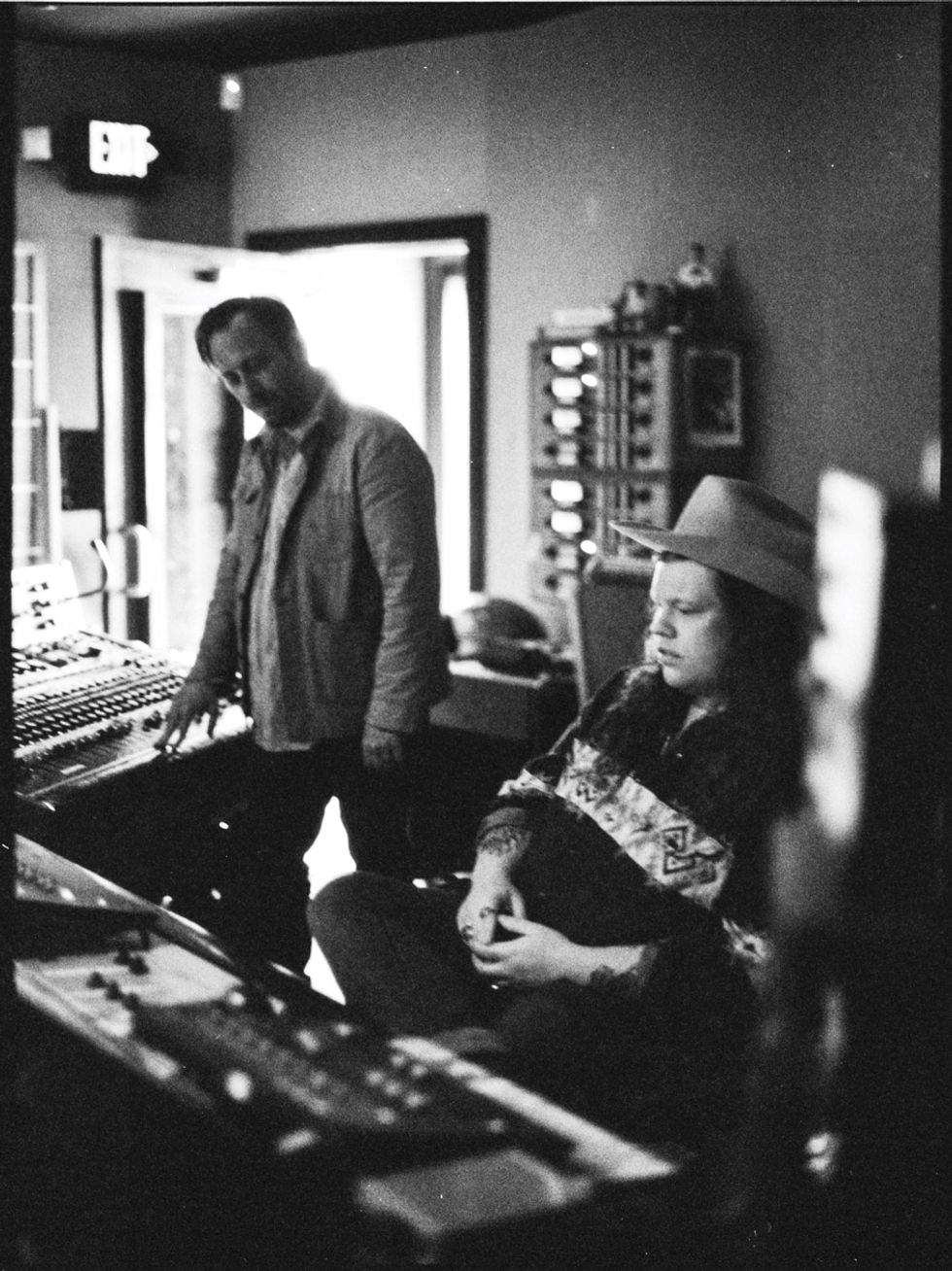 The Black Key's Dan Auerbach produced El Dorado at his Nashville studio, and in the process infused King's music with a retro sound. "Dan has tremendous foresight and a way of looking at the big picture, at the grand scheme of things," says King. "He didn't make any decisions in the studio that I questioned."
How did you decide which writers to work with?
That was a call Dan made. He had the proper foresight to figure out the right cats who would be perfect for the job. I dare to say he knew what he was talking about. It was a completely foreign concept to me. The only way I know how to write is to be entirely transparent to the point of saying more than I'd like to sometimes, and if something doesn't rhyme and I need to say it, that's how it comes out.
When you're writing with someone, especially when it's the first time meeting, it can get awkward with me because I like to break down those social barriers rather quickly and start talking about real things. That's the only way I know how to do it. Bringing those guys in, we got to know each other real fast. It's a bit like being on a first date but planning where you're going to live together. You go in unsure about each other, but you're writing something for a record, so you have to have something with some substance. It's a really foreign concept.
What inspires your playing now?
Emotion. My music has always been my closest ally and the only thing that's never hurt me. The guitar continues to be something that I can pour everything into and it only gives me positive answers back.
As you look toward the future, what are you hoping to develop in your playing?
I'd like to breathe a bit more. People say that young players are note-y or however you want to put it, but I think it's really that you've got a lot to say at a young age. You've got a lot on your mind and you've got big opinions. People don't like musicians to voice their political opinions, so I've gotta play that shit out.
Late night vibes abound as Marcus King grabs a resonator and teams up with Dan Auerbach for this acoustic take on El Dorado's "Beautiful Stranger," recorded at the Black Keys frontman's Easy Eye Sound. Dig King's solo at 2:44 to get a taste of his soulful, melodic playing.
---