Russian Circles—The Memorial Sessions
Premier Guitar joined the prog-rockers inside Steve Albini's Electrical Audio studio in Chicago to watch them create their most experimental album to date. Plus, we look at the drool-inducing boutique and custom gear they used while recording.

Chicago's prog power trio Russian Circles' consists of bassist Brian Cook,
guitarist Mike Sullivan, and drummer Dave Turncrantz.
Last spring, in an unassuming building on Chicago's West Belmont Street, acclaimed instrumental rockers Russian Circles were busy crafting their fifth studio album, Memorial. They developed their new opus in Studio A of Steve Albini's Electrical Audio Studios, which offers three tracking spaces: Center Field, the Kentucky Room, and the Alcatraz Room.
Each room is specifically designed to help capture tones associated with particular instruments. The spacious Center Field room provided natural acoustics for Dave Turncrantz's drums, and the Kentucky Room's liveliness made it ideal for guitarist Mike Sullivan's dark-sounding amp setup. Brian Cook's bass rig sat in the controlled isolation of the Alcatraz Room, which uses a brilliant combination of perimeter venting and membrane absorbers to deaden the space.
"Just today, I was comparing the El Capistan to my vintage Memory Man. It can nail every delay tone you could possibly think of."
—Russian Circles guitarist Mike Sullivan

With the recording prowess of acclaimed engineer Greg Norman, intimate production guidance by Brandon Curtis (The Secret Machines), and a mountain of rare, custom, and boutique guitars, amps, effects, and recording equipment at the ready, Russian Circles produced its most diverse release yet—one that deftly weaves metal, classical, prog, post rock, industrial, and a slew of other influences into a heaving, breathing mass of ethereal power.
Russian Circles graciously invited Premier Guitar into the studio to get a first-hand look at the recording process, peek at Electrical Audio's amazing gear, and watch Curtis (who produced the band's 2009 album, Geneva) steer the project to completion.

Brian Cook's bass rig consists of a 6550-powered Verellen Meat Smoke head paired with an Ampeg 8x10 cabinet.
Laying the Groundwork Both Sullivan and Cook say that almost all of Memorial was written before entering the studio. Still, the band wanted the freedom to experiment with ideas and gear while recording, so there was consensus that parts would change along the way.
Capturing the band's dense, complex music was no easy task, and according to Sullivan, working with Curtis again was the best choice in terms of production. "He's really good at throwing the ball in your court and letting you think about what could happen there, guitar-wise," explains Sullivan. "We'll have a song's arrangement done, and while he won't try to change it, he'll ask questions to get us second-guessing certain things."

Though he altered his pedalboard a bit during the sessions, Cook primarily used what's shown here: Boss TU-2 tuner, DigiTech Whammy IV, Electro-Harmonix POG 2, Way Huge Swollen Pickle, Fuzzrocious Ram the Manparts, Fuzzrocious Oh See Demon, Fuzzrocious Rat Tail, Tym Guitars Big Bottom, Akai E2 Headrush, and Ernie Ball VP Jr. volume pedal.
Curtis' musical training and perceptive ears were also very helpful in ensuring that Memorial flowed naturally from track to track. Like most bands, Russian Circles pull tonal and musical reference points from their influences—Don Caballero, Melvins, Neurosis, Shellac—and working with Curtis add space rock and psychedelic music to the mix. Cook describes the approach as "a different idea of what heavy can sound like." Knowing the band's sound, gear, and internal chemistry also helped Curtis translate their sonic vision to Norman.
"He understands what we want, and he also knows the proper lingo and the recording process a lot better than we do," Cook says of Curtis. "So when we say things like, 'Make it sound more squishy,' he knows how to translate that."
The band enjoyed the sonic style Norman brought to two previous Russian Circles releases, 2006's Enter and Geneva, and his ability to capture the band's live energy played a big part in their decision to enlist his services again for the new album. "[Geneva] is a pretty faithful testament to who we were at that point," Cook recalls. "That's Greg's M.O.—get great sounds that are honest to the source."
Brian Cook plays his massive bass lines on a Gibson Grabber II, but for even thicker textures, he'll often augment the lows with a custom First Act baritone guitar and a Moog Taurus bass synth.

Down to Brass Tacks
The equipment Russian Circles amassed for the
Memorial
sessions would make any gearhead's eyes pop out. Sullivan's massive triple-amp guitar rig lined the back wall of the Kentucky Room. Two Verellen heads—a 100-watt EL34 Loucks and a 300-watt 6550 Meat Smoke—each drove Emperor 4x12 cabinets, along with a tiny Fender Pro Jr. combo that Norman threw into the mix to strengthen the upper-mid presence.
In the band's early days, Sullivan mostly relied on Sunn Model-T reissue heads. Following a van accident that destroyed much of the band's equipment, he began testing his pedals for damage through Cook's Verellen Meat Smoke head. "I plugged in my pedals and was floored," Sullivan recalls. "I didn't even touch a dial—the amp sounded great immediately. It gave me headroom for days, and the high- and low-boost switches provided a lot of sonic options. It was the tone I'd wanted for years."
Behind the Wheel: Electrical Audio's Greg Norman on Recording Memorial
Memorial is engineer Greg Norman's third album with Russian Circles. "I like the space they create for all sorts of textures and harmonics," he says. "They can obviously pull off the loud, tight, and fast bits, but the vacuum between those moments leaves room for really cool parts. And the soaring pretty parts make the explosions sound much more intense. When it's done just right, I think of meteors cutting through apartment buildings."
Norman's role in making Memorial was similar to the Geneva sessions, except this time the mixing duties were handed to producer Brandon Curtis. "He's smart, super-easy to work with, positive, and patient," Norman says of counterpart Curtis. "Those are good, rare traits for someone working in the studio."
Curtis's background as a classically trained musician also helped. "Many times his knowledge of music theory would dovetail nicely with my techy, noisy-brained perspective," Norman recalls. "I think that mix helped things out."
In addition to being tech-savvy, Norman is a meticulous note-taker who's able to give a detailed account of the equipment and techniques he used to record Sullivan and Cook. In his own words:
The guitar amps were set up in the smaller of the two live rooms, which is named the Kentucky Room. This room has a short, full-sounding natural reverb that's great for drums and loud guitar amps. The walls are made of adobe brick, which has an irregular, porous surface that's flattering for higher-frequency reflections.
I always need to hear the rig I'm recording before choosing the proper mics, but the placement is generally the same. I usually have the diaphragm or ribbon pointed directly at the speaker's dust cover, about 4–8" away from the grille. It really depends on how much low end I want to capture via proximity effect. If I'm using a fragile ribbon mic like a Coles 4038 or RCA 74 on a loud amp, I'll back off a foot or more.
Mike's Verellen Loucks and Emperor 4x12 half-stack were mic'd with a Beyerdynamic M88, which is my favorite dynamic mic for big and heavily distorted guitar. That was going through our custom mic preamp, the Electrical Audio EApreq. This part of the rig was the most useful in the mix of the two "heavy" amps. I mic'd the Verellen Meat Smoke and Emperor 4x12 half-stack with a Shure KSM44, which also happened to be running through the EApreq preamp. Since the Meat Smoke is such a dark amp, I grabbed a mic that would catch all of that low end without overdoing it. I always use a room mic, usually a Sennheiser 421 or an AKG 451 with an omni capsule. The idea is to get a powerful stereo sound from one guitar, as if it were the only one to end up on the record. It also helps add depth and can really help convey how loud things are.
We also had a Hiwatt 4x12 set up with various heads, such as a 1965 blonde Fender Bassman, a pics-only Orange OR80 from the '70s, two prototype amps from Emperor, and a 15-watt Fender Pro Jr. 1x10 combo we used as a head. This was mic'd up with a Sony C48, but at some points the Pro Jr. was mic'd with either a RCA BK-5 or a Shure KSM44, running into a John Hardy M-2 preamp. I like bringing that amp in for really dark, heavy-sounding setups like Mike has. It's a dead-simple amp that sounds great on its own, or even powering another cab. It distorts in a good way that cuts straight through the mud, while not sounding thin. It blended nicely with his other amps while reinforcing the overall upper midrange.
For bass, I generally try to get a high-low mic setup. Brian's Verellen Meat Smoke and Ampeg SVT 8x10 were mic'd with a Beyer M380 for the low end, and a Sennheiser 421 to catch the mids and highs. In that occasional instance when we wanted a more midrange-heavy distortion option, we'd have a Traynor TS-50B go through one of our custom 1x15 cabinets mic'd with a Josephson e22. All of the mics went through the EApreq, then to a GML 8900 for compression. I think I added one notch of bass shelf for the M380 on the EApreq. For catching some of the pure bass tones from his Moog Taurus, I used a custom Electrical Audio DI box. I rarely use a DI, but Brian had some presets on his Taurus that had some serious sub presence, so I used a DI for that.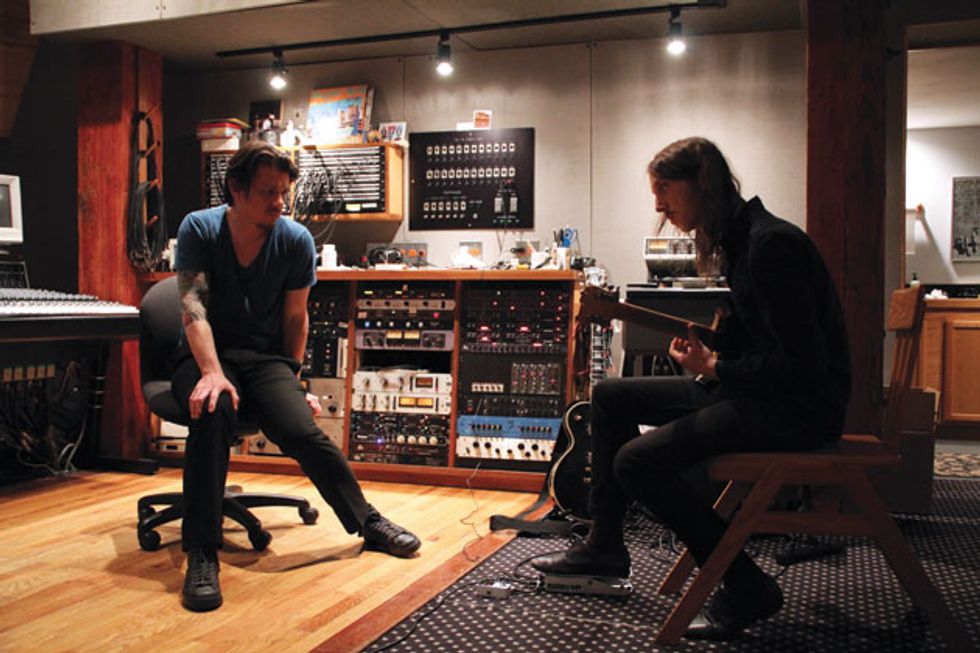 Brandon Curtis (left) works with Sullivan in the control room
on a deeply layered section of Russian Circles' new album.
Sullivan generally cranks the highs and mids on his Meat Smoke to counteract its bass-heavy sound and blend well with his Loucks. And even though the Meat Smoke was originally designed for bass, Sullivan champions its use as a guitar amp. "I've never found myself wishing I had more of something," he says. "Whatever I want sonically is always there—highs or lows, dirt or clarity. It just depends on how you dial it up."
Cook's main stage and recording amplifier is a custom 300-watt Verellen Meat Smoke connected to a well-worn Ampeg SVT810E cabinet that he used for years in underground bands Botch and These Arms Are Snakes. Cook has a personal connection to Verellen amps—he and Ben Verellen have been good friends since junior high.
"Ben has always been very tone-minded and particular about his gear," recalls Cook. "When he really got into tube amps, he went to school to learn how to build them. He made me a little 30-watt Bassman knockoff, which is actually the very first Verellen amp. I still have it and it sounds awesome."

Mike Sullivan recorded his guitar tracks through a massive tri-amp rig. Pictured: Verellen Loucks and Meat Smoke heads on two Emperor 4x12 cabinets, Fender Pro Jr., '70s Marshall 1982B 4x12.
Mike Sullivan's Studio Gear

Guitars
1957 Reissue Gibson
Les Paul Custom, wine red
1957 Reissue Gibson Les Paul Custom, black
1967 Reissue Gibson Flying V
with Maestro vibrato tailpiece
Custom Fano RB6
Amps
300-watt Verellen Meat Smoke head
100-watt Verellen Loucks head
Fender Pro Jr. 1x10 combo
160-watt Emperor head (prototype)
16-watt Emperor head (prototype)
Hiwatt DR-103 Custom 100 head
Emperor 4x12 cabinets with Weber C1265 speakers
Effects
Ernie Ball Volume Jr.
TC Electronic PolyTune Mini
Maxon CS-9
Xotic Effects BB Preamp
Xotic Effects BB Preamp Mid Boost
Xotic Effects RC Booster
Reaper Deceived Delay/Reverb
Interfax Harmonic Percolator
Fulltone Secret Freq
Z.Vex Fuzz Factory
with custom hockey graphics
Mesa/Boogie Tone-Burst
Mesa/Boogie Flux Drive
MXR Micro Amp
DigiTech Whammy IV
EarthQuaker Devices Grand Orbiter Phaser
Electro-Harmonix Holy Grail Nano
Electro Harmonix Memory Boy (for slight slapback on Loucks)
Strymon El Capistan
Strymon Flint
Akai E2 Headrush
Lehle Splitter
Strings, Picks, and Misc.
Gibson 498T bridge humbuckers (neck position of both Les Pauls)
Gibson Dirty Fingers humbuckers (bridge position of both Les Pauls)
Lollar P-90 pickups (Fano RB6)
Dean Markley custom-gauge .012-.056 strings (occasionally .058 for the 6th string)
glass slide
It was apparent from the beginning that Memorial would have many layered tracks, so Curtis took pains to ensure that the bass and guitar amps sat evenly in the overall mix. And sometimes he'd propose ideas to enhance a song's mood. For example, his suggestion that Sullivan dig harder into the lower strings while picking the delicate melody in "Cheyenne" led to adding eerie harmonic overdubs. Sullivan played these harmonics through a Fender Twin positioned in the middle of the Kentucky Room, yet pointed into the large Center Field space with its two room mics. Curtis also suggested adding a Whammy pedal, and after a few takes, Sullivan nailed what would become the song's haunting, interweaving overdub. To create these eerie sounds, he used a glass slide while Curtis manipulated the Whammy's treadle.
Sullivan's main studio axes were two '57 Reissue Les Paul Customs. He says these guitars let him transition smoothly between the album's softer and heavier moments. They also help him build sustain for the dramatic crescendos that have become hallmarks of his sound, a technique he put to good use in "Deficit" and "Burial" on the new album.
"I've never really thought of another primary guitar for this music," says Sullivan. "With its ebony fretboard and mahogany body, there's just something about a Les Paul Custom that really gets the most out of each note, in terms of sustain and clarity. No other guitar I've played has that much precision."
Sullivan replaced the stock humbuckers in both Les Pauls, opting for a Gibson Dirty Fingers at the bridge and a Gibson 498T bridge pickup in the neck position. An inherently bright pickup, the 498T tightens the lows and adds sparkle to the darker tones typically generated by a neck humbucker.
Sullivan's modding doesn't end there: To give his Customs a satin-like look and reduce friction on the back of their necks, he used a Brillo pad to dull the sheen of the guitars' shiny finish.
In addition to his Les Paul Customs, Sullivan also played a Fano RB6. Initially he was skeptical about how the guitar's vintage-output Lollar P-90s would handle heavier tones, but he immediately fell in love with them.
"It comes down to the clarity thing—hit a chord and you hear every note," explains Sullivan. "There's nothing to hide behind when I use the Fano. It's just a pure, organic tone. And combined with its Gibson-like 24 3/4" scale and C-shaped neck, it's a guitar I'm really comfortable playing."

Sullivan's session pedalboard: Ernie Ball VP Jr. volume pedal, TC Electronic PolyTune Mini tuner, Mesa/Boogie Tone-Burst and Flux Drive, Fulltone Secret Freq, Maxon CS-9 Chorus, Xotic Effects BB Preamp and BB Preamp Mid Boost, custom effects-loop pedal, Strymon El Capistan and Flint, Z.Vex Fuzz Factory, Reaper Deceived Delay/Reverb, Akai E2 Headrush, DigiTech JamMan.
Cook plays his massive bass lines on a Gibson Grabber II, but for even thicker textures, he'll often augment the lows with a custom First Act baritone guitar and a Moog Taurus bass synth. After watching Nick Sadler (Daughters) play a First Act Delgada baritone, Cook decided to order a custom baritone and set about designing the "Bearitone." It features a silverburst finish, Kent Armstrong pickups, and two fat, bearded guys in a "mudflap girl" motif inlayed on the fretboard. The baritone's ferocious sound was effective for thickening the album's guitar-heavy sections, and Cook often used it to add contrast to his unorthodox, fuzz-drenched tones.
The pedal collection Sullivan and Cook had at their disposal was mindboggling, to say the least. Many of the pedals Sullivan used for his core sound—an Ernie Ball VP Jr. volume pedal for swells, a TC Electronic PolyTune Mini, a Z.Vex Fuzz Factory (with a custom paint job depicting the hockey routine the band is named after), and a Fulltone Secret Freq, to name a few—were from his own personal stash. Much of the guitar's immense reverb on Memorial was tracked using his Reaper Deceived Delay/Reverb and Strymon Flint.
The Flint has become one of Sullivan's favorite pedals. "They're sonically remarkable and they don't take up a lot of room on my pedalboard," Sullivan explains, adding that he also has an affinity for his Strymon El Capistan delay. "Just today, I was comparing the El Capistan to my vintage Memory Man. It can nail every delay tone you could possibly think of. The Flint's tremolo is very useful, the reverb's decay is so natural, and the tap tempo makes them great for live playing. Compared to other digital pedals I've tried, they sound absolutely perfect to me."

Cook tracking parts in the Alcatraz Room with his custom First Act "Bearitone."
Many bassists shy away from effects, but Cook wholeheartedly embraces them for both subtle and drastic timbral changes. His studio pedalboard was loaded with eight fuzz and distortion devices from the likes of Fuzzrocious, Verellen, Dwarfcraft, Tone Butcher, and Way Huge.
Brian Cook's Studio Gear

Basses/Guitars
Custom First Act "Bearitone" baritone
Custom First Act Delgada bass
Gibson Ripper II
Amps and Cabs
Verellen Meat Smoke
Ampeg 8x10 Cabinet
Effects
Boss TU-2
Electro-Harmonix POG 2
DigiTech Whammy IV
Tym Guitars Big Bottom
Fuzzrocious Oh See Demon
Fuzzrocious Rat Tail
Fuzzrocious Ram the Manparts
Dwarfcraft Eau Claire Thunder Fuzz
Dwarfcraft Pitch Grinder
Way Huge Swollen Pickle Jumbo Fuzz
Ernie Ball Volume Jr.
Verellen Big Spider
Akai E2 Headrush
Tone Butcher Blue Whale
Tone Butcher Pocket Puss
Lehle Splitter
Strings and Picks
Dean Markley strings
To retain his rumbling lows, Cook also used a Big Bottom pedal from Tym Guitars, an Australian outfit. While keeping the bass frequencies intact, the device splits the mid and high frequencies from the bass signal and sends them to a onboard effects loop. This lets Cook insert whatever effect he wants into the loop without having to worry about pedals robbing his bass frequencies.
On many of the tracks, Cook's skilled use of fuzz and industrial-tinged distortion gave his baritone and bass tones a distinct presence. With his Dwarfcraft Pitchgrinder, for instance, he generated the robot-like wail during the drum breakdown and outro on "1777." Cook manually cycled through the pedal's arpeggiator while increasing the amount of steps until the sound swelled into oscillating chaos.
Another standout moment in "1777" occurs during the second half of the piece. While watching a hockey game on his iPad, Turncratz inadvertently recorded the sounds of hockey players' skates cutting across the ice. Seeing an opportunity for sonic experimentation, the band had Norman layer these scraping sounds below the track. This moment illustrates the kind of free-form thinking that allowed Russian Circles and their studio partners to break free of rock's rulebook and explore exciting new textures. With its massive layering and extreme contrasts between ethereal cleans and vicious overdrive, Memorial documents the band's creative evolution.