Sturgill Simpson's Laur Joamets: From the Baltic Sea to Nashville
Photo by Perry Bean
How an Estonian string slinger went country—and beyond—with a psychedelic roots visionary … and learned pedal steel in three months.
Sturgill Simpson is rewriting the book on what defines a successful contemporary country artist. The fervent interest and industry buzz that followed the release of Simpson's wholly unexpected and stunning 2014 breakthrough, Metamodern Sounds in Country Music, was unprecedented for someone that was, in essence, a traditionalist who bent the rules a bit with a healthy—if unconventional—dose of psychedelic sounds and philosophy. That album's success solidified Simpson's place as one of the most important and unique new voices shaking up the genre. It also helped raise the profile of Nashville-based, producer-turned-tastemaker Dave Cobb, whose other clients include Chris Stapleton, Jason Isbell, and Rival Sons.
Now, with that album's follow-up, A Sailor's Guide to Earth, the soulful belter and songwriter from Kentucky is enjoying a fever pitch of critical adulation and commercial success, and has successfully proven to be far more than a refreshing flash in the pan or the one trick-pony gifted with a Waylon Jennings-esque baritone that many had written him off as. What's more, Simpson's done it on his own terms, self-producing the album with the kind of conviction and passion that forces one to pay attention—country fan or not.
A Sailor's Guide to Earth is a concept album that takes a hard left from its predecessor's traditional-with-a-twist vibe. Rife with soulful horns, burly keyboards, and even a heartfelt cover of Nirvana's "In Bloom," A Sailor's Guide to Earth is an extremely adventurous, dynamic statement from a man many predicted would dig deeper into sonic neo-traditionalism. Simpson, a former Navy man, penned the album as a guide to the world—as narrated by an experienced seafarer—for his infant son. Its songs display the complexity Simpson revels in, bristling with ambitious arrangements, philosophical lyrics, and intriguing, emulsifying segues between tracks. Not to mention plenty of rock 'n' roll spirit.
While A Sailor's Guide to Earth might be substantially less guitar-driven than the music Simpson made his bones with, the album offers exceptionally cool 6-string fiber, provided by Simpson's trusted Estonian guitar wizard, Laur Joamets (whose nickname is "Little Joe"), and the languid, atmospheric pedal steel of decorated session veteran and former James Taylor collaborator, Dan Dugmore. [See sidebar.]
"The best motivation for any musician is having your boss buy you a new instrument and say you have three months until a late-night television performance. He put me in a situation in which I truly had to move my ass!"

While Joamets is best known for the fiery licks he pulls out of his trusty '70s Telecaster, he's also now playing pedal steel live in Simpson's band. He'd never touched the instrument prior to Simpson buying him one and simultaneously telling him he had around three months to learn the parts from the new album for a late-night TV show performance. Premier Guitar spoke with Joamets to discuss the stranger-than-fiction tale of his arrival in Simpson's life, the process of bringing Simpson's vision for A Sailor's Guide to Earth to life in the studio, and learning to play the intimidating-looking pedal steel in less than four months.
Would you explain how you wound up playing in Sturgill's group?
You're familiar with the band Rival Sons? I come from Estonia, which is a very small country, and everybody knows everybody in the music scene there. I was in a blues-rock band called Drama Mama and I was a fan of Rival Sons' music. I heard that they were going to be playing their first show in Estonia and I told the promoter that Drama Mama wanted to open the show. So it worked out, and we opened the show, but we didn't get to really hang out with the Rival Songs guys much that night. However, when they came back on tour the next time, they wanted us to open for them again.
By that time, Rival Sons' drummer, Michael Miley, had met an Estonian girl, and they started hanging out in Estonia when he wasn't on tour. I hit it off with Miley and we swapped contacts, as musicians do, and we started hanging out and playing shows together when he was in Estonia between tours. Miley and I started doing Hendrix tribute shows, and we did a pretty cool week-long tour of Russia with a funk thing, and eventually Miley suggested to me that I should move to Nashville—which I found really funny at that time, because I had no idea that there was an emerging music scene in Nashville outside of the bigger side of the industry. But Miley told me the Black Keys and Jack White were working out of Nashville now, and that there was much more to the place than I'd initially thought.
Laur Joamets' thoughts on creating A Sailor's Guide to Earth alongside his boss: "Sturgill really knew what he wanted out of the record, and I just went in there and tried to do the best job I could to suit those songs."
I'd made a lot of money playing random gigs around Estonia, playing with something like 15 different artists—that's the only way musicians make money in Estonia: You have to play every show possible. In the summer of 2013, Miley's advice about Nashville popped into my head. I hit him up and told him I was ready to go and had the money stashed away to make it work, and he suggested I reach out to Dave Cobb, who was Rival Sons' and Sturgill's producer at the time. Dave replied to my email and said, "Sturgill Simpson wants to hire you to play guitar for him." I thought it was a practical joke at the time. It felt truly unreal. But that was three years ago! I try not to think about how it happened too much, because it's still sort of surreal.
How did you catch Sturgill's attention without having met him or him seeing you perform?
My email to Dave included a really long letter about my feelings on music in general and how I feel about the music business, and I included some links to YouTube clips of my playing. They liked what they heard in the links apparently, because they asked me if I wanted to do the gig right then!
You made quite a name for yourself as a hot Telecaster picker on Metamodern Sounds in Country Music, but A Sailor's Guide… has much less of that style of guitar. How did you approach your parts on the new album, and what was Sturgill after?
Sturgill started talking about the album many months before the recording process and had a really strong vision of what he wanted and how he wanted to track things. He explained that the record was going to be very different than the first one, and that there was going to be places for me to do my thing, but that it wasn't going to be a guitar-driven album. Sturgill really knew what he wanted out of the record, and I just went in there and tried to do the best job I could to suit those songs.
I became a big fan of Dan Dugmore's pedal-steel playing on the record. It's really different and atmospheric—not traditional country pedal steel at all—and I think it's exactly what Sturgill needed. Because there was less of what I typically do on the album, Sturgill bought me a pedal steel guitar to play live and told me I had until the spring—around three months—to learn it for a late-night TV show performance that we had booked. So I'm handling those pedal steel parts live now. I'm actually really happy he did that, because learning the pedal steel has been a great new adventure for me.

Country picking was one of Joamets' early passions, but his skills within the style were solidified by moving to Nashville and touring with Sturgill Simpson's band, shown onstage here at Music City's famed Ryman Auditorium in October 2015. Photo by Perry Bean
That's wild! How did you go about learning one of the most difficult-looking instruments on the planet in a few months?
The best motivation for any musician is having your boss buy you a new instrument and say you have three months until a late-night television performance. He put me in a situation in which I truly had to move my ass! The other thing about it is if you start learning a new thing and make an effort and really put your mind to doing it—truly throw yourself into it—you start seeing progress, and progress is a really cool driving force. Picking up something new and difficult and seeing that it's not completely impossible through your progress—that in itself is a driving motivation to get better.
Did you take lessons?
No. I just watched a lot of YouTube tutorials and I got a book from Rowdy Cope from Jamey Johnson's band, which helped a lot. But I basically just used YouTube and practiced the stuff from the record a lot, and I tried to learn a lot of it by ear.
A lot of pedal-steel players have likened playing the instrument to flying a helicopter.
It's funny you should mention that! I have a joke about why playing pedal-steel guitar is harder to do than flying a helicopter. If you fuck up while flying a helicopter, you're dead. But if you fuck up while playing a pedal steel, you're alive—and have to finish the song and deal with criticism!
Honestly, I had a lot of fear and anxiety about playing the steel when Sturgill hit me up about doing it. The instrument can look really mathematical and the only way I could approach it, personally, has been through patience and persistence: learning and repeating the movements with the knees and feet over and over again for hours and hours.
"When you're driving in Nashville and put on AM radio and get a Merle Haggard song ... You can't have that experience in a post-Soviet Union Slavic country like Estonia."

Maybe there are guys out there that are cerebral players that can just think about it and do it, but it's the same way I learned to play the guitar: repetition until you master the thing. It's not impossible, though! That's what I learned. It's hard to sound good, but you can make it happen!
What kind of steel guitar are you using on the road?
It's a ZumSteel Stage One model, which is actually their student model. From what I've read on the steel guitar forums, it's got all of the options that pro units generally come with. It's what's known as the Buddy Emmons setup, which has four knee levers and three pedals. One thing I really like about it is that it's really light. With its case, it's only 50 pounds, which makes it easy to fly with. I've talked to a lot of professional steel players and guys on forums and they've all told me it's a really decent guitar. It's actually pretty cheap for a decent steel guitar—so anybody that wants to pick the instrument up, I would say they should go for the ZumSteel.
Let's talk about the pedals you're using with the steel guitar a bit. Any standouts?
One piece of gear that I'm really enjoying with the steel is a phaser pedal made by Mad Professor. It has a blend knob that lets you blend the phase effect in with your dry signal, which sounds a lot more organic and natural. A lot of phaser pedals can be overwhelming and I like that this one lets you fine-tune it without dialing out all of your dry signal. I've been using a Mad Professor Simble pre-driver pedal when I need to drive the amplifier a little more. I think it's a brilliant, simple pedal. It's just got two options—loud and louder—and a footswitch.
Laur Joamets' Gear
Guitars
Gretsch Billy-Bo Jupiter Thunderbird, tuned to open E
Fano Alt de Facto PX6 with Lollar Jazzmaster overwound pickups
1974 Fender Telecaster with Fender '52 RI bridge pickup and Lundgren neck pickup
Fender Telecaster Elite with Lollar Vintage T Series pickups
ZumSteel Stage One pedal steel
Amps
'70s Silverface Fender Musicmaster bass amp with a Tone Tubby DD 12" speaker
Urmas Anderson Charmer loaded with a Jensen Jet 12" speaker
Modded silverface Fender Champ
Effects
RMC custom wah
TC Electronic PolyTune Mini
Greer Amps Arbuckle Trem
Roger Mayer Octavia
Mad Professor Simble Predriver
Mad Professor Ruby Red Booster
Mad Professor Silver Spring Reverb
T-Rex Replica delay
Goodrich low action passive volume pedal
Greer Amps Black Tiger Delay Device
Mad Professor Tiny Orange Phaser
JHS Pedals Crayon overdrive
TC Electronic Hall of Fame Reverb
Peterson StroboStomp 2
AmpRx Brownie voltage regulator
Strings and Picks
Elixir Nanoweb Light (.010–.046)
D'Addario or DR flatwounds (.013–.048, for Gretsch Billy-Bo)
D'Addario Pro Steels or DR (.013–.038)
Songhurst's the Rock Slide
Dunlop stainless steel tonebar
Dunlop Tortex Wedge .88 mm
Dunlop medium thumbpicks
Dunlop .018 fingerpicks
Planet Waves, Asterope, and Vovox cables

I've also been really enjoying this Black Tiger Delay by Greer, which is a really strong delay that has a function that lets you keep your delay trails when you turn the pedal on and off, so when I need to do really psychedelic, longer-note or atmospheric stuff, I use that feature. It allows me to play interesting things with a dry signal under the delay trails.
What kind of amp rig are you using with the steel guitar?
I've only had three gigs so far playing steel in this band, and they've all been fly dates, so we've been using rented Peavey Nashville 400s, which are great amplifiers, but I think I'm going to end up playing it through a regular guitar amp—either my Musicmaster bass amp or the Charmer, which my father and his friend Urmas Anderson built for me many years ago. That said, every gig serves as a testing ground for me right now. We use in-ear monitors and they defeat the need for classic pedal-steel amps, which have tons of clean headroom and output that allowed a steel player to be heard over the band so they could play in tune. It's not an easy job, this instrument, and I now understand how necessary it is to hear what you're doing when playing pedal steel because of how tricky playing in tune on it is. But with in-ears, you can use any amp you want because you'll obviously be able to hear yourself fine.
I also love Daniel Lanois' style and tone. He doesn't do that much physically with the instrument, but his tone and the sounds he gets out of it sound so raw and rock 'n' roll to me because he uses an overdriven tube amp. I plan to find the middle ground between that sort of dirtier tone Lanois uses and a more traditional, clean steel tone. Again, it's all a work in progress.
Regarding your 6-string playing, "Call to Arms" is a real standout on the album, and the tone on it is killer! What did you use to track that one?
I was playing my '74 Telecaster, which I've had well over 10 years now. If I lost that guitar, I would be helpless. I played it through a silverface Fender Champ, which is Sturgill's amp that he had some Nashville amp wizard hot rod with a larger speaker and some magic soldering. Those silverface Champs are really fantastic recording amplifiers, and can sound huge in the studio. I also used the Charmer, which is essentially a heavily modified version of a Fender tweed Deluxe. That amp is my main amp. So, the sound on that track is the combination of those two amps. I might have had a TC Electronic Hall of Fame for a little reverb, but that track is basically just those two amps and that Telecaster.

Joamets' main guitar is a refinished 1974 Fender Telecaster with replacement pickups his father purchased for him in Stockholm. Photo by Andy Sapp
What's the story behind your '74 Tele?
I got that guitar when I was 16 years old. In Estonia, we don't have vintage guitar stores. You might find something from time to time on Craigslist, but the Soviet Union really blocked anything concerning Western music and the instruments used to make it from coming into Estonia. My dad was a professional musician on cruise boats when I was a teenager, and had access to vintage guitar stores in Sweden, like those in Stockholm. I told him that I wanted a vintage Fender Telecaster, and he saw my '74 at a store, and it was much cheaper than they typically cost because it had been stripped and re-lacquered. It's a remarkable guitar. It's rare because most of the '70s Fenders I've played will give you back pain from the weight, but this one is naturally very lightweight and extremely resonant, and even moreso from when its previous owner stripped its finish. They tried really hard to get that thick lacquer Fender used in the '70s out of the grain, so that body is actually 2 to 3 mm thinner than a typical Telecaster. I've gotten very used to it and now regular Telecasters feel weird! My Tele isn't the most comfortable instrument to play, and it's really beat up, and the rosewood on the fingerboard is almost gone, but I've grown up with it and it's my partner.
There is some very cool guitar on "Keep It Between the Lines"—particularly the harmony in the bridge. What's going on there?
That's three different slide guitar parts harmonizing with each other. The seed for that idea came when we worked on the last record. When we tracked the solo on the song "Long White Line," Dave Cobb asked me to double my part at one point, but with slide—which gave it a very cool, natural chorus effect.
"If you start learning a new thing and make an effort and really put your mind to doing it—truly throw yourself into it—you start seeing progress, and progress is a really cool driving force."

I'm a huge fan of Queen and Brian May's playing and arrangements, and I've got a bit of a classical music background that helps with arranging that kind of thing, so the part you're talking about on "Keep It Between the Lines" is all of that coming out. The melody in the solo is also a nod to Rory Gallagher, and it kind of sounds to me like something Frank Zappa might have done—a little playful and fun.
There's some absolutely killer guitar playing on "Sea Stories." Could you tell me a bit about how that song was laid down?

At the time I came in to track, the band had recorded the tune without electric guitar—just keys, Sturgill's acoustic, and drums. Sturgill wanted both a slide guitar solo and a steel guitar solo, so he had me do the second section after Dan's solo. I played that part on my Fano PX6, which kind of looks like a non-reverse Firebird meets a Jazzmaster and is a very cool guitar. The Fano has a mod switch on it that's similar to the low-pass filter you'd find on a Gretsch, which does this weird thing that seems like it boosts the mids a bit. So I used the Fano in an open tuning—I believe it was tuned to E with a capo to put the guitar in F—with the mod switch on for that midrange honk.
I've read that you didn't have much in the way of country chops prior to joining Sturgill. Has moving to Nashville and working with him provided a crash course?
Yes, for sure. However, I will say that my father used to play country guitar and was actually involved with promoting and booking one of the first country music festivals in Estonia almost 20 years ago, so I've always been around that style of music. My father listened to guys like Redd Volkaert, Danny Gatton, and Albert Lee, so I was always around it and picked up stuff just by being there and hearing it so often.
YouTube It
This entry from A Sailor's Guide to Life is a slide guitar tour de force for Laur Joamets, who kicks his Songhurst Rock Slide into high gear on his Fano PX6 and wails for a full 60 seconds before Sturgill Simpson resumes control.
My early influences were bands like Deep Purple, and players like Jimi Hendrix and Stevie Ray Vaughan, but I was always really fascinated with guys like Danny Gatton and would learn his licks when I was younger. I just never had the chance to play that stuff in Estonia. So when I got the call from Sturgill, I started working on remembering all of the licks I learned listening to that music years and years ago.
I will add that while I wasn't ignorant to the style, country music is a genre that is just so deeply connected to the American culture that just listening to it and hearing the songs, and even playing them in Europe, doesn't really do it. You can't really get it until you've done it in America. You have to kind of be a part of it to truly understand the language and the lyrical content of the songs, and the spirit of that music, and the only way to do it is to live here. When you're driving in Nashville and put on AM radio and get a Merle Haggard song, to hear that coming through an AM radio ... well, there's something special about that. You can't have that experience in a post-Soviet Union Slavic country like Estonia.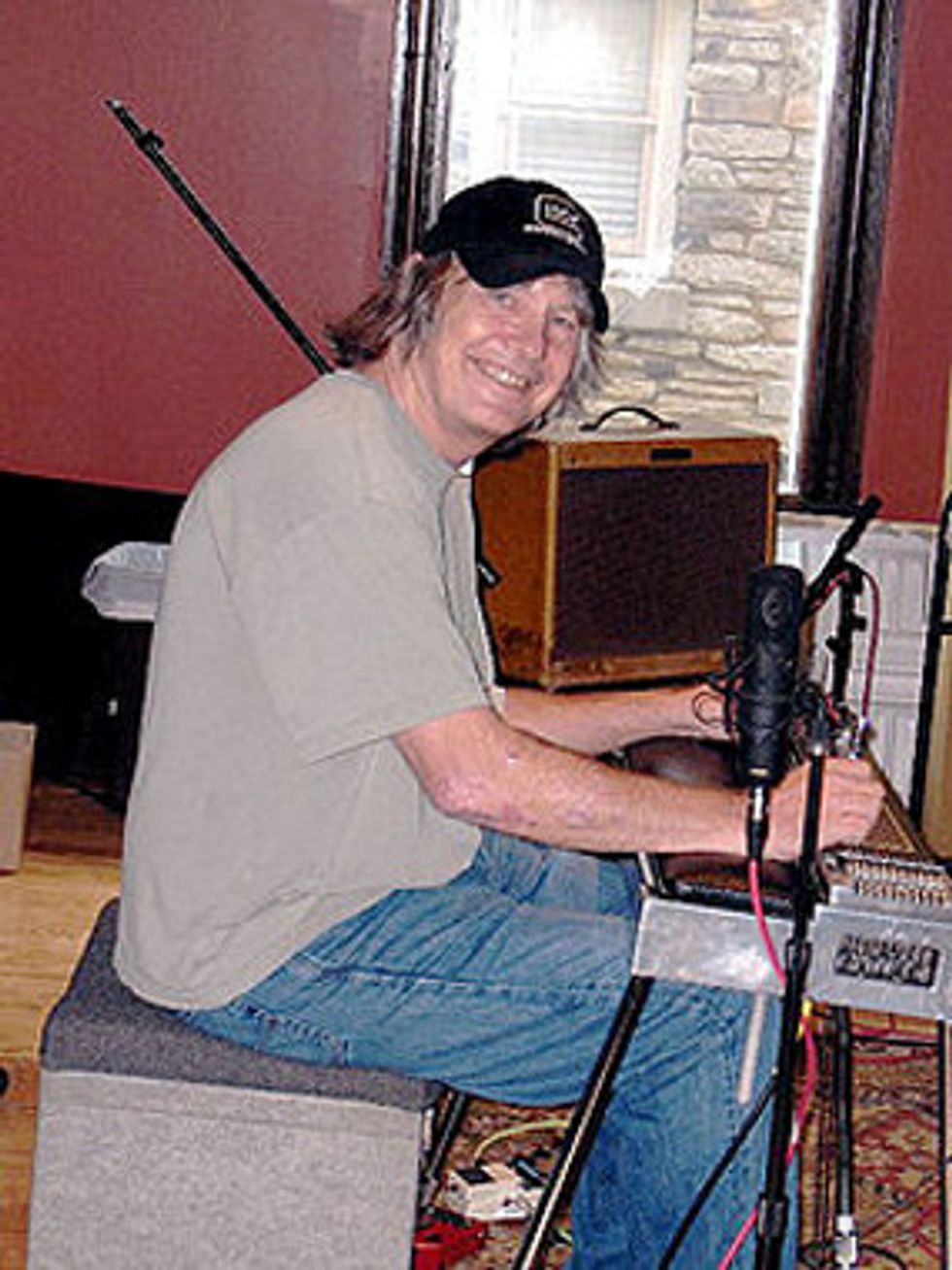 Dan Dugmore Digs Into Atypical Steel
Dan Dugmore is a kingpin of pedal-steel guitar whose session and stage work includes years behind James Taylor and Linda Ronstadt, and recordings with David Crosby, Stevie Nicks, Kim Richey, Trisha Yearwood, Neil Diamond, Tim McGraw, and many others. Known for his tone and tasteful approach, he's also got an arsenal of radical moves that he drew upon for his atmospheric performances on Sturgill Simpson's latest album, A Sailor's Guide to Earth. Premier Guitar spoke with Dugmore about his contributions to that country-chart-topping recording.
Dan, what approach did Sturgill ask you to take when you tracked the steel parts for the album?
Sturgill said he wanted the steel guitar to sound like Led Zeppelin, instead of trying to be too obviously country. He was looking for something really outside the box, and it certainly ended up working out that way. He said to just go for it, which made it a really cool process. I think Sturgill's songs are so cool and his voice is so inspiring, and very soulful, so it was a great project to work on. Sturgill really did have a vision and a theme for the record from jump street, and that shows in the final product being so cohesive.
You mentioned non-traditional playing, and there's certainly a lot of that—especially in the atmospheric stuff on songs like "Breakers Roar" and "Brace for Impact (Live a Little)." Where are you coming from as a player?
I first fell in love with the sound of the pedal steel when I heard Rusty Young play on "Kind Woman" off the Buffalo Springfield album Last Time Around, and then came the stuff that Sneaky Pete Kleinow played on the Flying Burrito Brothers album, The Gilded Palace of Sin. After that, the hook was set in pretty deep. My style of steel guitar is not very traditional. I'm not based in Western swing, or jazz, or any of the super fast stuff.
Dan Dugmore's Gear
Guitars
1980s Sho-Bud Lloyd Green
Amps
1955 Fender Tweed Deluxe
'50s Magnatone
Effects
Hilton volume pedal
Eventide TimeFactor
Analog Man King of Tone
Strymon Lex Rotary speaker simulator
Strings and Picks
D'Addario ProSteel strings
Dunlop fingerpicks
Dunlop tonebar
I've always had more of a laid-back style—even when I worked with James Taylor and Linda Ronstadt. I've always been more of a part-orientated player, rather than one of the guys showing off with a bunch of flashy licks. I always listen to the singer and the song and want to try to embellish that. It was actually really fun making this record, because I'm usually so reserved in my playing. Sturgill told me, "Go ahead and be as crazy as you want to be!" It was really good to get out there and do some more wild stuff.
What gear did you use on the album?
I used my Sho-Bud Lloyd Green model, which is about 25 years old now. For amps, I brought in my 1955 Fender Tweed Deluxe, and then [engineer] Dave Ferguson had a really cool vintage Magnatone amp that has that warbly, harmonic vibrato that's unique to those amps, and we used that sound on a lot of things. The other really cool, warbly sound you hear is a Strymon Lex pedal, which is their Leslie simulator. The more distorted stuff is that Tweed Deluxe, though. I did push the amps sometimes with an Analog Man King of Tone, which I really like a lot. It doesn't sound like a pedal to me. When I play chords, a lot of overdrives will sort of mush out, but that thing keeps the clarity between the notes, which I need.
Was it difficult to find sonic space to work in within those elaborate arrangements?
There's a lot of chordal stuff happening between all the instruments. I didn't have the strings or the horns in my mix when I was tracking, though they told me where they were going to be. They just had me do my thing and worked it in and out of the final mix as needed. I think it worked out really nicely—how the steel parts jut in and out of things.
---
YouTube It
This 2013 interview with pedal-steel master Dan Dugmore, whose tonebar set the bar on A Sailor's Guide to Earth, covers some of the instrument's basics and reveals the session and stage veteran's playful sense of humor.