Cort teamed up with German luthier Sandberg Guitars to design this 5-string bass that dabbles in both boutique feel and budget price.
Of the many companies that have produced guitars and guitar-related equipment through the years, Cort is certainly one of the most prolific and well-known. There's a simple reason for this. For many of us, our first guitars were Corts. They're one of those companies that has managed to produce a wide range and unbelievable amount of instruments—rivaling the amount of some of the industry's most heralded brands. Big-name players have come onboard with Cort, with signature models designed for Matt "Guitar" Murphy (Muddy Waters, The Blues Brothers Band) and Gene Simmons (KISS). Recently, the company began a partnership with German company Sandberg Instruments, with the intent of producing a line of basses that play and sound like high-end, high-priced counterparts—without the sticker shock. One such bass—dubbed the Arona 5—attempts to take on the large tonal territory of the 5-string bass, with an infusion of tightness and clarity that isn't normally associated with this style of instrument.
A Match Made in Heaven
The Arona series was developed in conjunction with Sandberg Instruments. Over the years, Sandberg has made quite a name for itself in the boutique guitar and bass market, with their modern, stylistic body-designs, quality builds, and instruments with a balanced tone across the tonal spectrum.
Sandberg's influence was most immediately apparent in the shape and style of the body itself. The Arona 5's 7.7-pound swamp ash body has a rather large and extended upper horn, jutting out in length to the same territory of the neck's 12th fret. The lower horn has a deep, contoured cut that allowed my hand a considerable amount of access to the higher frets of the neck, without any sort of discomfort or cramping. The 3-piece body doesn't have any grain filler applied—so there are noticeable pockmarks along the grain—and the review model was finished with Cort's Open Pore Brown Burst (OPBR). A simple, satin sealer locks in the finish, completing the bass' rustic look and feel. It's not a lack of quality control on Cort's part to apply the body's finish in this way, but rather a conscious decision to give the body a unique look and texture. Regardless, the fact that it doesn't have a smooth-looking sheen could be a deal breaker for some players after a bass with a more conventional look.
The Arona 5's electronics are without a doubt its biggest draw. Two Desonic by Delano active pickups—a Jazz-F single-coil in the middle and a heaping MM-R humbucker in the bridge—are screwed directly into the body. Delano, another company based in Germany, specializes in producing boutique pickups that are found in Sandberg's higher quality, more expensive models. The output of both pickups are governed by a single Volume control, along with a 2-band EQ for bass and treble frequencies, and a Blend knob to tip the balance of each pickup's output. These controls felt solid and sturdy to the touch and have a nice, satisfying click at their midway points. Topping off the body's accouterments is a weighty Sandberg-designed bridge, crafted for top-loading each of the bass' five strings.
I was particularly taken aback by how well the 5th string kept a stellar amount of clarity from the first fret on up the neck, making it easy for me to carve out a sharp, bubbly tone that was perfect for slap and pop.

Attached to the body is a 34" scale, 24-fret, 3-piece maple neck carved with Sandberg's C-shape profile, and topped with a robust-looking slab of rosewood with a 15 3/4" radius. Five sealed Sandberg-branded tuners keep the strings taut over the neck's 24 frets.
Down Low and Dirty
The fruits of the Cort and Sandberg partnership proved to be quite formidable. Through a TC Electronic Classic 450 head and matching RS210 2x10 cabinet, the Arona pumped out throaty and defined lows with smooth midrange while I fingerpicked a hard blues groove. I was particularly taken aback by how well the 5th string kept a stellar amount of clarity from the first fret on up the neck, making it easy for me to carve out a sharp, bubbly tone that was perfect for slap and pop.
In a lot of instances, bassists who employ slap techniques forget just how fatiguing the resulting high end frequencies can end up being. A squeaky-clean, razor-sharp top end when a bassist is laying down an aggressive funk line can be downright irritating. Thankfully, the Arona's smooth-sounding and highly-responsive pickups allowed me to keep those temple-tunneling frequencies in check by carefully changing my fingering-hand technique. Even though it was easy to back off the upper-mid and high-end cut by laying back with a more ginger approach, it really didn't take much to keep the Arona's in-your-face-tone tight and up-front. In fact, sometimes it was almost unavoidable. I have to stress again that the Sandberg pickups—especially the bridge humbucker—are extremely responsive and clear. Keeping the amp's settings down to tamer regions is essential in making sure the bass and midrange doesn't overpower everything else.
Cort and Sandberg also are due some high marks for the Arona's speedy and comfortable neck. Basses of the 5-string variety aren't necessarily known for high-playability—mostly due to their wider necks—but the Arona's neck was a dream to work. Sliding up to the 24th fret and picking out melodies that slinked back to the 12th fret were effortless, and the bass' tone kept its bouncy, distinct midrange even while playing the fretboard's higher registers. And since the upper horn's strap button jutted out to my left more than a conventional design, playing the bass while standing allowed me a huge amount of access to the upper frets. The end of the neck joint sat almost center against my gut, putting all the high notes of the bass right in front of me for quick access to fills and walk downs in the upper registers.
The Verdict
Cort's Arona 5 is a great 5-string bass with an attractive price. The quality that Sandberg is known for has certainly shown itself here, along with their penchant for building clear, robust-sounding instruments. Its inherent tone is anything but subtle, yet funk and power-pop players that swoon over gutsy, full-on muscle should feel right at home with the Arona 5.
Watch the video review:
Buy if...
you need your bass tone to be as punchy and noticeable as your guitarist's, sometimes even more so.
Skip if...
your bass tone tendencies lean more towards subtler tones with a wide spread.
Rating...


Looking for more great gear for the guitar player in your life (yourself included!)? Check out this year's Holiday Gear Finds!
This full-amp-stack-in-a-box pedal brings a new flavor to the Guitar Legend Tone Series of pedals, Missing Link Audio's flagship product line.
Adding to the company's line of premium-quality effects pedals, Missing Link Audio has unleashed the new AC/Overdrive pedal. This full-amp-stack-in-a-box pedal – the only Angus & Malcom all-in-one stompbox on the market – brings a new flavor to the Guitar Legend Tone Series of pedals, Missing Link Audio's flagship product line.
The AC/OD layout has three knobs to control Volume, Gain and Tone. That user-friendly format is perfect for quickly getting your ideal tone, and it also offers a ton of versatility. MLA's new AC/OD absolutely nails the Angus tone from the days of "High Voltage" to "Back in Black". You can also easily dial inMalcom with the turn of a knob. The pedal covers a broad range of sonic terrain, from boost to hot overdrive to complete tube-like saturation. The pedal is designed to leave on all the time and is very touch responsive. You can get everything from fat rhythm tones to a perfect lead tone just by using your guitar's volume knob and your right-hand attack.
Features 
Three knobs to control Volume, Gain and Tone
Die-cast aluminum cases for gig-worthy durability
Limited lifetime warranty
True bypass on/off switch
9-volt DC input
Made in the USA
MLA Pedals AC/OD - Music & Demo by A. Barrero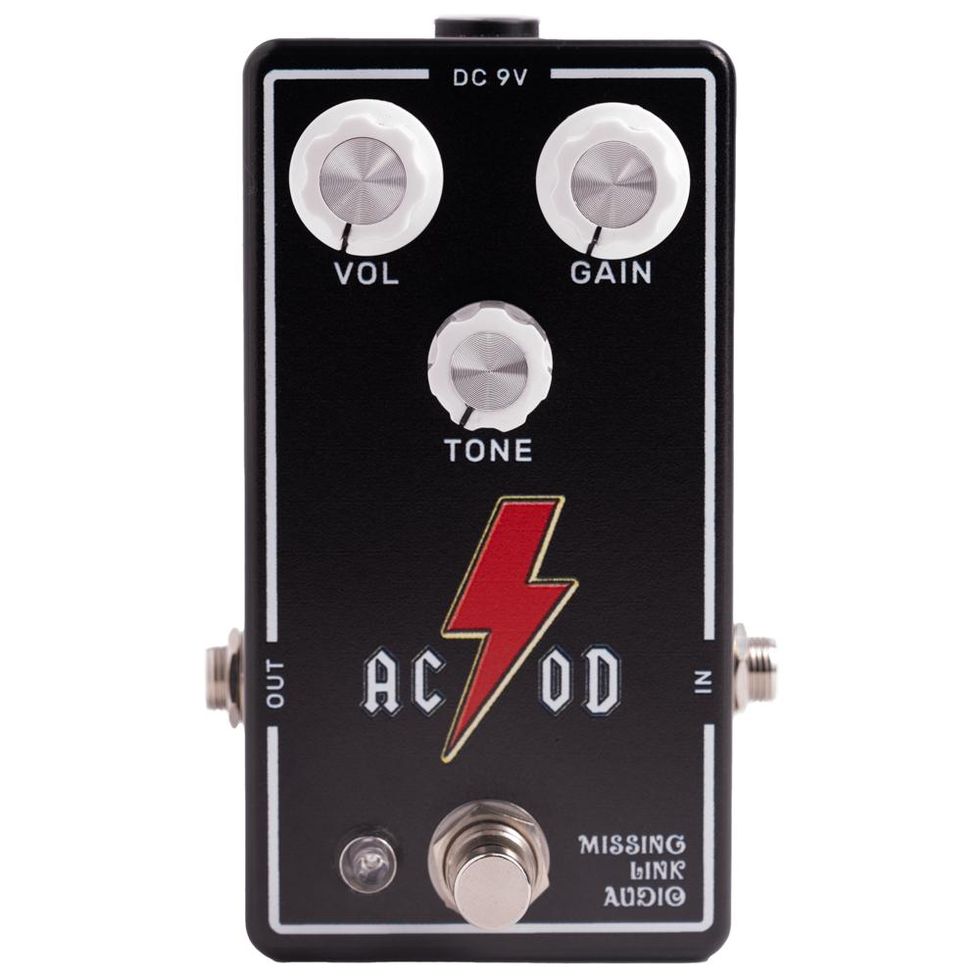 www.mlapedals.com.
Sporting custom artwork etched onto the covers, the Railhammer Billy Corgan Z-One Humcutters are designed to offer a fat midrange and a smooth top end.
Billy Corgan was looking for something for heavier Smashing Pumpkins songs, so Joe Naylor designed the Railhammer Billy Corgan Z-One pickup. Sporting custom artwork etched onto the covers, the Railhammer Billy Corgan Z-One Humcutters have a fat midrange and a smooth top end. This pickup combines the drive and sustain of a humbucker with the percussive attack and string clarity of a P90. Get beefy P90 tone plus amp-pummeling output with the Railhammer Billy Corgan Z-One.
Patented Railhammer Pickups take passive guitar pickups to a new level with rails under the wound strings lead to tighter lows, and poles under the plain strings offer fatter heights. With increased clarity, the passive pickup's tone is never sterile.
Railhammer Billy Corgan Signature Z-One Pickup Demo
Designed for utmost comfort and performance, the Vertigo Ultra Bass is Mono's answer to those who seek the ultimate gigging experience.
Complete with a range of game-changing design features, such as the patent-pending attachable FREERIDE Wheel System, premium water-resistant and reflective materials, shockproof shell structure and improved ergonomic features, the Vertigo Ultra Bass takes gear protection to the next level.
The Vertigo Ultra Bass features:
Patent-pending FREERIDE Wheel System that allows for wheels to be attached on the case in no time, giving you the option to travel with it seamlessly
Upgraded materials, including a water-resistant 1680D Ballistic Nylon outer shell, plush inner lining and new reflective trim for maximum backstage and night visibility
Enhanced protection with a shockproof shell structure and heavy-duty water-resistant YKK zippers for protection from the elements
Improved ergonomics and functionality including added back support and load-lifting detachable shoulder straps with side release buckles
Flexible storage options with added space for touring essentials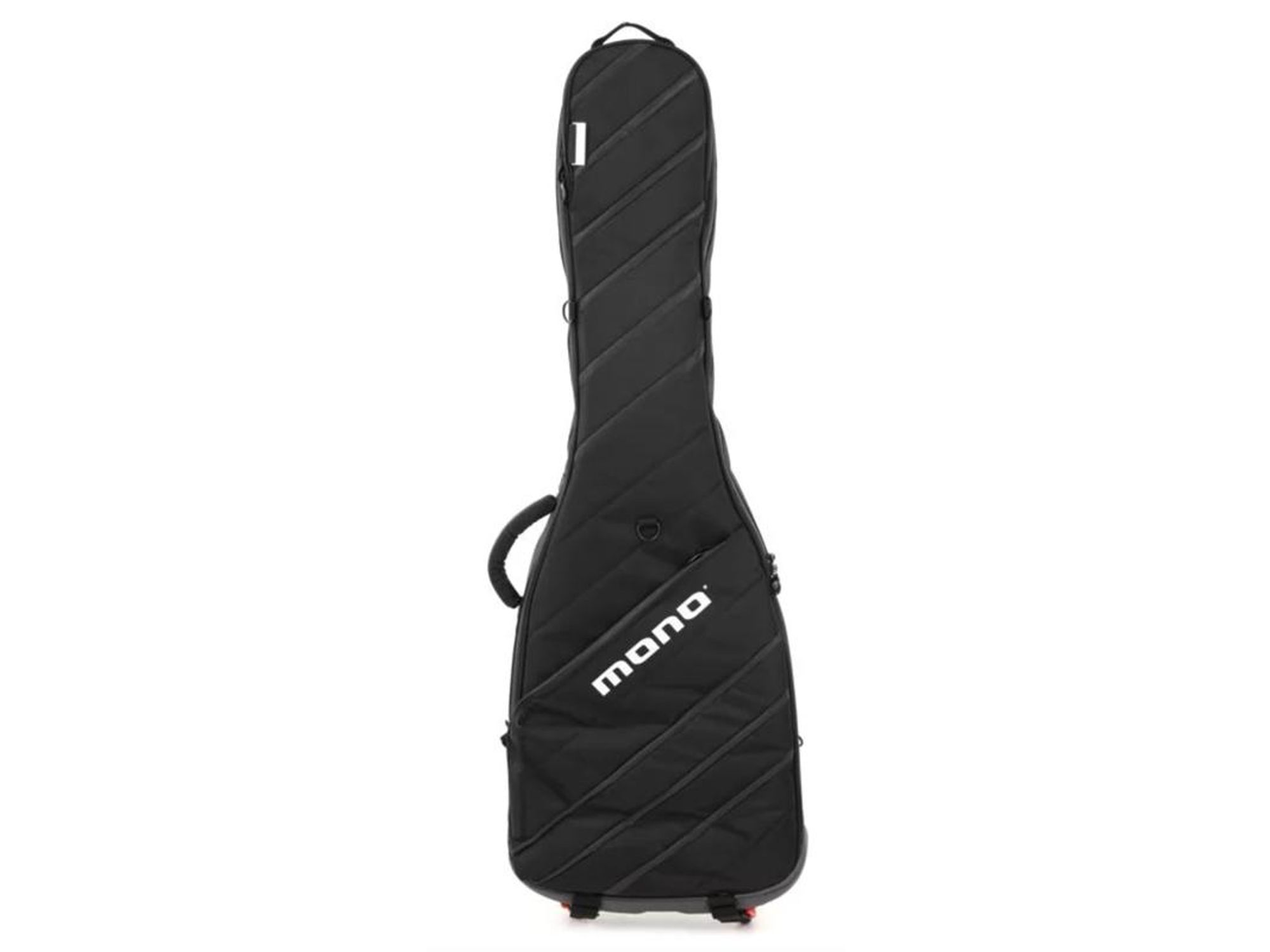 For more information, please visit monocreators.com.
Mono