Duesenberg Heartbreakers 30th Anniversary Mike Campbell Signature Guitar
In case you''re not up to speed on Duesenberg guitars, here''s a quick primer: founded by Dieter Gölsdorf, a leader in design and innovation for decades, Duesenberg makes instruments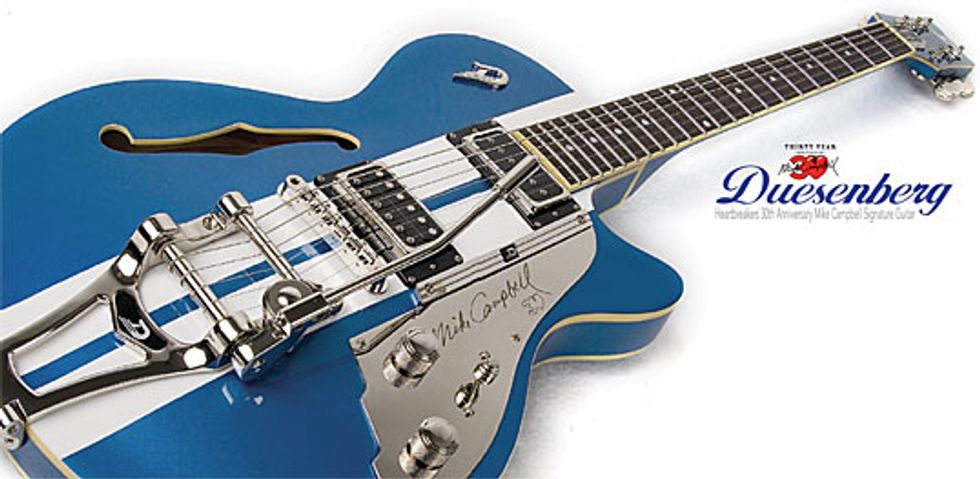 In case you''re not up to speed on Duesenberg guitars, here''s a quick primer: founded by Dieter Gölsdorf, a leader in design and innovation for decades, Duesenberg makes instruments with a vintage feel and sound, but with all the enhancements that come from knowledge and experience, and all the refinements that come from first-class craftsmanship. Beginning with Rockinger (the world''s first fine tuning tremolo), Gölsdorf''s improvements to virtually every aspect of the electric guitar have made their mark on players and makers alike. Since we are working with limited space here, it may be best to simply say they are very good at what they do.
Needless to say, when you approach a Duesenberg for a review, there''s a bit of a psyche-out routine that takes place. You tell yourself not to be star-struck by the reputation, the price or even the angelic chorus you hear the moment you open the case and see heavenly beams of light play off the nickel-plated hardware and the sparkle finish, but it''s hard. I tried to be cool, stay aloof, be dispassionate, but like it did to everyone else I saw interact with it, this guitar dazzled me.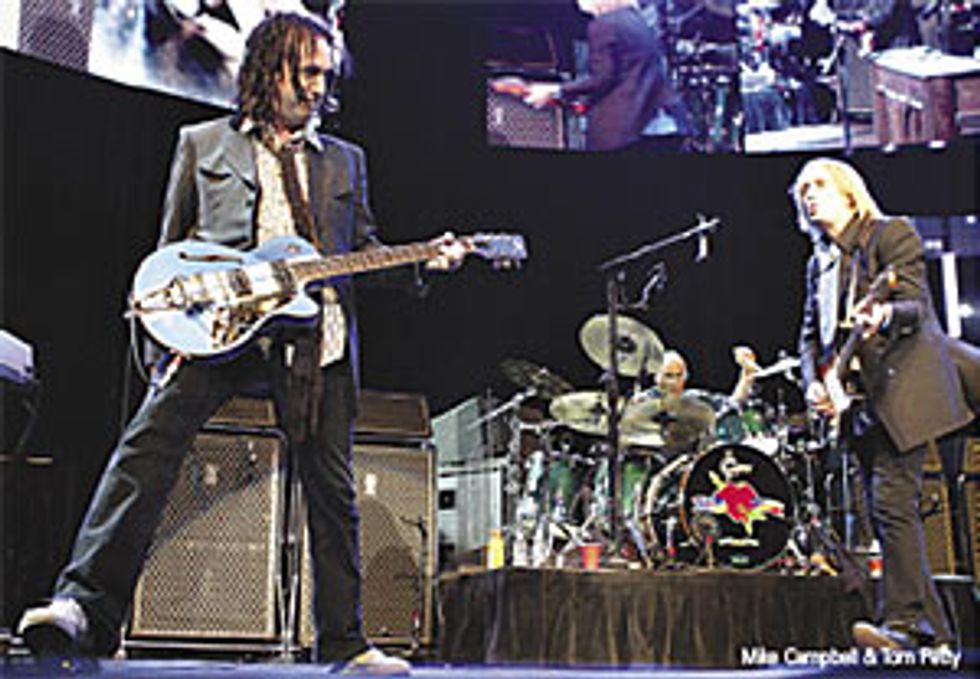 Although the Mike Campbell signature model is unquestionably made to be played, it''s also awfully easy to look at. Maybe it''s the bright blue, classic auto paint job - complete with Shelby racing stripes - or the stunning art deco-style chrome hardware, or the timeless hollowbody look; whatever it is, it''s an eyeful right from the start. Duesenberg''s slogan, "Not all works of art belong on the wall," turns out to be a very apt description for their approach to the instrument.
Of course, looks can be deceptive; the true test is in how the thing sounds. And it''s no beauty pageant guitar here; this Duesenberg is the real deal.
Personally, I gave up on performing with hollowbodies and semi-hollowbodies a long time ago. They can deliver great tone, but there are too many variables to master for my taste: precarious feedback, unreliable tremolos, strings that won''t stay in tune and pickups that never have enough bite. I''ve had a hard time finding one low-maintenance enough to kick into cruise control for an entire gig. Duesenberg seems to have solved all these problems in one stunning package made to honor a stalwart of rock guitar for his thirty years of work with Tom Petty and the Heartbreakers.
Technically, the DMC TV Mike Campbell signature (basically a Duesenberg Starplayer Model with custom appointments) is a semi-hollowbody.
It's a bit smaller and a bit heavier than I expected – strapping it on feels more like picking up a
Les Paul
than one of those big, 17" wide Gretsch hollowbodies I remember. The gently arched top and shaped back make it a comfortable fit.
The American hardrock maple neck definitely gives the instrument a contemporary solidbody feel – not too chunky or too wide, but with a flatter fingerboard and very well dressed jumbo frets. It's extremely playable. The action seemed a bit low out of the box, but there was no buzzing or fretting out, even with the neck-strangling blues bends. Because of the guitar's center sustain block and set neck, the attack is sharp and clear even at the low-end.
The hardware also surpasses expectations. The art-deco machine heads and selector switch, the open silver pickup covers and mirror pickguard radiate class and charisma. The dressing is refined. The control knobs and tuners are smooth and tight. The unique Duesenberg-designed Super Tremola eases stringing hassles and produces greater precision and reliability in playing.
Inside Beauty
I've made the mistake of buying a beautiful guitar that only sounded good in the store so I decided to take the Duesenberg to a gig to see how it would handle less than ideal conditions, and to see if my hollowbody fears would come true. Using a Line 6 Flextone II 100-watt combo, modeling a '59 Fender Bassman and Vox AC15, I ended up going straight into the amp. I wouldn't hesitate to do it again. When it comes to tone, this guitar is all sweet spot.
It produced a classic sound: big, brightlyanimated tone that stayed true as I drove the amp from clean and punchy to saturated and crunchy. The custom DP90 single coil at the neck goes from a warm glow to a growl depending on your tone setting, and the gritty edge rolls off neatly with the volume knob. The Grand Vintage
humbucker
at the bridge puts out meaty mids and thick trebles. It can really wail, but it also sounds great running clean with the tone all the way up, a setting I usually find too brittle.
Under some pressure, the Mike Campbell Signature starts to reveal some secrets, like the syrupy ring and the delicious under and overtones that came out with strumming, and the howling but honeythick jazz shade I got from the neck pickup with the tone rolled all the way off. The greatest surprise was the almost Strat-like bounce that came with the selector switch in the middle position and the tone all the way up. This is Duesenberg's specially designed wiring, which splits the midshift functions of the two pickups without volume loss and produces a greater tonal range than is typical in this configuration – and it sounds pretty convincing.
I've always liked the idea of a guitar that did everything equally well – light rhythm work, guitar-heavy rock, country, blues, even soul and jazz – but had assumed that was a pipe dream. The Duesenberg handled everything fearlessly, even some stuff I'd never thought of playing on anything but my Tele. Everything I did with it cut nicely through the mix, and the guitar produced plenty of eargasms for me and the rest of the band.
A few minor issues: I did start to have some small tuning problems when I put a little too much into the tremolo, and the guitar did feed back a bit with high gain, but it was controllable, and not so unpleasant that I didn't try to coax a little more out of it. More curious, though, is that the hard case, although very nicely appointed, seems designed for a guitar with no tremolo. In order to close the lid, you have to depress the tremolo all the way, letting the strings go slack. Duesenberg says this is designed to take tension off of the strings while in the case, but will also be releasing a new case in 2008 with more breathing room for the trem.
The Final Mojo
Overall, this guitar seems very much like the Shelby Cobra its design invokes: serious muscle in a superbly attractive body, designed and built for performance; a thrill to drive whether you're in a high speed chase or just cruising around.
Buy if...
you want to know/remember what it''s like to be seduced by an electric guitar.
Skip if...
you''re in a band that has a predilection for smashing instruments.
Rating...

---