U2's The Edge and producer Bob Ezrin, Co-Founders of Music Rising, (musicrising.com) have announced Guitar Icons: A Musical Instrument Auction to Benefit Music Rising to take place December 11th, 2021, starting at 10:00 a.m. PST. Hosted by Van Eaton Galleries (vegalleries.com) in Los Angeles, the live and online auction will offer a significant collection of guitars and other music memorabilia by some of the world's most prominent musicians and friends of Music Rising. The auction will take the charity back to its roots and help support the musicians of the NOLA region after a long period being without income.
Guitar Icons: A Musical Instrument Auction to Benefit Music Rising includes an exclusive collection of important instruments donated by friends of the charity. All of the instruments have a unique and special story and provenance and together make up an extraordinary example of some of the greatest moments in music history.
"The music of New Orleans has influenced various styles of music borrowed from early traditions. It is the birthplace of jazz and represents a musical culture which bears great significance to most every genre today. I can't imagine what it would feel like to lose my ability to do what I love – making music. Unfortunately there are many musicians and crew members who continue to struggle since the pandemic. If this multigenerational chain is broken, we lose more than just a few concerts we lose an entire culture that stretches back centuries. Some of the world's greatest musicians and friends of Music Rising have generously donated their personal instruments to raise money for Music Rising. We hope you have a chance to bid on one or more of the beautiful instruments in the auction. The monies raised goes to musicians and crew. Your support continues to be invaluable to Music Rising." - U2's The Edge
The auction will take place at Van Eaton Galleries located at 13613 Ventura Blvd in Sherman Oaks, California beginning at 10:00 a.m. PDT on Saturday, December 11, 2021. The auction will also stream live and be online via various auction platforms all available through https://vegalleries.com/musicrising. A public exhibition of the collection will begin Monday, November 22, 2021 at the gallery and can be visited by collectors and fans by appointment. Proceeds from the auction will be administered by the New Orleans Jazz & Heritage Foundation on behalf of Music Rising.
A Wisconsin guitarist hit the jackpot when he met a talented lute builder who hand-cut this stunning neck inlay.
​Name: Tony Rizzo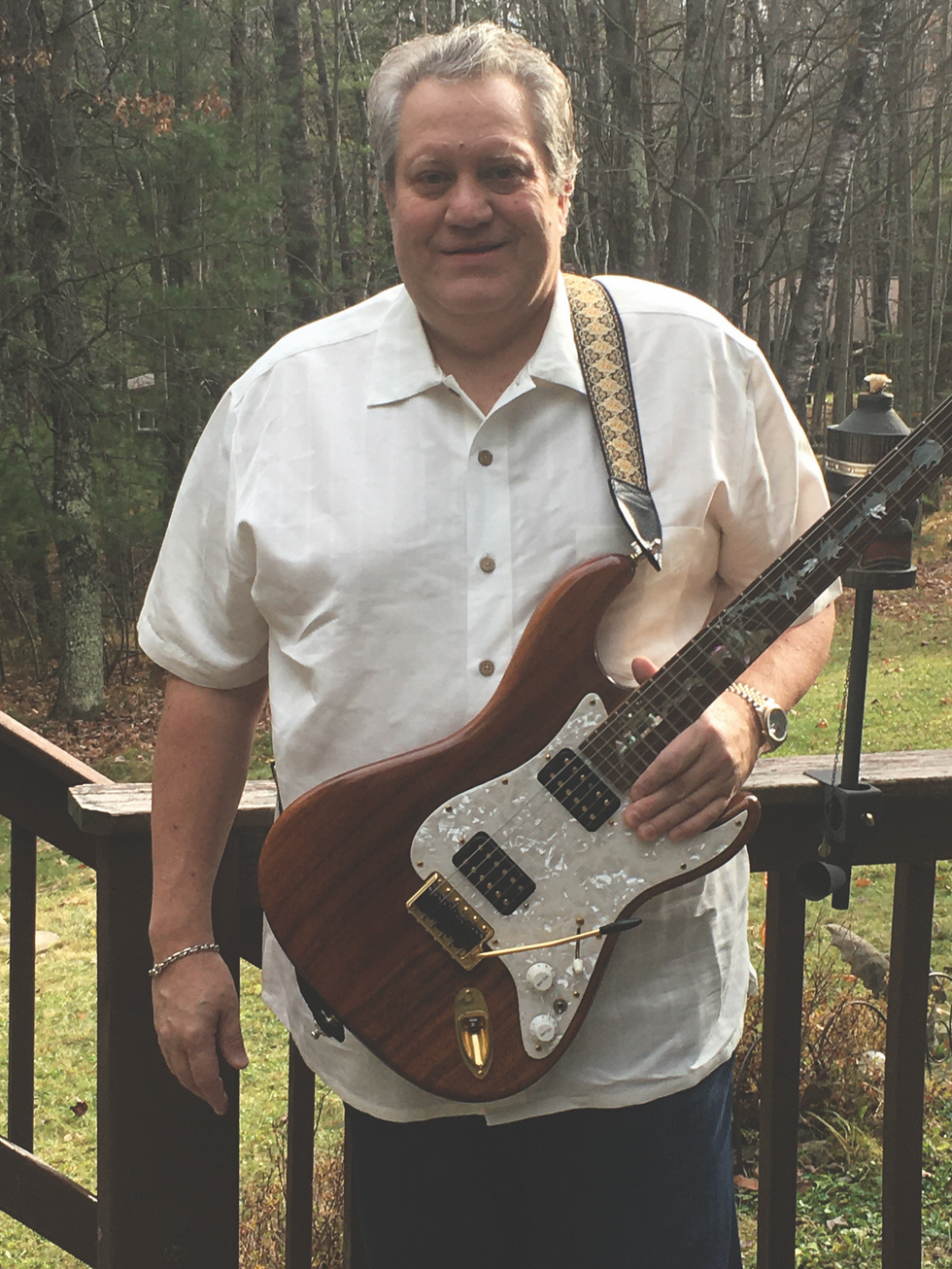 Hometown: Minocqua, Wisconsin
Guitar: The Wizard
I call this guitar "The Wizard." The inlays on the neck explain everything. This is a Warmoth bird's-eye maple neck that started its life in 1990. It was part of a kit I was building with a Warmoth quilted-maple body. I had Dave's Guitar Shop in La Crosse, Wisconsin, paint it a purple sunburst with clear center. After assembling the guitar, it just didn't vibe with me. The guitar sat for a few years and was more art than guitar.
One day, an old friend told me about a guy named Chris who was building lutes and doing crazy-cool inlay work. My friend lined up a time for us to visit his workshop, which was full of wood and little pieces of mother-of-pearl and abalone. The lutes he built were out-of-this-world gorgeous, with the most beautiful inlays in the neck, and the backs were beautiful alternating woods.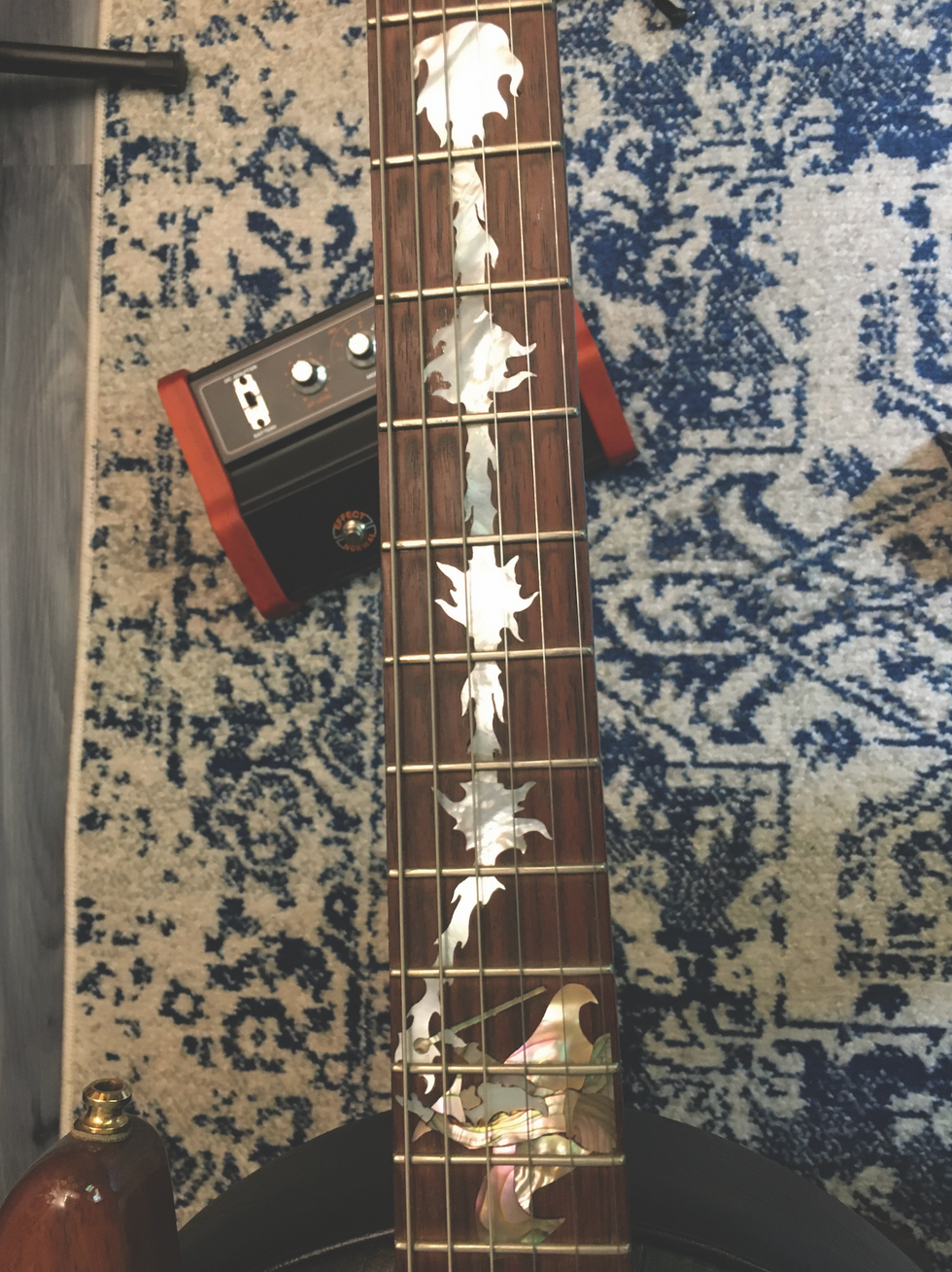 Chris said, "You should let me inlay a neck for you." My mind went to the Warmoth parts guitar. The next day, I dropped the guitar neck off at his shop. Time went by and I didn't hear anything from Chris, but I just thought, "Oh well, it takes time to inlay a neck." After about a year, I heard he moved away, so I sold the body through Dave's Guitar Shop and cut my losses.
Another year passed, and then I got a phone call. It was Chris! He said he'd moved but he finished my guitar neck and wanted to bring it over. He arrived within the hour. I was totally blown away. The craftsmanship is outstanding: He hand-cut every piece of abalone and mother-of-pearl. If you look close there is no filler. How he did this is way beyond my scope of knowledge. He also refretted the neck so it was ready to go. Now I had one of the most beautiful necks I'd ever seen … but I had sold the body.
I asked Ed Roman in Connecticut to build this neck into a guitar for me. When he received the neck, he was excited. He said it was absolutely stunning—he did not expect this! Ed wanted to use a koa body. I said, "What's that?" Exotic woods were not as common then as they are today. He explained it was from Hawaii and he would send me a few body blanks and I could pick the one I like the best. I received them and picked the one you see here.
Ed asked if he could put the R&L Guitar Works name on it, and he had luthier Barry Lipman build it for me. Ed was big on gold hardware—everything is gold. The bridge and the electronics are all from Paul Reed Smith. They installed a piezo in the bridge, which I believe is from a Parker Fly guitar, and you can run a stereo plug from the guitar and split to two different amps to blend the acoustic with electric.
When I opened the case, I was blown away by the finished guitar. The Wizard traveled on the road with me playing gigs all over Wisconsin for more than a decade. Sidenote: Chris wanted to inlay a dragon in the headstock, made to look like the wizard was firing fireballs at it, but he ran out of time. I have no idea what ever happened to Chris, or if he's still building awesome lutes. My dear friend Ed Roman since passed away, but this beautiful guitar lives on!
Mystery Stocking is here! These will sell out fast, so don't miss it!
About Mystery Stocking
Each year, Premier Guitar likes to put out these mystery boxes as a part of bringing some fun to the holiday season. Remember, this is supposed to be a fun holiday treat! If the contents of this box will ruin your holiday, deplete the last of your bank account, or end your ability to see the good in humanity, it may not be for you.
This year's Mystery Stocking will cost $39.95. The cost includes shipping.
Each box will be guaranteed to contain $40 or more in value.
US only. (Sorry World.)
Make sure your shipping address is correct on the initial form.
Have your credit card ready to go before you refresh the page. Paypal is not available. Autofill may not fill in your information.
There will be NO REFUNDS given.
There has been a huge demand for these in the past. We really did sell out in less than 4 minutes last year. When they are gone, they are gone.
One per household, one per person.
Q: What's in the Mystery Stocking?
A: It wouldn't be much of a surprise if we told you, now would it?

Q: Will I definitely get my money worth?
A: Yep.
Q: Can I return it if I don't like it?
A: Nope. All sales final.
Q: What if I live outside the US?
A: Sorry, US only.
Q. How much is it?
A. $39.95
Q. When will it ship?
A. On or before December 1, 2021.
Q. What form of payment do you accept?
A. Credit cards only. Sorry, no Paypal for this.
Q. Can I ship to a different location than my billing address?
A. Yes
Q. I tried last year and didn't get one. Will I get one this year?
A. There is an overwhelming demand for Mystery Stocking. Be sure you have a fast internet connection and be ready when they go on sale. Last year we sold out in 3 min 33 seconds.
Q. I want to buy 5. How can I buy 5?
A. You can't. This year, we're limiting to one per household, so more people can get in on the fun!