Build It and They Will Come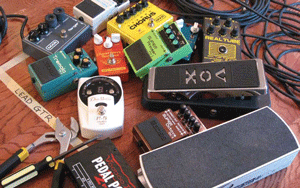 Sorting through old stompboxes to build a new board
Like most guitarists, I've acquired a great number of stompboxes over the years. Some have remained in vogue, while others haven't stood the test of time. I've gone through a number of wah pedals, including Jax, Crybaby, and Vox models. I've also used my fair share of overdrives and distortion pedals, ranging from the very old-school MXR Distortion+ to the more current-sounding Sweet Honey Overdrive by Mad Professor. All of them have their virtues and their place in time, and certainly in my heart. Once I started using rack effects, many of my pedals found a new home in my attic or tucked away behind the ThighMaster in my garage. Many times while recording, I'll pull out my octaver or flanger and try it out on a song or two. This always involves having to dig the pedals out of storage and hook them up in line before giving it a go. Although the experimentation is always fun, the task can be quite tedious.
I have recently started a project of pulling together the best of these pedals and combining them with some new additions to design a pedalboard for my session work. I've gone through all of my pedals, which turned into a mini trip down memory lane. Each pedal held memories of some particular gig, a session, or where and when I bought it. I rediscovered some old favorites in the process.
The Stomps of Days Gone By

I bought an MXR Flanger in the early '80s. When I first got it, I started learning all the songs that the pop acts of the day were using it on, like Pat Travers' "Snorting Whisky" and Heart's "Barracuda." This unit predates the concept of having an On/Off power light, but it still sounds amazing. I also bonded heavily with a Tube Works Real Tube Overdrive pedal that I bought in 1991. It houses an actual 12AX7 tube. The difference between it and the natural drive of my tube amp was negligible. Many of my old pedals were ready for the great beyond. Some crackled and popped, while others just crapped out completely. I was surprised to find that I no longer had any type of chorus pedal in my arsenal. They were once all the rage. I seem to remember loaning my Boss CH-1 Super Chorus pedal to a buddy in the late '80s. Friend, if you're reading this, keep it!
In addition to the MXR Flanger and Tube Works overdrive, the older pedals that really held up were my Boss DD-2 Delay, TR-2 Tremolo and OC-3 Super Octave. My tech, Bill "Ripp" Mayes, has a few old favorite pedals of his own that we're going to incorporate, including a Boss Super Phaser, MXR Stereo Chorus, and a Vox wah. The new pedals that we'll be adding are the Mad Professor Sweet Honey Overdrive and Forest Green Compressor, a Dean Markley PT-13 tuner, and a Voodoo Lab Pedal Power power source.
The Session Pedalboard
The real heart and soul of this project will be the Loop Master 11-Loop Effect Switcher. This made-to-order loop switcher can be found at loop-master.com. It has instant true-bypass capabilities, which will reduce noise in my signal chain, avoid the loss of volume common in all multi-stompbox rigs, and allow me to preserve my original tone. Its tuner output will permit me to tune silently by bypassing the signal path. With the Loop Switcher, I'll have in line only the effects I want when I want them, so I won't be stuck having 10 effects running constantly through my signal chain. It will be a kind of hi-tech version of going into my attic and digging out the stompboxes I want to use, only everything will be right there, conveniently hooked up and ready to electrify any client or artist. Once it's completed, I'll be able to run one cable to any guitar amp and have all my favorite effects at my foot tips!
Recording sessions in Nashville go fast. Time is money, and players are expected to be able to instantly produce a great number of tones, ranging from gigantic Marshall power chords to timeless Waylon Jennings pure phaser swirls. The next step in perfecting this rig will be to include an amp switcher so I can use all of this stuff on several different amps without having to unhook or rewire anything. That will be the definitive session rig. To do that, I will need a system that allows me to access all my amp heads while keeping a load on each one, then to merge that signal to one common cabinet. The best thing I've found for that is the Egnater amp switcher. It can accommodate up to four amps—perfect for my application. Some other units, like the Radial Headbone SS or Headbone VT, are really good too. But they will only split two amps—that won't be quite enough for me.
There's nothing worse than showing up to a session unprepared and disorganized. When this project is complete, I'll be able to tackle any session size—from a songwriting demo to a full, master-scale album with confidence.
Keep jammin'!
---
Rich Eckhardt

Rich Eckhardt is one of the most sought after guitarists in Nashville. His ability to cover multiple styles has put him on stage with singers ranging from Steven Tyler of Aerosmith to Shania Twain. Rich is currently playing lead guitar with Toby Keith. His new album Cottage City Firehouse is available at his website and
CDBaby.com