Want to play different pedal sequences in a flash? These handy boxes provide more tone solutions than you might realize.
There is no right or wrong way to wire a pedalboard. It's really a matter of personal taste and what our ears find pleasing. Every musician has their own thing, and our pedalboards are certainly an extension of that. For some, reconfiguring the pedalboard is a lifelong process, and adding a new device often means something has got to go, because real estate is crucial!
Whether you are a fan of effects loops or not, they can be useful tools. One of the go-to pedals in my collection isn't an effect. It's a standalone effects loop order switcher, which is basically a pair of dedicated effects loops (A and B) in an aluminum pedal enclosure. There are quite a few companies that make a version of this type of device. Some of these units have many other options included and some are very basic, with no knobs at all. I like to have a somewhat simple one hanging around, with an input, an output, and two sets of send/return jacks. Each channel needs a volume knob, a foot switch, and a bypass indicator light.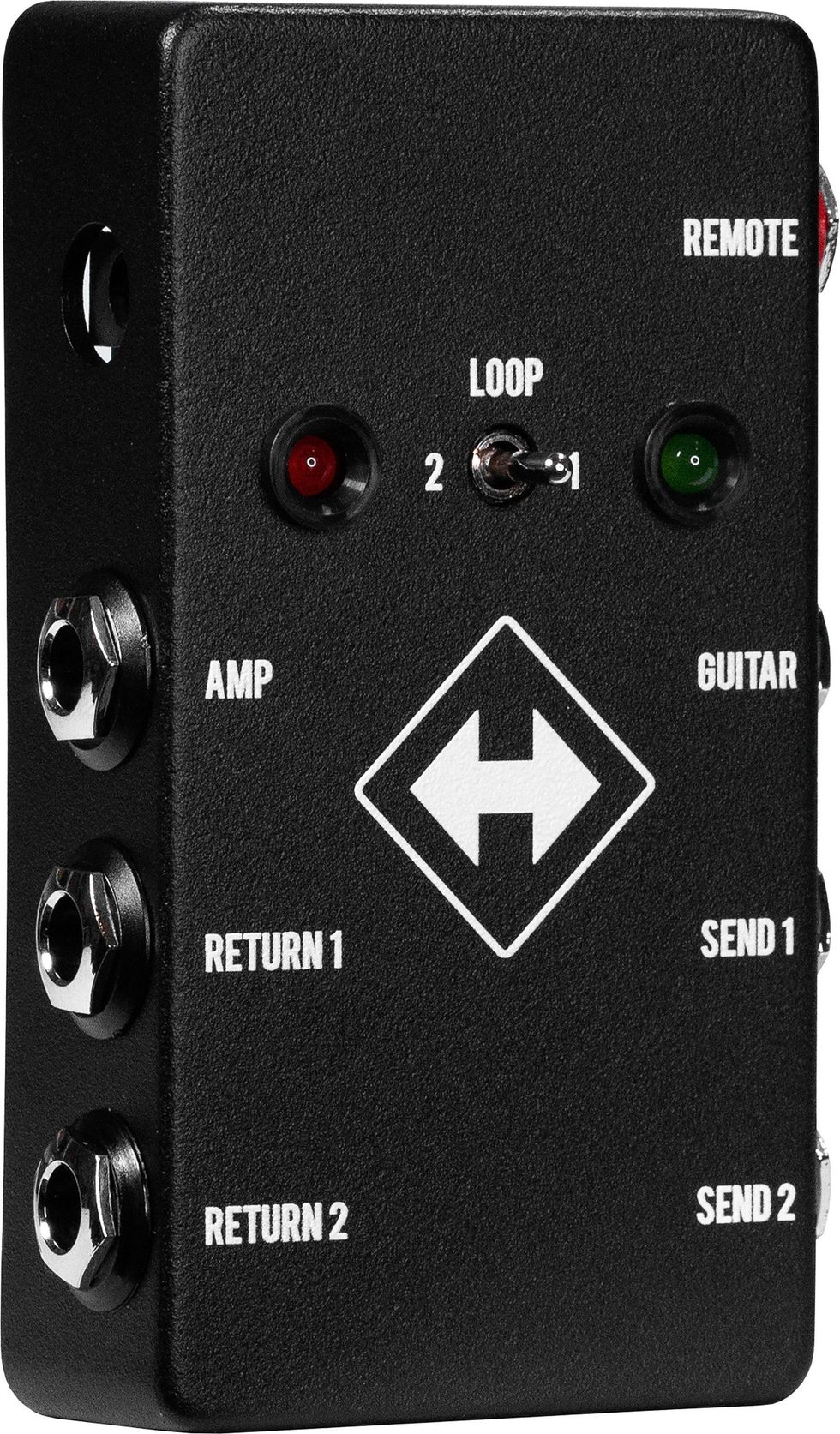 A loop switcher can be an especially useful tool when putting together a pedalboard, or even just adding a new stompbox to the mix. Signal paths can be auditioned to see how pedals will interact together before committing them to Velcro. I find it is also super fun and handy to use a switcher when doing sound explorations and, ultimately, in my writing and recording processes. There are so many more options sound-wise, depending on how effects are ordered. The rather simple unit I made allows for quick changes, which helps me economize my time. In fact, it's so useful that I have one living full-time on my pedalboard, in a really accessible spot, so I can plug and unplug on the fly if something isn't working out sound-wise.
Fancier loop-switching devices can have true bypass switching, buffers, lots of sends and returns, knobs, signal paths routed any which way.... The options are nearly endless. Plenty of pedal builders out there can build custom units for a reasonable price, tailored to anyone's specific taste. You might even go the rackmounted, pro-audio hardware route if you want to get extra fancy!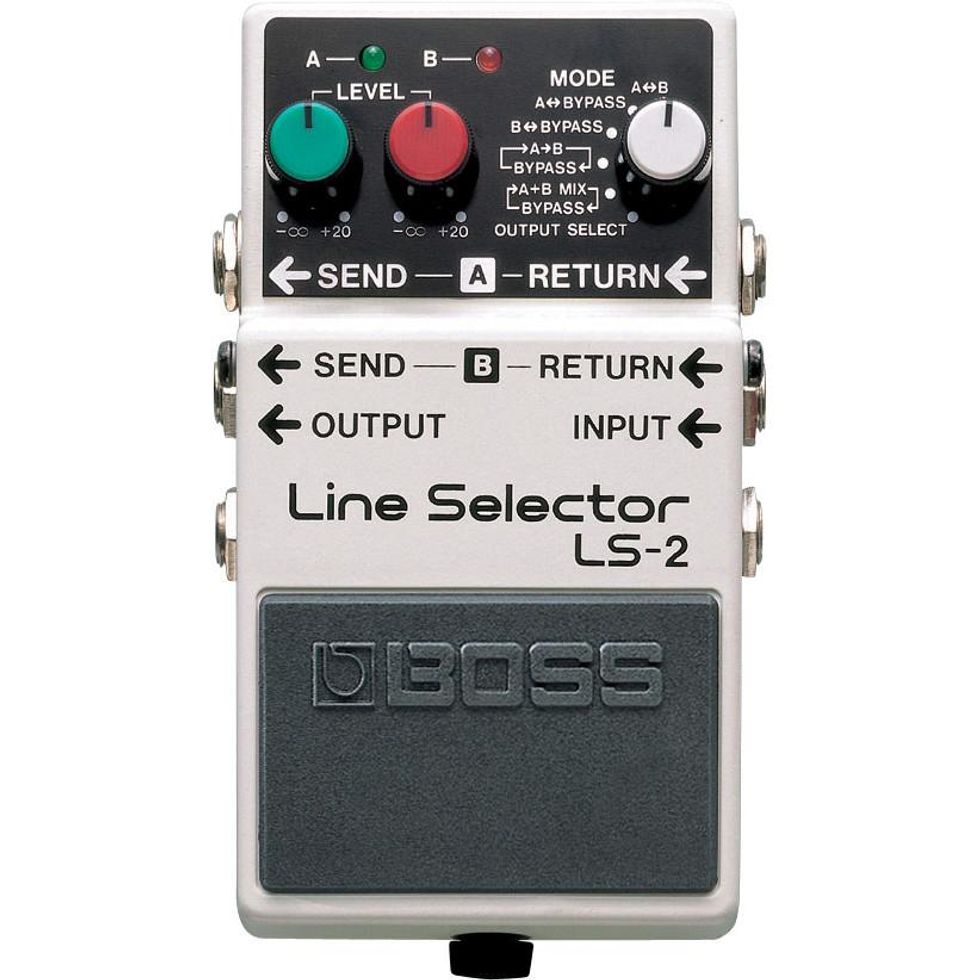 There are several different commercial A/B loop switcher units available that are on the simpler end of the spectrum, like the JHS Switchback A/B Effects Loop Switcher ($102 street) and the MXR M196 A/B Box Pedal ($59 street). The EarthQuaker Devices Swiss Things Pedalboard Reconciler ($249 street) is an awesome utility pedal with a few more helpful options. My absolute favorite simple go-to is the Boss LS-2 Line Selector Pedal ($113 street). It's got a small footprint and does all the basics. Plus, it's Boss, so it's built like a tank. Mine has survived 20 years of abuse so far.
Whether you are a fan of effects loops or not, they can be useful tools.
Some pedals sound totally different when inserted into an effects loop instead of being inserted directly in line. It's really informative to be able to hear those differences. I feel like a whole new world opened up to me when I started using the LS-2. Some of my favorite sounds that I have been able to create came from putting pedals in the loop that normally get chained up in line directly. Give it a try! And for those who DIY, check out Beavis Audio Research's awesome site. There are several different iterations to build.
When power cables and signal paths tangle, the results can be noisy. Here are some easy fixes.
In my previous State of the Stomp ["The Shocking Truth About Ground Loops," October 2021], I discussed how ground loops can be formed between the amplifiers in a multiple amp setup, and how to safely address them with an isolation transformer. As a brief reminder, a ground loop is created whenever two electrical circuits that theoretically have the same ground potential actually have a non-zero potential between them in practice, and that often results in hums and buzzes that are harmonically related to the mains voltage frequency in your part of the world.
Oh, how I wish that was the only means of making a ground loop! Tennyson certainly didn't have ground loops in mind when writing that nature was red in tooth and claw, but as someone who has built guitar rigs for around 25 years, it is hard to shake the idea that they serve a merciless and maniacal natural force that actively resists the pristine and well-ordered world of quiet, toneful pedalboards and rack systems.
These loops are made by the way we wire our stompboxes and the environment around them. The ones in this month's ground loop fest may be a bit more identifiable than the loops in the multi-amp scenario. In that case, part of the loop is hidden in your venue's installed power cabling. This time, we're going to discuss loops that exist wholly and entirely in your pedalboard itself.
"Tennyson certainly didn't have ground loops in mind when writing that nature was red in tooth and claw."
The first ground loop we'll discuss is a potential loop created by using daisy-chain power cables, where one power supply feeds multiple pedals. In this setup, you can make a loop via the power cables connecting two pedals and the audio cables connecting them. There is a clear ground path in Fig. A that goes from stompbox to stompbox via the audio cables. If that were the only path, there would be little chance for a loop to be formed. But if you add in the ground path made by the power cables, you can now see a circuitous path that connects the first and last pedal through the audio cables and then doubles back through the power daisy chain. This circle of wire is our loop.
A second loop type is shown in Fig. B. Most loop switchers tie the ground connections of the send and return jacks together, and when the loop switcher is connected to a stompbox, the audio cables make a ring of ground conductors. So each loop switcher loop can actually make a ground loop. Yay!
There are countless loop switcher-equipped boards out in the world. Why don't all of them hum? Ground loops can generate hum when they are driven by an outside electromagnetic field. (Bill Whitlock's Audio Engineering Society treatise "Ground Loops: The Rest of the Story" gives great theoretical and experimental explanation of EMF—electromotive force—induced ground loops.) When the ground looped cable encircles an EMF field, that field can develop a current in the wire that can translate into audible hum in your rig. So if your power/audio cable loop or your loop switcher loop wraps around a power supply transformer or a high-current, noisy power cable at a venue or in your home, you may get an induced hum that you can hear in your amplifier's output.
Fig B.
So, what can be done? Fig. A shows how daisy-chained power can make a giant ground loop susceptible to picking up stray EMF. Using isolated power for every pedal will break this loop and keep it from generating noise. If you must share power amongst pedals on your board, make sure they are next to one another in your signal chain so that the loop size (and associated hum) is minimized.
For Fig. B, the cables to and from the pedal can be as short as possible and run as close to one another as possible. This too will decrease the area encircled by the loop and commensurately minimize the induced current. Special care should be taken to make sure looping cables do not surround or run near power supplies or wall warts. The type of power supply can make a difference as well, since those from Truetone or Strymon switch at higher frequencies that are less likely to be induced in the first place, and less likely to be heard if they are.
While this is hardly a 100 percent complete picture of the cruel world of ground loops, you hopefully are armed with enough knowledge to have insight into exactly what could be causing those wayward noises and buzzes in your rig and how to clear them out to make way for a much more gratifying set of buzzes and noise.
Your music is worth releasing. Really. Do it now!
This is my final State of the Stomp column, so I thought I would leave with some encouraging words. This is a message for the perfectionists: release your music.
Let me start by saying this: I believe music can be a private practice. I believe you can be a musician and never play a show in your life. Never share a thing. This is for the people that want to release music, but always feel like it's not quite ready.
As I write this, I'm wrapping up the first solo project I've made in years, and I really don't know that any of this would've helped me when I was in the thick of it. Things just weren't clicking and that's all I could see. I knew it wasn't right yet. But I'm going to share some thoughts anyway because something got through to me eventually.
The realization that helped me the most is that music is a tool. It's a bit cold, maybe, but thinking of it that way has really helped me decide when things are done and if they're worth releasing. (Yes, they are.)
The thing is, it's not about you. It's not about perfection or being impressive. It's definitely not about getting it right. How would anybody know that? It's about what the listener can do with it. And there is always, always something to do with it.
I've never met a song I couldn't tear apart. The point being, perfectionism makes you unfair and unreasonable.
A good test of this idea is just to observe your own listening habits. Do you ever get nothing from a piece of music? Music is so emotional that it's easy to take it for granted. Every time, every song, you're probably feeling some kind of way. And if you decided today to bundle up your music and release it just as is, it would be the same.
It's right there in the expression: release. Call it done, and let it go. No one will ever know if you get a song right. Not even you. A friend was telling me recently of a quirk of the brain. Our brains like to help us feel good, so they're always tidying up our senses in the background. They filter and organize what we experience to keep us from getting overwhelmed. In the case of music, our brains will actually correct or smooth over mistakes as we work, because they know that's the version we want to hear.
Listening test: Pick out a song that's similar to what you're trying to make, one of your favorites. Give it a listen and come back. Now, give it a listen again as if it was your own music, and look for things to criticize. Whenever I do this, I realize what an asshole the critical mind is. I've never met a song I couldn't tear apart. The point being, perfectionism makes you unfair and unreasonable.
There are just so many damn tools, and their purpose is only clear to the people who need them. You may not even understand your own music's purpose, but it could really help someone. Different tools for different jobs. You don't use a hammer on screws, you don't use Brian Eno at the club. Just put it out there and see if people have a use for it. The only way to fail is by letting perfectionism kill it.
So, I hope that gives you a little something to take with you. Easier read than done, but you'll get there.