Fender reimagines a vintage acoustic and creates a new classic.
Fender Kingman Pro by premierguitar
Even though Fender began offering flattop acoustics more than 50 years ago, they're probably not the instruments you most immediately associate with the brand. Given the world-changing success of Fender electrics, this is no surprise. But while the company's early efforts didn't take off with serious acoustic players, they were among the era's few truly original flattop designs. Now Fender is revisiting some of these instruments as part of its U.S.-made acoustic line. With its bolt-on neck, the Kingman Pro Custom is among the closest relatives of those originals. But key design changes have transformed the guitar from an oddball also-ran to a unique and truly high-end flattop.
A Brief History Lesson

Eager to cash in on the early-'60s folk trend, Leo Fender wanted his own line of acoustics. Realizing that a flattop was beyond his expertise, he hired German luthier Roger Rossmeisl, who'd worked down the road at Rickenbacker, where he designed many of the company's most famous models. Rossmeisl was charged with creating a line of flattops and hollow-body electrics, including the Coronado.
Rossmeisl merged his traditional European instrument-building techniques (he'd received his training at the famed violin building school in Mittenwald, Germany) with Martin-esque body shapes. The big difference was that Rossmeisel used Fender's existing electric guitar necks, most likely for maximum manufacturing efficiency. If that approach sounds questionable to you, you're not alone. The instruments were a relative flop, and from about 1971 through the '90s, Fender downplayed acoustic production.
I was greeted by a lovely, rich voice with great balance and the complexity of a true high-end flattop.

How things have changed! Purchasing Guild in 1995 gave Fender access to some of the best acoustic guitar know-how in the business. The company ramped up its acoustic activity after moving Guild and Fender production to Ovation's factory in New Hartford, Connecticut. Owning a state-of-the-art facility fine-tuned for acoustic production allows Fender to create true high-end flattops.
Uptown Vibe

The new Kingman Pro is inspired by the Kingman models Fender produced between 1963 and 1971, but is far from a strict reissue. That's a good thing—the new model far surpasses any vintage Fender acoustic I've played. The Kingman Pro has a dreadnought body built with a solid Sitka spruce top (with forward-shifted, scalloped red spruce X-bracing) and solid mahogany back and sides. The maple neck is similar to what you'd find on a circa-1968 Stratocaster, with a six-on-a-side headstock, Kluson-style tuners, white binding, and medium frets. It's bolted to the body without a heel. Large pearl block inlays ornament the 10²-radius rosewood fingerboard.
Those attributes alone would make the Kingman Pro an unusual acoustic. But Fender goes further with the appointments: The Viking-style rosewood bridge, sparkling gold three-ply pickguard, and beautifully executed sunburst nitro finish lend a luxurious look. And I just love the checkerboard marquetry used for the top's purfling and the rosette. Materials and construction are top-shelf, with high-quality woods and the extra-clean craftsmanship you see in the current crop of Guild guitars, which come from the same factory.
One of the biggest departures from Rossmeisel's vintage designs is the Kingman Pro's neck attachment. Vintage examples used long mounting screws and a "tone bar" running the length of the body. The new Kingman Pro uses a pair of Allen-head screws to secure the neck from underneath the fingerboard extension and inside the body. This eliminates the need for the enormous neck-blocks of vintage Fender acoustics, saving weight and allowing the body to resonate more freely. (The guitar has a shield-shaped chrome neck plate, but it's strictly decorative.)
Ratings
Pros:
Looks. Craftsmanship. Balanced tone.
Cons:
Solo players may want wider dynamic range.
Tones:


Playability:


Build/Design:


Value:


Street:
$2,600
Fender Kingman Pro
fender.com
Pickin' and Strummin'

Even though the neck resembles one from a Fender electric, it feels more like that of a typical acoustic. Fender's specs call the profile a "C," but it actually has a slight "V," a nice compromise between contemporary and vintage profiles. With its 1.7² nut width, the neck is a bit wider than most electric necks, and the guitar's 25.625² scale is slightly longer than that of most dreadnoughts. The guitar came set up with light-gauge strings (.012 - .052) and medium-low action.
Strumming first-position chords, I was greeted by a lovely, rich voice with great balance and the complexity of a true high-end flattop. The guitar's tendency toward natural compression limits its acoustic volume somewhat, but provides very even dynamics for fingerpicked and single-note passages.
Plugging In

It would be a shame to not take a flashy guitar like this onto the stage. Fortunately, Fender had the foresight to install a Fishman Matrix Infinity pickup system, consisting of Fishman's top-of-the-line Acoustic Matrix undersaddle pickup, an endpin-mounted preamp, and a small control unit with volume and tone controls in the soundhole. The rig is stealthy and easy to use. Plugging into an AER Compact 60 amp instantly provided a fine, balanced sound. The attack became a bit bright when I hit the guitar hard, but overall, the naturally compressed character reveals a rich amplified voice that would be particularly well suited to accompanying vocals or underpinning a band mix.
The Verdict
It's great to see Fender entering the upper-level acoustic market in a concerted fashion. The Kingman Pro combines cool elements of the company's acoustic past with smart design improvements. Like all the work I've seen from the New Hartford plant, the guitar's craftsmanship is top-notch. With its solid tone and luxurious, show-stopping looks, the Kingman Pro will find many fans, particularly players eager to look beyond the Martin and Gibson standards.
Looking for more great gear for the guitar player in your life (yourself included!)? Check out this year's Holiday Gear Finds!
Flare is a dual-function pedal with a tube-like booster and a 1970s-style ring modulator effect that can be played separately or together.
Flare's ring modulator is based on the iconic tone of the original Dan Armstrong Green Ringer. This vintage classic was made famous by Frank Zappa who loved the unusual modulations created by generating a harmonic octave over notes. Messiah's version offers two control knobs: a "Sparkle" tone attenuator and output Level control. Its taupe-gold body, purple and green knobs and stick-figure rock 'n' roller holding up a flame convey an appropriately rockin'70s vibe.

​In a unique twist, Messiah's Flare pairs the ringer with a warm tube-style boost instead of a fuzz. Flare feeds the booster into the ringer for an extra punch, while preserving the Green Ringerspirit. The ringer side also turns any fuzz into an octafuzz, and it has the ability to quiet signal background noise fed through it.
The booster side features a single Boost knob to control the MOSFET circuit, making it very tube-amp-friendly with a warm, organic boost and gain of up to 32dB.
​The pedal is a distinct improvement over the 1970s pedal that inspired it. "Most ringer pedals don't track well," Tom Hejda, owner of Messiah Guitars. "The player can't rely on repeating the same effect even with the most consistently played notes. We carefully matched the components, so our ringer follows your every move, producing that slightly dirty octave you expect on demand."
Messiah developed this vintage octave pedal with flexible features so that people who love that messy, dirty Zappa-esque sound can get there with ease but there's also something for those who have not fallen in love with fuzz or the Green Ringer alone. Flare offers an array of sonic options while retaining simplicity in the controls.
Each Flair Pedal Includes:
3 control knobs: Boost, Sparkle, and Level
Two effects – Ring Modulator and Boost – can be used together or separately
Space-saving top side jacks
Durable, cast aluminum alloy 125B enclosure with fun artwork
Easy to see, illuminated True-bypass foot switch
Standard 9V pedal power input​
Flare Pedal Demo
Messiah Guitars pedals are designed with an explorative player in mind. Like their custom guitars and amplifiers, Messiah's pedals are hand-crafted in Los Angeles for a long life with guaranteed quality.
Flare retails for $199.00 and can be purchased directly at Messiah Guitars or you can hear it in person at Impulse Music Co. in Canyon Country, CA.
For more information, please visit messiahguitars.com.
This feathery little guy is a joy to play because of its incredibly quick response to your right hand - much faster and more expressive than your typical auto-wah pedal.
​If it looks like a duck, acts like a duck, and QUACKS like a duck, then it must be a duck. That's how we came up with the name for our new envelope filter. This feathery little guy is a joy to play because of its incredibly quick response to your right hand - much faster and more expressive than your typical auto-wah pedal. Trevor explains how this is possible in the launch video, as well as gives a demo on Le Canard's operation.
​The attack control determines how quickly the filter responds to the envelope, and the decay sets how quickly the filter releases afterward. The range controls which frequency spectrum the filter does its magic on. Add to this relay-based full-bypass switching with failsafe, and you've got one crazy little quacky beast. It is so expressive that you'll want to give up on your rocker-wah forever.
The MayFly Le Canard envelope filter features:
Super fast responding envelope follower. Touch it and it jumps!
Range control to dial in the character of the filter
Attack control to control how fast the filter moves on that first touch
Release control to control how slowly the filter slides back to baseline
Full bypass using relays with Fail SafeTM (automatically switches to bypass if the pedal loses power)
Cast aluminum enclosure with groovy artwork
MSRP $149 USD ($199 CAD)​
Introducing the MayFly Le Canard Envelope Filter
All MayFly pedals are hand-made in Canada.
For more information, please visit mayflyaudio.com.
Outlaw Effects introduces their next generation of NOMAD rechargeable battery-powered pedal boards.
Available in two sizes, NOMAD ISO is a compact, versatile tool that offers the convenience of a fully powered board plus the additional freedom of not having to plug into an outlet. NOMAD ISO is ideal for stages with limited outlet availability, quick changeovers, busking outdoors, temporary rehearsal locations, and more.
NOMAD ISO builds upon the legacy of the ultra-convenient and reliable NOMAD rechargeable pedalboard line originally launched in 2018. The brand new NOMAD ISO editions feature eight isolated outputs (1 x 9V DC, and 1 switchable 9V/12V DC) for even more versatility and clean, quiet power. With an integrated lithium-ion battery pack boasting 12800mAh capacity, NOMAD ISO can fuel a wide array of pedals, and will last over 10 hours* on a single charge.
Each NOMAD ISO pedal board includes adhesive hook & loop pedal-mounting tape, eight (8) standard DC connector cables, and one (1) reverse polarity DC cable, giving you everything you need to build your ultimate "off-the-grid" rig. A rugged, road-ready padded gig bag with shoulder strap is also included, to safely protect your gear while you're on the move.
NOMAD ISO S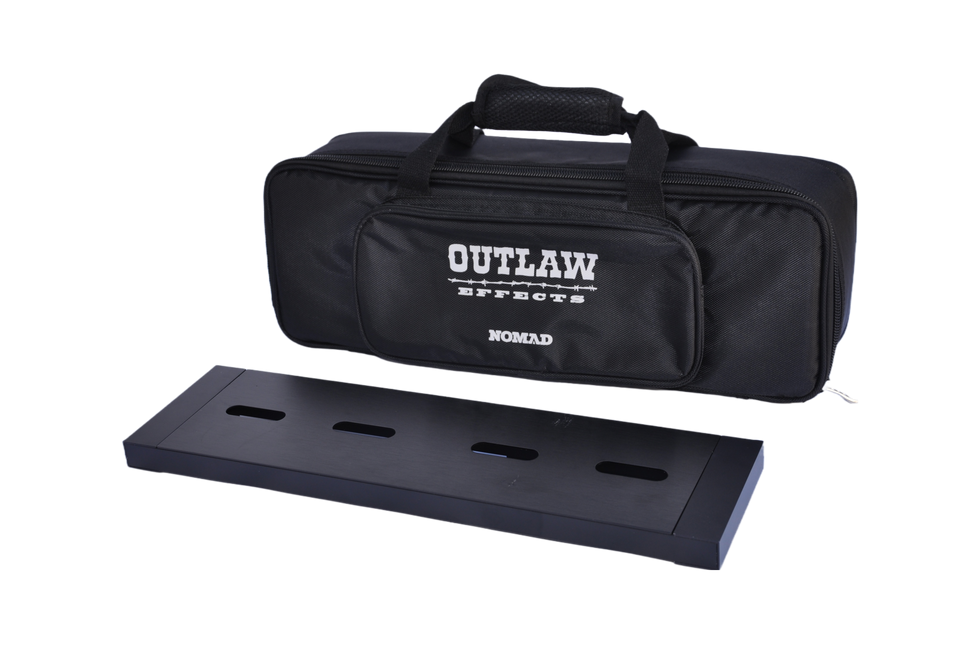 NOMAD ISO S: MSRP $309 / MAP: $249
Dimensions: 19 ¼" x 5 ¼"
NOMAD ISO M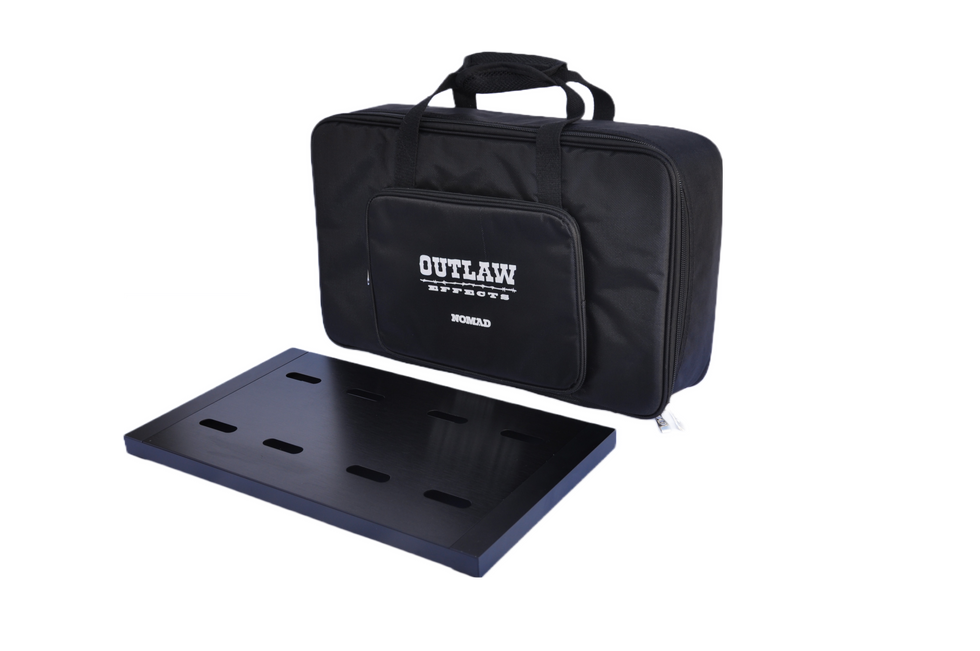 NOMAD ISO M: MSRP $349 / MAP $279
Dimensions: 19 ¼" x 11"
More info: https://www.outlawguitareffects.com.