Dig into the details of a pile of new gear from Steve Vai, MXR, Abasi Concepts, Dophix, b3, and more!

---
Taylor 722ce
Taylor Guitars brought a new pair of 700-series acoustics to the show. The new Koa-based line was born out of a particular grade of wood that sits between their K series and the wood they use for veneers. The 724ce and 722ce both feature Expression 2 preamps and an ultra-thin finish. Each one will street for $3,499.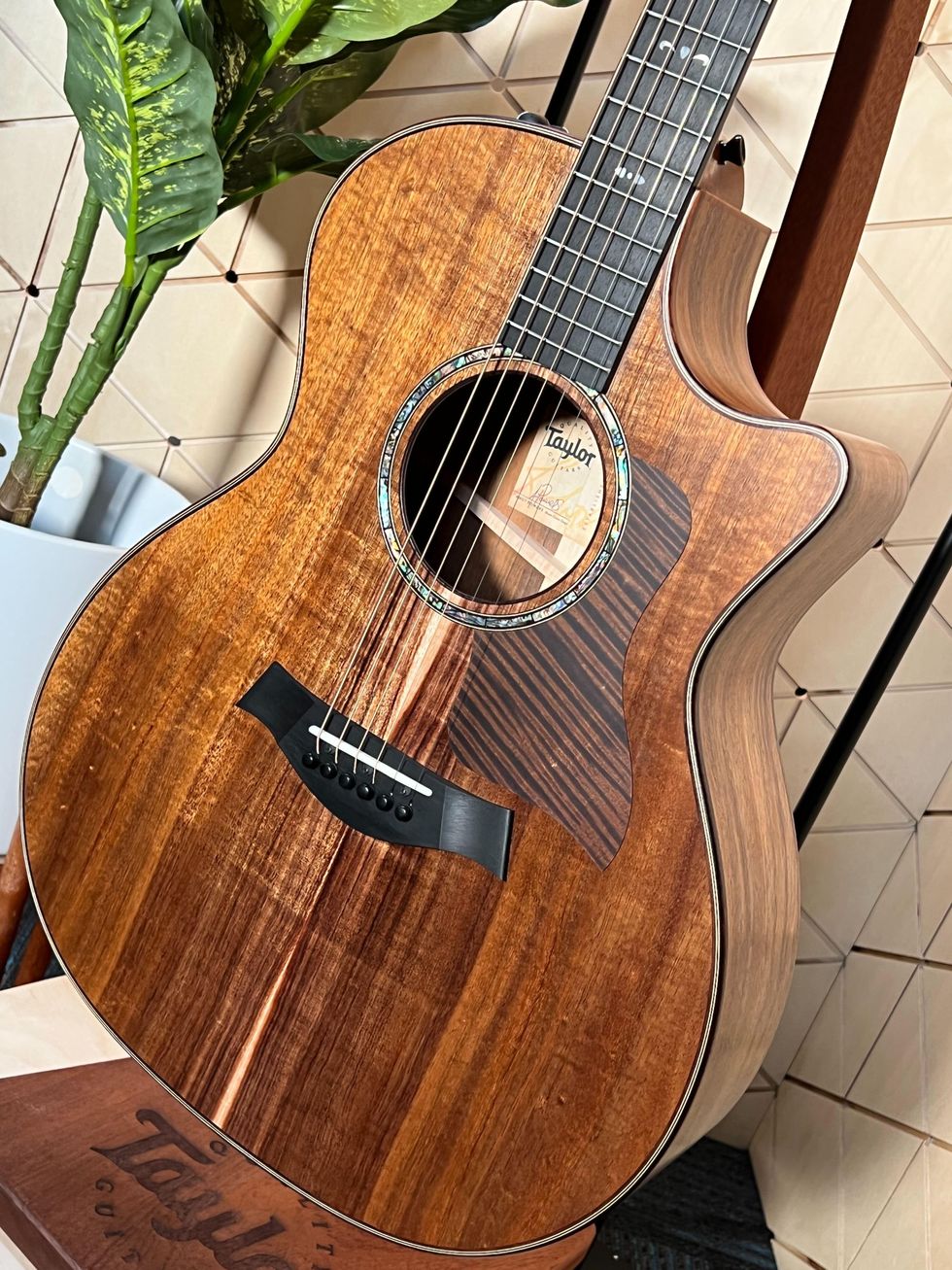 Eventide MicroPitch
Although the Dot9 line of pedals have been out for a bit, Eventide officially brought this quartet of stomps to the masses at the NAMM show. The lineup covers well-known H9 algorithms such as the Blackhole, old-school EVH-style micro pitch tones, massive chorus sounds, pristine delays, and more.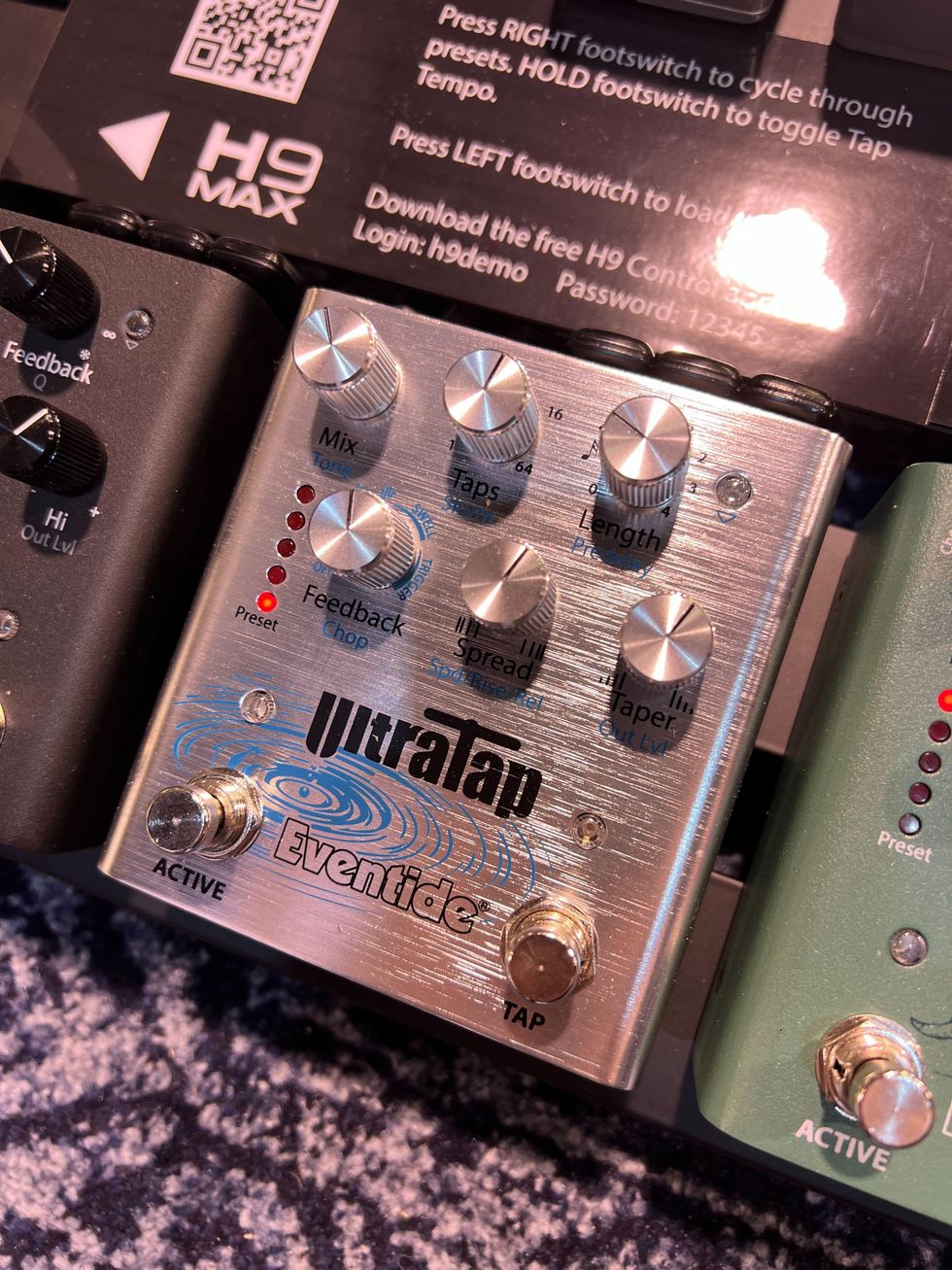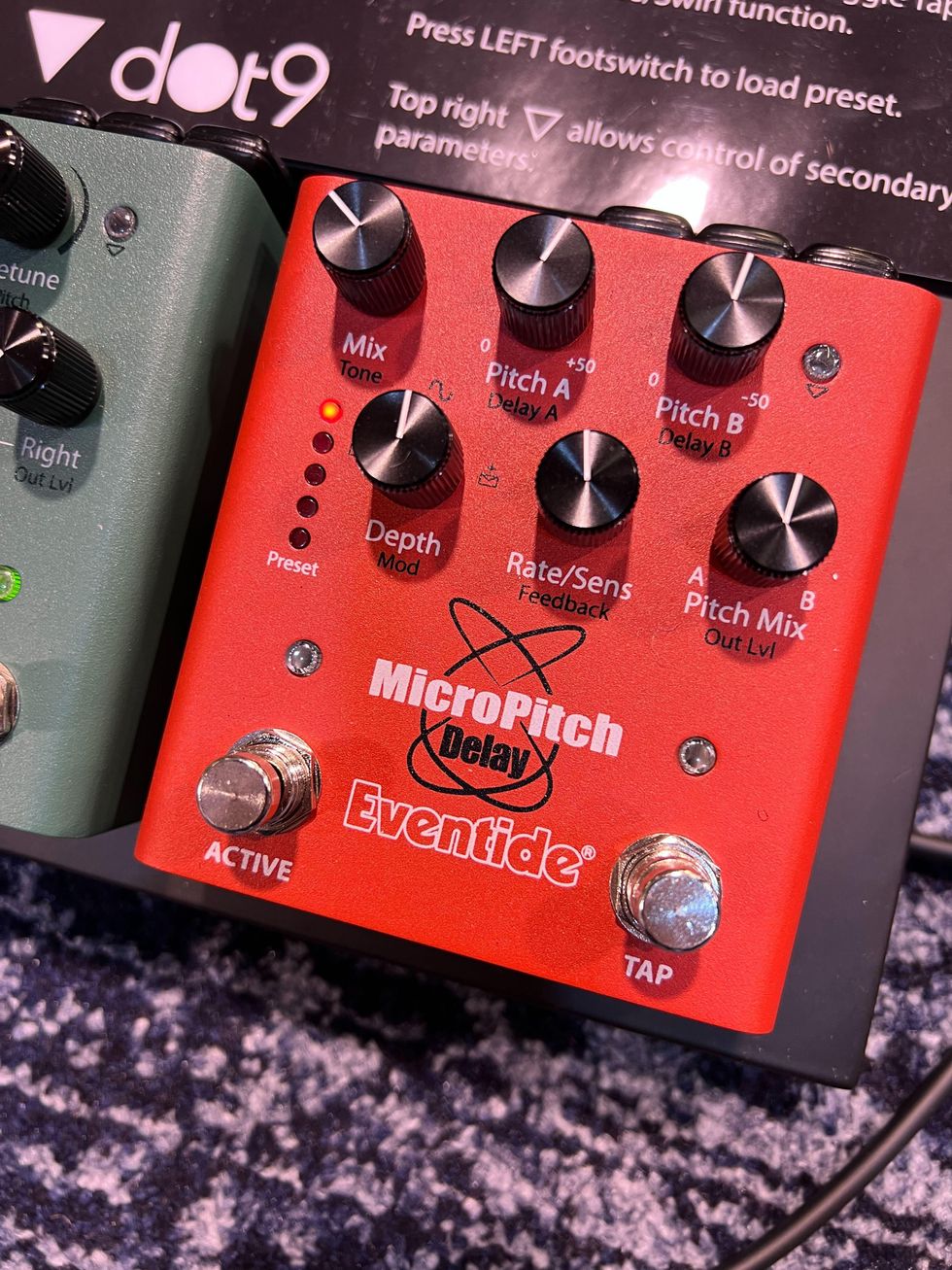 Martin Custom Guitar
Here's the 2,500,000th guitar to come through Martin's factory and built by their team. The guitar was made from birdseye Belizean rosewood and heavy Sitka spruce. Display built by Jody Betz.
Positive Grid Spark Mini
Positive Grid announced the Spark Mini, which is a full featured practice amp that also works as a Bluetooth speaker. The free app allows for deep signal-chain editing and comes loaded with a ton of amp and effects. They are taking pre-orders now at an intro price of $195.
Dreadbox Treminator
At $199, Dreadbox's Treminator goes way past trad-style trem. It offers five different wave shapes, fade in/out controls, tap tempo, and a handful of "secret" features when you hold down one of the footswitches. Think Minus the Bear in a box.
VegaTrem VT-2
Do you love Teles and wigglesticks? VegaTrem just gave us a quick look a the VT-2, which takes there rock-solid trem technology and applies it to T-style setups. Installation isn't invasive and the bar feels smooth as silk. Pricing is TBA, but look for them this fall.
Manhattan Prestige Basses Session One
Famed session legend Neil Jason founded a new instrument company called Manhattan Prestige Basses and brought their first model, the Session One, to NAMM. It's an incredibly well-balanced instrument that sports an alder body, maple neck, Tusq nut, Luminay fret markers, and a Wilkinson bridge. A rock-solid workhorse that comes in at $999 street.
Imperial Electric: The Appetite
Red Witch's Ben Fulton debuted his new company, Imperial Electric, and pair of amp-in-a-box pedals that pay tribute to two seminal guitar heroes. The Zeppelin aims to capture the tone from a particularly influential MSG concert film by combining a Echoplex-style preamp with a FET-based plexi-style amp circuit. The Appetite takes aim at the sound of the Sunset Strip by combining a more modern-sounding FET-based amp circuit with a germanium boost to push it over the top. Both will street for $229 each.
GTRS S800
The S800 from GTRS is powered by Mooer's robust modeling technology. This S-style guitar pairs with a Bluetooth foot controller (sold separately) and an app to craft nearly any kind of signal chain you can imagine. There's a single control knob on the guitar that allows you to cycle through presets on the fly. All for about $1,000 street.
Audient EVO16
The Audient EVO16 is a fully featured recording solution that offers 8 inputs, phantom power, multiple headphone outputs, and an inventive Smart Gain feature that makes setting levels a snap. Will hit stores soon at $499.
Pro Co Lil' Rat
The classic tone of the Rat has been shrunk into a micro-sized enclosure. It has the exact same circuitry and clipping as the original, just smaller. In order to save space they took out the battery option, but it still sounds as gnarly as ever. And quite a deal at $79.
Blackstar St. James
Blackstar spent the last two years developing a new line of ultra-powerful and ultra-light amps. The St James series offers two different setups (6L6 and EL84) that include a full 3-band EQ, dual channels, reverb, reactive load options, and deep editing via an app. Heads are $1,199, combos are $1,299, and the 2x12 can is $749.
Martin D-28 Rich Robinson Guitar
Martin just released a new signature model from Rich Robinson that was patterned after his dad's '50s model. It has rosewood back and sides, a chunky neck, Sitka spruce too, and is the first artist model that's aged to replicate the original. It will street for $6,999 and be out in late summer.
Ernie Ball Music Man Tosin Abasi Kaizen
Futuristic shredder Tosin Abasi just announced a new collaboration with Ernie Ball Music Man. The Kaizen is an immaculately designed 7-string that sports a mini humbucker in the neck, Steinberger tuners, a multiscale neck with floating trem, and much more. Should be out in late summer with a price TBA.
Steve Vai Hydra
One of the most incredible creations at this year's show was Steve Vai's Ibanez Hydra. It was prominently featured on Vai's last album and the up-close details are amazing.
Tom Quayle Signature 
Ibanez and fusion stylist Tom Quayle extended their partnership with a singlecut signature model that's loaded with a Seymour Duncan mini-humbucker in the neck and an Alnico Pro II in the bridge.
Abasi Concepts emi​ Series
Abasi Concepts just launched their emi series which includes options for standard fret spacing, SSS and HSS pickup configurations and much more. Keep an eye on their website as these will be released in batches through their mailing list.
Dophix Michelangelo Overdrive Plus
Italian pedal maker Dophix showed us their entire line and these two were the standouts. The Michelangelo Overdrive Plus is a fully featured boost/OD combo that houses three different clipping modes (FET, silicon, and germanium), a blend control, and switchable effect order. The Galileo Optical Tremolo can go from swirly, comforting waves to stuttering noisemaking fuel. Each will be available for $399 street.
b3 Guitars Telstar
Gene Baker and b3 Guitars brought their mashed-up Telstar to the show. It pays obvious tribute to a pair of classic models, but this one features a 10(!)-way switch, Lollar pickups, a double graphite reinforced bolt-on neck, and a MannMade hybrid tremolo. They will be exclusively sold through The Music Emporium and will start at $5,200.
Gamechanger Audio Bigsby Pedal
Gamechanger Audio's new collaboration with Fender has resulted in a digital version of a seminal tremolo. The Bigsby pedal allows for both upward and downward polyphonic pitch bending in addition to adjusting the rate of the vibrato. It feels smooth and natural and makes the more extreme Bigsby moves much easier. It's available now for $379.
Black Volt Amplification Earthcaster
Typically, Black Volt Amplification is known for their line of rustic amps, but this year they brought a few new guitars. The Earthcaster and Lightning Bolt are T-style guitars that are built out of old-growth wood. Depending on what the custom is looking for there are various customizable options that can be included. The Earthcaster starts at $3,200 and the Lightning Bolt starts at $4,200.
MXR and Third Man Hardware Double Down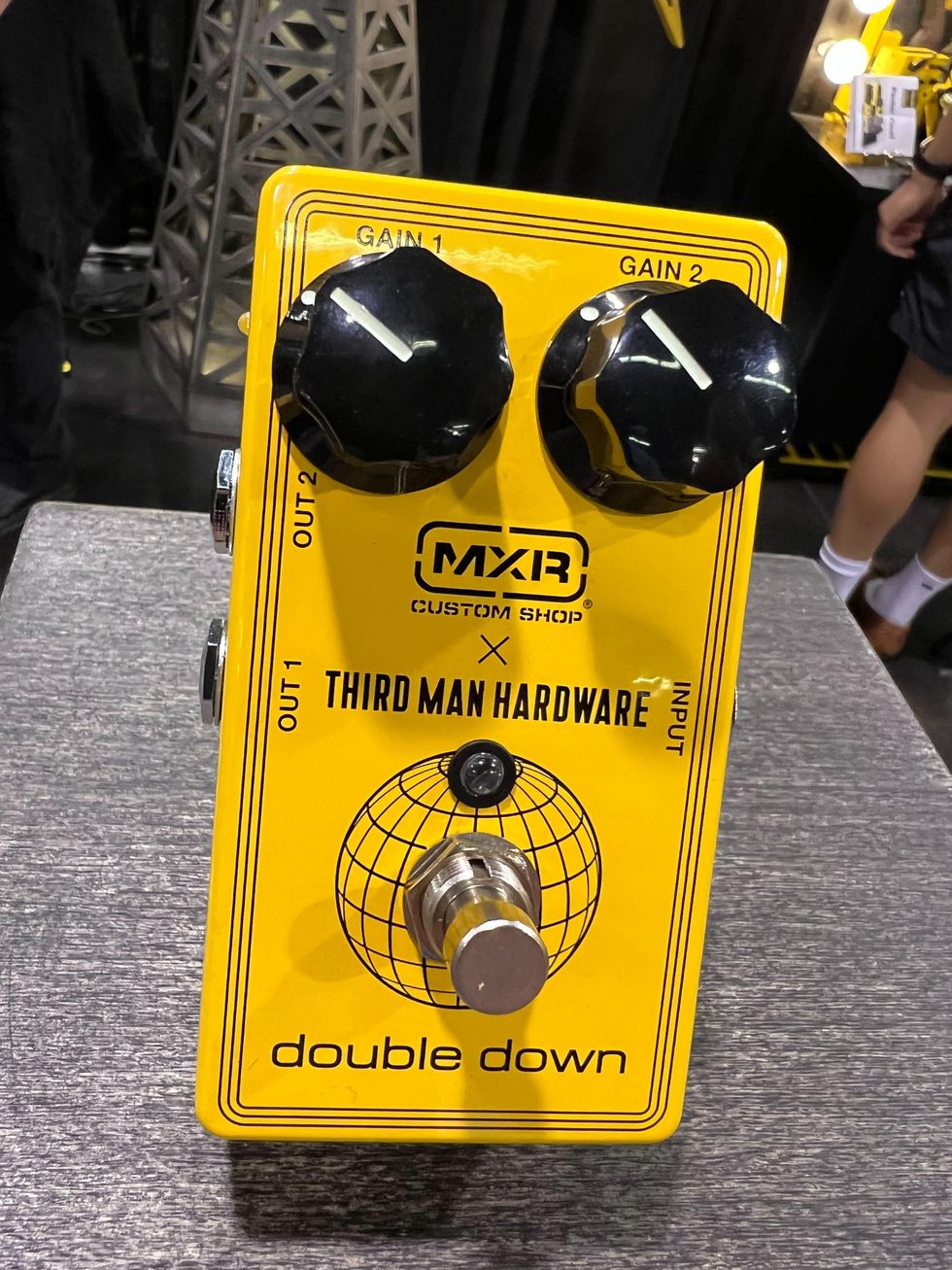 The latest pedal collab from Jack White's Third Man Records is the Double Down. Inside, there are two of MXR's Micro Amp circuits in a single box. It has dual outputs with phase and buffer switches on the side. Should be out later this year.