Ibanez AFJ957 7-String Archtop Review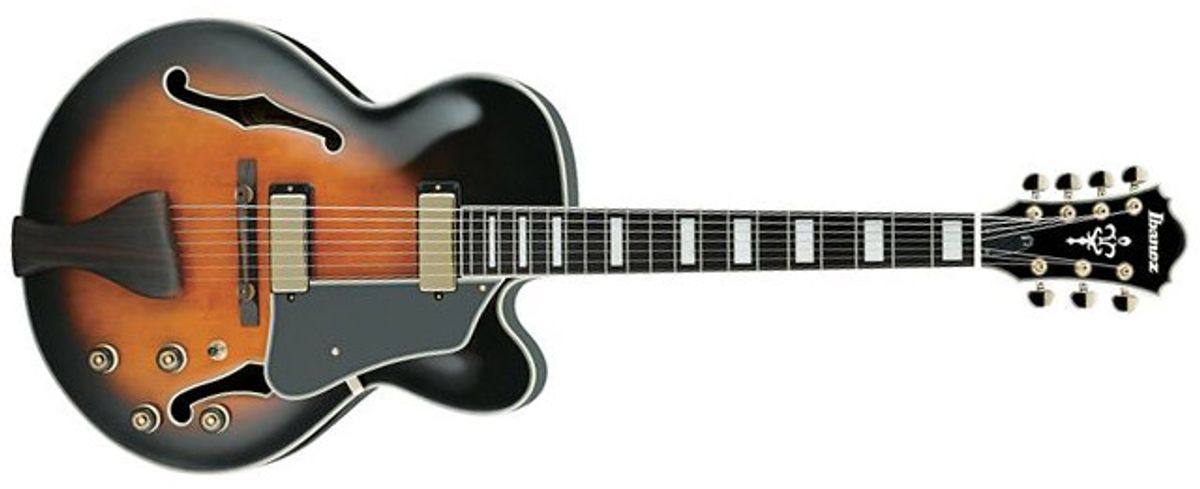 At just $800, this Premier Gear Award-winning 7-string jazz box from Ibanez is perhaps the least-expensive, quality 7-string hollowbody on the market.
Since the days of "lawsuit" guitars, through the company's breakout period of Icemans and Professionals, and on into the JEM age, Ibanez has always been about delivering excellent off-the-shelf instruments. But though many of us tend to associate the brand with rock chops these days, some of the company's first, most important artist associations were with jazz guitarists. And it's rather telling that some of the genre's biggest icons like George Benson, Pat Metheny, and John Scofield choose to tear through their IIm–V changes using Ibanez signature axes. These are the guys that transformed jazz guitar—players to whom any boutique maker would happily hand over a one-of-a-kind custom gem just to see it slung about their shoulders. Yet, these legends all choose Ibanez production models that retail to the rest of us mortals for attainable, if not entirely affordable, sums.
Previously, the only way to get a 7-string jazz box was to commission a handmade, custom instrument that was likely to come with a prohibitive-for-most price tag. In 1998, though, Ibanez released the Japanese-built AF207, which was just about the first production 7-string hollowbody. Since then, 7-string jazz boxes have become a more familiar sight. They've also become more affordable, as evidenced by the Ibanez Artcore Expressionist AFJ957. Priced at about 800 bucks, this Chinese-built axe is perhaps the least expensive, quality 7-string hollowbody on the market.
Seven Steps to Heaven
Players like George Van Eps and Bucky Pizzarelli proved that the 7-string guitar is a formidable jazz instrument, but it took a while before players were ready to break from 6-string tradition in any real numbers. Nowadays it seems every other jazzer sports a 7-string and it's not hard to figure out why: You get lower notes to add a greater range to chord voicings or walking bass lines.
The AFJ957 has a strong visual appeal. The vintage sunburst finish coupled with gold hardware, wooden ART-7 bridge, cream binding, and bound F-holes give it a majestic look that exudes class. Smooth, gold mini-humbuckers also lend a touch of luxury. The workmanship on our test model was excellent—there's not a lot to complain about from a quality perspective, and I've seen much, much worse on instruments costing more than three times the AFJ957's price.
Playability is excellent on this guitar. Its 20-fret neck, which features a 24.7" scale and a 15.75" fretboard radius is very comfortable for playing lines and chords. And if it's not quite as silky feeling as the neck on my Ibanez George Benson, it's still easy to move around fast on the neck.
The bridge pickup is even further away from the traditional jazz sound, but it's a great fit for funky fusion, as well as rockabilly and traditional blues.

Whisper to a Roar
Acoustically, the AFJ957 is not super loud, but it's vibrant and sounds clear and full enough for a late-night practice session sans amp. To put the 7-string through its paces, I ran it through a blackface Fender Deluxe Reverb and a Polytone Mega-Brute, with the low string tuned to A, à la Van Eps.
The guitar's combination of a spruce top with flamed maple back and sides, and a 3-piece mahogany/maple set neck with a bound rosewood fretboard is a fairly classic archtop formula. And the sonic evidence suggests it works here. Starting with the neck pickup, I immediately took note of the AFJ957's dark and velvety character, which was no doubt aided by the factory-installed D'Addario .011–.065 flatwound strings. The neck pickup is fairly dark. In fact, I thought the tone knob was rolled off even though it was all the way up. Rolling it back softened the attack a little, but also made chords sound a bit muddy.
Unlike its predecessor, the AF207, which had only a neck pickup, the AFJ957 is equipped with both neck and bridge pickups, and a 3-way selector switch, which is a very practical addition. At one point during a jam session, I wasn't cutting through the mix very well so I switched to the middle dual-pickup position, which yielded a slightly sharper attack that made all the difference in terms of being clear and audible. It wasn't quite as warm as the neck pickup alone but was a great option— and color—to have available in a situation where the neck pickup alone was not going to cut it.
Ratings
Pros:
Rich sounds at the right price. Excellent quality.
Cons:
Neck pickup can be a bit muddy.
Tones:


Playability/Ease of Use:


Build/Design:


Value:



Street:
$799
Ibanez
ibanez.com

The bridge pickup is even further away from the traditional jazz sound, but it's a great fit for other jazz styles like funky fusion, as well as non-jazz styles like rockabilly and traditional blues. One minor complaint is that the pickup selector was slightly stiff, demanding a little more effort than I would like for switching pickups mid solo.
If your style leans more toward John Scofield than Pat Martino, the AFJ957 can still make the cut. I pulled out a Pro Co Rat pedal to dirty up the AFJ957 and I was able to get some killer sounds. As you might expect though, controlling feedback required continuous attention to proper string muting. And if your mind wanders for a second in these higher-volume environments, the axe will grab your attention by howling like a beast.
The Verdict
If you're in the market for a 7-string archtop, you probably already know that there are very few instruments out there that can truly be termed affordable. You're usually looking at instruments that start at $3,000 and quickly head higher. At the ludicrously low price of $799, the AFJ957 is almost a no-brainer—a particularly great choice if you've always been intrigued by 7-string jazz boxes but were afraid to take the plunge.
One slight issue I have that directly corresponds to the instrument's rock-bottom price tag is that there is no case included. The Ibanez hardshell case runs about 100 bucks, and you'll certainly need that, or something like it, if the guitar is ever going to leave the confines of a practice room. In some ways, it might have been better for Ibanez just to include the case and raise the price because there's no real way around it. Case or no case, Ibanez should be applauded for making such a killer instrument priced within reach of most musicians. It's not just a great guitar for the price. It's a great guitar, period.