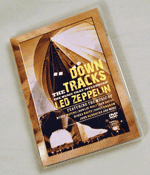 Zeppelin's influences, a Tremonti lesson, Lynyrd Skynyrd DVD, SRV book, guitar identification, metal philosophy and more are in this month's media preview.
Down the Tracks: The Music That Influenced Led Zeppelin

If you ask a guitarist about what/who gave them the "itch" to play, there's a good chance they'll mention Led Zeppelin, or more specifically Jimmy Page. But do you ever wonder who inspired these Rock 'n' Roll giants who played the blues on steroids?
Down the Tracks: The Music That Influenced Led Zeppelin
investigates the matter.
In this documentary-style DVD, authors, producers, historians and musicians explore the roots of Zeppelin's use of various styles and sounds. It starts by telling a story of how Plant and Page realized they could work together. Apparently, the two spent a few days and nights talking about and listening to music. They found a commonality in the Delta Blues movement lead by Charley Patton, Howlin' Wolf and Robert Johnson. Other areas of confluence were exhibited by Bukka White, Muddy Waters, Elvis Presley and Scotty Moore. The DVD brings these artists into a chronological story, weaving video and audio clips into the narrative. In addition, it includes actual performances by Davey Graham, Cadillac John and Bob Brozman, showcasing how each had an independent, yet complementary effect on the pioneering British heavy metal band.
The DVD doesn't focus too heavily on the actual band, nor does it purport to. Instead it dives deep and provides a rich background of information and insight into what drove Zeppelin in the direction they went. What's particularly inspiring is the DVD's ability to remind you how influential and relevant those artists and their music continue to be nearly a hundred years later. -CK
Street $12.99
eaglerockent.com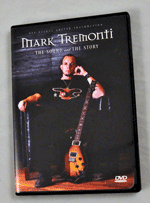 Mark Tremonti: The Sound and The Story
With an intro by none other than Paul Reed Smith himself, and guest lessons by Rusty Cooley, Michael Angelo Batio,  and Troy Stetina, this first guitar entry in the The Sound and The Story series featuring Mark Tremonti is a starstudded instructional video with something for nearly everyone. Tremonti addresses all areas of fretboard mastery in his revamping of the instructional DVD genre.
Effortless and unpretentious, Tremonti spends the first part of the video walking viewers through some of the solos on Alter Bridge's latest album, Blackbird. For each solo, there is a live video, an explanation of the writing and recording process, a breakdown of the solo played both at speed and slowly, and then a demonstration of the entire thing once again.
The strength of this DVD is in the individual technique lessons. Spending time on acoustic work, vibrato, legato, picking, and rhythm playing, Tremonti gives exercises and pointers that could help beginners and seasoned veterans alike. Those picking up a guitar for the first time should begin in the acoustic lessons: he stresses familiarizing yourself with different tunings to find what sounds good. Experienced guitarists will find something to appreciate in the legato and picking lessons where Tremonti's speed is on full display. Instead of exercises that become skull-numbing after twenty minutes, Tremonti's woodshedding techniques are actually musical.
The only complaint about the video is the prevalence of half-step altered tuning during the solo lessons—it's slightly discouraging to have to retune every ten minutes in order to follow along. Granted, the solos are not unique to the video, but playing them in standard tuning would have been appreciated.
This video breaks down the goods on one of the hardest-working players out there, who has managed to become a modern guitar god. It is a comprehensive glimpse into all aspects of playing and an encouraging lesson to boot—with enough hard work (and practice, practice, practice), any of us can get to where we want to be in our playing. –BB
Street $39.95
FRET12.com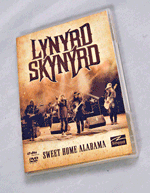 Lynyrd Skynyrd: Sweet Home Alabama

In this DVD, the boys from Jacksonville, FL, fly the stars and bars proudly as they play to a sellout crowd  for the German TV Series Rockpalast at the open-air Loreley Festival in 1996. The lineup includes three original members: Gary Rossington (guitar), Leon Wilkeson (bass) and Billy Powell (keyboards). Singer Johnny Van Zant, Ronnie's brother, belts it out and tells Southerner's tales with a sound and passion eerily reminiscent of his older brother.0
The show was captured with booms and lenses that offer sweeping, widescreen overhead shots of the full band and plenty of uninterrupted close-ups of those oh-so-familiar licks like Rossington's bird chirp sounds during his "Free Bird" slide solo. Other fan favorites in the set list include "Saturday Night Special," "That Smell" and "Call Me the Breeze."
What really brings this DVD package full-circle is the fact that it includes three songs from the 1974 lineup, which played the same German TV series 22 years earlier when they opened for Queen. The show took place in Hamburg at an indoor club accommodating about 2,000 fans. The film work from this gig is on the raw side—done with four 16 mm cameras—but it has a fly-on-the-wall way of bringing you into the band's early energy just as it was jumpstarting its launch into fame.
It won't receive the notoriety the DVD Freebird: The Movie did because most of the footage is from an updated reincarnation of Skynyrd, but Southern rock enthusiasts will appreciate this DVD's modern production quality with a shot of history. -CK
Street $14.98
eaglerockent.com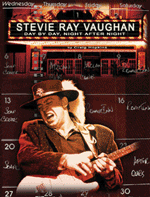 Stevie Ray Vaughan: Day By Day, Night After Night
This third book on SRV by author Craig Hopkins is one of the deepest publications about a guitarist that has ever been printed. At 424 pages and nearly five pounds, it is simply colossal. 
It forgoes the traditional author-vetted approach for a massive media treatment with a comprehensive amount of resource material from which readers compile their own narrative of the blues legend's life story. Multiple accounts of events are assembled from interviews with more than a hundred people who were close to Vaughan, including family members, band mates and friends. This approach sheds new light on familiar stories like when Willie Nelson literally pulled the plug on the Nightcrawlers or when Vaughan walked away from the David Bowie tour.
The book contains nearly 1000 photos, set lists, gig posters, personal letters and drawings by Vaughan, like his sketch for SRV-shaped pickups (never produced), a diagram of his rig and a sketch of a little known guitar that he designed. Among the book's many jewels is the most recently updated listing of gear that SRV played, including photos of the "Jimbo" 1960s Tele used on his earliest known recording.
The book lacks a comprehensive alphabetical index to take you to particular pages on a topic The upside is that reading the chronologically arranged opus yields unexpected moments of sheer gearhead joy or horror, like Tommy Shannon's description of his favorite Vaughan rig (the Dumble with Vibroverbs and a Tube Screamer), details of his beloved Number One Strat's headstock breaking in Lubbock or his handwritten notes for a bridge/tuning key system for quick string changes.
Shortly after the book's release, it was announced that Hopkins is to receive a 2009 Blues Foundation Award for his works on Vaughan. This latest book is clearly a must-have for any SRV fan. 3200 copies have been printed and are available online and at various appearances by the author. –JC
Street $75
StevieRay.com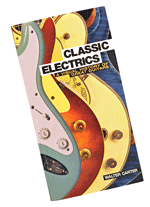 Classic Electrics: A Visual History of Great Guitars
Wondering what that dusty, odd-looking guitar is hanging on the wall at your local pawn shop?  Well, Classic Electrics is ready to help with facts on everything from popular models to one-offs. Author Walter Carter packs concise, compact descriptions and pictures into a pocketbook guide—a Who's Who of electric guitars, if you will. It covers more than fifty years of electric guitars, starting in the forties and fifties and focusing primarily on the sixties and seventies. The book features descriptions, photos and production dates of over 70 manufacturers and 350 models in an easy-to-use A – Z format. -CK
Street $14.95
jawbonepress.com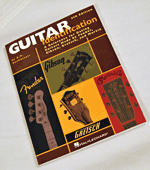 Guitar Identification: A Reference Guide to Serial Numbers for Dating the Guitars Made by Fender, Gibson, Gretsch & Martin. 4th Edition

In the fourth edition, author A.R. Duchossoir updates the ongoing series by including  eight more years of models, new photos and more industry insight. Guitar Identification is an informative guide to four of the biggest manufacturers and some of the most coveted Holy Grail caliber models. What keeps this book from being just another reference guide is the astute and intuitive diagnostic breakdowns of hardware use, wood grain patterns, headstock shapes and serial numbers. Whether you're looking to be the guru on your favorite guitar model, or just making sure you're not buying a knockoff, this book should help you beef up your vintage vocabulary and avoid foolish mistakes. -CK
Street $12.95
HalLeonard.com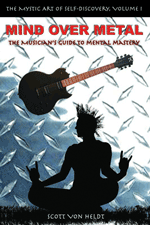 Mind Over Metal: A Musician's Guide to Mental Mastery
As any metal fan will tell you, metal is about more than just black shirts and angst. There's a recondite complexity behind this genre that is hell-bent on destruction and power. Singer and guitarist Scott "SVH" Von Heldt explores the philosophical side of metal's mayhem and monster tones in his first book, Mind Over Metal: A Musician's Guide to Mental Mastery. The book is the first volume in the Mystic Art of Self-Discovery series. Von Heldt, who has worked with members of White Zombie, Cirque du Soleil and Bad Company, taps a wide range of disciplines and doctrines to explore the erudite and existential side of heavy metal: martial arts, the study of internal energy, the mind's thought patterns and ESP (Extended Sense Perception), to name a few.
SVH's approach is more Buddha than Blackmore. The prerequisite breakdown of alternative tuning science is there, as expected, but the book flourishes with its thought-provoking insight into creativity in general, not just the dark art it can produce. Mind Over Metal is a quirkily effective read that makes a strong argument for the appreciation of the metal aesthetic and its ability to connect the idea of a primal voice with one's individual voice. The title suggests a one-sided attack, but SVH's message transcends genre as it unpacks the common mission of any musician: to create art without apprehension.
Furthermore, the text challenges the reader to not only practice regularly, but to do it in an "honest, self-expressive" way, where player and guitar become one. Only by reaching this point, SVH explains, can a musician fully grasp the far-reaching possibilities of the instrument— a state of metal nirvana (the mental state, not the grunge act) where a guitarist can reach the kind of "self-realization" that produces truly metal-rific licks.
The book's narrative is augmented by quotes from musicians, martial artists, ancient philosophers— even Yoda. This cerebral yet grounded exploration of the ear crushing, diabolically poetic force known as metal is indeed a tool of mental provocation for the guitarist who is seeking to master the genre. -CK
Hard Copy $14.99
Download $9.99
lulu.com/scottvonheldt