Jens Ritter Instruments Princess Isabella Baritone Electric Guitar Review
German master bass luthier Jens Ritter''s first electric guitar, the Princess Isabella baritone jazz solidbody, is reviewed.
[youtube https://www.youtube.com/v/cVbxQ39xtkk&hl=en_US&fs=1& expand=1]
Click here to see the full-size video.
When you do gear reviews, once in a while you get handed something that is at once amazing and confounding. And that's certainly the case with the Jens Ritter-designed Princess Isabella Baritone jazz guitar, which is part of a limited run of 50 instruments.
German luthier Jens Ritter is a trained engineer who got into building guitars and has since attained a fair amount of fame as a custom bass builder. If you have a look at the instruments on his website, you can't help but be struck by the fact that they have an artistic look and give the impression of being well engineered. Maybe that's why I was a little unsure what to make of this guitar when it showed up, but I jumped in to see where it took me.
Crowning a Princess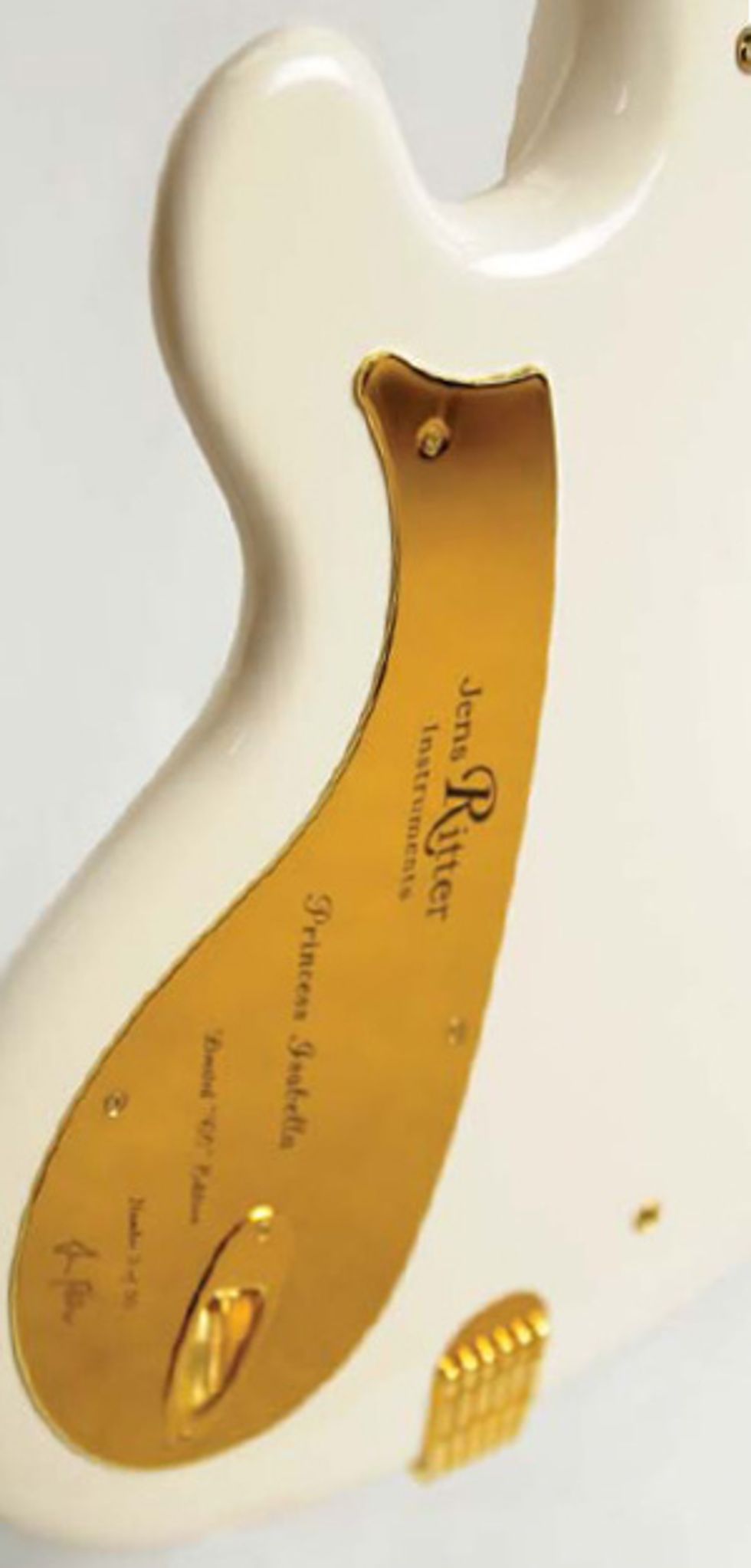 The Princess Isabella got its start when Ritter, during a trip to New York City, visited Rudy Pensa at Rudy's Music shop. Pensa wondered aloud what sort of jazz guitar Ritter might come up with, and the wheels started to turn in Ritter's mind. When he completed the design work, he even decided to name the guitar after a young girl he met on the trip.
But while the Princess Isabella was built to emulate the sound and feel of an archtop jazz guitar, it certainly doesn't look that way. We'll get to the sound shortly, but let's start with what it is. The most obvious thing about the PI is that it is white from stem to stern. Every bit of wood is finished in a lovely white shade, and while one of my core beliefs is that the only guitar that looks good in white is a Strat, the finish work here is flawless. The trim is all in 24k gold plating, and there is even a faux f-hole rendered in gold. The body is made of very thin and light swamp ash, while the neck is mahogany with a maple fretboard. The striking tailpiece is made of hand-cast spring steel that was gold plated by a jeweler in Ritter's hometown of Deidesheim. The tuners are gold Gotoh 510s—the best money can buy. The bridge is a Schaller GTM custom, which is much like a Gibson Nashville Tune-o-matic. It sits on a 24k-gold-plated brass foot that floats on the guitar's top over a hollow internal chamber that is meant to enhance attack.
The pickup, which fits the guitar's vibe perfectly, is made to Ritter's specs by Häeussel Pickups. It uses rare-earth magnets that are quite powerful, facilitating a very thin, good-looking design. The guitar also has a very large 24k-gold-plated backplate that covers the pickup wire channel as well as the hollow space under the bridge.
A Solidbody Jazz Guitar?
This brings us to the fact that this is, in fact, a solidbody guitar. And when I tell you it's thin, I mean thin—about an inch thick. So if you are used to a hollow body and resting your arm, forget it. It's really too thin for comfortable arm resting. But, the body shape is wonderfully comfortable and feels great when you're standing. It also rests very nicely in your lap. Further, the body is amazingly resonant and vibrates like a living thing in your hands. Ritter takes particular pride in jazz-great George Benson's amazed reaction to this being a solidbody, and rightly so. And the playability of the Princess Isabella is everything you could want from a $10,000 guitar. It plays effortlessly.
Playability and Tones
The PI has a scale length of 28", which makes it a baritone. However, it arrived strung for standard tuning. After spending a lot of time with the guitar I can tell you that it plays so well that I didn't notice the longer scale length at first. If you have big hands, this will not be a problem—and it may be what you've wanted all your life. If you have small hands, you'll have to try it and see how it works for you.
Tone-wise, the PI has a really lovely sound. Overall, it has a very organic, acoustic quality. Ritter chose to build it with no onboard controls so the sound would be as pure as possible. So, between the fine-quality wood, great pickup, and excellent playability, what you have seems to be quite true to what Ritter was going for. The PI sounds simply wonderful for solo guitar. It has perhaps more sustain than an archtop, but it retains a seemingly delayed attack very much like a traditional jazz guitar. This attack is the result of two key things (among others): the spring-steel tailpiece and the hollow area under the bridge. I asked Ritter why he didn't go for a wooden bridge if he wanted arch-top-type response. He told me he tried quite a few different bridges of various materials and got the best response from the metal bridge that is now part of the design. And it makes sense when you consider that banjo mutes work by sticking a lump of brass to the bridge. I should also note how much I like the sound of brass saddles on a
Telecaster
. So, however it works, it does work.
As a long-scale standard guitar, the PI is quite successful. However, I was curious how the guitar would respond with the bigger strings and B-to-B tuning. The answer is that the very resonant swamp ash body really rattles your teeth—in the good way. It's good to be reminded that one of the things about luthier- built guitars is the care they take in wood selection, and it really shows in the PI.
The Final Mojo
I'm not sure how many jazz guitarists are searching for a baritone, let alone a bright white-and-gold solidbody. Nevertheless, the Princess Isabella is the result of a great deal of research by a very thoughtful man, and it shows in spades. You already know from looking at the pictures if you like it's look or not. But nobody will find flaw with the quality craftsmanship and design work. Further, though our review guitar was numbered 3 out of 50, Ritter still considers it a prototype, and he has already made refinements in the design of subsequent PIs—including getting rid of the ample neck volute. (He did so by impregnating the area between the peghead and neck with a resin that makes it stronger.) The guy is always thinking about his next move.
Needless to say, the PI is quite an unusual guitar with its long scale, unique look, lack of onboard controls, and steep price. But, get over it. It's a big world and it is made richer by artists that think differently. As for the price, I know guitar players are, let's face it, cheap. But all I can tell you is that there are tons of cheap guitars available, and you often get what you pay for. When you want the upper-echelon quality of a handmade custom instrument, you have to save your pennies and get ready to pay. Sometimes it also helps to remind yourself that, price-wise, guitars are still at the low end of stringed instruments.
As for Ritter, keep in mind that he's a custom builder, and as such he's open to what you, the customer, want. So if you want a short-scale Isabella made with exotic, beautiful woods and 10 knobs, he'll build it for you. And I am betting it will be extraordinary.
Buy if...
you'd like a fine, world-class instrument that looks like nothing else.
Skip if...
you are old-school and broke.
Rating...