Mad Professor Stone Grey Distortion Pedal Review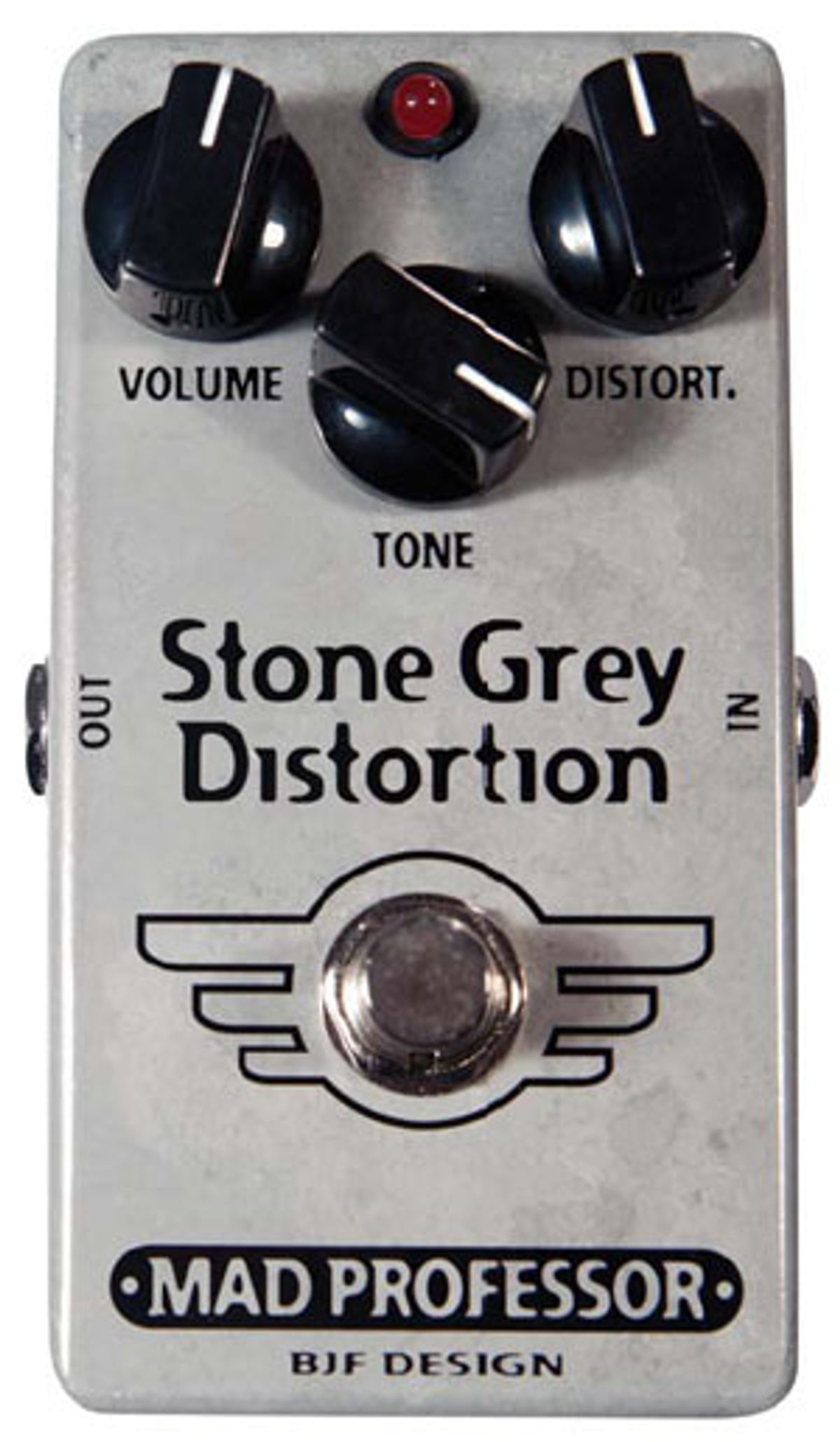 The Stone Grey is Mad Professor's path of entry into the world of modern high-gain and heavy distortion.
Finland's Mad Professor has always found favor with front-line tone obsessives like Marc Ford and Pete Anderson by building more than simple clones. Instead of following trends, the company has built pedals that capitalized on subtle differences and less-explored formulas—particularly in the realm of overdrive.
The Stone Grey, however, is Mad Professor's path of entry into the world of modern high-gain and heavy distortion. Björn Juhl and his team designed the Stone Grey to dish out gobs of gain with ultimate clarity and string-to-string definition. The result is a stompbox that will happily move from vintage high-gain zones to more contemporary metal territory with ease.
Mad and Molten
At the time of this review, I was working on a modern metal project that provided the perfect occasion to explore the mind of this particular Mad Professor, and I kicked off my exploration of the Stone Grey with a sweet, modern-metal combination of a Gibson Les Paul Baritone and a '70 Marshall Super Bass. With the Super Bass set up fairly clean, the Stone Grey kicked out a big, heavy, and tight metal sound with a super-satisfying bottom- end chunk. The Tone knob was very effective for dialing in just the right amount of crunch without getting brittle. And the Distort control can be dimed without losing crucial definition. Staccato, rapid-fire metal riffs were ultra defined and still retained the basic character of the Marshall.
Moving over to a Stratocaster, I switched up the knob-setting recipe by cranking the Volume and backing the Distortion way down. This setup is the ticket to a muscular Stratocaster sound that flirts with Hendrix's and SRV's heavier sounds and crosses over into overdrive territory. It's hard not to be impressed by this aspect of the pedal's flexibility. Most distortion pedals that excel in high-gain territory fall apart when working like an overdrive. But the Stone Grey is rangey enough to cover both.
I'm a sucker for stoner rock and old-school Montrose, and the Stone Grey is just as willing to go there too. With a '74 Les Paul Custom, I jammed on "Rock the Nation" and "Rock Candy" before changing up the settings and hitting Mastodon's "Crack the Skye." It's almost impossible to play the latter convincingly without ample string clarity and punishing distortion, but the Mad Professor kept up on both fronts without a hitch.
Most 3-knob distortion pedals leave me wishing I had access to more EQ options, particularly bass and mids. The Tone control on the Stone Grey, though, is surprisingly effective and complete. As long as you're using a solid foundation for the amp, there is no need for additional knobs. While edgy, the Tone control doesn't get crispy, and backing off won't make things dull and dark.
The Verdict
The Stone Grey is a distortion pedal that doesn't step on the amp's tone, it just gives it a shot of adrenalin that can range from massive to more mellow. The tight bottom end enables you to play at killing speed without loss of definition. The sheer amount of distortion you can generate without creating harmonic mud is astounding, and the effective tone control can add even more bite. Clearly the Professor is Mad, but if this pedal is any evidence, I think he might just be a little bit pissed too.
Buy if...
you want modern muscle-to-metal tones in a compact and solid pedal.
Skip if...
you don't have the need for all that distortion.
Rating...