Motörhead: In the Studio, Meshuggah – Alive, Electric Purgatory: The Fate of the Black Rocker
Books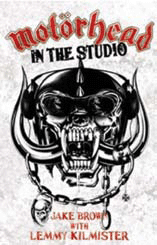 Motörhead: In the Studio
By Jake Brown with Lemmy Kilmister
"I've just always been in a hurry for everything… I'm a very impatient man," quips Lemmy Kilmister. That summarizes Motörhead's attitude in the studio, which has helped form their distinctive sound and far-reaching influence. Thirty years ago, Motörhead's fusion of punk and rock changed the world on a scale they couldn't have dreamed of. Some would argue that without Motörhead bands such as Metallica, Megadeth and Slayer wouldn't exist. For evidence, they point to a slew of unrelenting Motörhead albums that started in the late '70s and has carried their seminal sound over three decades and through countless trends.
The new book
Motörhead: In the Studio
chronicles the band's 26 albums, from their self-titled released in 1977 to 2008's Motörizer. Sure, the band took liberties and risks with their sound here and there—the closing shanty tune "1916" from the album 1916, to name one— but author Jake Brown shows (with plenty of Lemmy anecdotes) just how grounded the band has been—and seemingly always will be—in their core sound. In the Studio is peppered with great moments and stories, but what's really fascinating is the band's self-reflection. "Well, I make rock 'n' roll records; I don't make heavy records," said Lemmy to Inferno's producer Cameron Webb. While Motörhead claims they're not heavy, their catalog, from Ace of Spades to Orgasmatron, is clearly more than just straight-up rock. They drink, breathe and sweat a rock 'n' roll attitude, but it's a no-holds-barred attitude on steroids. It's palpable in their performances, interviews and most importantly documented on all of their records. And In the Studio does a great job of capturing the machismo and swagger that is Lemmy and Motörhead and putting it into words. —JW
List $24.95
johnblakepublishing.co.uk
Video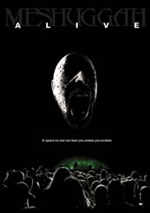 Meshuggah – Alive
Since 1987, Sweden's Meshuggah has constantly pushed the boundaries of how metal sounds and is constructed. Their penchant for odd time signatures and extreme downtuning defines their signature chugging sound, but Meshuggah's pinnacle is their live performances. Their jams are revered as some of the tightest musicianship in metal, if not all of rock. And the Alive DVD vividly snatches their music's intensity and the intricacies of their performance and puts them in your lap for at-home consumption.
Seeing and hearing how incredibly tight this band is is not only a treat for the casual listener, but for the musician as well. In an era when lower tuning and intense riffing may be starting to lose its luster, Meshuggah shows just how powerful it can still be when played with precision and attitude. The performances here are more than entertaining—they're lessons for practicing a craft and locking in with a band.
Intertwined with the performances commentary from the band about tour life and spending months at a time away from loved ones. There are certainly some straightforward moments, like the brutally heavy renditions of songs such as "Bleed," "New Millennium Cyanide Christ," and "Lethargica." Also included in the package is a CD featuring 12 tracks performed on the DVD. The audio quality of both discs is top notch. The tones are clear and audible from all of the instruments, however, there are times when the guitars could be a bit louder. Concert DVDs have become the norm—especially for metal bands—but it's not every day you find a band that can stand atop a heap of downtuned mush with a powerful performance like Meshuggah's Alive. —JW
List $19.98

nuclearblastusa.com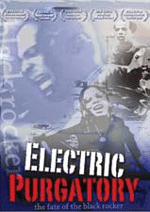 Electric Purgatory: The Fate of the Black Rocker

Without black guitarists and musicians, we wouldn't have rock 'n' roll. From Robert Johnson and Leadbelly to Jimi Hendrix and Prince, black musicians have been some of the most innovative and influential artists of the last century. But in the past 20 years, the black rocker's scarcity has been increasingly apparent to musicians and fans alike—where have they gone?
Directed by Raymond Cayle, Electric Purgatory poses a racially charged question and presents a very thoughtful response. By first providing a thorough history of black musicians' roles in rock music, Cayle provides the context to appropriately examine this polarizing issue. Instead of inserting his own voice into the documentary, Cayle allows a roster full of black rock's leaders—Vernon Reid, H.R. of Bad Brains, members of Fishbone, and Doug Pinnick of King's X—and music journalists to express their opinions and ideas on the matter. They do so with such forthrightness and honesty that at times it's disheartening, but ultimately their tone and message provide answers rather than excuses for the racial lopsidedness in rock music. The participants rarely resort to finger-pointing and references to "the man," but address this situation as a matter of concern to all. Furthermore, the last portion of the film examines ways to promote black musicians in rock, destroy the stigma of being a black rocker, and bring black audiences back to rock concerts.
Electric Purgatory isn't a lighthearted, ho-hum documentary—it's a significant film that spotlights the black rock community's introspective look at their history, importance and current lack of representation in the genre. —CK
List $19.99
microcinema.com