Orange Dark Terror Amp Review
Forbiddingly dubbed the Dark Terror, Orange's newest low-power amp builds upon its predecessor's winning recipe, while piling on heaps of molten gain and smoking overdrive that can stretch your notions of just how huge tiny can get.
It seems as if every amp company has cast its iron into the low-wattage-amps fire. Orange, however, has consistently risen above the crowd with its massively popular Tiny Terror series—which, of course, started the whole trend back in 2006. The Tiny Terror was so well received because it has a genuinely unique and robust voice—including the juicy, flowing overdrive that Orange is famous for—in an incredibly compact and transportable package.
After the success of the Tiny Terror among rock and blues players, the company has now focused its sights on metal guitarists. Forbiddingly dubbed the Dark Terror, Orange's newest low-power amp builds upon its predecessor's winning recipe, while piling on heaps of molten gain and smoking overdrive that can stretch your notions of just how
huge
tiny can get.
Brother from Another Mother
Like the Tiny Terror, the Dark Terror takes a simplistic approach to making big sounds. Just three controls—Gain, Shape, and Volume—grace the little black devil's front panel. The Standby switch is a 3-way affair, too, offering the option of knocking power from the maximum of 15 watts to 7. Aside from the amp's tube-driven serial effects loop, there's not much else to tinker with. There's no channel switching—or any sort of clean option to speak of, for that matter. At the heart of the raging little beast is an all-tube circuit driven by a pair of EL84 power tubes and two 12AX7 preamp tubes. The amp's effects loop is driven by a dedicated 12AT7 tube. All in all, the Dark Terror is a close cousin to the Tiny Terror, albeit with an appropriately goth enclosure and various circuit modifications that put much, much more gain at your command.
Welcome to the Terror Dome
At times, I was amazed at just how well the Dark Terror captured the quintessential Orange tone—especially at extremely distorted levels. With a 1978 Gibson Les Paul Custom and a Emperor 4x12 cabinet, the Dark Terror ripped and snarled with every downstroke and triplet I threw its way. The wide, expansive gain voicing that Orange is famous for is there in full force, with loose but massive lows, a rich midrange, and slightly fuzzy highs. It was hard not to think of the churning, thick tones from High on Fire's
The Art of Self Defense
and Celtic Frost's
Into the Pandemonium
—albums defined by a distinct and unique midrange grind that the Dark Terror delivers in quantity. The tone was even more focused when I hooked up an Epiphone Valve Jr. 1x12 cabinet, which tightened up the low end, smoothed out the highs, and made it easier for single-note lines to sit comfortably alongside heavy riffing.
The massive amount of gain on tap can also be one of the Dark Terror's downsides when it's turned up too high. With Gain above 3 o'clock, I had to drop the Shape control a bit to de-fuzz the high end. And in doing so, it often seemed the amp's midrange went away with the offending highs. With just 15 watts on tap, the power section is easily distorted, so it took some effort to find the proper balance between knob settings and a pick attack that wouldn't drive the front end too hard for rhythm work.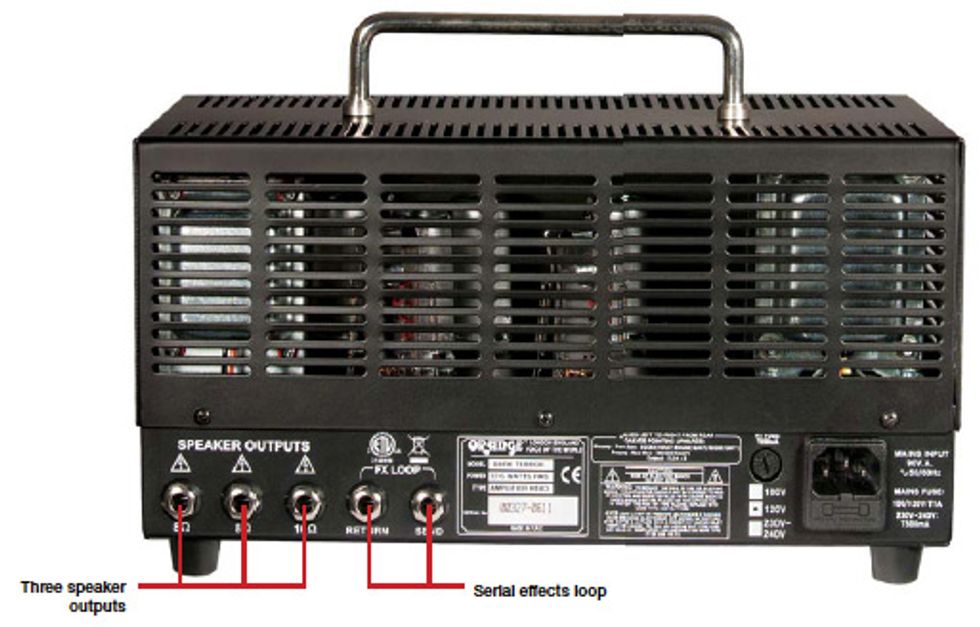 If you're hoping to coax any sort of truly clean tones out of the Dark Terror, you'll probably be disappointed. While I was able to get some decent clean-ish tones by rolling my guitar's volume knob down and setting the amp's Gain control lower, they retained a tinge of overdrive that was impossible to dial out if I played with anything more than the lightest pick attack. Attempts to do so, however, led to some very cool tones, revealing the amp's dynamic range and pick sensitivity at lower gain levels.
Switching to a 1978 Greco EC-700 Les Paul copy—which has pickups more in the PAF range—I was able to squeeze out some really great-sounding southern rock rhythm tones, à la Skynyrd's "Gimme Three Steps." The dynamics and overtones that I got with the Volume control low and the Gain control halfway up were almost more impressive than the amp's fully cranked tones.
The Verdict
Orange's Dark Terror builds something relatively massive on top of the Tiny Terror's rock-solid foundation. That's not the whole story, however. There may not be much to speak of in the way of clean tone, but if you're adept at using your guitar's onboard controls, the low-gain tones and dynamics are stellar. On the whole, the tones are classic Orange and infused with enough gain to satisfy even the most discerning stoner-metal enthusiast. And if your bag is modern hard rock with a dash of those characteristic fuzzy Orange highs and mids, the Dark Terror might just scare you silly.
Watch the video review:
Buy if...
you seek fantastically massive overdrive tones in a miniscule package.
Skip if...
you absolutely must have sparkling cleans.
Rating...