Quick Hit: Malekko Charlie Foxtrot Review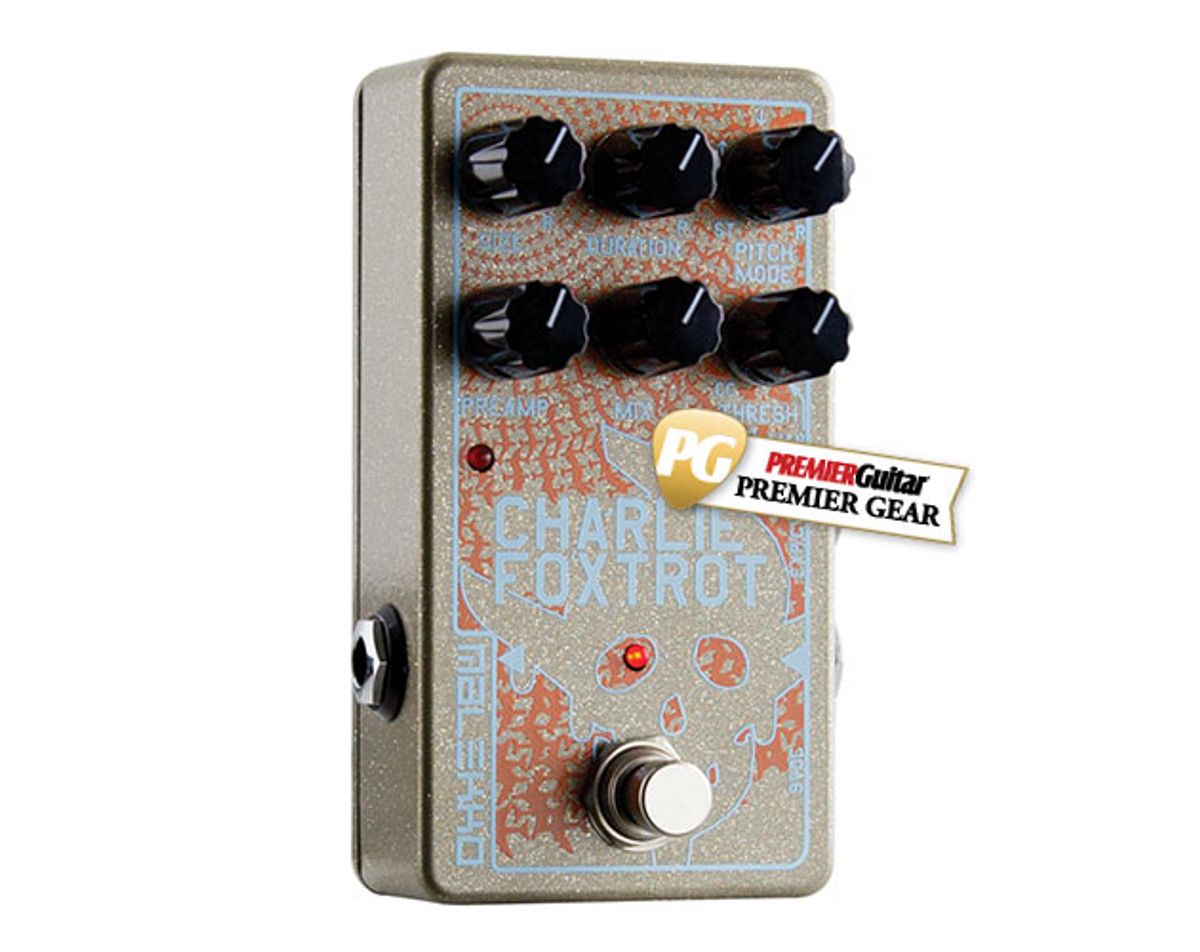 This cross between a sampler/looper, a delay, and a pitch shifter is one of the most wonderfully bonkers new pedals in ages.
Clip 1 - Size Noon, Duration 2-00, Mode Up & Down, Preamp 1-30, Mix Noon, Threshold 9-00

Clip 2 - Size Min, Duration 9-00, Mode Stutter, Preamp Max, Mix 3-00, Threshold 9-00

Clip 3 - Size 9-00, Duration Noon, Mode Random, Preamp 1-00, Mix 1-00, Threshold Min

Clip 4 - Size 9-00, Duration 1-30, Mode Up, Preamp Noon, Mix Noon, Threshold Min
In this age of 24/7 overdrive-pedal unveilings, it's rare to encounter a new pedal that's altogether removed from the stompbox pack. Something of a cross between a sampler/looper, a delay, and a pitch shifter, Charlie Foxtrot almost defies categorization. Yet its beautifully bizarre sounds can also work peaceably with your go-to sonic palette.
Adapting to Charlie can be slow going despite the straightforward intent suggested by each knob—(sample) size, (sample) duration, pitch mode (stutter, up, down, up-and-down, or random), preamp level, mix, and trigger threshold. But that's because the sounds are extremely unique and the knobs have such wide range. Once you grasp how the controls interact, Charlie avails textures ranging from subtly warped pitch hiccups haunting your riffs in the background to schizophrenic rants parroting bastardized versions of your licks in rambling 10-second loops. Even cooler, you can control all parameters except preamp and mix (in any combination) via expression pedal. Indeed, Charlie delivers the sort of delicious dementedness you can typically attain only through complicated digital gear, but in a functional format even numbskulls can grok.
Test gear: Eastwood Sidejack DLX Baritone, Jaguar HC50, Catalinbread Topanga, Subdecay Super Spring Theory
Ratings
Pros:
Refreshingly unique, warped-yet-organic-sounding possibilities. Versatile expression-pedal capabilities.
Cons:
Knob labels hard to read. Can be difficult to dial in sounds for specific contexts.
Street:
$189
Malekko Charlie Foxtrot
malekkoheavyindustry.com
Tones:


Ease of Use:


Build/Design:


Value: