Category 5 Tempest & 1900 Review
The Category 5 Tempest and 1900 brew up a storm of blues and rock built for the gigging musician.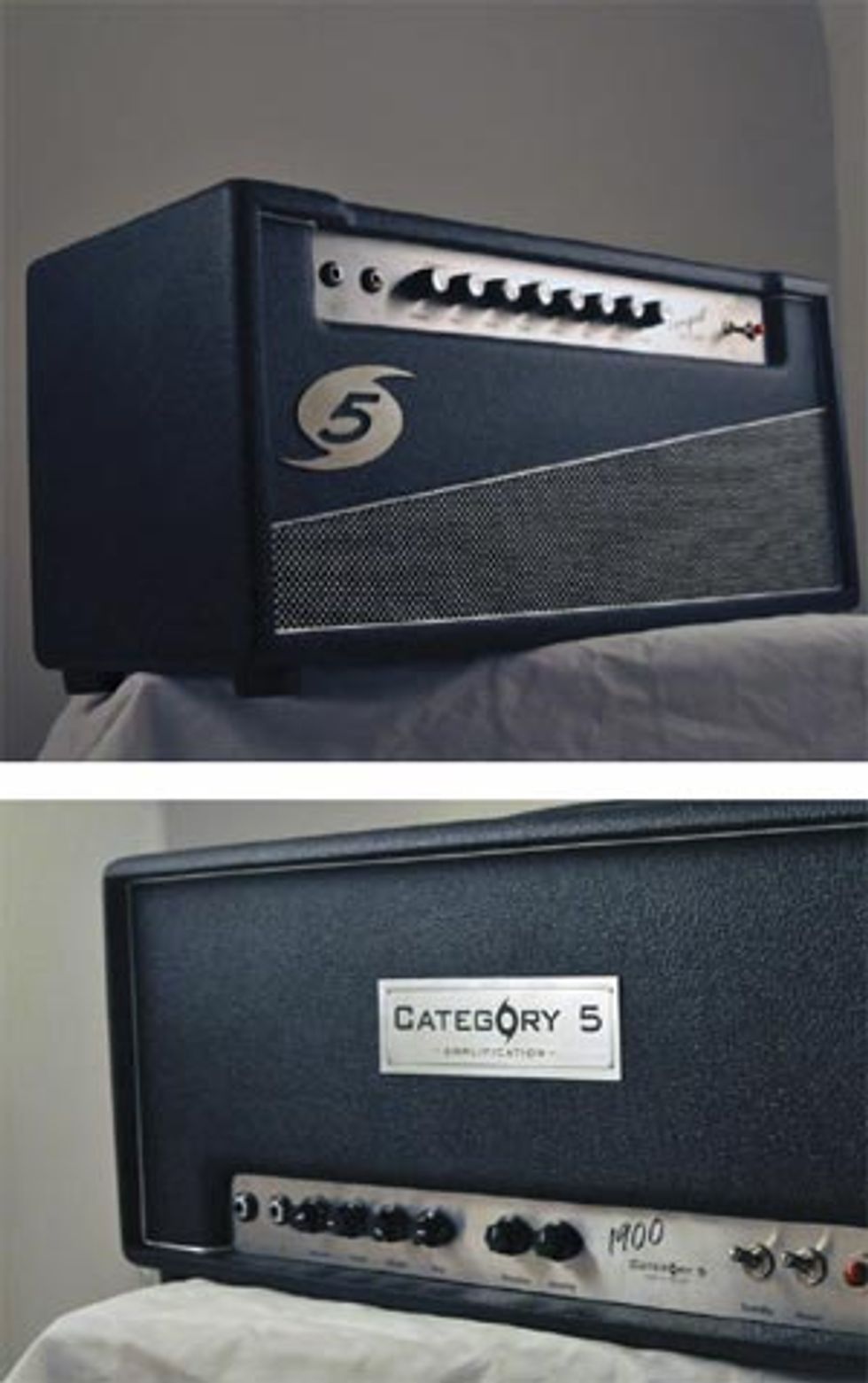 Category 5 is built on a partnership between Don Ritter and Steve Scott that began as a way to make amplifiers and raise money (and awareness) for charity at the same time. The focus was first on charities providing relief for natural disaster victims (of the Asian tsunami and hurricanes Katrina and Rita), thus the names of the company and its amplifiers. As it has grown, so has the scope of both the products and the philanthropy, which supports an expanding list of worthy causes from Feed the Children and Voice of the Wetlands to the "Blues in the Schools" program, and Blue Star Connection, which provides musical instruments to children with life-threatening illnesses.
This is worthy of mention not only because it exemplifies the principle that you do well by doing right, but also because Cat 5's amplifiers demonstrate the virtues of doing it right from the get-go. The designs are built on the notion that it's the players, not the builders, who should determine what qualities an amp has. The touring pros and other players Ritter and Scott set out to satisfy needed tough, overbuilt cabinets and chassis that could handle life on the road; they needed scalable power output to achieve the same tone from the same amp at the right volume for any venue; and they needed amps that would be easily coaxed into giving up outstanding tones. In other words, the design principle and the philanthropic principle are really the same principle: try to give people what they need.
Category 5 started by making waves on the blues scene, providing backline for several festivals (where they were often asked to sell their amps right off the stage), and in a short time they've gathered a truly impressive list of artists. The number of signature offerings and approved charities continues to increase. If it's not a signature model you're after, there are nine other models—including these two—to choose from.
They also offer a variety of cabinet configurations. The one that arrived with these amps was a large, angle front, closed back 2x12, made from eleven-ply Baltic birch. It is only a tad smaller than a standard 4x12, and it's enough to handle almost every application. Its Celestion G12H Heritage speakers provided a surprisingly generous low end with depth and control for both amps.
Each Cat 5 amp comes with a goodie bag that includes a vinyl cover, a full set of extra tubes and fuses, and Analysis Plus oval speaker cables.
Sound Clips Coming Soon!

Sound Clips Coming Soon!


The Tempest
In keeping with the convention, both of our review amps are named for storms. All of the models except the Tempest are named for historical storms; the Tempest, if you remember your Shakespeare, was a magical storm sent by Prospero to daze and confuse his rivals.
The 45-watt, cathode-biased, dual EL34- powered Tempest is a touch flashier than the 1900, with a big, hurricane-shaped "5" logo, vinyl covering and basketweave grille cloth separated by diagonal silver piping, and controls located at the top of the cabinet. Channel one has only a volume and a single Tone control, while channel two provides volume and 3-band EQ controls. Global foldback reverb, power scaling, and a single on/off/ standby switch with neon indicator complete the control set.
The back panel has some more modern amp features, like an effects loop and a mid-boost switch for channel 2, a line out jack with line level control (you'll need to run it through a simulated speaker load before going into a board), and footswitch control of the reverb and boost.
Plugging In
Instead of the usual "clean" and "dirty"' channels, Cat 5's dual-channel amps, like the Tempest, offer two different tonal signatures, both of which go from clean to crunch with just the combination of amp and guitar volume knobs. Power scaling makes the overall volume adjustable. The idea is to have two distinct amps in one head—in this case a JTM45-inspired channel one, and a Plexi-style voicing for channel two. Although they're not completely different, they are distinct.
Using a few different test guitars, a Gibson LP Studio with Alnico V Burstbuckers, a Gibson LP BFG with a Zebra Burstbucker 3 in the bridge and P-90 in the neck, and my Fender Contemporary
Telecaster
with stock pickups, I found that channel one does the Marshalllike voicing, but somewhat softer. It has good response and excellent definition. With the volume up all the way, this channel has greater clarity and presence at the top end than channel two, as well as smoother distortion. It cuts very nicely, and can be coaxed into giving up the 'Beano' tone with a good, transparent boost.
Channel two seems to have more headroom, and much more depth and body up through the mids, with a warmer sustain. To be honest, the big, beefy cleans and creamy top end make it a great blues amp, but channel two wasn't as much of a thrill ride as I'd hoped, and the mid-boost switch didn't seem to give it the kick it needed. Using the two Les Pauls, the crunch could've been tighter, and at high volume there was some loss of definition in the middle. I'm sure this wasn't all the amp's fault, as it seems to prefer vintage-style pickups with lower output. The Burstbucker 3 in particular bit in too hard, audibly reducing the dynamic range and smoothness.
For the final test, I used an A/B/Y box to jumper the two channels. Yowza! The best of both channels came through with energy and conviction. Easily the best tone in the box. The bridge pickup on my Tele did a terrific "icepick" tone on this setting, and the neck pickup was all creamy blues, but with more oomph than I'm used to hearing from it. Like the other Cat 5 amps, the Tempest uses high-quality components from companies like Analysis Plus, Mercury Magnetics, SoZo, Accutronics, etc.—you get the picture. This amp is going to be with you for a while.
Buy if...
you're looking for a soulful, tone-heavy amp that's tailor made for taking your blues on the road.
Skip if...
you're not that into the blues...or the road.
Rating...
The 1900
The 50-watt, fixed bias 1900 sports single channel preamp with three gain stages, a massive power supply, two overpowered transformers, a solid state rectifier, and extremely high voltage. It's being billed as an amp "on the edge"—loud and unrestrainable— but you don't have to be completely fearless to really like it. It's a rockin' amp, for sure, but presents a more straightforward, unassuming look than the Tempest, with just a logo on the face, black control knobs on a stainless steel faceplate, and separate On/Off and Standby switches.
Ritter has described the tonal influence of the 1900 as "Wreckish," and the similarities are not hard to hear, but a strict comparison might not be wholly accurate. For one thing, the Insanity knob allows the amp a free range of saturation and breakup characteristics, although calling it the "Insanity" control seems like an embellishment.
Plugging In
The first test guitar I grabbed was my Duesenberg Mike Campbell Signature with a custom P-90 at the neck and a Grand Vintage humbucker at the bridge—a great guitar for blues, roots rock and hard-edged country. The tone it produced through this amp knocked me out. The P-90, with the knobs rolled off slightly, came through with gorgeous clarity and presence, while the humbucker procured a thick, gnarly treble. The 1900 picked up the nuances of both pickups together beautifully, and that's been lost in a lot of amps I've plugged it into. In fact, with every guitar I played through it—single coil and humbucker equipped, new and old, inexpensive and pricey—the amp preserved the character of that guitar.
The secret of the 1900 seems to be its wide sweet spot: wonderfully complex with a shimmering top, very forward mids, and deep, full bass. Push it hard and churn out harmonics in buckets, and sustain that lingers until it morphs into the most musical feedback you've heard your guitar produce. Rolling off the guitar's volume, the cleans exhibited a soft breakup with very little force, and produced long, warm sustain, and an attack without compression or sag. At higher volumes, cleans retained ringing clarity and note separation, with a very smooth transition into overdrive.
Since there's precious little clean headroom, getting it just to the verge of breakup takes a little work, but the 1900 served up an open, layered tone with a glassy bite and beautiful sustain. It's very sensitive and responsive. Heavier gain yields startling complexity, the mids get solid and punchy but the top remains crisp and smooth. If I were in an Americana band, playing hard-driving roots rock and blues, this would be my amp.
The Final Mojo
Both of these amps offer classic tones rather than replicas of the legendary models used to make them. Both amps are ideal for crafting your signature tone, and either one of them will make you happy to leave your pedalboard at home. It isn't difficult to see why Category 5 amps are gaining a reputation among pro players seeking a specific vintage character and tone with modern dependability and custom- built quality, but it is hard to see how you could go far wrong with one of them.
Buy if...
you''re looking for a rocker with its own sound and posture.
Skip if...
you''re aiming for something more conventional.
Rating...
Our expert has stated their case, now we want to hear yours. Share your comments and ratings below.