Rig Rundown: Counting Crows' David Bryson
The band's cofounder describes how he carves out sonic space in a triple-guitar assault.
Premier Guitar met with Counting Crows cofounder and guitarist David Bryson and Bill Thomson, Bryson's tech of 20 years, before their June 17th gig in Nashville's historic Ryman Auditorium. During our encounter, Bryson revealed that sometimes the best way for a guitar to cut through the mix is to remove two strings. Curious? Read on.
Guitars
Bryson approaches guitar with the sensibility of a producer looking to serve the song, rather than a shredder focused on self-indulgent wankery. With seven musicians on stage, the biggest challenge is to find both the tone and the part that add to the overall sound with out muddying up the mix or drowning out other players.
Although Bryson has assembled an impressive array of vintage and modern guitars over his long run with Counting Crows, he shared just of few of his current favorites with
PG
. Bryson's #1 is his beloved 1956 Gibson
Les Paul
Junior that he bought while working on
August and Everything After.
The guitar has been updated with an adjustable wraparound bridge for better intonation, its pickup has been rewound, and the knobs have been replaced—understandable alterations for a guitar that's nearly 60 years old. Bryson strings the Junior with D'Addario EXL116 Medium Top/Heavy Bottom sets, gauged .011, .014, .018, .030, .042, and .052.
Next is his 1962 Fender Jazzmaster, which has been converted to a 4-string. Its low E, A, D, and G strings (gauged .052, .042, .032, and .024, respectively) are centered in the middle of the bridge and fretboard. He replaced the Jazzmaster's confusing stock switches with a simple Tele-style arrangement: a 3-way switch with master tone and volume knobs.
On the acoustic end, Bryson tours with a Mexican-made 2008 Martin tenor guitar, tuned like his Jazzmaster and strung with the four bottom strings from a set of Martin SP Lifespan phosphor bronze mediums.
Bryson strums his electric and acoustic guitars with yellow Dunlop Tortex .73 mm picks.
Amps
After playing through Vox, Matchless, and Marshall amps for years, Bryson has found an amp he prefers over all others—a Satellite Amplifiers Barracuda head featuring a pair of KT66 tubes. He runs the Barracuda into an open-back Satellite 2x12 speaker cabinet loaded with two different Celestions: a G12H-75 Creamback and a G12 Alnico Blue. Should the Barracuda die onstage, his backup is a Mark Sampson-era Matchless DC-30.
Effects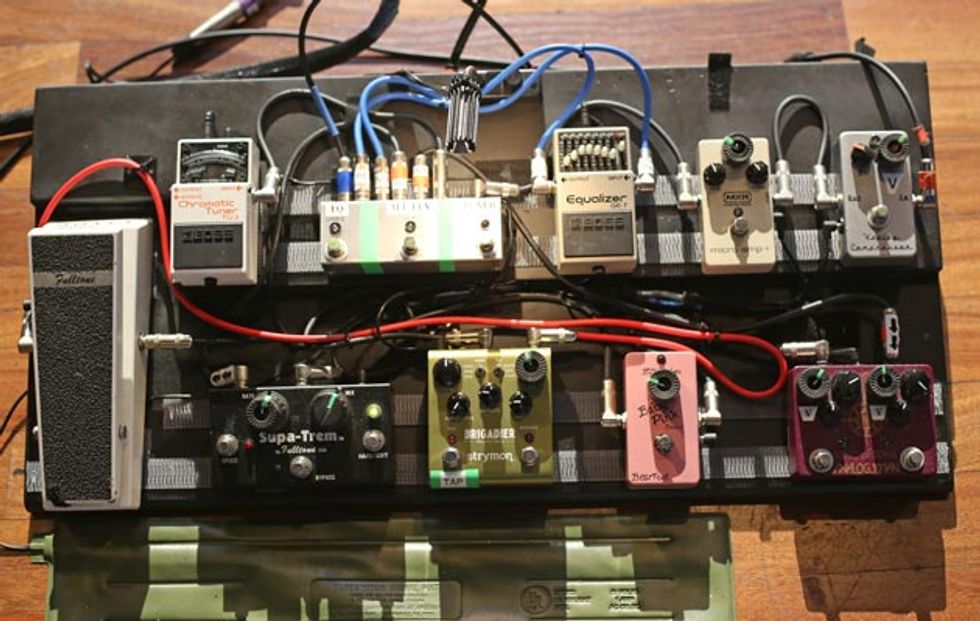 A Shure UHF wireless system sends Bryson's signal into his custom BillyBilt pedalboard, which is designed by Bill Thomson. In order of signal flow, the effects start with a 2-knob Keeley Compressor into a MXR Micro Amp and then into a Loop-Master effects loop. First stop on the looper is an Analog Man King of Tone overdrive. A second loop runs to a Boss GE-7 Equalizer, and the third and final loop connects to a Boss TU-2 Chromatic Tuner. Next are a Baby Pink Boost by Bearfoot Guitar Effects, a Fulltone Clyde Wah, a Strymon Brigadier dBucket Delay, and a Fulltone Supa-Trem2 modded by Robert Keeley.
Acoustic instruments run from a Shure UHF wireless into two Pendulum Audio SPS-1 preamps. The signal then flows into a Universal Audio LA-610 MkII tube-equipped recording channel before heading to the front-of-house mixing console.