Rig Rundown: Failure's Ken Andrews
They once used tons of gear for their textural sonic assaults, but now the alt-rock trio strips it down.
Premier Guitar met with producer, engineer, songwriter and founding Failure member Ken Andrews before the band's June 8th show at Nashville's Exit/In. After enjoying great success, breaking up and reforming, Failure is hitting it hard on the road. The band used to tour with fragile amps, tons of stompboxes, and miles of cable, but they now travel lightly with clean modeling technology.
Guitars and Bass
Andrews' #1 guitar is a well-worn 1976
Les Paul
Standard with a Seymour Duncan Custom pickup in the neck and Duncan '59 in the bridge.
Andrews' second guitar is a shimmery LP-style axe made by Electrical Guitar Company, which arrived the day before this show. It features proprietary EGC humbuckers and a Travis Bean-influenced aluminum neck.
When Andrews covers the bottom end, he uses a 2013 Fender Precision Bass with a Seymour Duncan Quarter Pound pickup.
Amps and Cabs
Both Andrews and band member Greg Edwards use Fractal Axe-FX II preamp/effects processors for their basses and guitars. (Andrews utilizes a Line 6 Relay G90 wireless system, while Edwards goes straight in with a long ¼" inch cable.)
From there the signal runs directly to monitors and the front of house. There's nothing else in the signal chain—the effects, amps, cabinets, mics, and mic placement are all modeled.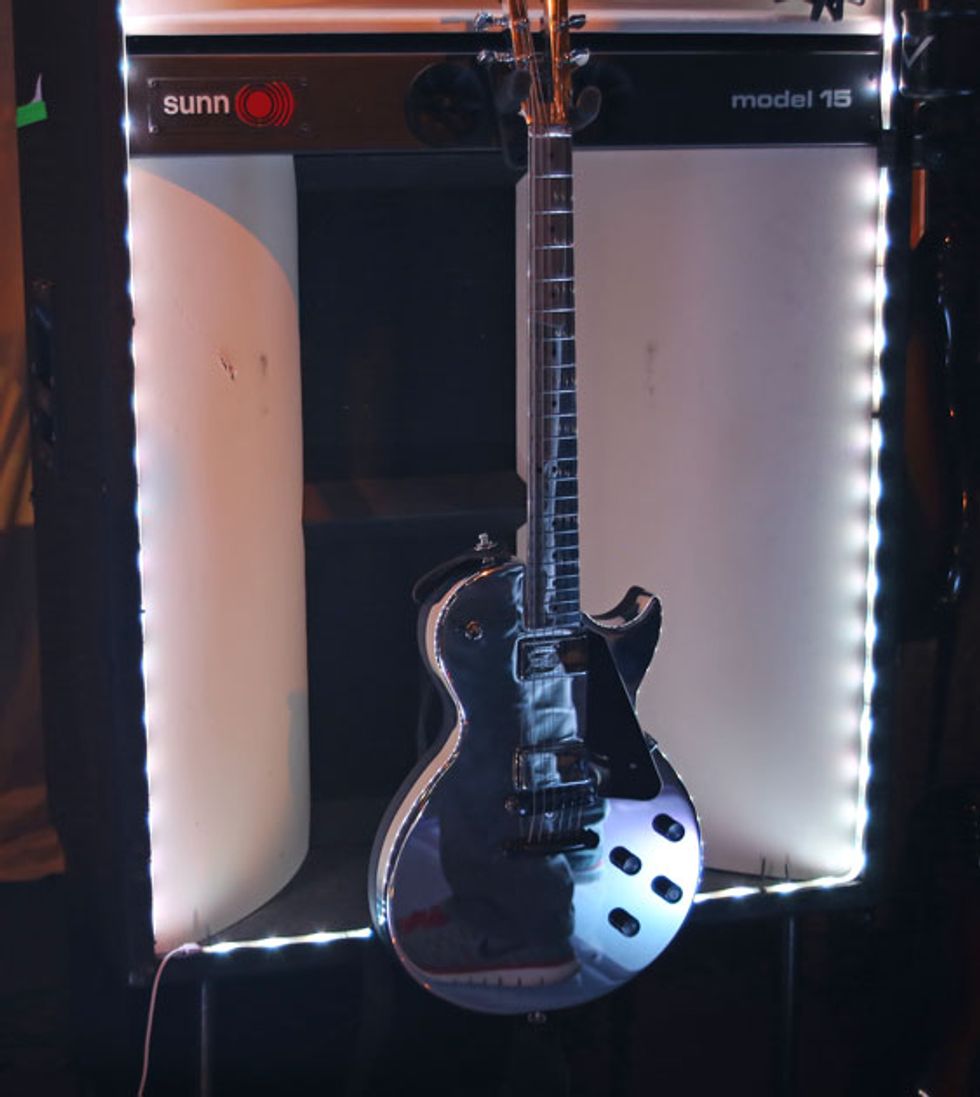 The monitor board sends signal from the Fractal units into funky old Sunn Model 15 PA Speakers from the late '70s, which allows the guitars to feed back when necessary while providing a cool stage aesthetic. Reportedly, the Sunns don't sound great, but they look cool.
Effects
Failure dumped a boatload of pedals and now relies on Axe-FX II processing for everything.
Andrews uses the Fractal MFC-101 Midi Foot Controller in preset mode to change patches and scenes. Andrews also utilizes two Boss FS-6 control pedals and a Boss FV-500L volume pedal.