Rig Rundown: Imagine Dragons
The band's platinum pop-rock is fueled with amazingly customized axes, vintage Voxes, and plenty of sonic exploration.
Wayne Sermon plays several different BiLT guitars throughout the set. These offset beauties are highly customized with features Sermon specifically needs to create certain sounds from ID albums. His No. 1 is a gold-plated Volaré loaded with a pair of Lindy Fralin Twangmaster humbuckers. Each guitar is strung up with Elixir .011–.052 strings and Sermon uses Dunlop 88 mm 50th Anniversary Gold nylon picks.
Sermon's BiLT Relevator is finished in shoreline gold and features both an MXR Carbon Copy and BiLT's own fuzz circuit built into the body along with a Sustainiac in the neck position. Sermon can control the parameters of the effects via a wealth of buttons, switches, and controls that are accessible on the front of the guitar. There's a Pedaltrain Volto on his strap that supplies power to the pedals via the stereo cable. He keeps this guitar tuned a half-step down from standard.
On "Fricton" Sermon reaches for this prototype BiLT baritone that's tuned to A and features a Mastery bridge and tremolo along with a pair of Bare Knuckle Mule humbuckers. He strings it up with a set of Elixir strings gauged .012–.068.
For the acoustic tunes, Sermon grabs either his Gibson J-35 or Gibson LG-2 American Eagle (shown here), both flattops have LR Baggs M1 pickups. The LG-2 is kept in standard tuning and used on "Trouble," "Thief," and "Release," while the J-35 is tuned a half-step down and is featured on the bridge to "I Bet My Life."
The backline for Sermon's chimey brand of pop-rock is full of classic British tones. His wet/dry/wet setup revolves around a quartet of vintage Vox AC30 amps—two from '64, a '66, and a '67.
Along with the vintage Voxes, Sermon runs an angry Friedman Smallbox 50.
Each one is modded with a Top Boost Kit from Plexi Palace.
Friedman Smallbox 50 is plugged into a 65 Amps 2x12 Whiskey cabinet.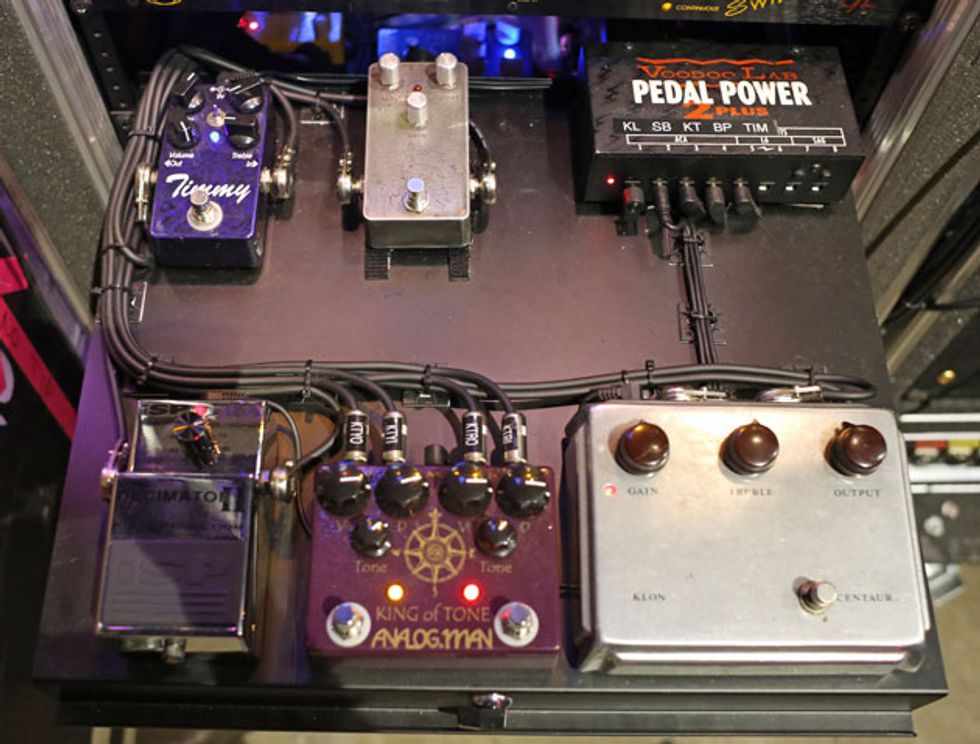 In order to keep things tight, Sermon's pedals are kept offstage in a rack. The first drawer contains an original silver Klon Centaur, Analog Man King of Tone, ISP Decimator II, Paul Cochrane Timmy, and a Refractor built by Aion Electronics. The whole shelf is powered by a Voodoo Lab Pedal Power 2 Plus power supply.
The second drawer houses everything that's routed before the volume pedal. It includes an Electro-Harmonix POG 2, Voodoo Lab Micro Vibe, J. Rockett Mark Sampson Hightop, Wampler Ego Compressor, Electro-Harmonix Superego Synth Engine, and a Malekko Vibrato (which is in the effects loop of the Superego). All of the effects are run through a RJM Mini Effects Gizmo and powered by another Voodoo Lab Pedal Power 2 Plus.
The final drawer of "silliness" holds the Eventide H9, DigiTech Whammy, and Source Audio Programmable EQ. Sermon's tech uses his iPad to connect to the H9 via Bluetooth in order to change or tweak any settings on the fly in real time.
During a typical show, Sermon needs to cover a lot of ground. After going through a Shure ULXD4 wireless unit, the signal hits a Sound Sculpture Switchblade GL before feeding one of three Eventide products: a pair of 7600 units and a H9.
Out front, Sermon uses a RJM Mastermind GT/22 for all his switching needs. He pairs that with a trio of Mission Engineering expression pedals that control the volume of individual amps and the DigiTech Whammy. Also on the board is a Boss TU-3 tuner.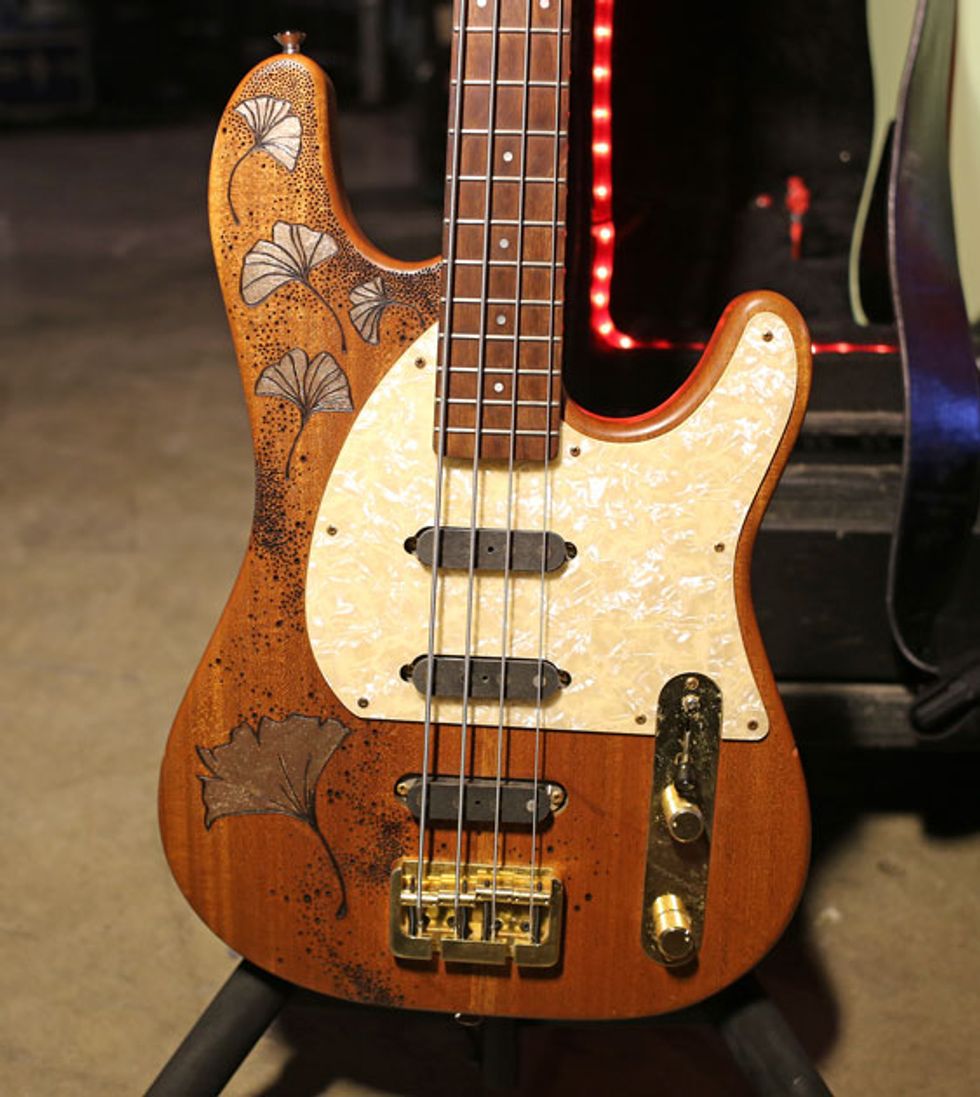 Ben McKee keeps it cool with this custom bass built by Chris Stambaugh from Stambaugh Designs. It has some T-style design concepts along with a 33" scale length. It also features custom artwork using images that represent the band's charitable foundation, The Tyler Robinson Foundation.
This Sadowsky Jazz bass is tuned to B-E-A-D for specific tunes on the band's latest album, Smoke & Mirrors.
McKee also keeps this Mike Lull T4 tuned to B and it features passive electronics, a mahogany body and acoording to McKee, makes him feel like a "badass."
A pair of Matchless Thunderman 50-watt heads provides McKee with his low-end rumble.
He runs the Matchless heads into a Bergantino NV412 cab.
Shane Johnson also built McKee's bass rig. The goal was to be bulletproof yet still offer plenty of sonic options. His pedal drawer houses a Malekko B:Assmaster, Brimstone Audio Crossover Distortion XD-2, Electro-Harmonix Bass Micro Synth, and an Xotic EP Booster.