Rig Rundown: Journey's Neal Schon (2014)
The self-admitted gear junkie walks us through his current rig.
Guitars
Schon's well-documented history of guitars includes a plethora of Gibsons and Kramers, but his current #1 is a NS-15 Neal Schon Signature Model from PRS (he also carries a few NS-14s on the road as well).
Every aspect of the design had Schon's fingerprints on it and it went through many incarnations before finally settling into the current specs. The NS-15 is strung up with a set of .009-.042 D'Addario strings (he ups the 6th string to .046 for dropped tunings).
Most of Schon's guitars feature a Fernandes Sustainer as well as a DiMarzio Fast Track 2 pickup in the neck position and a Seymour Duncan Custom Custom in the bridge. He uses medium Dunlop celluloid picks, although recently he's been using his fingertips more during solos—which he explains has opened up different tones.
Even though Schon has a guitar boat loaded with PRS guitars, his go-to on "Lights" is a relic'd Fender Custom Shop
Stratocaster
. The bridge pickup and headstock is reversed and the relic job is straight from the custom shop.
A stock Fender Michael Landau Strat serves as a backup, but Schon will reach for it when the mood hits.
Amps and Effects

At first glance, Schon's rig can seem a little dizzying with all the signal paths, but Adam Day explains that's because Schon wants to hear both the wet and dry signals. The rig starts off with a group of Lectrosonics R400 wireless receivers running through a Whirlwind selector. The signal then hits the pedalboard where it goes through a Dunlop Classic Wah, Boss CS-3 Compressor Sustainer, Electro-Harmonix Germanium Big Muff Π, and finally a Wampler Nirvana Chorus pedal.
Schon controls the Ax-Fx II with an MFC-101 controller, but Day can override any setting from his tech station. The three expression pedals on the pedalboard control delay, reverb, and synth pad effects.
If you look closely, you'll see most of the effects covered in cellophane. Day tells us at first it was to combat the unexpected weather at outdoor shows, however, he learned that it also keeps all the effects and connectors working smoothly with less intrusive dirt and moisture, so it stays on for indoor shows as well. Brilliant!
The signal then heads back to the rack via a custom signal splitter and routes the signal in parallel to two Fractal Audio Ax-Fx II processors (one is spare). After the amps, the Fractal then sends a feed to a Roland M-120 rack mixer as well as a mono signal directly to monitors and front of house. A rack-mounted Gibson Digital Echoplex is fed the Fractal signal via the Roland mixer. Schon uses the same Echoplex mounted on stage mainly as a looper , and to monitor the record time. There's also a Roland Fantom XR synth module in the rack for occasional guitar synth layering. It's fed by a Roland GI-20 MIDI interface that lives in a rack above the pedalboard. That signal then goes into the Roland M-120 mixer, which combines the Ax-Fx II, Echoplex, and Fantom to create a stereo signal to monitors and front of house.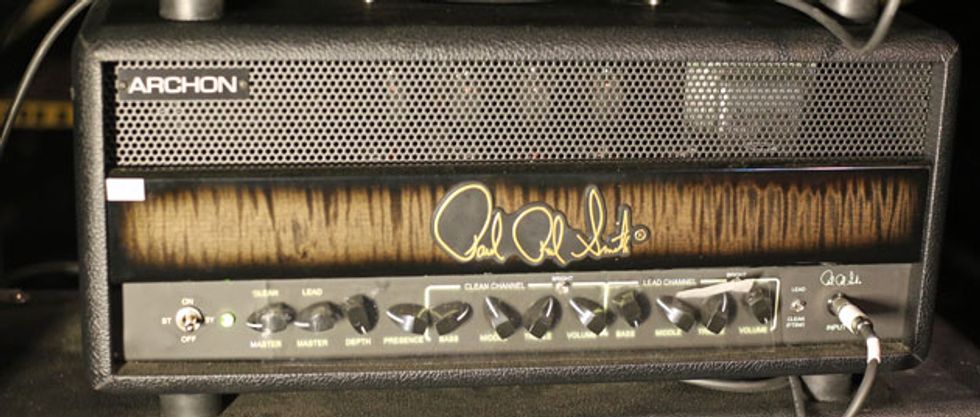 Then it hits two Paul Reed Smith Archon amps (with one being a backup).
And then through a Diezel VH-4. The main Archon is pushing a Blackstar 4x12 cab loaded with 75-watt Celestions and mic'd up with a Heil PR30.
Special thanks to Adam Day for spending extra time with us and making this all possible!