Rig Rundown: Rise Against
A time-tested formula fuels the hardcore band's sound.
Zach Blair is a PETA-supporting, straight-edge vegetarian who, when he's not on tour, does his best to help keep Austin weird. The humorous, mild-mannered hardcore vet recently took time during Rise Against's 2015 arena tour with Linkin Park to meet with Premier Guitar and share in-depth details on his gear.
Guitars
Blair is a longtime Gibson Les Paul player who isn't afraid to mod his axes. He brings a trio of LPs on the road, and each one has some unique features. His main guitar is a black Classic Custom with an EverTune bridge and Seymour Duncan Distortion pickups. All of Blair's electrics are strung with Ernie Ball Cobalt Slinkys gauged .010–.052.
A natural-finished Classic Custom pairs an EverTune bridge with Lace humbuckers.
And a black Les Paul Custom also loaded with Duncan Distortions rounds out the trio.
For acoustic numbers, Blair reaches for a Gibson J-160. His favorite picks are Dunlop 1.5 mm Primetones.
Amps
Blair's main amp is a '70s Marshall JMP head modded by Johnny Meyer.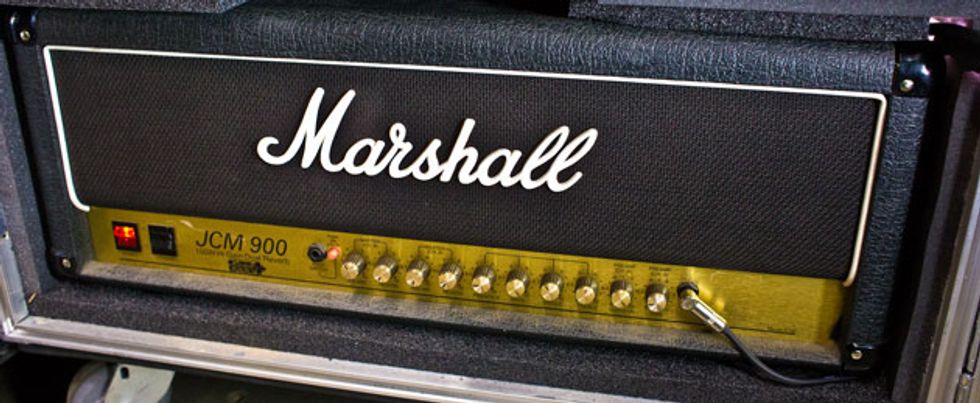 His backup is a Marshall JCM900. His preferred cabs are two Marshall 4x12s loaded with Celestion Vintage 30 speakers.
Effects
Blair runs his guitars into a Shure UR4D wireless, which sends his signal to a Radial JX44 Air Control. The Air Control not only sends his signal to each of the Marshall heads, but also has an effects loop that sends his signal to an RJM Rack Gizmo.
The Gizmo allows Blair to use an RJM Mastermind GT/16 MIDI Foot Controller to switch between various combinations of his pedals
His current crop of stomps includes a Boss NS-2 Noise Suppressor, an Ibanez TS9 Tube Screamer, an Eventide H9, and four MXR pedals—a GT-OD, a Phase 90, an Analog Chorus, and a Carbon Copy.