Rig Rundown: The Black Crowes' Rich Robinson
Rich Robinson's longtime tech, Doug Redler, shows us Robinson's rig—which includes everything from relic'd Gibsons to Japanese Zemaitis models, and even a few Gretschs and Teles.
Rich's longtime tech, Doug "Red" Redler, to go through the gear Robinson is using on the Crowes' latest tour. A large portion of the band's gear was damaged during Hurricane Sandy and Redler had to replace nearly everything in Robinson's touring rig. On this leg, Robinson was hauling everything from relic'd out Gibsons to Japanese Zemaitis models, and even a few Gretschs and Teles.
This Japanese-made Gretsch Black Falcon was relic'd by Cobra Guitars out of New York City and fortunately wasn't damaged during Hurricane Sandy. Robinson tunes this guitar to C–C–E–C–E–G for "Shine Along" and reaches for it anytime he wants to wrestle with feedback.
This Teye La Mora model is tuned to open-G and capoed at the third fret for "Remedy." Built in Austin, Texas, these guitars feature very intricate engraving work and a somewhat mysterious Mood knob. Robinson plays almost exclusively on the bridge pickup—no matter what guitar he plays—with all the knobs full on.
Most of the models made by luthier James Trussart are crafted out of metal, but this Steelmaster model has a beachwood body and is tuned to open-G (D–G–D–G–B–D) and capoed up for "Thorn in My Pride." All of Robinson's electric guitars are strung up with .010–.046 sets of GHS Boomers.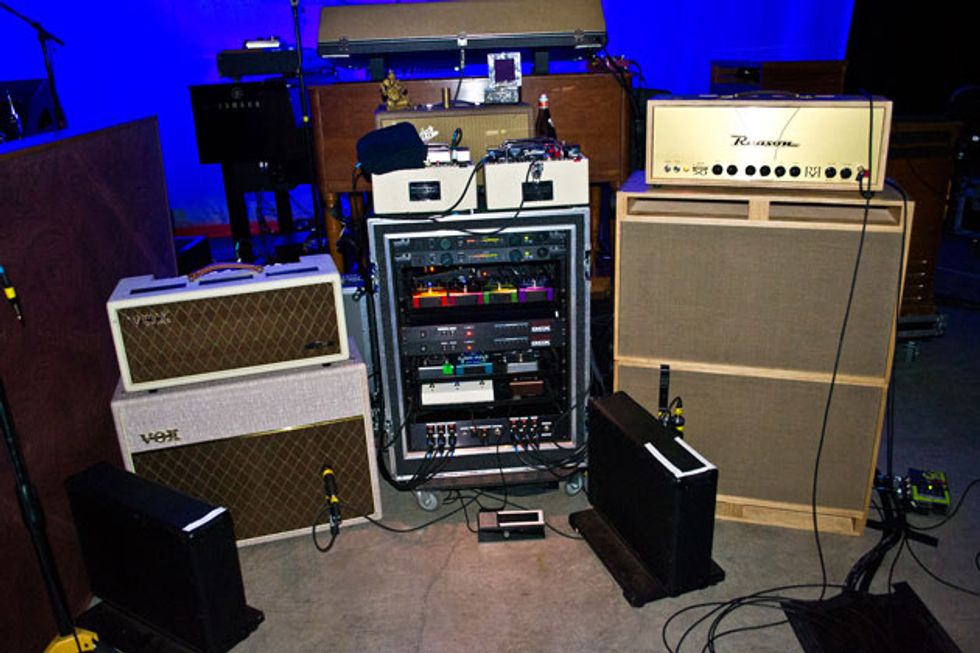 Two EL34 output tubes and five 12AX7 preamp tubes power the 50-watt Rich Robinson Signature Reason amp. It also contains a GZ34 rectifier and a tube tremolo that Robinson controls via an expression pedal. The 2x12 cabinets are made of Baltic birch and are stocked with 50-watt Eminence Private Jack speakers.
In order to keep stage volume at a manageable level, both of Robinson's amps (on the left is a 50th Anniversary Vox AC30HH with matching cab) use Stage Craft baffles. On top of the effects rack is a pair of Fulltone Tube Tape Echoes (one for a short echo and the other for a long echo) and a Fender Vintage Reissue '63 Reverb tank.
All of Robinson's effects are housed in a rack that sits between his amps onstage. The drive section of his rig consists of an Electro-Harmonix Big Muff and four reissue Way Huge pedals (Angry Troll, Red Llama, Swollen Pickle, and Pork Loin). The next drawer houses his modulation effects which includes a Strymon El Capistan, Way Huge Supa-Puss, Uni-Vibe Stereo Chorus, Flip Vintage Tremolo, and a Demeter Tremulator. He splits his signal with a Framptone 3-Banger out to his Vox and Reason amps (which are both always on) and uses a Strymon Lex for his rotary tones.