State of the Stomp: Maxon's Susumu Tamura Interview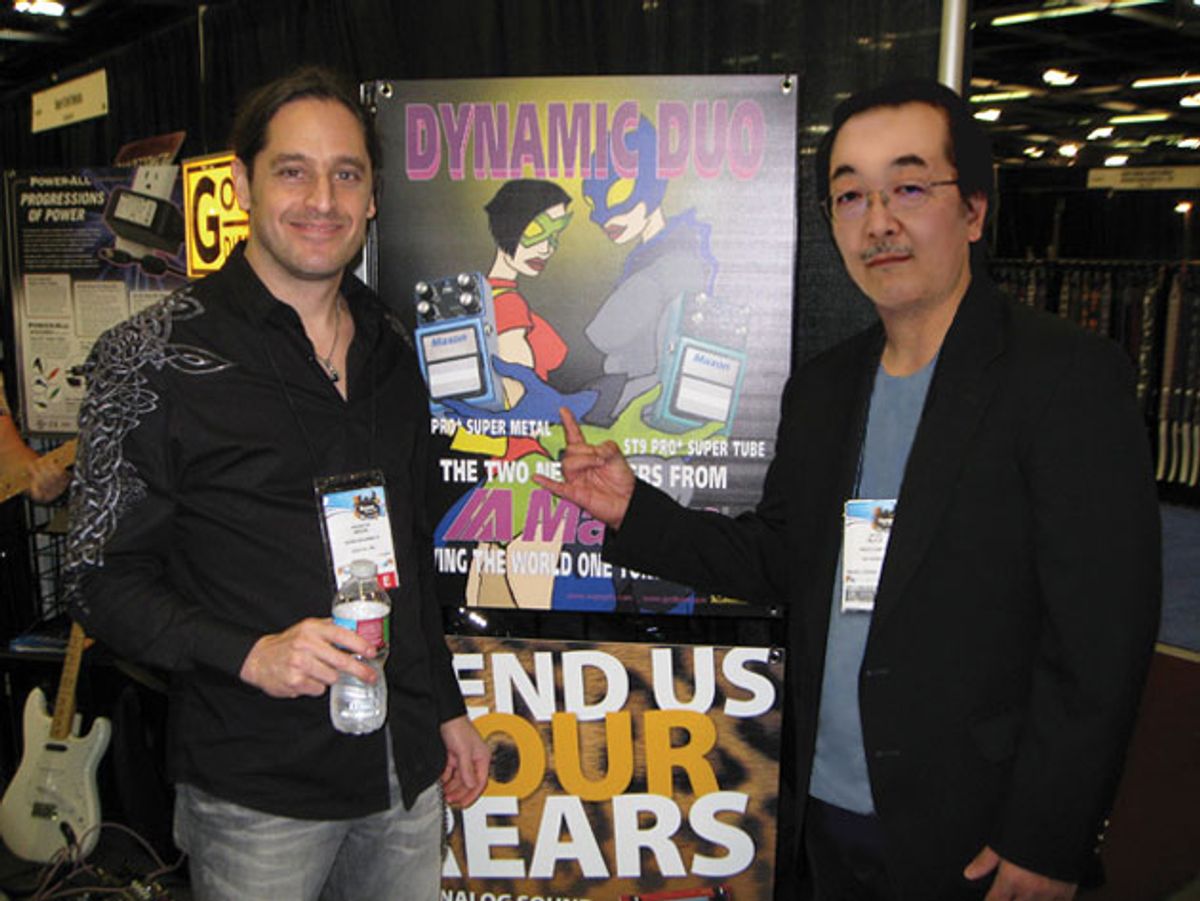 A rare interview with the engineer who created the Tube Screamer circuit.
In an effort to slow the growing percentage of retired citizens among its population, Japan passed legislation last April raising the mandatory retirement age from 60 to 65. Workers on the cusp who would have retired this year were grandfathered into the earlier age limit, with the caveat that their former employers offer them contract work if desired.
What does this have to do with guitar pedals? I'll explain.
In April, Susumu Tamura of Matsumoto, Japan, turned 60 and opted for early retirement from the Nisshin Onpa Company. Readers familiar with Tube Screamer lore may recognize these names as, respectively, the designer and manufacturer of the original OD808 circuit—an OEM project for Ibanez went on to be branded as the TS808 Tube Screamer.
That's right, Susumu Tamura (who did not attend college but studied electronics at Shinshu industrial high school) is the engineer who invented the legendary 808 circuit that's been used by countless artists and copied by more companies than you can shake a stick at.
Mr. Tamura's retirement holds special significance for me, as I have worked closely with him since 1999 developing many of Maxon's current guitar effects. I felt it would be a fitting sendoff to interview Mr. Tamura about some highlights of his illustrious career, one that has affected (and effected) literally hundreds of thousands of musicians.
How did you become interested in electronics? I liked working on electronics from the time I was a boy. My earliest memory of this was working on a 1/24-scale model of an electric racing car. I made the circuit course for the car when I was still in grade school. When I was a junior high school student, I acquired an amateur radio engineer's license and used a transceiver that I made to communicate with overseas countries.
When did you start working for Nisshin Onpa (Maxon)? I was first hired in 1974. I have worked continuously and exclusively for them for the past 40 years.
When and why did Nisshin Onpa begin manufacturing guitar effects? Nisshin Onpa was originally established as an electric guitar pickup company. They initially began manufacturing pedals as OEM projects for other companies and then, from 1971, under their own Maxon brand.
We simply had to come up with a pedal to compete with the BOSS OD-1 Overdrive and MXR Distortion+. It was similar to how one record company commercializes a sound, and then other companies follow that trend with similar music."
— Susumu Tamura, creator of the Tube Screamer circuit

What was the first pedal you designed for Nisshin Onpa? My first complete design was the Phase Tone PT999. Before that I had only redesigned PC boards for their booster and wah pedals.
What was the concept behind the 808 overdrive? We were looking to make a pedal that was not hard clipping like fuzz or distortion, but more like the overdrive obtained from tube amps. I think we settled on that "boxy" tone, with the midrange emphasized, because it worked well with a wide variety of guitars and guitar amplifiers, including both LP-style and the Stratocaster-type guitars.
So the 808's famous "mid hump" was a conscious effort to make the circuit compatible with a variety of amplifiers and guitars? Yes. By controlling the wild bass volumes of standard fuzz and distortion, as well as the jarring overtones, of the upper register, a more versatile pedal was developed.
The 808 circuit was the first of its kind. Did you realize you had created something special? Many journalists have asked us this. From our view, we simply had to come up with a pedal to compete with the BOSS OD-1 Overdrive and MXR Distortion+. It was similar to how one record company commercializes a sound, and then other companies follow that trend with similar music. So the initial product concept was not viewed as "special." But of course, I wanted a lot of people to love it! Between the promotional sales power of Godlyke and Hoshino and the super-famous musicians who've used the pedal, we were able to ship 350,000 units of the various 808 models over the years.

This rackmountable junction box for the Maxon PE3248 was custom-built for guitarist Masayoshi Takanaka.
Of all the signal processors you designed for Maxon and Ibanez, which project was the most memorable and challenging? We designed a programmable switching system, the PE3248. This was custom-made for Masayoshi Takanaka, a famous Japanese musician. From this came the basic idea for multi-pedal/multi-effect products such as the UE400 and DUE400. I'm also proud of the analog delays that used BBD ICs, such as AD80 and AD9. These originated with the AD230 analog delay series, whose sound is still unparalleled. Another is the DCP (Digitally Controlled Processor) analog programmable effect pedal series, which includes the PDS1.
What was superior about the AD230 delay? When it came out there were no high-quality, rackmountable, maintenance-free delays using BBDs. Most high-end delays used magnetic tape. The AD230 suppresses jarring upper-register overtones for a very smooth, realistic delay sound. Also, the AD230 was an all-in-one multi-delay unit with modulation and short delay for flanging and chorusing, as well as long delays.
What are your favorite pastimes outside of audio engineering?
I enjoy listening to jazz and going to jazz concerts. I do system construction related to personal computers. I enjoy movies, U.S. TV dramas, and documentaries. I also enjoy sea fishing.
Are there any products you'd still like to develop?
I hope to redesign the programmable analog effect DCP. It was discontinued, but I'd like to revive those designs.
Any final thoughts?
Digital is extremely close to the real thing, but it is not the real thing. The real thing is analog. Digital's primary advantage is that there is no deterioration in storage and transmission. However, the musician and the audience—the ears, eyes, mouths, and fingers that make and appreciate music—are all analog.
Thanks to Mr. Susumu Tamura for agreeing to this interview and for creating so many useful music-making tools!