A blind horse wouldn't be impressed, but this beautiful, double-horned instrument with one-of-a-kind engravings helped make luthier Tony Zemaitis famous.
Though they never reached the commercial success of some of their peers, the Faces have no doubt earned a place as one of the seminal rock 'n' roll bands of the late '60s and early '70s. Combining influences as varied as instrumental funk à la the Meters, traditional folk music, and a heavy dose of rhythm and blues, the Faces brand of rock 'n' roll can be heard in some way or another in the music of countless bands that followed. After the Faces folded in 1975, all five members went on to continue making great music, but their chemistry together was undeniable.
A huge part of their unique sound and stage presence came from the unusual instruments often employed by bassist Ronnie Lane and guitarist Ron Wood. Anthony Zemaitis was a British born cabinet-maker-turned-luthier. His guitars' distinctive metal tops, often with elaborately engraved designs provided by Danny O'Brien, can be seen with some of the era's most legendary guitar players, but it was his connection to the Faces that really put Zemaitis' instruments on the map.
Engraver Danny O'Brien's handiwork on the heel plate and control cavity covers are on display in this view of the bass' back.
The bass pictured here was one of his earliest custom designs for Ronnie Lane. Though all of Tony's designs are one-of-a-kind, this stands out as a bass guitar truly unlike any other we've ever seen. This instrument has a chambered body with a neck-through design and features a 6-screw heel plate purely for cosmetics. The hollow chambers on either side of the neck block were stuffed with cotton to eliminate feedback below a laminate-wood carved top. The distinctive "suit of cards" inlays along the 32"-scale neck would become a signature of Ronnie Lane, but this is perhaps the earliest example of that motif on one of his instruments. Both the headstock and end of the fretboard are delicately carved into a crown-like pattern, perhaps drawing inspiration from mandolins and lutes of the previous century. The controls are two tone dials with on-off switches for each, plus a master volume—with a missing knob—on the upper body. Every piece of metal, from the pickup surrounds, knobs, tailpiece—even the heel plate and control cavity cover—have been intricately engraved by O'Brien. This is as much a work of art as it is a unique instrument with an inspiring tone.
Ronnie Lane is hardly the most famous name associated with the Faces, but it could be argued that the spirit of the band was largely due to his influence. His love of folk and country music even left its mark upon early Rod Stewart solo records on which Lane and his Faces bandmates played a large part. This bass was with him for early Faces performances and could easily have been used on some of these classic recordings, including the albums First Step and Long Player.
This headstock has flourishes fit for a king—possibly of clubs.
There are numerous iconic photos of the band onstage where this bass can be seen, but its value goes well beyond pure memorabilia. Zemaitis instruments hold a special place in the evolution of guitar design, and the masterful engravings of Danny O'Brien are unmistakable. The sad loss of Ronnie Lane to multiple sclerosis in 1997 makes this instrument even more special. The wear and tear he put on the bass and the music he made with it are part of his lasting legacy.
Eventually this bass found its way to a pawn shop in the southern United States, where its second owner purchased it, unaware of its famous history. The bass was played locally from the late 1970s until about three years ago, when that owner passed away, leaving the bass to his cousin. His research over the past few years led him to realize the provenance of the instrument in his possession, and he ultimately confirmed his findings with us at Rumble Seat Music in Nashville, where this legendary instrument is now proudly offered—a perfect example of the kind of rock 'n' roll artifact we love!
We polled our readers to find the coolest guitar shops in the US, and here are the first half of the results, in no particular order.
"We asked PG readers what is the coolest guitar shop they've been to in the US. And while long-gone favorites like Manny's Music (New York) and Black Market Music (San Francisco) came up again and again, there were even more current shops topping readers' favorites list. We compiled the 20 most mentioned stores and quickly realized there were too many great photos we'd have to cut in order to get them all in one gallery. So here's the first installment in no particular order. If you're wondering where your favorite is, it may be coming next time, or we might not be aware of it, so feel free to leave your faves in the comments section."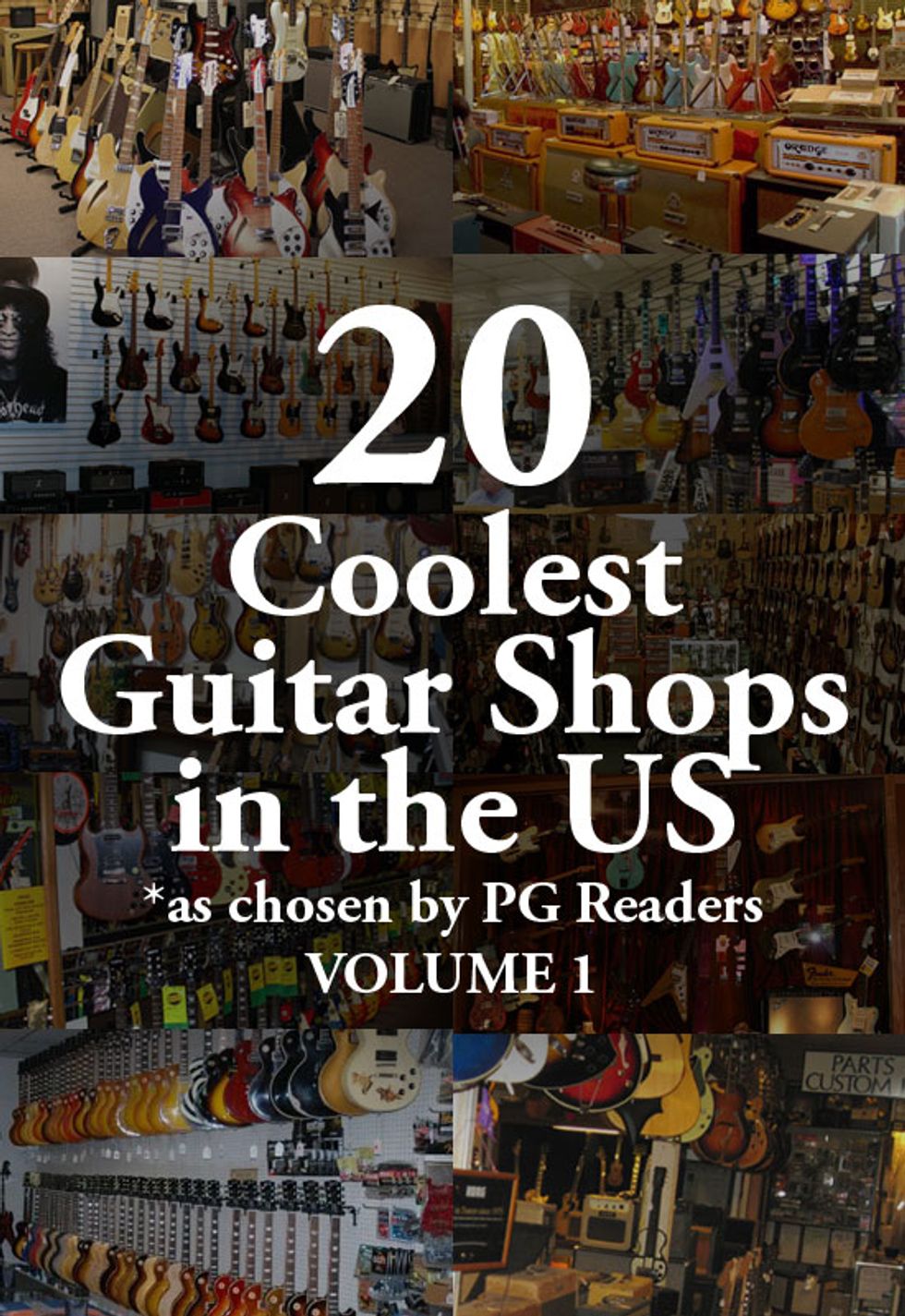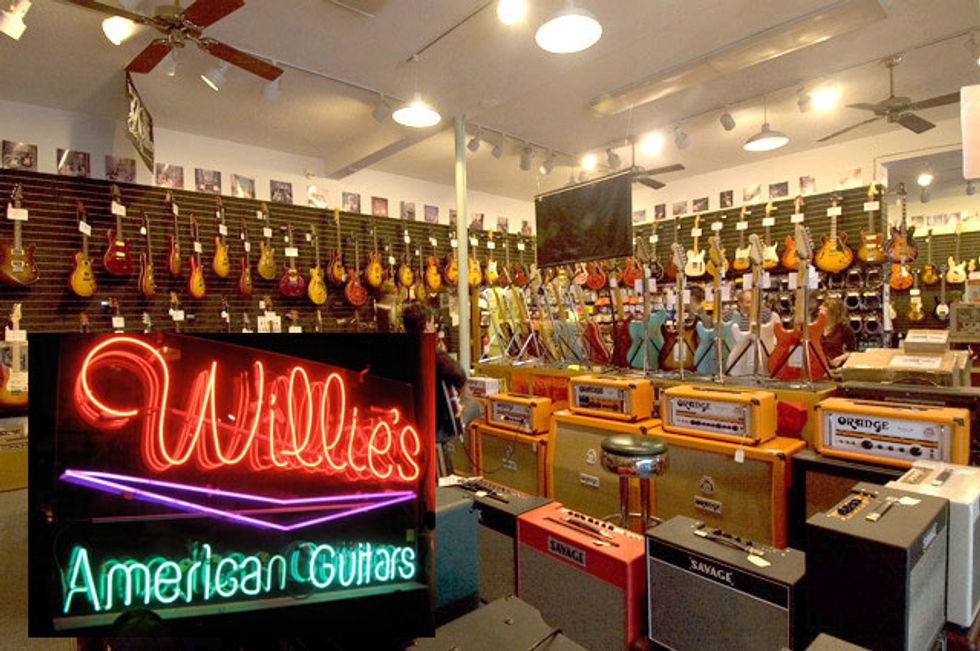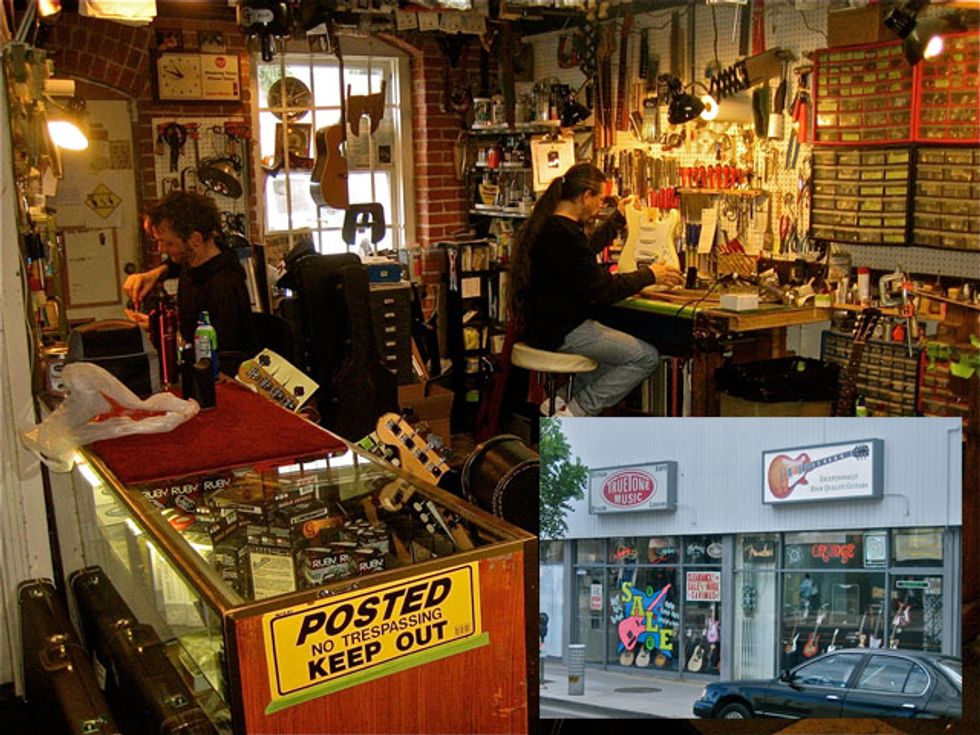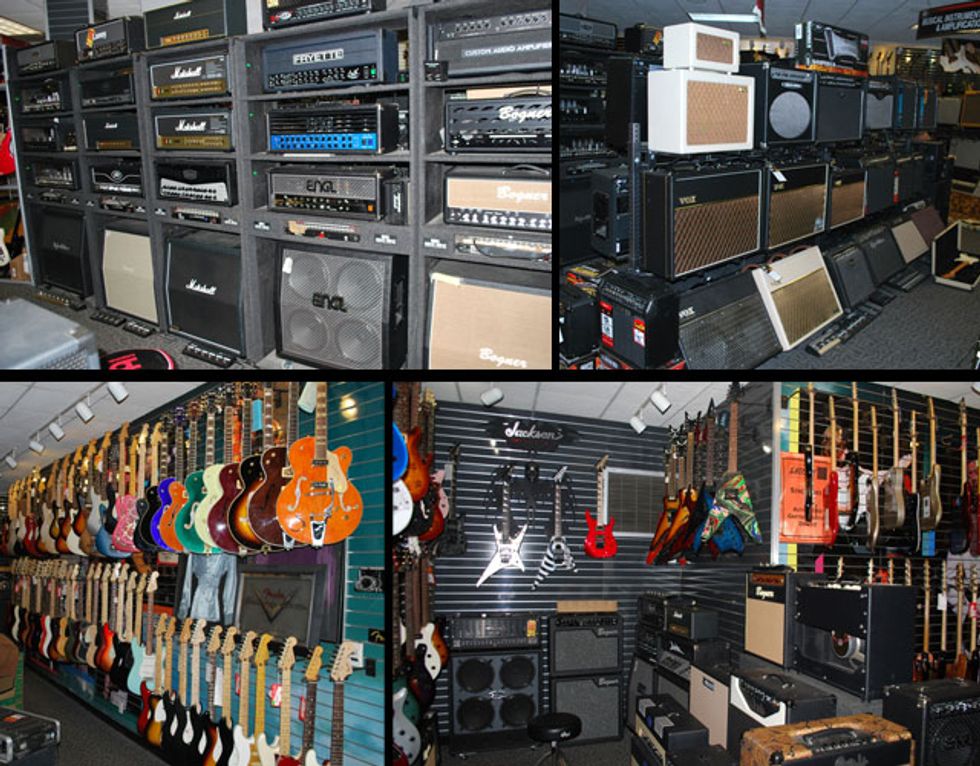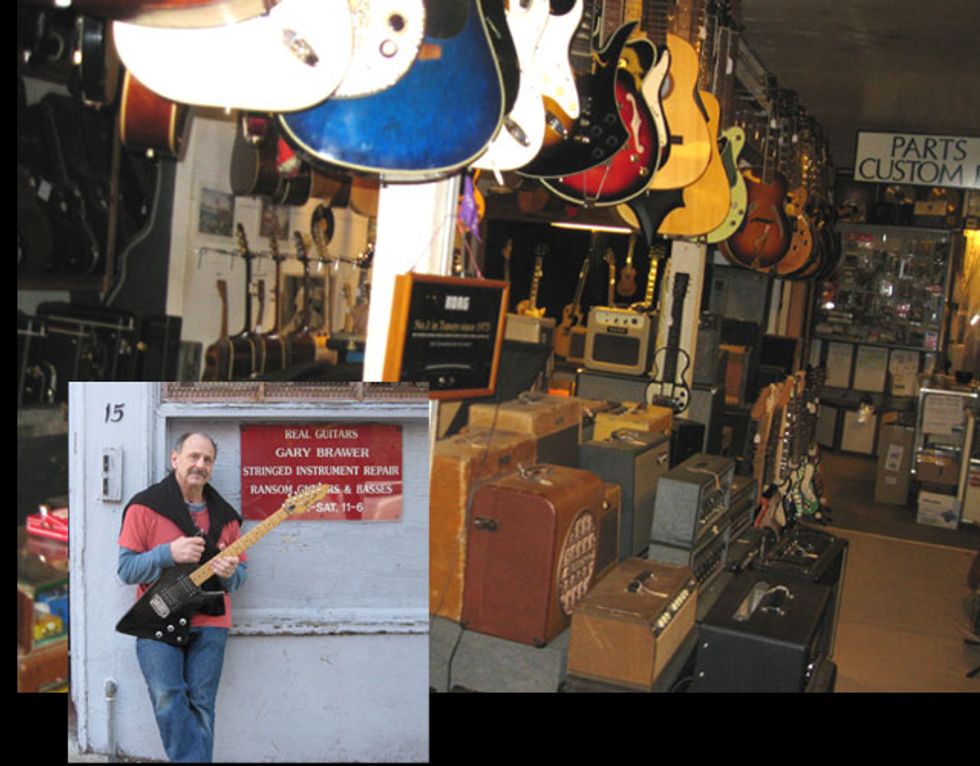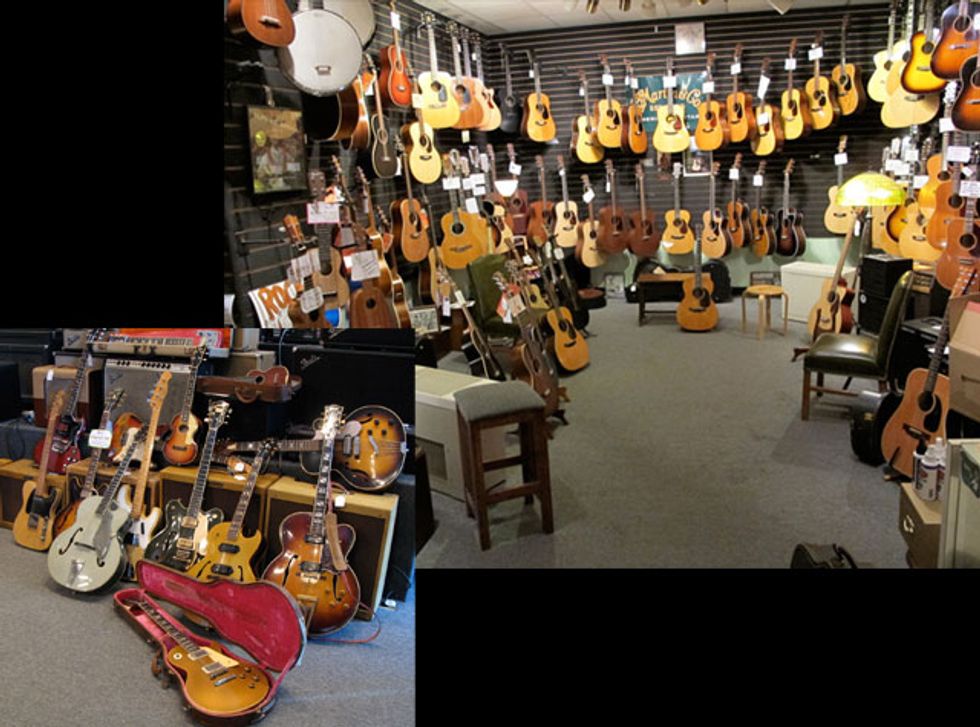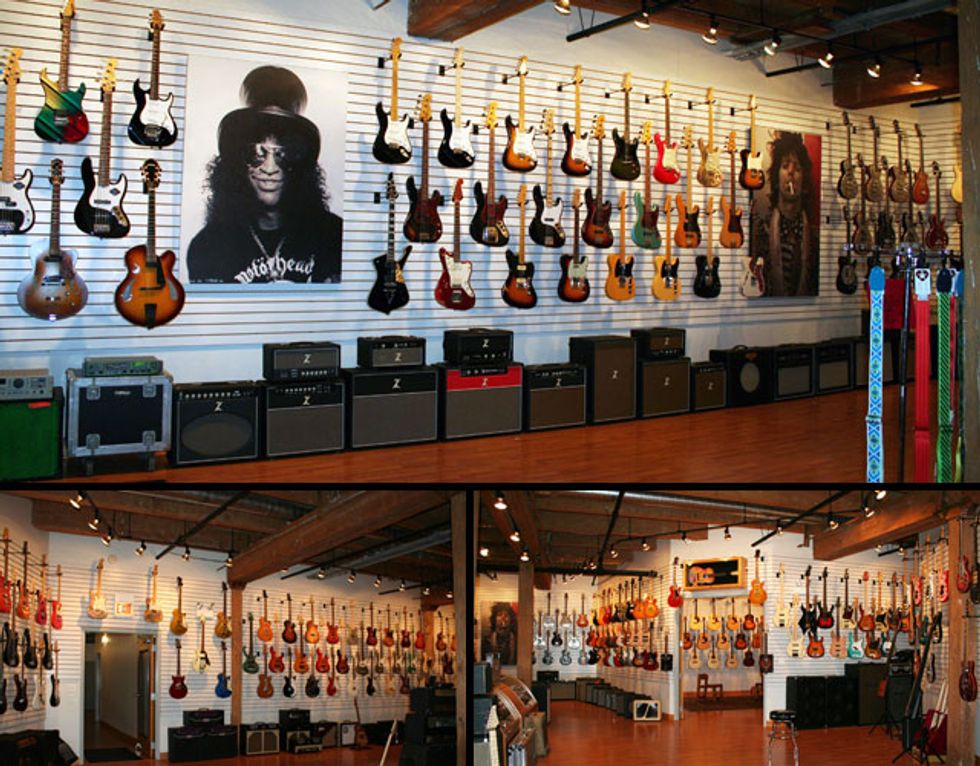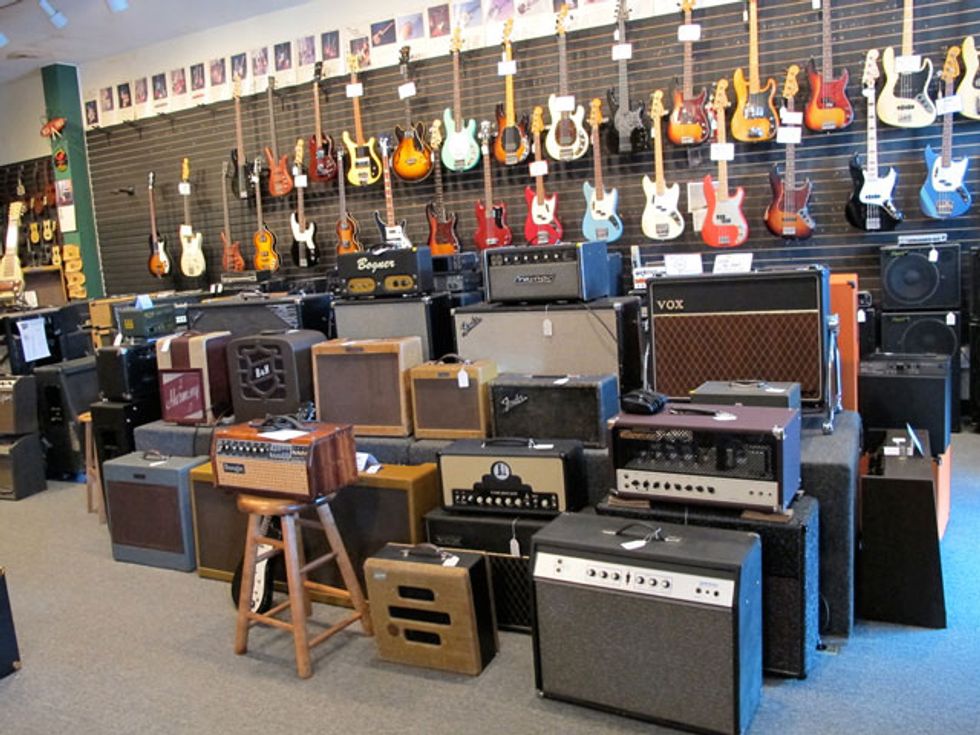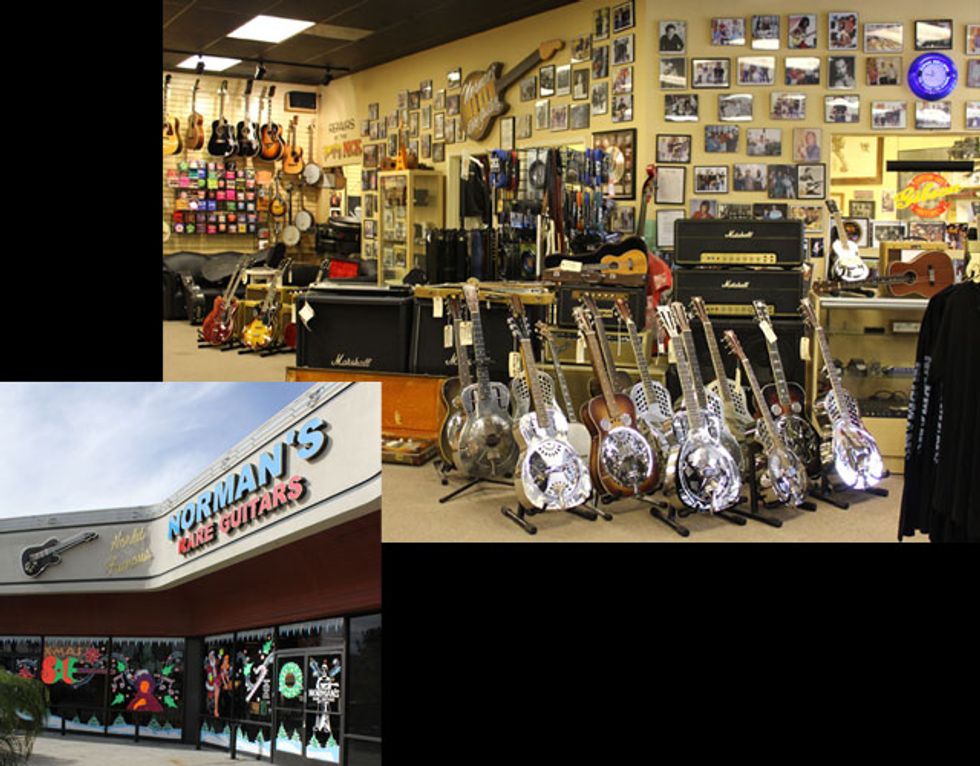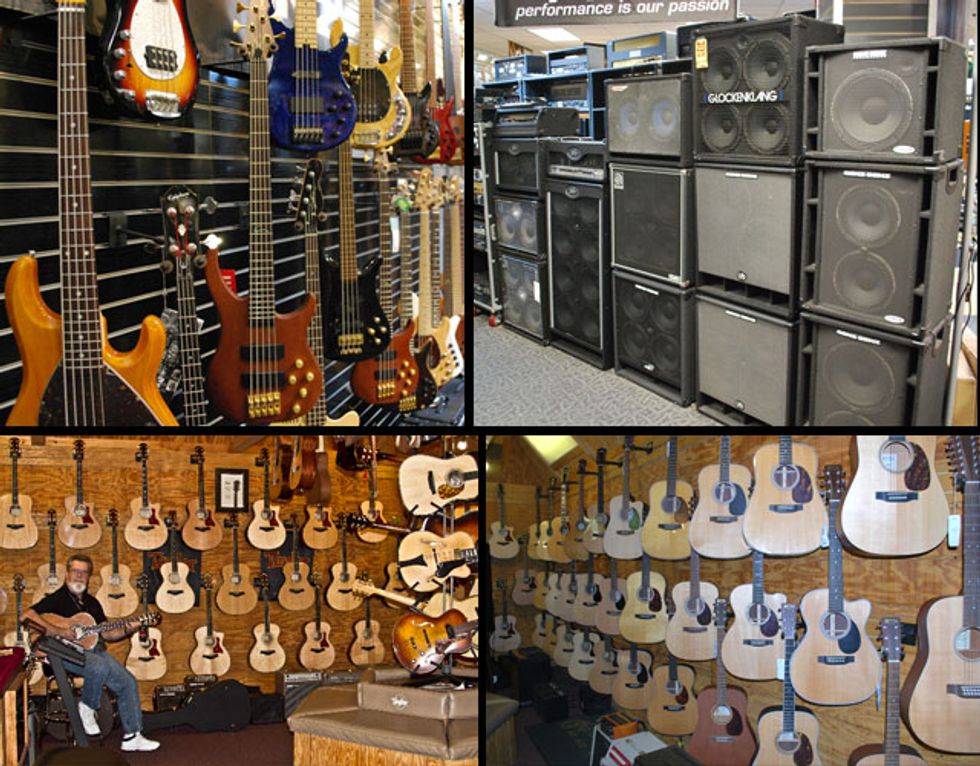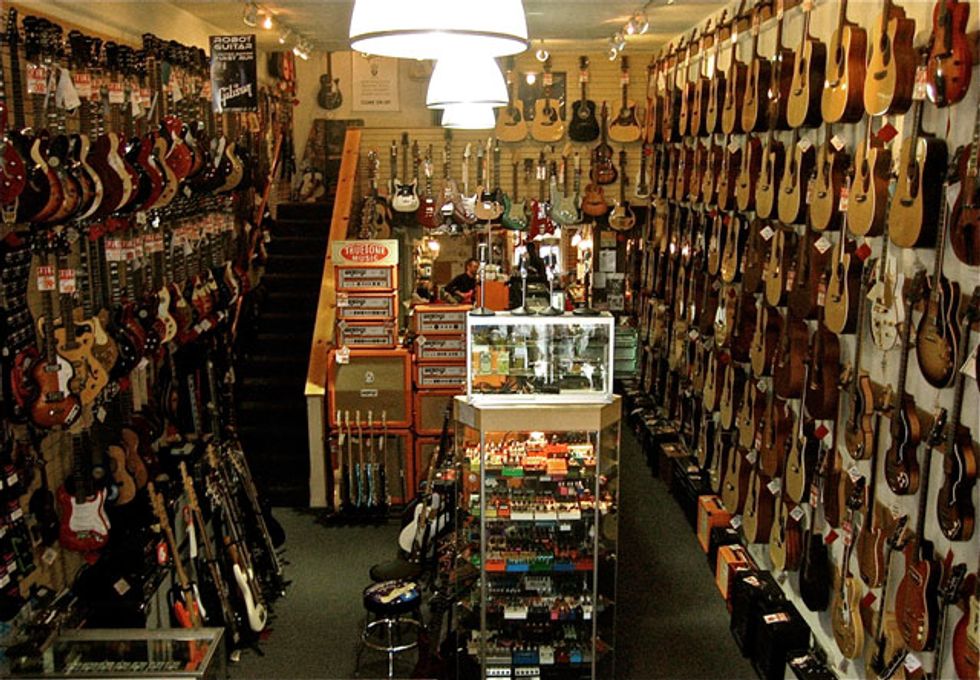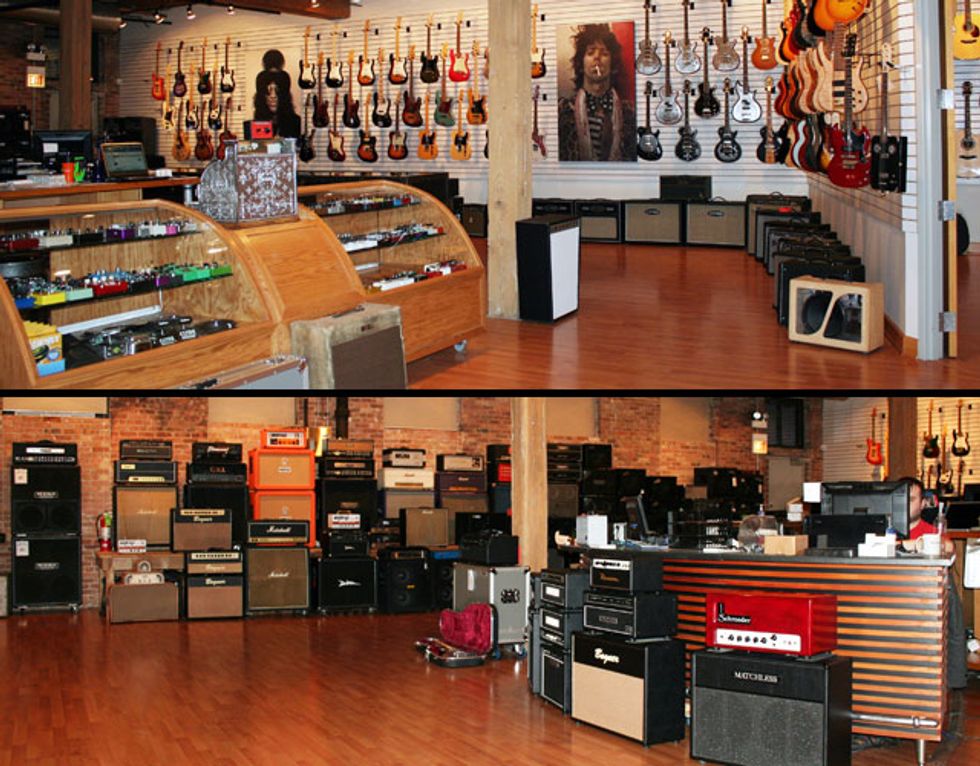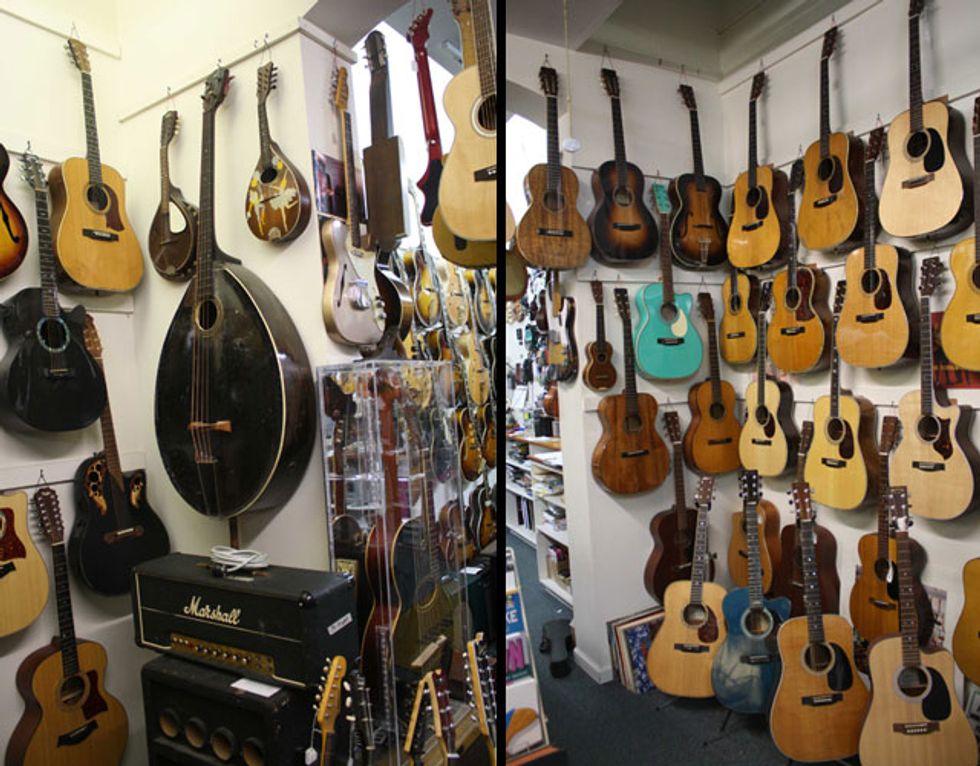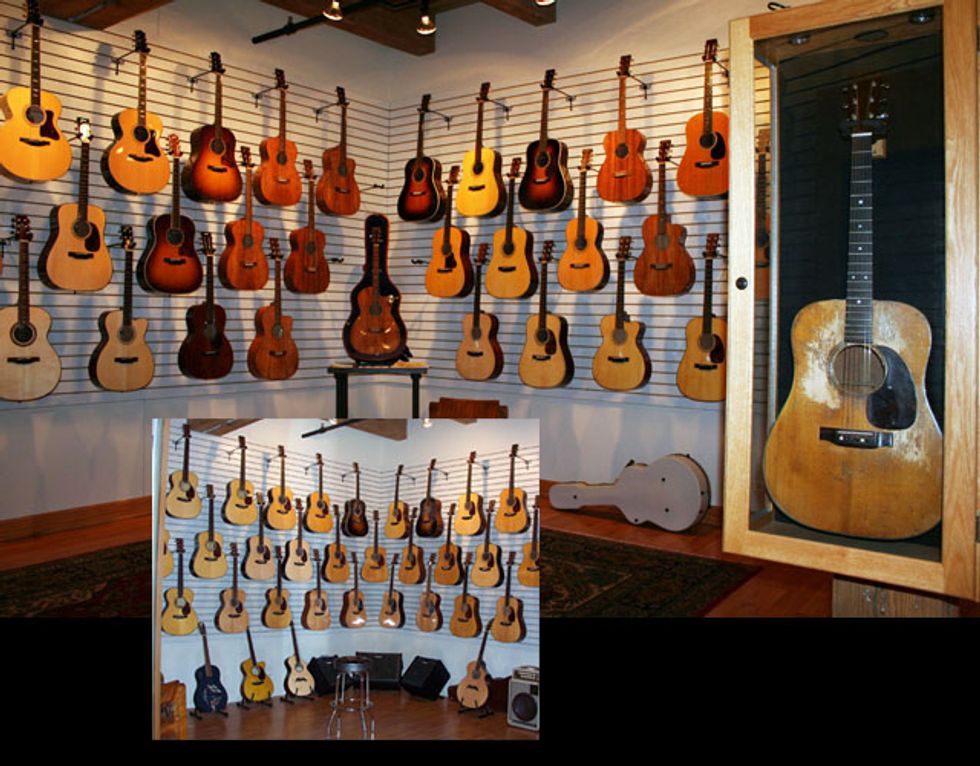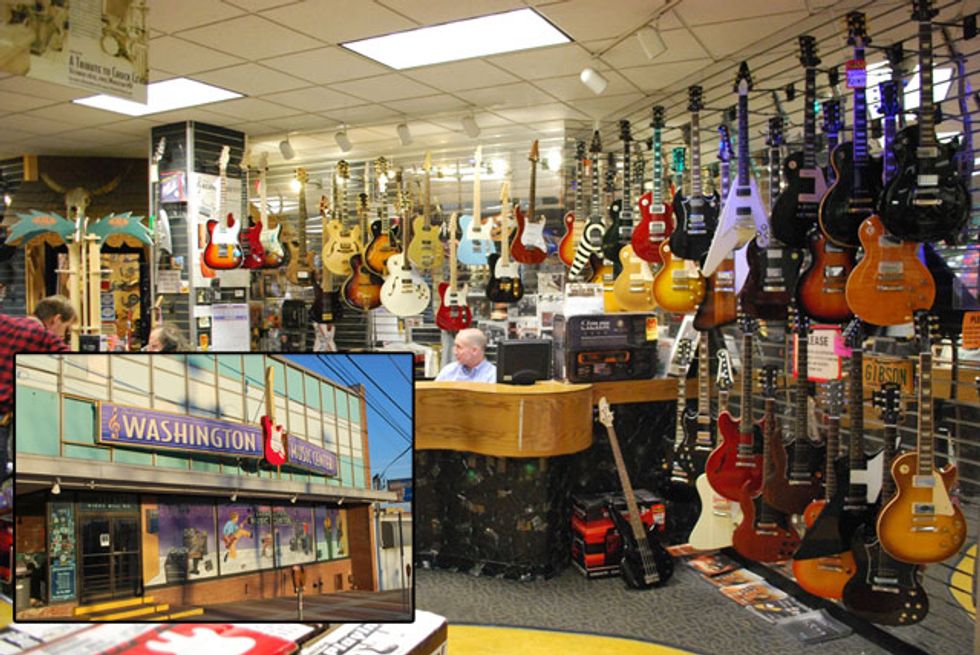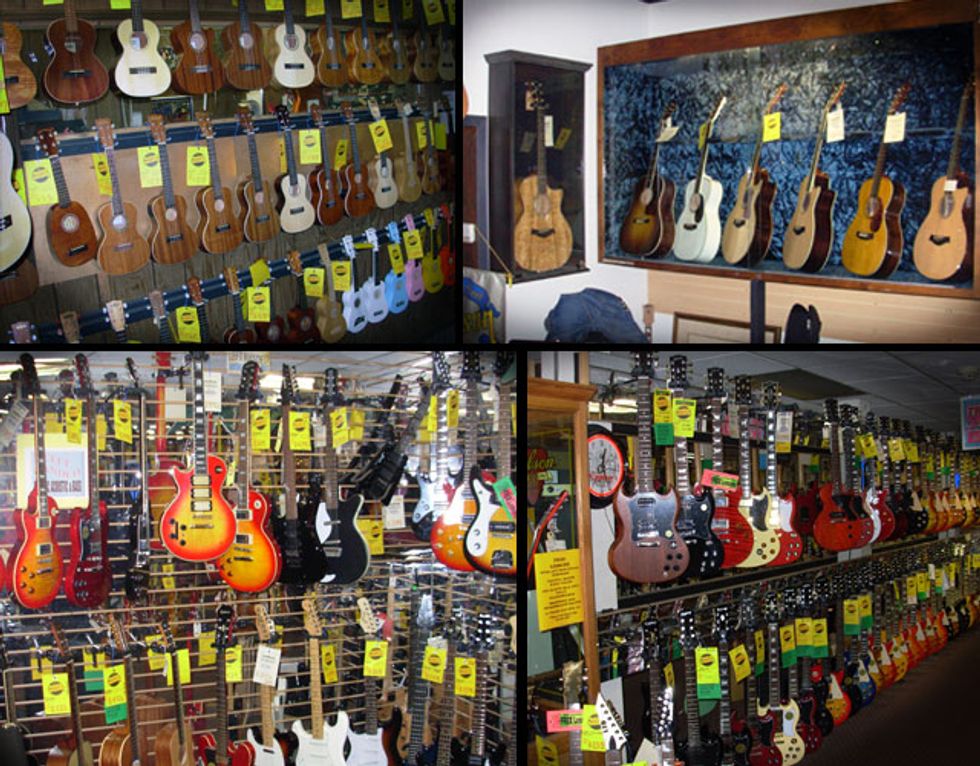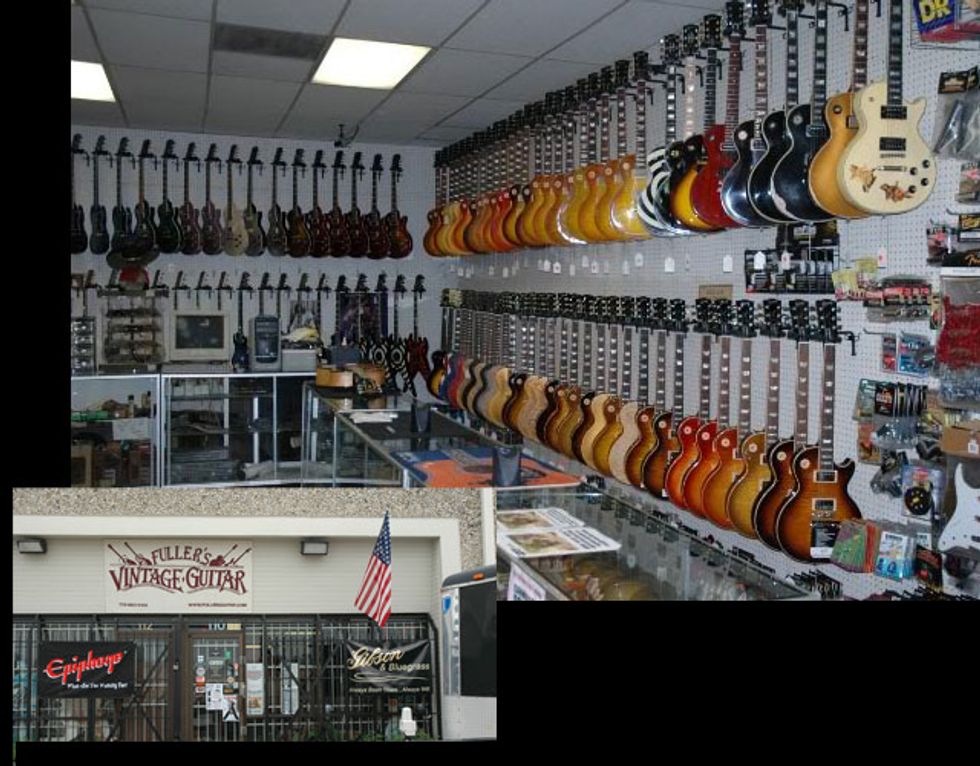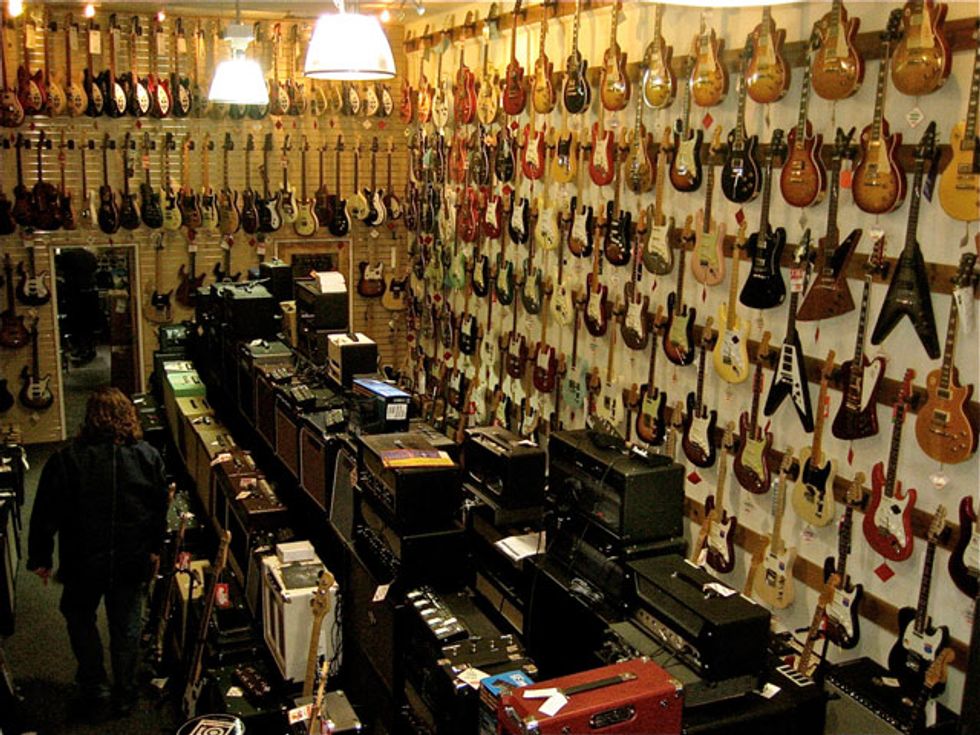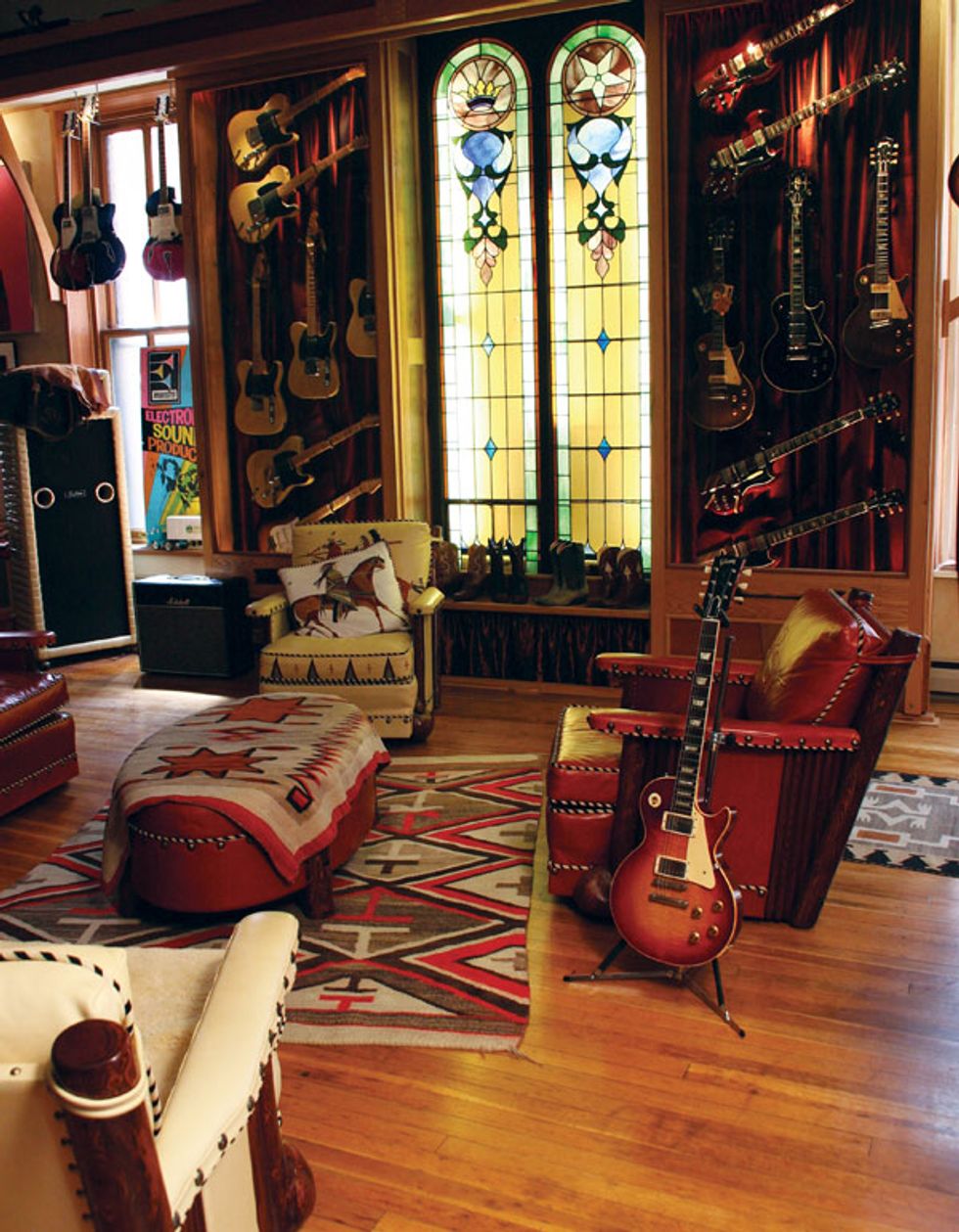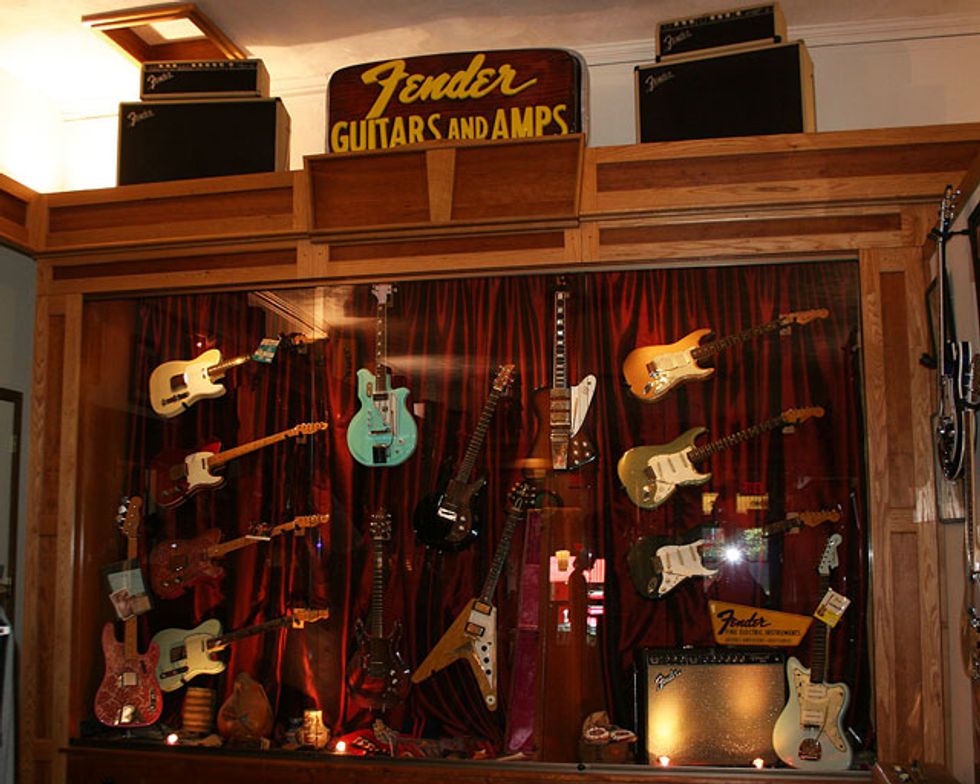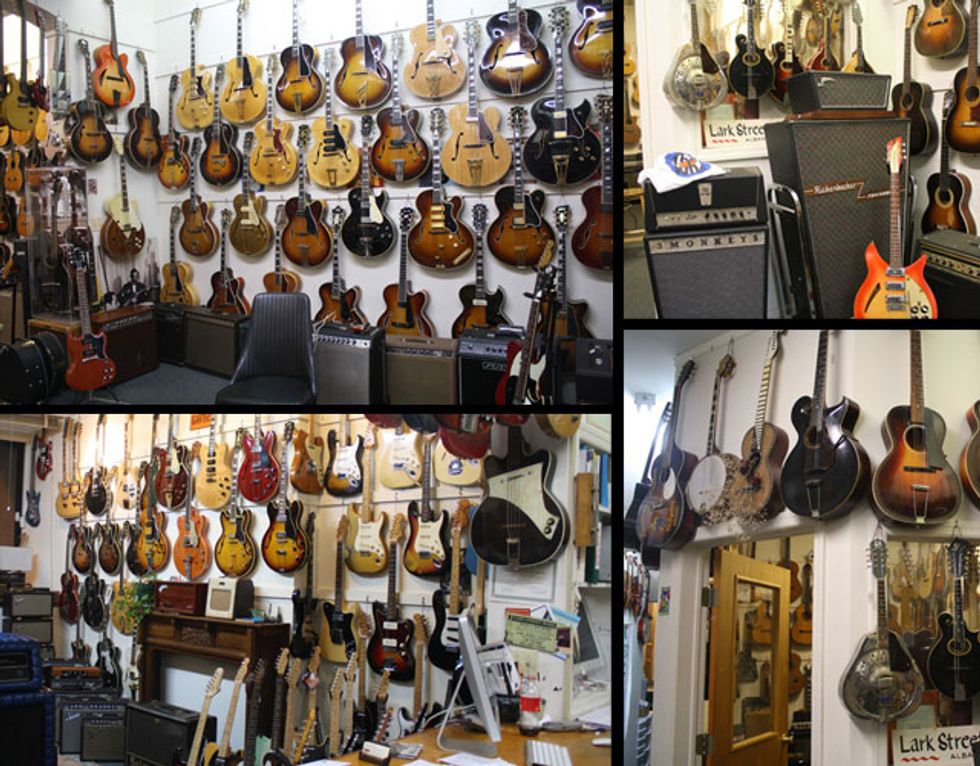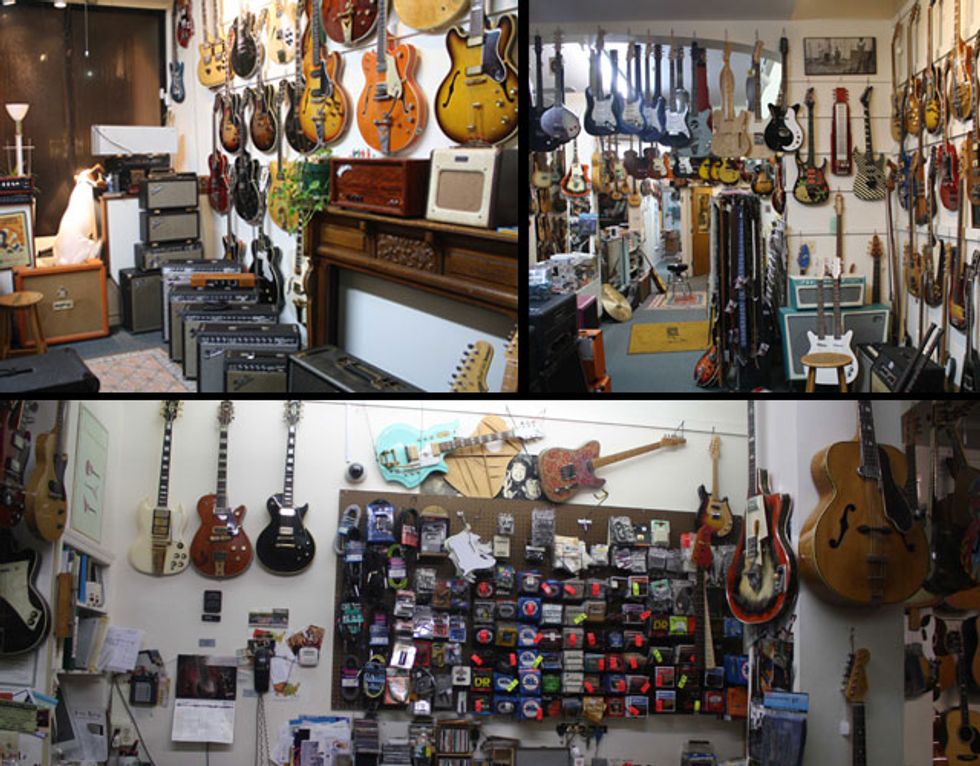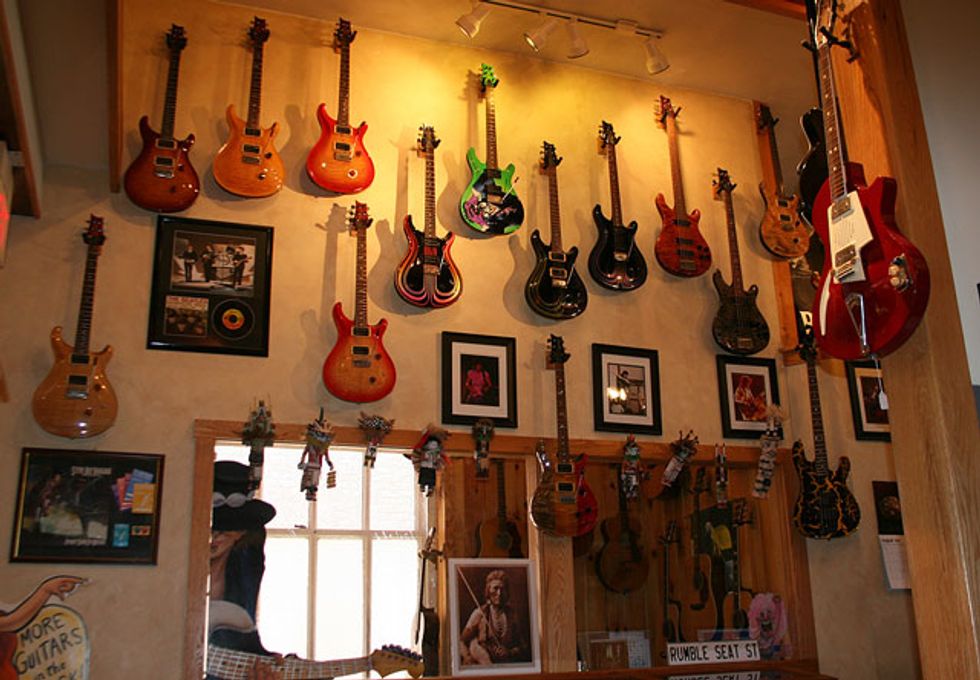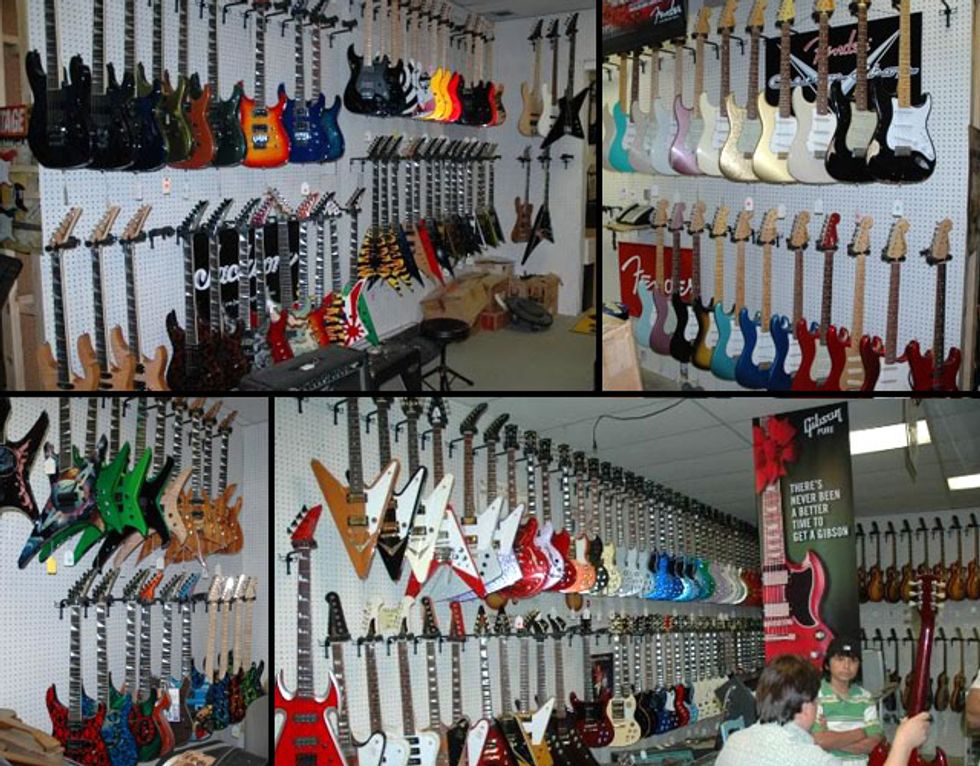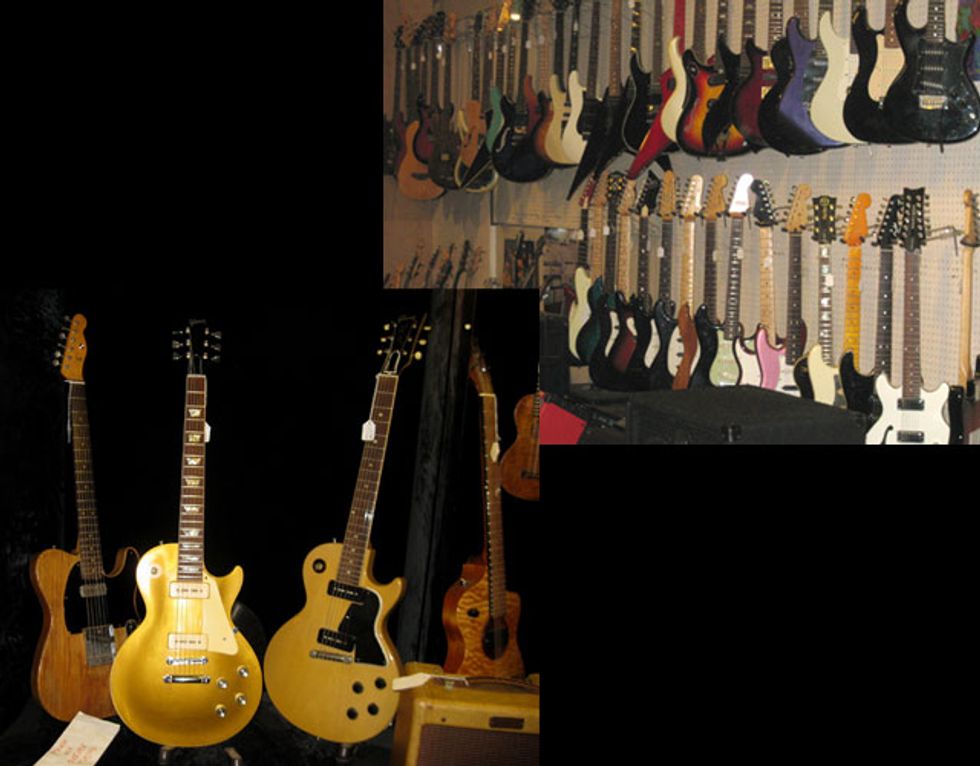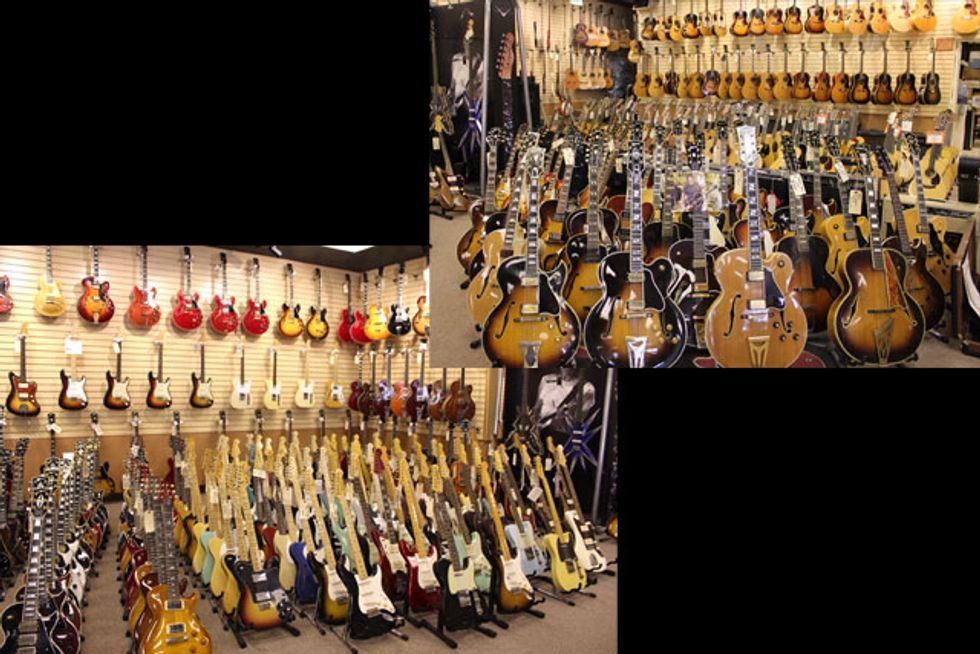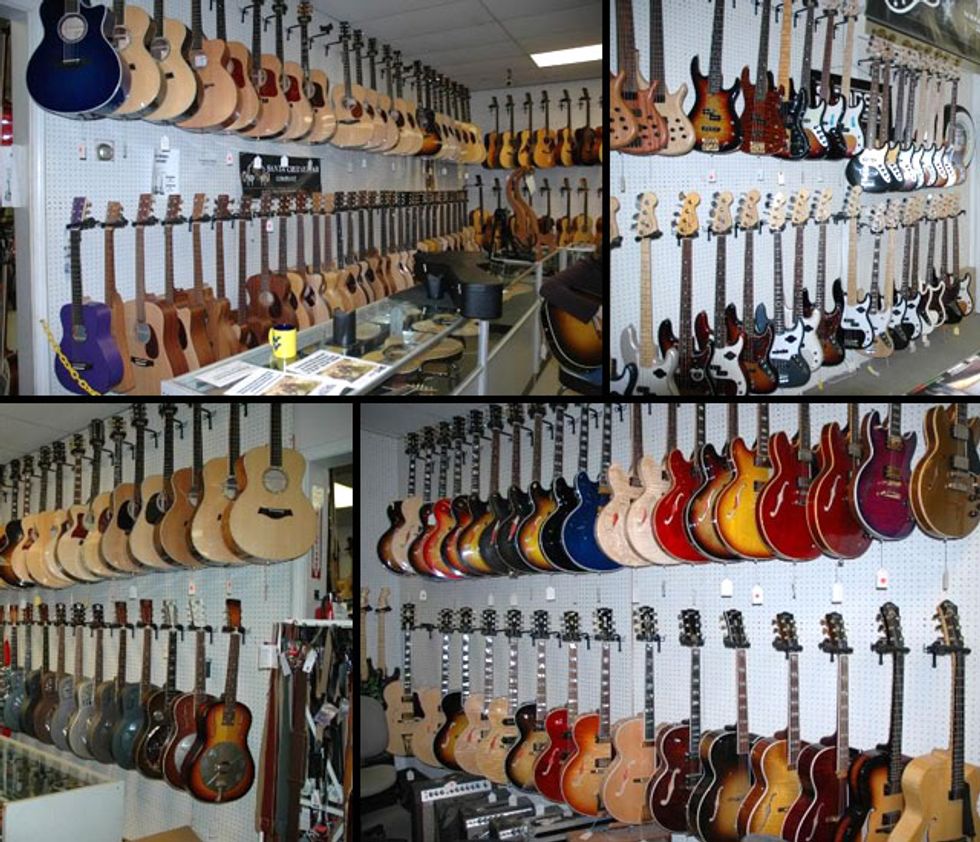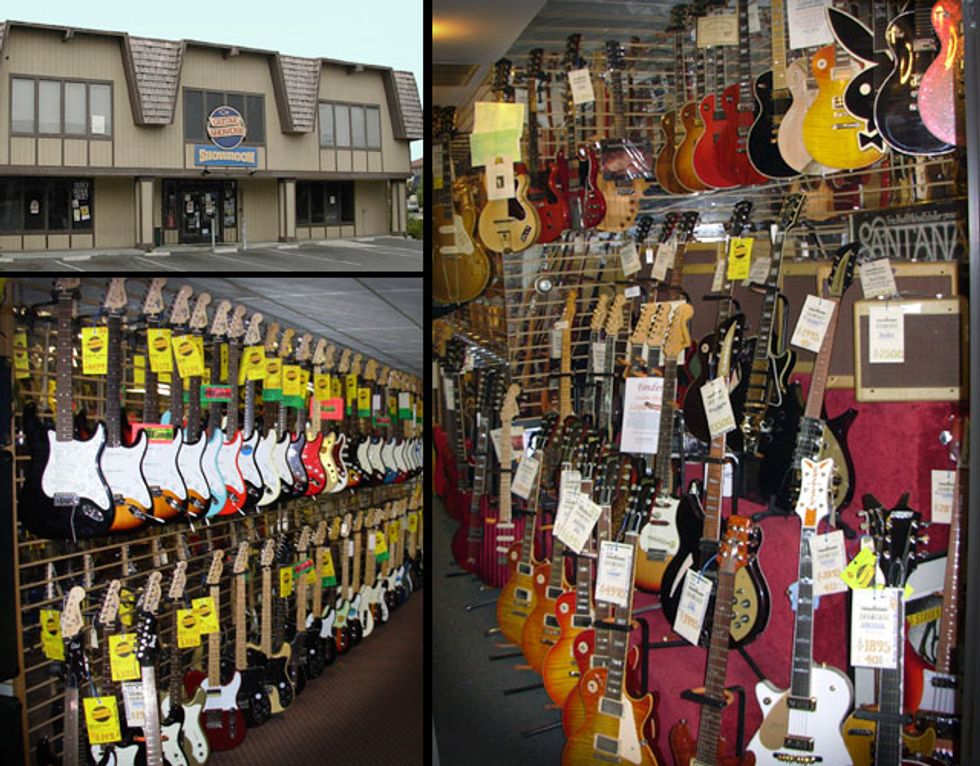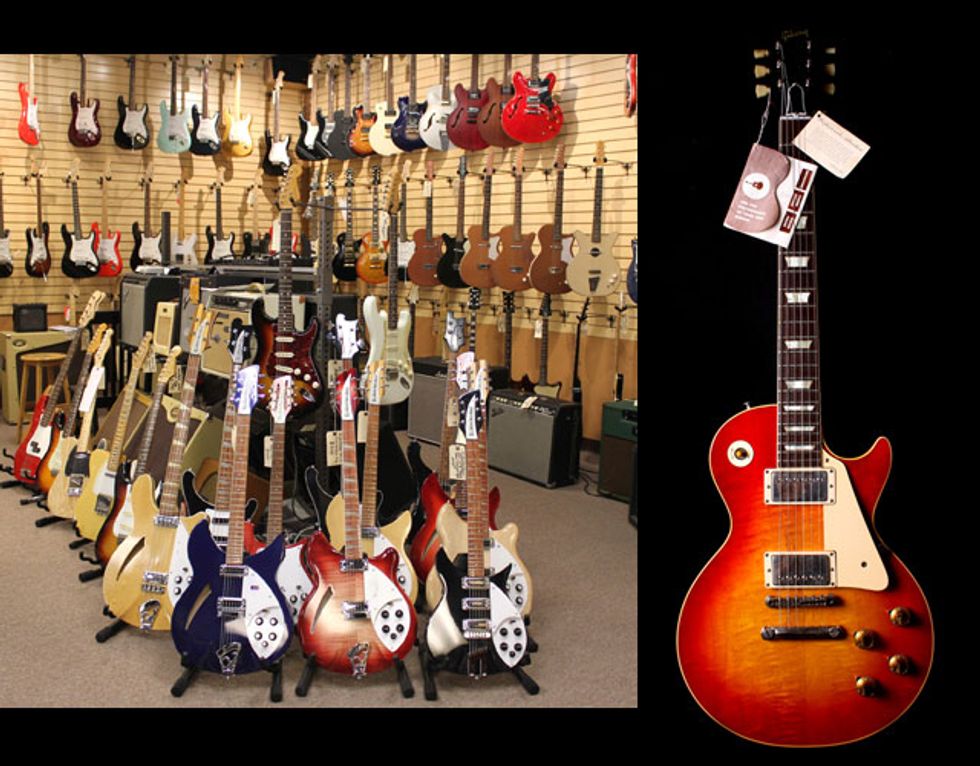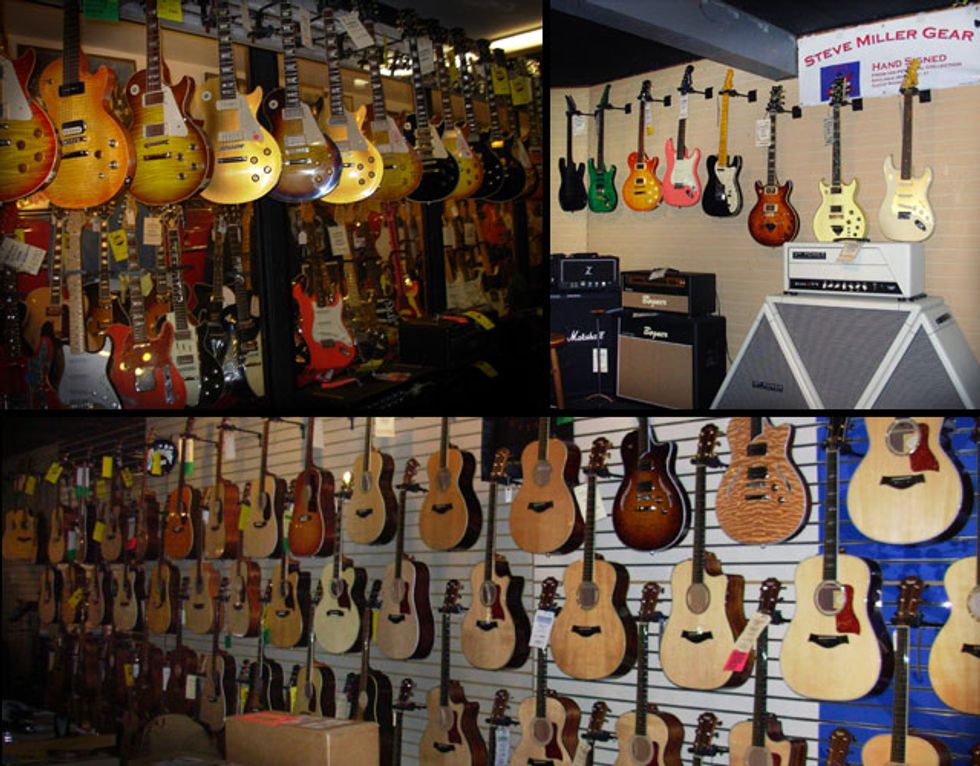 A recreation of George Harrison's '61 Sonic Blue Strat, hand-painted in psychedelic Day-Glo colors and affectionately named "Rocky."
The George Harrison Rocky Stratocaster features an alder body hand-painted with a replica of Harrison's famous psychedelic brushstrokes. Every detail is captured, from the artwork on the pickguard and plastic parts to a replica decal on the back of headstock from Grimstone's - the original music store where the guitar was purchased.
Known for pushing musical boundaries and sonic experimentation, George's inventive hooks and groundbreaking tones helped propel the Beatles into legendary status. Fender previously released a limited number of meticulous "Rocky" recreations via the Fender Custom Shop in 2020, but now this release gives fans the opportunity to enjoy the sound and history behind this iconic guitar.
Exploring The George Harrison Rocky Stratocaster | Artist Signature Series | Fender