The Growing Problem of Counterfeit Guitars
Examining the culture of counterfeit
Duff McKagan plays a Burny Les Paul model while performing with Loaded at the third annual Rock on the Range music festival in Colombus, OH, on May 16, 2009. Since they first appeared in the '70s, these replicas have been found in the hands of many high-profile players. In a recent interview with UltimateGuitar.com, McKagan praised the craftsmanship of two Burny guitars he acquired in Japan, saying, "It's a Les Paul, but in Japan they can copy this stuff like exactly ... you can't get them here because they're illegal." McKagan contends that his Burnys achieve his sound better than any other guitar. Photo by Wayne Dennon.
It all started with a few threads posted on guitar forums, including one on rickresource.com, an outstanding forum and the place to go for all things Rickenbacker. The thread dealt with knockoff Rickenbacker guitars going by the brand name of "Rockinbetter," an obvious distortion of the Rickenbacker name. It also mentioned Rick's president John Hall and his aggressive manner of going after those who steal or appropriate his designs and trademarks.
Then the conversation turned to Chinese counterfeit Gibson guitars, and how they were coming into this country and fooling astute guitarists, famous rock stars and guitar dealers who should know better. I learned that counterfeit guitars have regularly shown up on eBay, where people have been—and continue to be—scammed out of their hard-earned money, thinking they were buying a real Les Paul, Stratocaster, Paul Reed Smith, or other well-known instrument.
As I investigated the counterfeit guitar racket, I began to notice ads on North Jersey Craigslist for "Gibson copies made overseas, $500." I decided to call the seller. Here's how it went down, word for word, when I finally got him on the phone.
"Hello, is this S****? I'm from Premier Guitar magazine and I called a few days ago and left a message. I'm doing an article on counterfeit guitars and wondered if I could ask you a few questions."

"I think it's ridiculous!"

"What's ridiculous?"

"That you're doing an article on these guitars."

"I take it you don't want to be interviewed?"

"No!"
With that, S**** of Garwood, New Jersey, slammed the phone down. Touchy, wasn't he? Perhaps it was because he knew full well that he was selling an illegally bootlegged instrument. At least S**** honestly referred to the instruments as Asian replicas. He had that going in his favor. According to Ric Olsen, Gibson's Manager of Brand Protection, "We know all about that guy. We shut S**** down right after you spoke with him. We have people scouring the Internet all the time looking for guys like him." Several days later, S**** re-posted an ad for a fake Les Paul, and again, Gibson managed to have it removed.
Where they come from In March 2007, a North Carolina man, Steve F. Sexton, was arrested and charged with two felony counts of criminal use of a counterfeit trademark, after selling fake Gibson guitars to unsuspecting victims, including a 15-yearold boy who had saved money to buy his first Les Paul. Sexton plead guilty to two counts, was sentenced to 45 days in jail, 18 months of unsupervised probation, was fined $250 and ordered to pay his victims $2,700 in restitution.
In an article from the U.S. Federal News Service, North Carolina Secretary of State Elaine F. Marshall remarked, "In this case involving Gibson guitars, one young musician even had his dream of owning what was to him the perfect guitar ruined by finding what he had bought was a fake." In the Dec. 1, 2007 issue of Music Trades, it was reported that Bernard Musumeci, owner of Oakdale Music in Oakdale, N.Y., was arrested and charged by Suffolk County Police with second-degree trademark counterfeiting after he allegedly purchased $20,000 worth of bogus Gibsons from a dealer on eBay. Police confiscated 33 guitars from Musumeci's home and store. Due to his obesity, Musumeci was arraigned outside the Suffolk County courthouse. The press and bloggers had a field day. Musumeci claimed he never knew the guitars were fakes.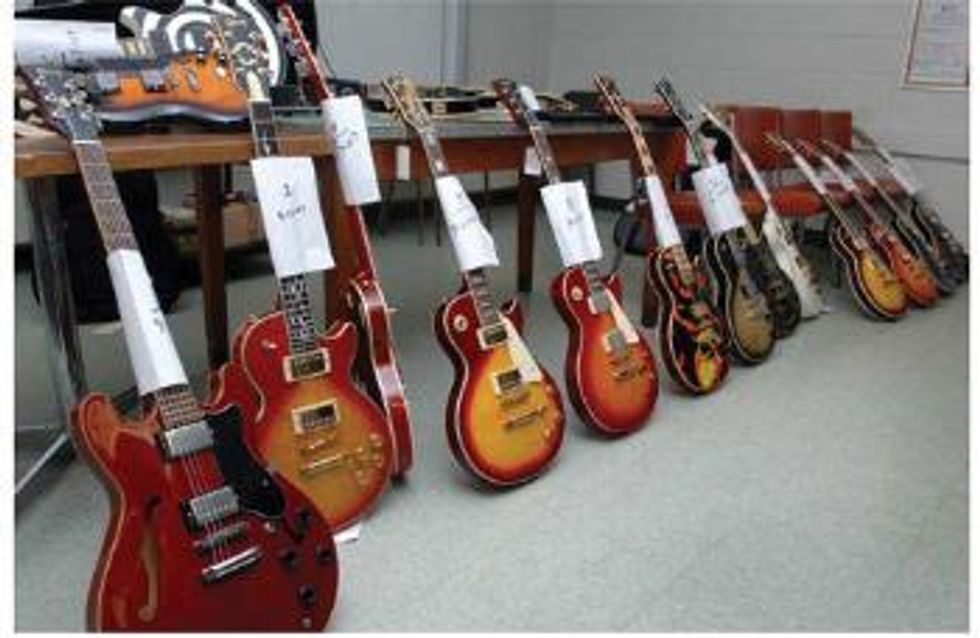 Counterfeit Gibson guitars confiscated from Bernard Musumeci.
Photo: Michael E. Ach/Newsday
Asian counterfeiting is a widespread and unquestionably illegal activity, and it's not just guitars. Counterfeit Nike sneakers, Gucci handbags, name brand perfume, Rolex watches, all manner of designer clothing, DVDs, CDs and so much more, have permeated the European and American markets since the 1970s. The problem, however, has accelerated quickly since 1997. The largest producer of counterfeit goods is China, but South Korea is a close second, where so-called "super copies" are being made. Super copies are generally knockoffs of designer products whose quality is high enough to regularly fool employees of the companies they're ripping off. It was just a matter of time before counterfeiters began bootlegging famous brand guitars. Lax government and customs rules and regulations allow counterfeiters to prosper overseas, leaving European, Japanese, and American companies little recourse in fighting the problem.
With all this in mind, and feeling bold enough to dive head first into the fray, I made contact with a Chinese distributor of counterfeit guitars, Bazaarguitar.com. They regularly sell knockoffs of Gibson, Fender, Gretsch, PRS and Ibanez guitars at very low prices. For instance, a fake Gibson VOS Custom Shop Les Paul TV Junior sells for $338, as does a VOS Les Paul '59 Sunburst with flamed maple top in an Iced Tea sunburst. There are closeup photos of the Junior on Baazarguitar's website, and having owned a vintage TV Junior years ago, the Chinese fake looked like a very convincing replica. I was sorely tempted to order one until I realized the photo was that of an actual Gibson VOS Junior. Playing the part of an interested consumer, I took advantage of their email help line and posed the following question: "If I buy one of your guitars and am dissatisfied with it, can I return it for another?"
Their response in broken but understandable English was, "You must decide first if you can afford guitar. You get good one first time. We hand pick best ones. If the guitar damaged by shipper, you can return only." In other words, you cannot return it unless it's broken by the shipping service. The individual who runs Bazarguitar.com posted a message to this effect on his home page: "I am a good person. You get no trouble from me. Best place to find your dreaming guitar at a cheap price. We sell Gibson, Fender, PRS, Ibanez and Gretsch guitars at cheapest prices." There was more, but you get the drift. According to the law, he's a criminal, a common counterfeiter. And they accept Paypal, by the way.
Another Chinese distributor/clearing house for all types of goods, including guitars, is TradeTang.com. They sell just about every sort of consumer product imaginable, including toys, cell phones, household items, computers, health and beauty products, video games, sporting goods, cameras, jewelry and watches, clothing, wedding items, and even motorcycle and auto parts. Are the products legitimate? Perhaps some of them are, but the guitars certainly aren't.
A Bogus Boneyard

I decided to use the Gibson Joe Perry Boneyard Custom Shop Les Paul, a guitar I like, as a starting point. TradeTang listed many versions of this guitar from multiple sellers, starting at $187.28 and going up to $567.50 with free shipping and a hardshell case included. By the way, the prices seem to change on a fairly regular basis, but that's most likely due to international currency fluctuation. Indeed, there were three full pages of Gibson and Epiphone Joe Perry Boneyard knockoffs, and many of them used the same photo repeatedly. I noticed names such as Guachao, Wanghongxia, Langping, Linglongshanghang, Full-Of-Romance, Jinshang58 and Eguitar58, as well as many others. These are online monikers for people selling counterfeit guitars. One can only imagine what you get for your money, but again, we have to assume that the more you spend, the better the guitar. Or can we? There's no way of knowing. You order one; you take your chances.
Once again, I zeroed in on a Gibson LP Boneyard knockoff starting at $340.50 (there's a discount if you order 10 or more), and emailed the distributor, one "hao-2010," with the following query: "Do you have this guitar in stock? Is a hardshell case extra money? Can you ship it UPS or FedEx, and will you hand-pick a good one for me with a highly figured flame top? Please reply."
Mr. "hao-2010" has this on his home page: "Welcome to my store. Worthy commodity, competitive price. Customer first. Your business with me will be a pleasant experience for you. I am dedicated to bring joy, safe and top-quality products for you. All the products I offer in my store come with fashion, style, superior quality but cheaper price all the time … First time, we do business, next time, we become friends." Their come-on also states, "We use Japan technology. Our quality control team is responsible for all the guitar inspection from the selection of the wood to the guitar finish." As of this writing, I have never gotten a response from hao-2010.
Despite a little apprehension, and with blessings from my accountant, who assured me I could write it off, I thought seriously about ordering a Joe Perry Boneyard Les Paul "replica" from my future friend, hao-2010, to aid in preparation for this article. They promised delivery in a matter of days and happily accepted PayPal. The guitar certainly looked very nice in the photo—one that was different from the others—a heavily flamed top, correct color and features, and what seemed to be exemplary fit and finish, plus a hardshell case. It also came complete with all requisite case candy: a custom shop certificate, hang tags, warranty booklet, etc. Who knew how it would play or sound? I might hit the jackpot or collect the booby prize. I surmised later that the photo I was looking at was most likely one of a real Gibson Custom Shop Boneyard Les Paul appropriated from someone's eBay auction.
Pluses and minuses

While I contemplated the purchase, I queried a few people on The Gear Page about their experiences with counterfeit guitars. After speaking with Peter C******** of Maryland, a man who has bought at least eight to 10 Chinese counterfeit guitars, I decided not to order from TradeTang.
"My first Chinese counterfeit," Peter told me, "was a Tony Iommi copy that I bought from Payless Guitars [more on them later]. It was pretty crude; pot metal hardware, cheesy tuners, and the body may have been some kind of pressed wood. I did some work on it and used a lot of parts from my parts box. When I got tired of it, I sold it and moved on. That was about three years ago. Since then, the guitars have come a long way in quality."
Peter continued, "There are two types of places you can buy counterfeit Chinese guitars today. Let's call them the 'real' and the 'fake.' The fakes are places like TradeTang, SBICU and DHgate. These are the Chinese versions of Craigslist. Anyone can be on these sites and say whatever they want. They often take pictures of real Gibson guitars and post them. With these places, you are dealing with an individual, not a company. You pay them your money then they go out and find you a guitar. I don't recommend them."
The "real" places, Peter explained, "are stores, so to speak. Sites like ZXCmusic.com, Expressguitar.cn.com and Samin.cn.com are all large, well-run websites, and I have bought from all of them. The product is no better or worse than any entry-level guitar." I had to ask, "Then why buy them?"
"I'm left-handed," he replied. "Gibson, PRS and Fender refuse to make a lot of models in a left-handed version. I wanted a left-handed Reverse Firebird and Gibson wouldn't make it, but the Chinese were happy to comply. They are not without their pitfalls, however. Many times, the Chinese with just ship you what they have, regardless of the color you ordered. You could order a red Les Paul and wind up with a green one. When you complain, they say, 'Next time we give you discount,' which amounts to about $20. The Gibson fakes are easy to spot. The main giveaway is frets going through the binding. Gibson doesn't do that. And the bellshaped truss rod covers of the knockoffs have three screws, while the Gibsons have two."
Peter seemingly took satisfaction in "rubbing it in Gibson's face," a response I heard from others while prepping this piece. Another member of The Gear Page told me the following: "I bought one from Samin.com. It took about two and half weeks to arrive, and I did get tracking numbers. The quality was equal to an Agile or an Epiphone; pretty much like all the Chinese Les Paul models. The pickups were branded Epiphone—they sounded OK. It needed a good setup and some of the frets were high and needed a bit of leveling. The nut also needed work—the slots were too high. After I worked on it, it was a pretty nice guitar. It looked very nice and played fine. By the time I upgraded the pickups, I had about $450 in it, so not exactly a steal. If you can't do some basic work yourself, I would not recommend [a Chinese forgery], but they aren't the pieces of shit some people would lead you to believe."
One can also easily find Chinese counterfeit axes on eBay, who up to this point has done little or nothing to stop the problem. According to sources, however, eBay has finally taken some steps to shut down auctions of bogus guitars.
Knocking it off

What are guitar companies doing to stop the problem of counterfeiting? John Hall of Rickenbacker, of Santa Ana, Calif., a fierce defender of his trademarks and designs, noticed counterfeit Rickenbacker guitars and accessories just over a year ago. "I could go online right now and find all kinds of Rickenbacker counterfeits," he says, "including nameplates. We filed our trademarks on body shapes, and so forth, very early on. After six years, your trademarks are set in stone. Prior to that, you might say they're encased in soft cement. We discovered the counterfeits just over a year ago, and the truth is we're currently very limited as to what we can do to stop the problem. But without saying too much, I can tell you that we are on the verge of controlling it within China, using political and legal strategies that will cut the head off the snake at the source."
When I asked if the counterfeiting problem could ever be completely solved, Hall responded, "It's never going to be truly solved … diminished maybe, monitored and controlled, perhaps. It's very hard to gauge whether the Chinese government is cracking down as they say they are. We get lots of lip service from them. They did bust that woman who ran PaylessGuitar.com, and she got a jail sentence."
Explaining how the counterfeits negatively affect Rickenbacker's reputation, Hall put it this way: "It's a matter of brand dilution. Someone sees a counterfeit Rickenbacker with crude workmanship, hardware variations and bad finishes, and for an individual who might not know the difference—like a well-meaning parent buying their child his or her first guitar—it makes us look bad. It doesn't affect us as much as it does Gibson and Fender. We're more of a niche guitar, so the people who buy our products are generally well aware of the instruments, and less likely to be fooled by a fake. We haven't lost substantial amounts of money like Fender and Gibson. The dilution issue is huge for them. Fender lost a recent trademark case in court, and now the Telecaster, Stratocaster and P-Bass body shapes are in the public domain. I'm afraid they're out of luck."
"You also have to realize," he continued, "that Gibson, PRS and Fender have been producing their own knockoff guitars in Asia for years. Rickenbacker has never done that. We're strictly American made and will remain that way."
One Down, Many to Go

Speaking of PaylessGuitar.com, it was reported in a recent edition of the Gibson Lifestyle email newsletter, that Li Dan, the Chinese woman who owned and operated not only Payless, but Musoland.com.cn and Musoland.com, was sentenced to a three-year jail sentence after being arrested in Nov. 2008, along with her mother and a business partner named Yu Hui. When raided by Chinese officials, Dan's facility yielded about 1,200 fake guitars, 861 of which were labeled as Gibsons. Li Dan had responded to Gibson's legal notices in 2007 by shuttering her operation, but boldly started up again three months later using new Internet hosts. She even had her own Facebook page.
Gibson, along with Fender, Gretsch, Ibanez and PRS, has formed a group called The Electric Guitar Anti-Counterfeiting Coalition in order to stop the counterfeiting problem. Darrell Prescott, a representative for the EGACC, remarked, "These follow-up actions by the Chinese authorities should make it clear to those who traffic counterfeit guitar products that they will pay the price for their actions. With this case closed, continued vigilance is required and the EGACC will continue to take swift, decisive action against this type of illegal activity in the future." The PaylessGuitar website is still up as of this writing, but there are no products offered for sale. Obviously, Gibson and the others still have a huge problem to contend with. With Payless out of the picture, others continue to operate illegally.
Jason Farrell, Public Relations Manager of Fender Musical Instruments Corp. commented, "Fender's primary focus is on the customer, just as it was in 1946 when we first began building musical instruments. To that fact, we urge all of our customers to purchase genuine Fender products from their authorized Fender dealer. That way, they know for sure they're buying an authentic Fender product, as well as receiving the customer support that goes with it."
Frank De Fina, Vice President of Global Sales and Marketing for Paul Reed Smith Guitars, offered this comment: "When it comes to telling a PRS guitar from a fake, all you have to do is pick up a guitar and look at it. PRS finishes and build quality are extremely difficult to copy. The problem is off and on … chronic yet intermittent, but thanks to our loyal customers, we are notified instantly and then notify our legal team immediately."
The following statement from Ric Olsen appeared in an article posted in the Lifestyle section of Gibson's website on July 8, 2009: "With the current economic conditions, we're seeing an increased abuse of our brand name intellectual property this year. It's amazing what's going on right now. It's a free-for-all, and people are trying to get away with it. But Gibson is bearing down harder than ever on the enforcement protection of our valuable brand names and trademarks. We won't stop fighting this."
The same article, written by Ellen Mallernee, Gibson's former editorial director, also stated that, "Eliminating counterfeit guitars continues to be one of Gibson's top priorities for many reasons, but mainly because it is so clearly a concern to so many of our consumers. A couple of summers ago Gibson.com ran a consumer warning acknowledging the counterfeit problem and offering tips about how to spot a fake Gibson. The story turned out to be one of the most popular to ever be published on the site, receiving thousands of clicks each day. Consumers spoke loud and clear, and they've continued to."
With the same recommendation as Fender, Gibson encouraged customers to purchase Gibson products only from authorized Gibson dealers, and to report incidents of counterfeit fraud to their customer service department, service@gibson.com, or 1-800-4GIBSON. In the aforementioned consumer warning, Gibson listed the following references for spotting a fake Gibson guitar: "Examine the headstock and headstock logo to determine that they match those of authentic Gibson guitars; Check to see that the pearl is inlaid; Check to see that the Les Paul model script is always in cursive; Verify that there's not a three-screw truss rod cover; Check the control and pickup cavities for sloppy routing or wiring; Make sure the pickup cavity is not painted black; Always ask for the Gibson Owner's manual and Gibson Warranty card; Check the wiring. If it's plastic, it's not a true Gibson; when all else fails, call Gibson Customer Service."
To buy, or not to buy?

In closing, this author wrestled with thoughts of buying a counterfeit Les Paul copy as previously mentioned, but after much thought, decided against it. Admittedly, I'm not uncomfortable with the notion of "sticking it to the man," but it became a moral issue when all was said and done. While it's not against the law to unintentionally buy a counterfeit Gibson, Fender, PRS, Gretsch, Ibanez, or any other bogus guitar, you will be supporting criminal activity. That is a matter of conscience, and a judgment call that only you can make.