ThorpyFX Fat General Review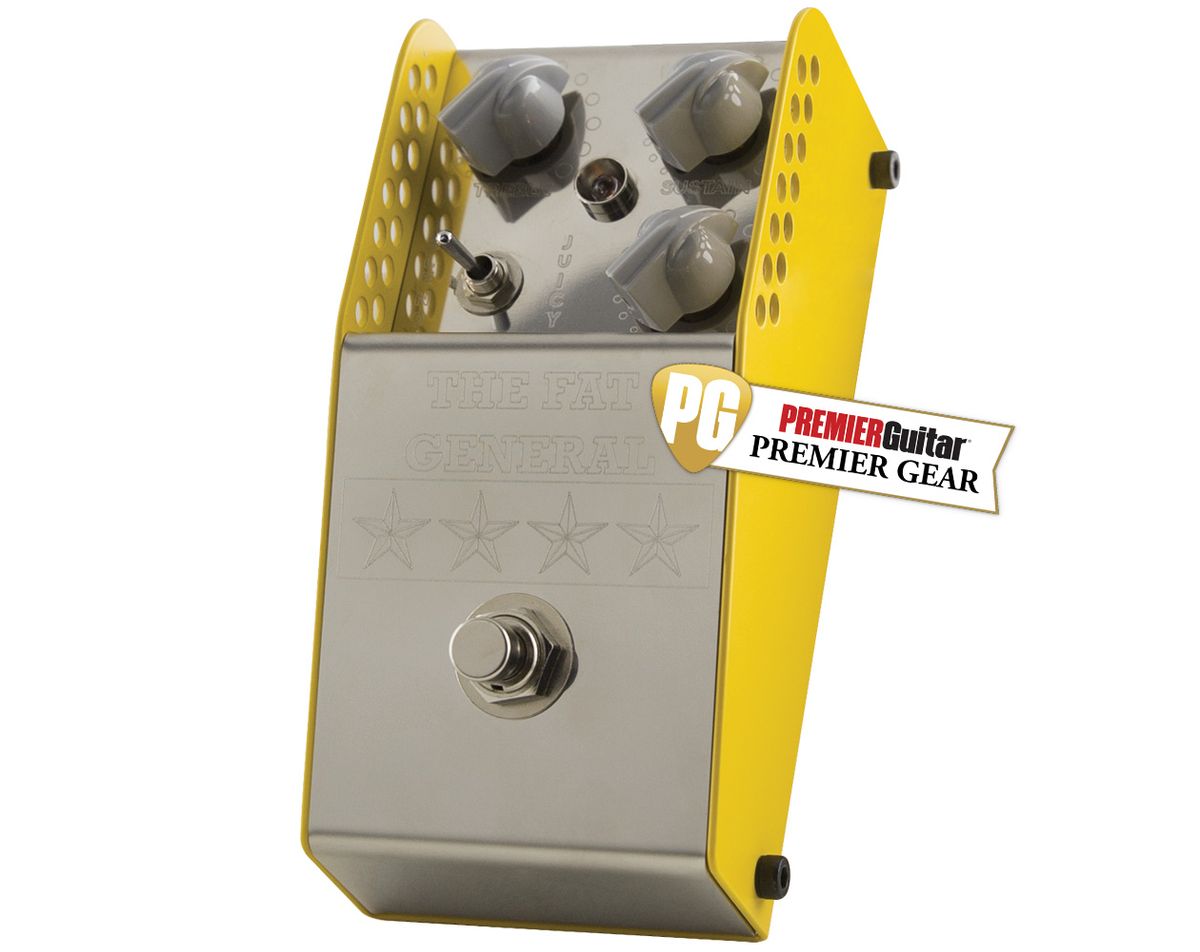 Parallel compression equals transparency and copious options in a top-flight British squeezebox.
 

Ratings

Pros:

Super-quiet performance. Super-high quality. Versatile control set.

Cons:

Expensive.

Street:

$295

ThorpyFX Fat General Parallel Compressorthorpyfx.com

Tones:Ease of Use:Build/Design:Value:
---
I'm starting to wonder if excellent English compressors are a phenomenon. Granted, this observation is based on recent run-ins with Origin's Cali76 series and the Thorpy Fat General Parallel Compressor reviewed here—admittedly a very small sample for making such a broad assertion. Then again, widespread phenomena can erupt from humble beginnings, and the Thorpy Fat General is more than a little impressive. It's sensitive, it's quiet, it doesn't add excessive color, nor does it dull the color within your instrument. It's a beautifully made stompbox that can transform the personality of a whole pedalboard or help you cope with an unruly backline situation. The Fat General is a simple, smartly designed, elegant, and versatile little comp. And yes, it makes me wonder if there isn't something compressor-y in the waters of England's green and pleasant land.
Back to the Stone Age
The Fat General is based, for the most part, on the Dinosaural OTC-201 optical compressor—a super-rare stomp that, like so many hard-to-come-by pedals, has driven otherwise sane individuals to eBay bidding madness. Thorpy founder Adrian Thorpe even worked with Dinosaural mastermind Dan Coggins on the Fat General circuit, so those aspiring to OTC-201 ownership can rest assured that this is an authentically flavored variation on the theme.
Pedal construction, as on every Thorpy pedal we've seen, is flawless—even luxurious to the extent that a stompbox can be. The circuit is immaculately laid out and soldered on a through-hole board. The board itself is mounted apart from the chassis-mounted knobs, footswitch, and in/out jacks, insulating it from the shocks of travel and stage use. Those that thrill to the presence of top-shelf components will appreciate the Neutrik jacks, the Burr-Brown op amp, and the sealed pots that add up to a bulletproof whole.
The controls are simple (as they should be on a good compressor). There's a very effective and range-ful treble control and a sustain knob. The balance control changes function depending on the up/down of the 2-position mode switch. In "blend" mode, the balance knob controls the mix of dry and compressed signals. In "juicy" mode, which is 90 percent compressed signal and 10 percent dry, the balance knob controls the output of the summed signal.
Clicking on the effect—even with sustain, treble, and output cranked—adds remarkably little noise.
Bolder, Brighter, Squishier....
One of the first things you'll notice about the Fat General is that it's dead quiet. Clicking on the effect—even with sustain, treble, and output cranked—adds remarkably little noise. At lower effect levels it's almost negligible. And at any equivalent setting, it produces many times less noise than the average mass-market comp, which is invaluable in the studio and in complex effects chains.
Because the Fat General is as transparent as it is, tone shifts can seem subtle at times. There are exceptions, however. The treble control is powerful, adding potent but pleasing heaps of top end that, when combined with generous sustain levels, produce cutting Byrds and Revolver-era Beatles squish that sounds awesome with a little Vox-style overdrive in front of the compressor. The same settings can also add focus and presence to otherwise unruly fuzz.
The Fat General is about much more than biting, super-compressed psych-jangle and Bakersfield licks, though. The range-y treble knob has a beautiful mellowing effect in counterclockwise positions that works seamlessly with heavy compression mixes to create molasses smooth and smoky jazz tones and killer bass-doubling rhythm textures. The same settings also lends body to single-coils and a sense of extra harmonic focus to humbuckers.
The Verdict
Thorpy's Fat General is a reminder of why guitar nerds get so excited about a pedal built to uncommon standards. It's not only beautifully put together; it readily pays real musical dividends—offering mellowing, exciting, and tone-enhancing elements from an elegant interface that's a pleasure to interact with.
---